Department
Parade of Classes
Editor's Note: These notes reflect submissions received between April 2020 and September 2020.
1950s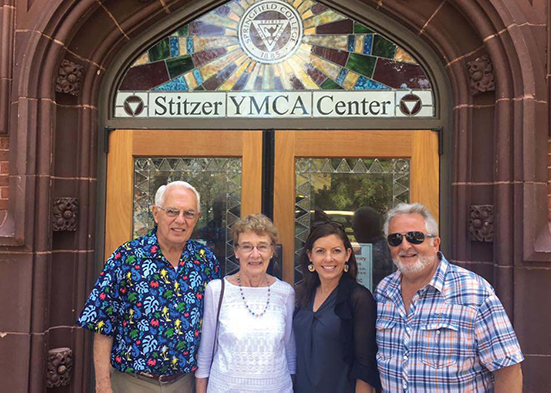 Bob Hoffman '57, G'58, YMCA board member and internationalist Judy Stearns; Erin Friedman '99, G'06; and Edward Shornik met recently at the Stitzer Welcome Center. Shornik, a friend of Hoffman, has been involved with the YMCA in Russia and occasionally visits noteworthy YMCA sites in America.
1960s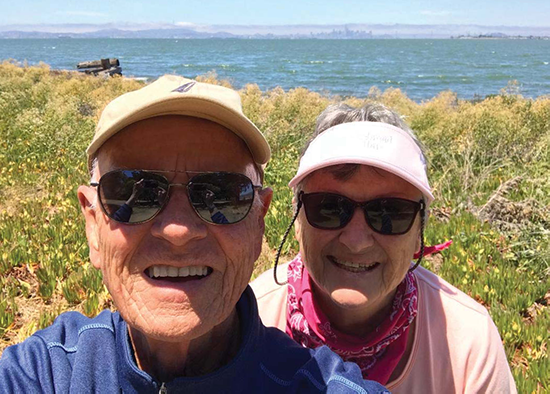 Juanita Parry Hagberg '66 and Nils Hagberg '66 met during their first month at Springfield College in 1962 at a "Wing Ding." The meeting was set up by his buddies in Alumni Hall. On June 19, 2020, they celebrated 55 years of marriage.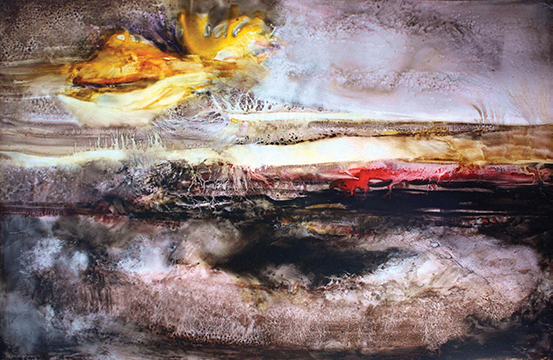 Juanita Parry Hagberg '66 has had a watercolor painting juried into the "de Young Open," at the de Young Museum, in San Francisco, Calif. Hagberg writes that the show is the first of its kind at the museum, and when the dates are announced, it will be hung salon-style. Less than 8 percent of the 11,000 submissions were selected for the final exhibit. See her work at http://juanitahagbergwatercolors.com.
James MacIntyre '67 wrote to say, "Springfield College was a great place for me after returning from Vietnam. Greatly appreciated." Thank you, James. We appreciate your service!
At 74 years old, Robert "Nick" Nickerson '68 of Chapel Hill, N.C., undertook a 3,000-mile run to raise money for research into the causal factors associated with Autism Spectrum Disorder. His run began on April 2, 2017, the 10th Anniversary of the United Nations World Autism Awareness Day, and concluded on the steps of the U.S. Capitol on Jan. 12, 2020. Adam Nickerson, Nick's 30-year-old son with autism, was on hand to hold the ribbon as Nickerson passed through the final mile. His website is http://3000MilesForAutism.org.
Ron Markiewicz '68 was recently inducted into the U.S. Army Officer Candidate School Hall of Fame in Fort Benning, Georgia. Markiewicz said that his many volunteer contributions to his fellow veterans and his community were a significant factor in receiving the award. His desire to volunteer was strongly influenced by Springfield College. Markiewicz's resume highlights many instances of service. He was instrumental in the installation of the Vietnam Helicopter Pilot and Crewmember Monument in Arlington National Cemetery; served multiple terms as the chair of the Fort Belvoir Jewish Council; was the coordinator of the Falls Church Military Forum; served as docent at the Museum of the United States Army; was a mentor for the architecture, construction, and engineering program for high school students; and chaired the River Ridge Community Association Construction and Engineering Committee. "It is an honor and a privilege to continue serving my varied communities to the best of my abilities. I learned that at Springfield College," he said.
At press time, we learned that television executive and 2019 Distinguished Alumni Award Recipient Richard J. Blangiardi '69 was elected mayor of Honolulu, Hawaii, in November following a race against another first-time mayoral candidate. Congratulations, Mayor Blangiardi!
1970s
Jerri Sher, G'72, announced the DVD and subscription video on demand release of her documentary Quiet Explosions: Healing the Brain, which took place on Nov. 10, 2020. Quiet Explosions follows the incredible journey of professional athletes, veterans, and first responders with traumatic brain injury and post-traumatic stress disorder who have come through incredible adversity only to find that their lasting traumas keep them from moving forward in their lives. With the help of the doctors featured in the movie, they are able to return to normalcy without the use of extreme drug protocols that are not fully effective. Sher directed and produced this film, which won the Lilac Award at the Spokane International Film Festival and was an official selection at the North Hollywood CineFest. The film is based on the best-selling book Tales From the Blast Factory by Andrew Marr, a former Special Forces Green Beret, and his brother, Adam Marr, a former Apache pilot.
Sher is a two-time Emmy Award-winning filmmaker. A member of the Directors Guild of America since 1998, she has completed 22 film and television projects. A native of Fall River, Mass., Sher earned a Bachelor of Fine Arts from University of Massachusetts and a master's degree from Springfield College. She has taught and guest lectured at several universities throughout the country and abroad, as well as worked in sales and marketing for the transportation industry.
LIVE LIFE, her 12-part docu-drama television series about healing through alternative medicine, was co-produced by Discovery Communications. Her short film, Step Up, is part of a presentation for Santa Monica Cares, which she created for CityTV Santa Monica, and garnered her two Emmy Awards. Updates are available on the Facebook page Quiet Explosions. See the trailer and watch the video on Vimeo or Amazon.
Charles Saggiotes '76, DC, has retired after 40 years as a doctor of chiropractic in Concord, N.H. He is looking forward to summers on Lake Sunapee, N.H., and winters in Hilton Head, S.C.
John McGowan, G'79, has been named professor emeritus of physical education at Bethany College in West Virginia. McGowan joined Bethany in 1980. During his 40-year career with the college, he has taught more than two dozen class titles, and has served as an administrator and coach for swimming, cross country, track and field, and women's soccer. He helped bring women's sports at Bethany College to the varsity level.
1980s
Janet Roth Philbin '89 published her first book, Show Up for Yourself: A Guide to Inner Awareness and Growth. She says that her years at Springfield College were "part of the cornerstone of my book." The first few chapters are available at her website http://hypnosisforhope.com.
1990s
Bill Burkhead '91, G'95, was recently named superintendent of schools by members of the Scituate (Mass.) School Committee. In 2018, the Massachusetts Secondary School Administrators' Association named him Principal of the Year.
John Quinn '92, principal of Clara Barton Elementary School in Oxford, Mass., has been elected to the National Association of Elementary School Principals (NAESP) board of directors. Quinn has been a member of NAESP since 2005 and has served as a mentor for the National Aspiring Principals Academy and a member of the NAESP Leading Learning Communities Committee. Previously, he served as principal of Roosevelt Avenue School in North Attleborough, Mass., from 2006-2018, and as principal of Margaret A. Neary Elementary School in Southborough, Mass., from 2004-06.
Brad Jorgensen '95 was a featured guest on the podcast Saint Leo 360. Jorgensen is the longtime head coach of the Saint Leo University (Fla.) men's lacrosse team and founding coach of the program.
Eric Ciano '97, head strength and conditioning coach of the Buffalo Bills, was recently named NFL Strength and Conditioning Coach of the Year by the Professional Football Strength & Conditioning Coaches Association.
Timothy Klatka '98, G'99, was named the LHC Group Physical Therapist of the Month for August 2020. Klatka has been a physical therapist with Caretenders Home Health, a subsidiary of LHC Group in Holyoke, Mass., since August 2015. Based in Lafayette, La., LHC Group is a leading national provider of in-home health care services. The winning clinician is selected from hundreds of nominations received from 815 branches throughout the country.
Andrea Perkins Nerlich '98, G'00, PhD, was honored as the 2020 Rehabilitation Educator of the Year by members of the National Council on Rehabilitation Education. Nerlich is associate professor and graduate director of the rehabilitation counseling programs at Hofstra University in New York. Congratulations, Professor Nerlich!
2000s
Trevor Smith, G'01, taught Current Issues in Psychology-Happiness at Springfield College for the fall 2020 semester. The course focuses on theories and concepts on the science of happiness and evidenced-based strategies that can be implemented to lead happier lives. Students examined the flow of human emotions and mental states, and explored how they impact relationships, experiences, and the institutions and practices that facilitate development. Guest lecturing in November was Dan Tomasulo '73, PhD. Tomasulo recently was named academic director of the Spirituality Mind Body Institute at Teachers College at Columbia University, and published the book Learned Hopefulness: The Power of Positivity to Overcome Depression, which hit No. 1 on the Amazon new release list for June 2020.
Stephen Wiltshire '02 was named the 2020 Massachusetts Elementary Principal of the Year. Wiltshire is principal of the North Street Elementary School in Grafton, Mass.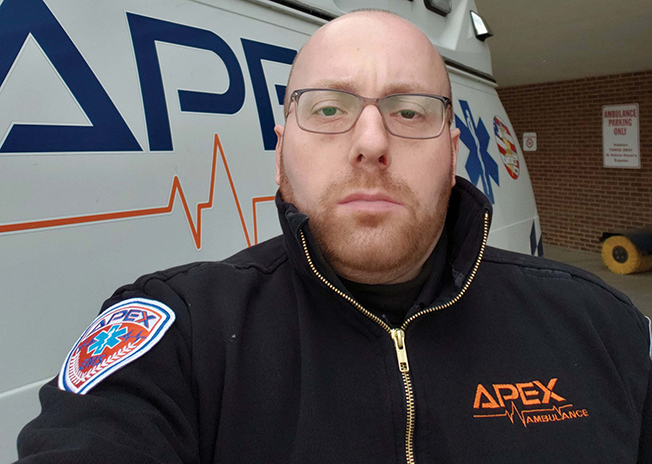 Alan Lieberman '03 led a fundraising effort through the sale of a custom-designed memorial coin to honor emergency medical services (EMS) providers who died from COVID-19. All proceeds from sales will be donated to the National EMS Memorial Service. The project has the full support of the National Association of Emergency Medical Technicians and the American College of Emergency Physicians. Thank you for this selfless effort and for your continued service, Alan!
Lance Morgan '04 has been elected to serve on the Manchester (Conn.) Road Race Executive Committee. Morgan is a physician assistant with Sports Medicine & Orthopedic Surgery in Manchester.
Cheryl Demko Morello '05 was named to the Hartford Business Journal 2020 list of 40 Under Forty. Morello is a second-generation licensed funeral director, embalmer, and proprietor at Heritage Funeral Home in Suffield, Conn.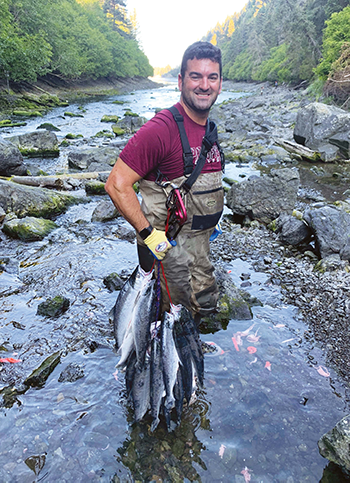 Dan Warren '06 wrote to say he has enjoyed salmon fishing in China Poot Bay, Homer, Alaska. Nice catch! Warren was the 2019 Young Alumni Award Recipient.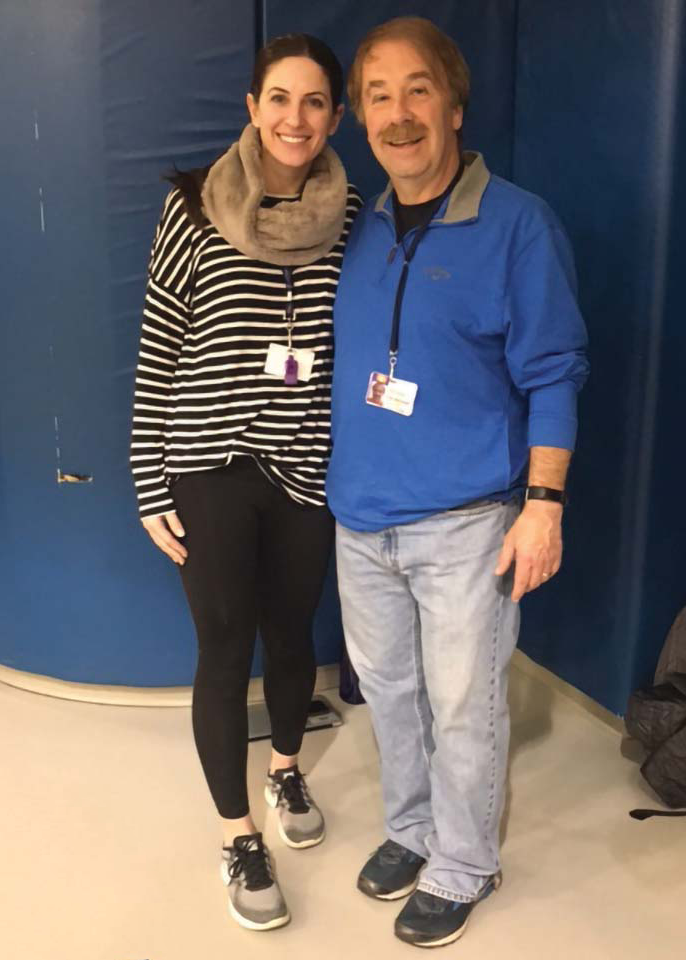 Clare Fagan Svedlow '07 and John Dwinell '81 work together at the Ethical Culture Fieldston School (N.Y.); Dwinell at the Riverdale Campus in the Browns and Svedlow at the Manhattan Campus.
Josh Schupack '09, G'12, recently started a new job at the YMCA of Greater Pittsburgh, running YMCA Camp Soles. He previously worked as the executive director of camping services at YMCA of Greater Nashua, N.H.
2010s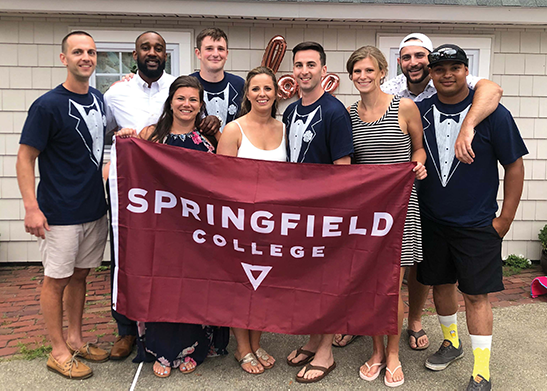 Andrew Hembrow '12 and Nicole Robbins Hembrow '12 welcomed their first child, Madison Rose, on Aug. 27, 2020.
Holly Ouellette '15 and Dennis Brady '15, DPT'17, were married Aug. 15, 2020, postponing a bigger celebration for next year. They had a small backyard party with close friends and family, including members of the Springfield College family. Ouellette was on the women's soccer team and Brady was on the football team. They met during preseason as first-year students, both living in Gulick Hall.
Michael Smith, G'16, an alumnus of the School of Social Work, had the privilege of delivering the Student Greeting at the Graduate School Commencement. Smith has been appointed an adjunct professor at the School of Social Work and Behavioral Sciences and has taught on both the Springfield and Worcester campuses. In February 2020, he delivered a TEDx Talk at MASS MoCA. The 18-minute lecture focused on "being able to start things again, to ask for a do-over."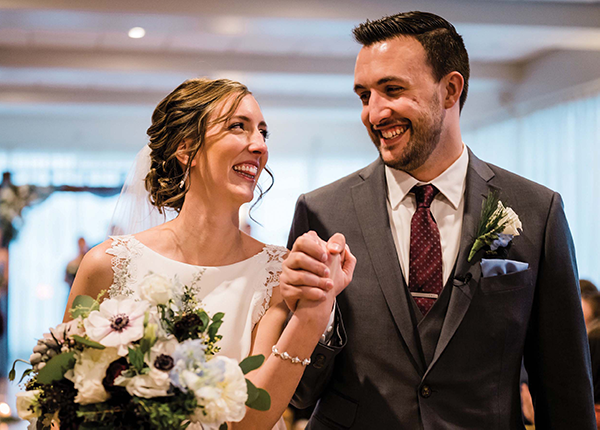 Fiona Cole '16, G'17, and Tim Johansmeyer '15 were married in Newport, R.I., on Jan. 18, 2020. Wrote Fiona, "We had SC alumni from Tim's sister in the class of 2013 to my cousin who is a member of the class of 2020."
Ben Diamond '18, communications/sports journalism program alumnus, and Tye Mill '18, sport management program alumnus, worked together at the U.S. Open Tennis Championships held at the USTA Billie Jean King National Tennis Center in Flushing Meadows-Corona Park, N.Y. Diamond worked in the Credentials Office while Mill served as the communication coordinator in the Command Center.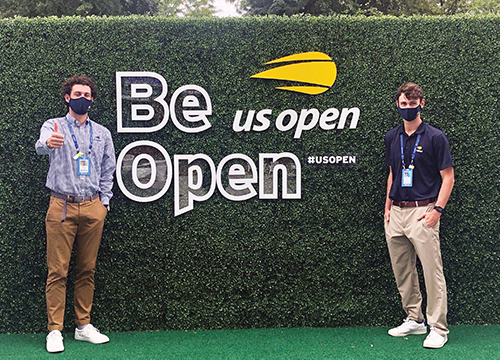 Jack Pinho '18, G'20, was featured in the article, "Open to work: Jack Pinho on the power of positivity." The article appears on NCAA.org in "NCAA After the Game." NCAA After the Game supports former student-athletes from more than 1,100-member schools through career development, resources, networking, engagement, and promotion of their well-being and continued connections to college sports. The article discusses how optimism and discipline drive the former Springfield runner as he searches for a job during challenging times. Read the interview.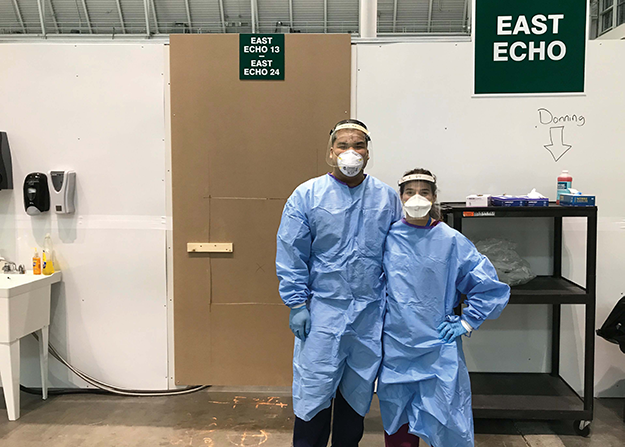 Andrew Luu '19 and Dani Kaprielian '16, DPT'18, met at "Boston Hope" field hospital, which was constructed to serve COVID-19 patients. Luu, an emergency medical technician, is volunteering at the hospital and working toward his paramedic certification. Kaprielian is a physical therapist at Brigham and Women's Hospital. Said Luu, "This has been a tough experience. Wearing full PPE for 12 hours is tough, although I have met some great people."
Isaiah Rodgers, G'20, has been named director of championships for the Old Dominion Athletic Conference.
Students
Lavar Click, Class of 2023, recently was named mayoral aide by Springfield (Mass.) Mayor Dominic Sarno. Click previously served as an aide to the Springfield City Council. He is pursuing a bachelor's degree in human services, and also is head coach of the varsity basketball team at the High School of Commerce and "provides numerous supporting roles with the YMCA of Greater Springfield," according to a statement from the Mayor's office.