Kudos on the last issue of the Triangle! You hit a home run by picking the health professions to report on. You must be clairvoyant!
Bob Barkman, Professor Emeritus
Thank you for the recent issue of Triangle. I imagine it was no small feat to get it out in the midst of the pandemic. As always, I thoroughly enjoyed the issue. Stay safe! Thank you for all of your efforts.
John Mistrangelo '75
Enjoy reading every issue of Triangle from cover to cover. However, I find it difficult to read in digital format. It is hopeful that you will return to your print format in the future.
Tom Johnson '59
So great that you're digital!
Elizabeth Fernandez O'Brien '73
Thank you for sending a digital copy of the magazine. I hope that digital delivery continues because the magazines just end up in my recycle bin. Looking forward to returning to campus for the super reunion of next June.
Mae Barrett '80
Please share your stories and memories with Editorial Director and Triangle Editor-in-Chief Jane Johnson Vottero at jvottero@springfield.edu or (413) 748-3275.
PT Professor on Podcast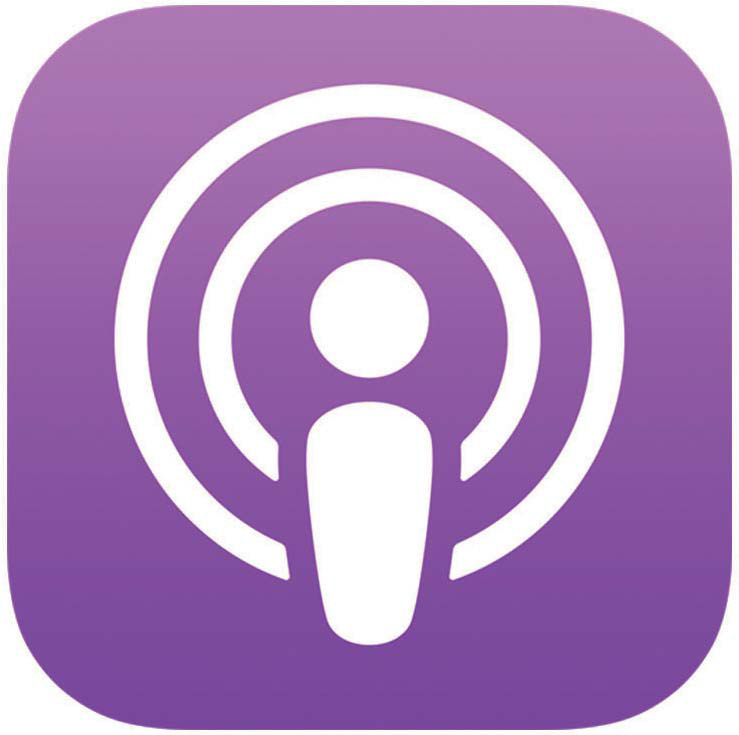 Professor of Physical Therapy Angela Campbell is one of the co-authors of the American Physical Therapy Association (APTA) statement "Taking Precautions for Mobility and Exercise as Potential Aerosol-Generating Procedures." She was featured in the PT Pintcast, one of the most listened to podcasts in the profession.
Joining Campbell were President of the Academy of Pediatric Physical Therapy Cindy Miles, President of the Academy of Acute Care Physical Therapy Sharon Gorman, and President of the APTA Home Health Section Dee Kornetti talking about the APTA COVID-19 Aerosol Generating Procedure (AGP) statement. As aerosol is one of the chief modes of transmission for COVID-19, APTA created an aerosol-generating procedure guide because exercise and mobility could generate those aerosols. Check out the APTA Post-Acute COVID-19 Exercise and Rehabilitation (PACER) Project on the APTA Learning Center for more on physical therapy management and education required for this population.
National Art Education Association Highlights Alter-Muri's Artwork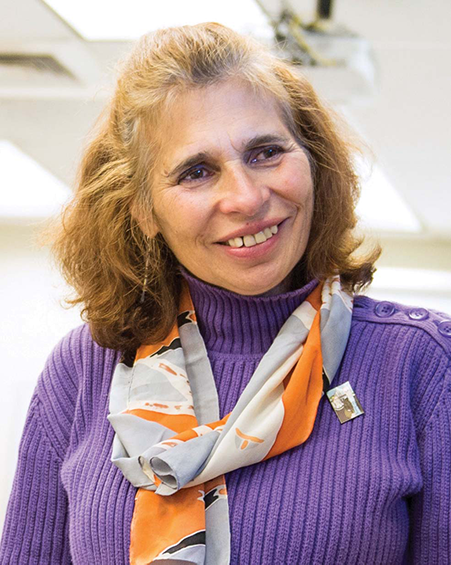 The artwork of Art Therapy/Counseling and Art Education Director Simone Alter-Muri was highlighted as part of the National Art Education Association (NAEA) online showcase featuring artwork from art educators throughout the country in a juried virtual exhibition. The exhibit ran from July 1 through Dec. 31.
This exhibit featured artworks created by the NAEA vibrant professional community of visual art educators, and highlighted the tremendous skill and vision of members worldwide. In addition to being art educators, NAEA members are talented artists as well.
In its call for submissions, NAEA received a record-breaking 614 works from 46 states and the District of Columbia, as well as Australia, British Columbia, France, Kuwait, and Canada. Jurors selected only 92 works for the 2020 NAEA Virtual Exhibition.
COVID-19 Data Project Benefits from Work of Health Sciences Undergrads
Students from the health science major have been working on a national project to track the spread of the COVID-19 outbreak in the United States. Through an internship, students Yue Li, Ashley Tanner, Alexandra Christine Jones, Brenna Keefe, Dhruvi Patel, and Callie Dowd have assisted with this project.
Participating students are responsible for tracking historical data and collecting daily data, as well as participating in special interest team projects that include computer-based automation, data visualization, infectious disease, policy, social media, and fundraising.
Said Assistant Professor of Public Health Sofija Zagarins, "This internship is part of the BroadStreet COVID-19 Data Project, a collaboration of over 200 students, statisticians, epidemiologists, health care experts, and data scientists throughout the country."
The project is a collaboration of more than 40 colleges and universities throughout the United States. This project brings together people who are committed to having the most accurate, community-level data about the COVID-19 positive tests and fatality rates. Other colleges and universities taking part include Harvard University, Yale University, Boston University, Temple University, and Duke University.
Through the BroadStreet COVID-19 Data Project internship, health care professionals have access to data that can help them to improve how they spend their time and resources on improving community health.
"We have been humbled by the outpouring of support, especially from the collegiate community," said the BroadStreet Co-founder Tracy Flood. "We know that right now students have a unique set of challenges trying to navigate these difficult times, maintaining their studies, most who are away from home and while adapting to their new normal. Despite this, we wanted to recognize students who have graciously donated their time and talent to our project."
For more information about the project, use the covid19dataproject.org website to find information and updates from the participants.
AmeriCorps and Parent Villages Partner to Provide PPEs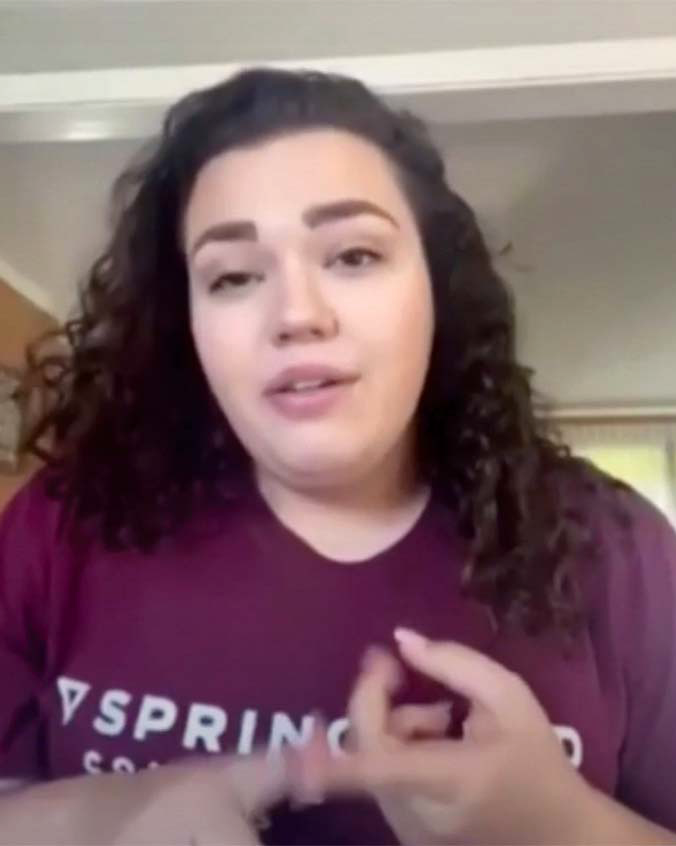 Members of the Springfield College AmeriCorps program are partnering with Parent Villages, Inc., and other local nonprofits to lead the Village Engagement Matters initiative, a program committed to providing community members with facemasks at no cost to help prevent the spread of COVID-19.
Springfield College AmeriCorps members have been assisting with the production of the masks, and also helping with the planning of the distribution efforts.
"Giving back to our community is always something we have done in our family, and we are committed to helping with this project," said Springfield College AmeriCorps member and social work student Molly Glynn. "My mom and I started making masks for our family members, but that quickly has turned into helping our community, as well. What I like about the Olson mask pattern we are using is it provides a pattern to make masks for both adults and kids, and the pattern also allows for a pocket on the inside for a micron filter to help those individuals who are at a higher risk of contracting the virus."
The initial distribution of protective facemasks took place in May at meal distribution sites for Springfield Public Schools and Sodexo food service company. There were 100 masks at each location distributed on a first come, first served basis.
"The Parent Villages organization always tries to stay in touch and learn about items that community members really need, and obviously right now the masks are at a high demand," said Parent Villages, Inc., Chief Executive Officer Lakisha Coppedge. "Springfield College stepped up to the plate to help, and we can't thank the College enough to make this project a reality, and always being there to help our community members."
Springfield College AmeriCorps members continue to seek opportunities to serve the greater Springfield area, including volunteering their time to ensure that the Village Engagement Matters initiative is a success.
"It really means a lot to have AmeriCorps members finding ways to support others," said Springfield College AmeriCorps Director LaTonia Naylor. "We continue to live our Humanics mission. It brings me so much joy to watch people step up and show love and support for our community members."
Research Team Investigates Pandemic Impact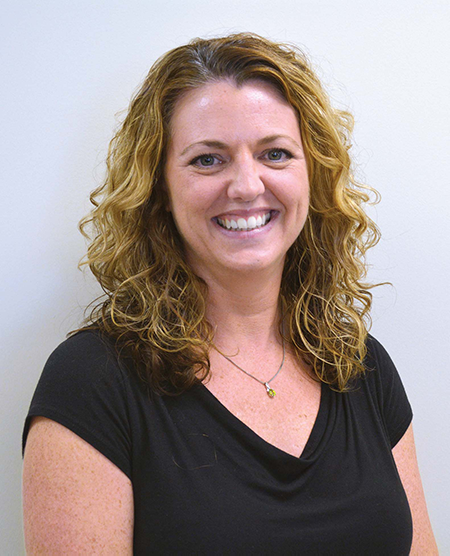 Members of the Department of Exercise Science and Athletic Training faculty are partnering with international research teams investigating the impact of the COVID-19 pandemic on the physical and mental well-being of individuals. Faculty members are seeking volunteers to participate in the research.
For this study, participants must be at least 18 years of age, and will be asked to complete a one-time survey with questions relating to basic information about respondents, such as reasons for exercising, physical activity behaviors, and respondent mental well-being. The research team is specifically interested in an individual's experiences before and during the COVID-19 pandemic. Participation in the survey should take no longer than 20 minutes.
"With this study we hope to understand how the social distancing measures put in place due to the COVID-19 pandemic are affecting people's physical activity habits and mental well-being, and the relationship between the two," said Professor of Exercise Science and Sport Studies and Director of Sport and Exercise Psychology Jasmin Hutchinson. "We also are looking at how these variables might be influenced by exercise motivation and a variety of demographic and social factors."
Hutchinson noted that this study is part of an international research effort. The Springfield College research team is partnering with researchers in France, Australia, and the United Kingdom collecting the same data. Individuals interested in participating can access the Qualtrics survey at https://bit.ly/US-COVID-19.
Information regarding the survey is available from Hutchinson at jhutchinson@springfield.edu.
Logan Recognized with Award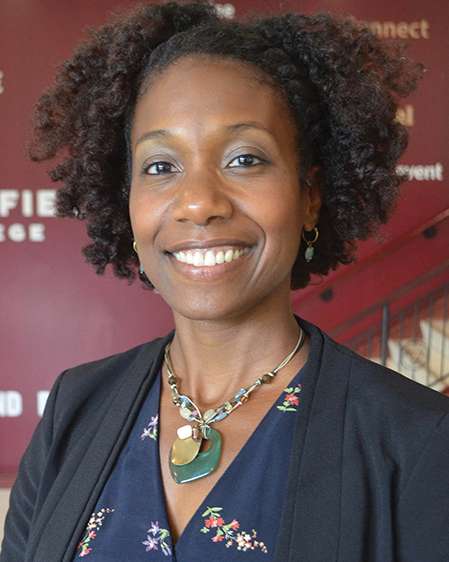 Department of Education Chair Stephanie R. Logan was recognized at the annual African American Female Professor Award Association celebration hosted virtually on Thursday, Oct. 8, by Springfield College. The African American Female Professor Award Association recognizes full-time, part-time, and adjunct African American female faculty members for their commitment to higher education, and their role as mentors in the advancement of African American scholars and students.
Since August 2017, Logan has been an associate professor of elementary and multicultural education at Springfield College. Prior, Logan worked six years at the University of Northern Iowa in the Department of Curriculum and Instruction, Elementary Education Division, where she taught undergraduate and graduate students. Logan also assisted the College of Education in its goal to enhance the skill set of faculty, staff, and students in the areas of diversity, cultural competency, and social justice.
Logan has been an elementary school teacher and is a former elementary and middle school counselor. Her research interests include preparing culturally competent pre-service teachers, creating inclusive classroom and campus environments, and social studies teaching in elementary classrooms.
The goal of the award is to help institutions recruit and retain African American female professors, as well as inspire African American female educators to continue their work in the classroom and pursue post-secondary assignments.
An independent review board assists in the selection of the recipients using the following criteria: educational background of the nominee; commitment to higher education; advancement of African American scholars and students; teaching, learning, and curriculum development; academic research and applying practice in a chosen discipline or major; and community engagement and commitment to multicultural diversity and equity.
Student Art Accepted for Suicide Prevention Initiative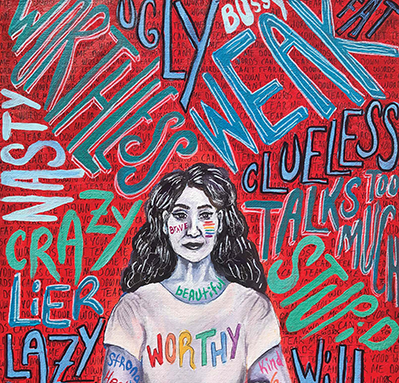 The artwork of art education major and art therapy minor Pamela Marino was accepted by the Massachusetts Coalition for Suicide Prevention (MCSP) for its statewide suicide prevention initiative. The artwork for the campaign was released virtually in September on MassPreventsSuicide.org. Marino's work is titled "Your Words Can't Tear Me Down."
"What makes this so special is not only did I have to submit artwork, but I also had to submit a written description of the work that was being submitted," said Marino, who also is the president of the Springfield College Art Club. "I wanted to make a piece that anyone viewing the art could take away a good feeling. I wanted the main woman in my art to be more of a mirror for the viewer rather than a character. It was really just a wonderful experience to make this artwork and have it recognized at the state level."
Since 1999, the MCSP has been working to bring about awareness and mobilize community action in response to the public health crisis of suicide in the Commonwealth. The MCSP seeks to serve as a bridge between those on the front lines of suicide prevention and local communities seeking to make their communities safe and healthy.
"Overall, this is very special to be a part of this initiative because there are so many exciting pieces of art that will be unveiled, including some music pieces as well," added Marino. "The unveiling will feature important art pieces from throughout the entire state of Massachusetts."
"I am so pleased Pam's artwork was recognized by the MCSP because the art has such healing powers, and more than ever we need to look out for everyone's mental health," said Assistant Professor of Art Therapy Mary Ellen Hluska.
Cross-discipline Collaboration Builds Communication for Therapists and Patients
The departments of Physical Therapy and Visual and Performing Arts joined in a cross-disciplinary collaboration focused on effective communication skills to build and maintain strong relationships between physical therapists and their patients and clients.
Led by Physical Therapy Professors Salome Brooks and Maureen Barrett, and Department of Visual and Performing Arts Chair Martin Shell, the one-day virtual workshop on July 20 was designed to help physical therapy students feel more comfortable in their settings by focusing on interpersonal rapport, non-verbal communication, and fundamental presence with others. The class helps physical therapy students as they prepare to work with patients and clients. Shell's experiential methods, developed for acting classes from the traditions of theater technique, allow for fun and illuminating communication exercises for physical therapy students.
"The course really focuses on building up that relationship intimacy between the physical therapist and the patient," said Brooks. "There is a trust that needs to be established because if the patient doesn't feel comfortable with the physical therapist, it will be very difficult to help the patient improve and get better."
The course emphasizes the importance of physical therapists ensuring that their patients feel they are being treated in a fair and equal environment, which facilitates the systematic process of addressing patient illnesses and/or disabling conditions.
"When we analyze the physical therapist and patient relationship, there are many aspects that can effect that relationship," said Brooks. "Everything from the demeanor of the therapist, where the therapist and patient are seated, the health beliefs of the patient, all of these aspects play a role in that relationship-building process. If the patient isn't comfortable in the surroundings, it becomes more challenging for the physical therapist to help lead the patient to getting better and healing."
With the assistance of Shell, students were able to participate in communication exercises that allow them to view interactions from their patient's perspective.
"I've never had any doubt that the techniques we actors use for observation and training, in preparation to creatively express the complexities of human relationships in collaboration with others, are very useful in many areas of life and work," said Shell. "The workshops with the physical therapy students are excellent and very enjoyable opportunities for me to share a taste of our theater exercises in awareness and interaction.
"The common ground is the body, the source of tremendous instincts, sensibilities, and human understanding. We can use these discoveries as tools for observation about others, and to help us increase our choices about how to listen and respond to others. It improves our ability to serve and to accomplish, whatever our relationships or goals might be."
English Professor Fellowship Finalist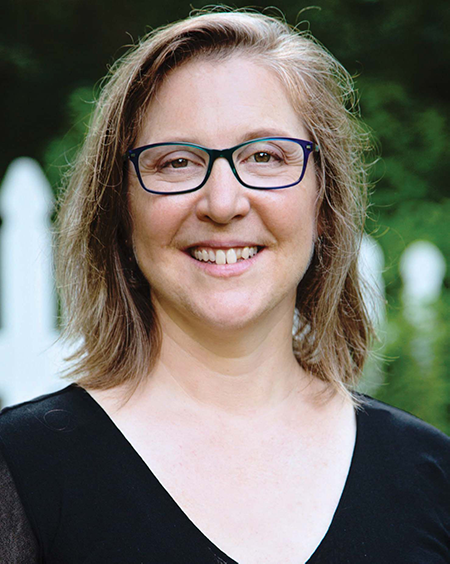 Springfield College Associate Professor of English Justine Dymond has been selected by the Mass Cultural Council Artist Fellowships program as a finalist in the category of fiction/creative nonfiction on the strength of her lyrical essay titled "Brave of Worms."
"I am so very excited with the news and the peer recognition that comes with the selection as a finalist for the MCC artist fellowship," said Dymond, who joined the humanities faculty in the fall of 2008. "I am thrilled to be in the company of the other finalists and fellows. Since it's a state-wide honor, you can imagine how competitive it is in Massachusetts where so many amazing writers live and work. I've lost count of how many times I've applied, and I'm still pinching myself I received this honor."
Dymond teaches courses in writing and multicultural literatures. Her short prose and poetry have appeared in numerous literary journals, including The Massachusetts Review, Pleiades, The Briar Cliff Review, and Cimarron Review. Her short story "Cherubs" was selected in 2007 for an O. Henry Award, a highly prestigious recognition in the art of the short story.
In 2018, she received the The Eludia Award presented by the Hidden River Arts, an inter-disciplinary independent arts organization located in Philadelphia, for her collection of stories titled, "The Emigrant and Other Stories." Forthcoming from Sowilo Press, the collection ranges widely in setting and era, including France during World War II, Maine in the early 18th century, and Tennessee in the 21st century.
Mass Cultural Council awards artist fellowships in the categories of choreography, drawing and printmaking, fiction/creative nonfiction, painting, poetry, and traditional arts, recognizing exceptional work by Massachusetts artists across a range of disciplines. Mass Cultural Council works to elevate the rich cultural life in Massachusetts, partnering with communities across the Commonwealth to expand access, improve education, promote diversity, and encourage excellence in the arts, humanities, and sciences.
Dancers Deliver Virtual Concert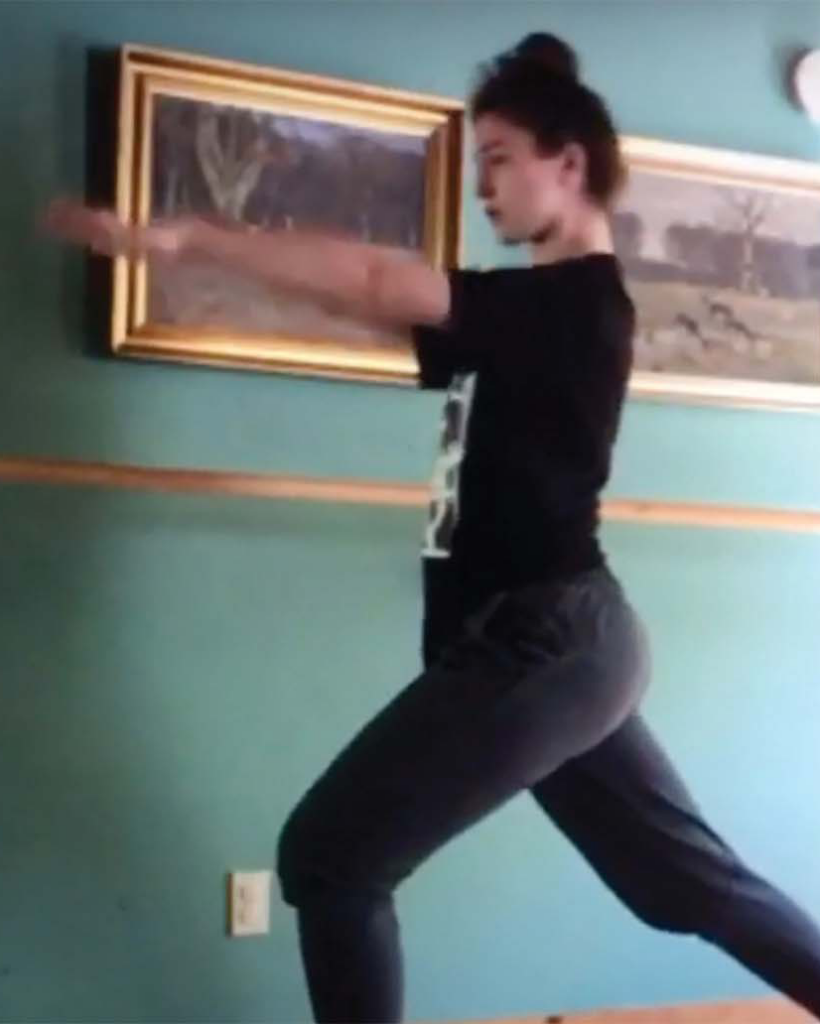 A virtual dance concert, featuring dance films created by student choreographers in various styles, including hip-hop, tap, and contemporary, was performed for the Springfield College community.
Following the performance, there was a discussion with choreographers streaming live on Instagram. Viewers had the chance to ask choreographers questions as well as learn more about their dance works in a conversation guided by Director of Dance Sarah Zehnder.
All Politics is Local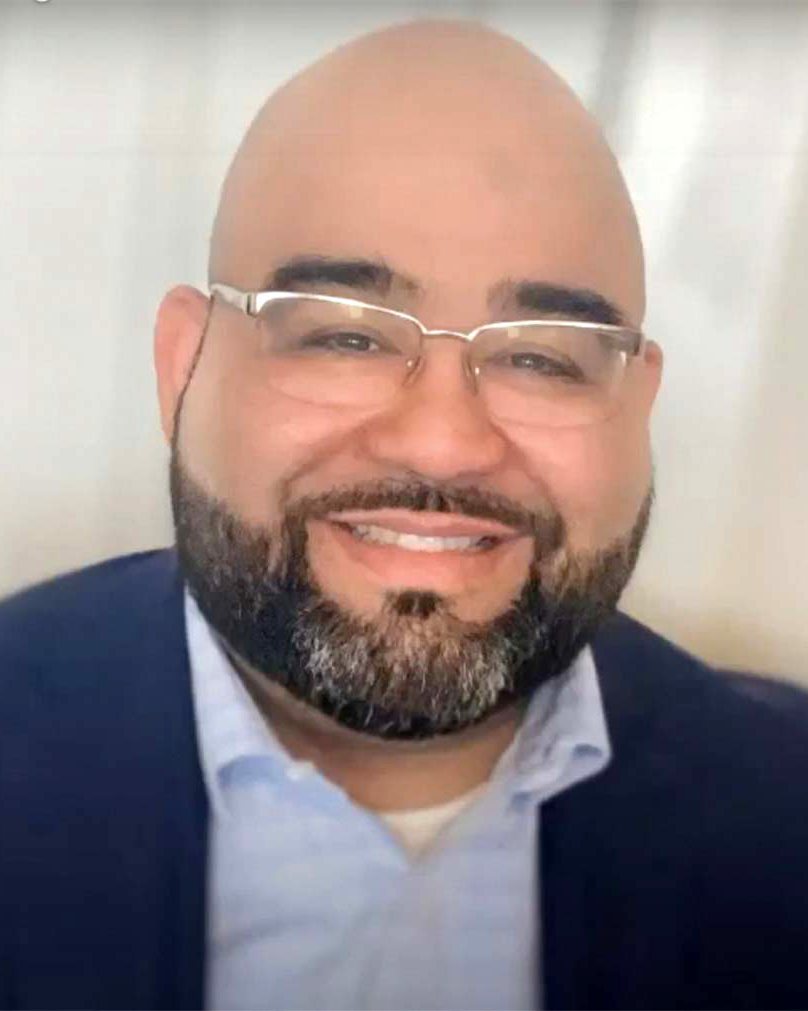 The Honors Program in September hosted, "All Politics Is Local: Getting Engaged, Where We Are."
The evening was moderated by Honors Program Director Rebecca Lartigue, and featured current Springfield City Councilor and State Senator-elect for the Hampden District Adam Gomez; Belchertown School Committee Chair Heidi Gutekenst; and Camille Elliott, who represented the League of Women Voters, the NAACP of Meriden/ Wallingford, Conn., Springfield Ward 4 Democratic Committee, community restorative justice efforts, and who also is a member of the Springfield College Academic Success Center team.
Panelists discussed how they became involved in local politics, which was followed by a question-and-answer segment where the virtual audience could question panelists. The event provided opportunity for members of the campus community to discuss the importance of voting, and ways in which individuals can get involved in their towns, cities, and communities.
As a part of the proceedings, Assistant Professor of History Ian Delahanty provided a reading of the United States Constitution in observance of Constitution Day. Each year, Springfield College joins colleges and universities across the country in observing Constitution Day during the week of Sept. 17.
Diversity in Employment
Springfield College is committed to enhancing diversity and equity in education and employment, and welcomes candidates for employment from all backgrounds and lived experiences who will contribute to a culture of inclusion and respect. Refer a friend, colleague, or family member, by contacting the Office of Human Resources at (413) 748-5678 for more information, or direct them to apply through our employment page.
Career Advice in a Pandemic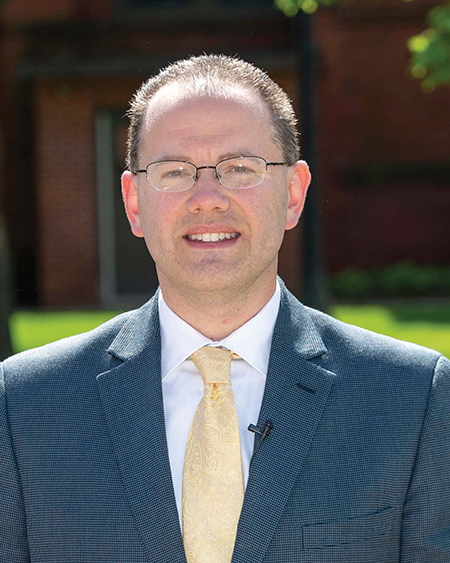 The Office of Alumni Relations staff hosted a virtual panel discussion in September to assist students with exploring employment opportunities during a pandemic. Career Center Director Scott Dranka, G'01, CAS'04, moderated panelists Peg Boyd, EdD, G'95, management faculty at the University of Rhode Island; Justin Monell, MEd, G'16, director of Career Services at Elms College and consultant and development specialist for Monell Career Consulting Group; Betsy Moquin '90, senior director of human resources, learning and development, YMCA of Central Mass.; and Justin Tishman '04, division director at Robert Half.
Humanities and Social Sciences Host Colloquium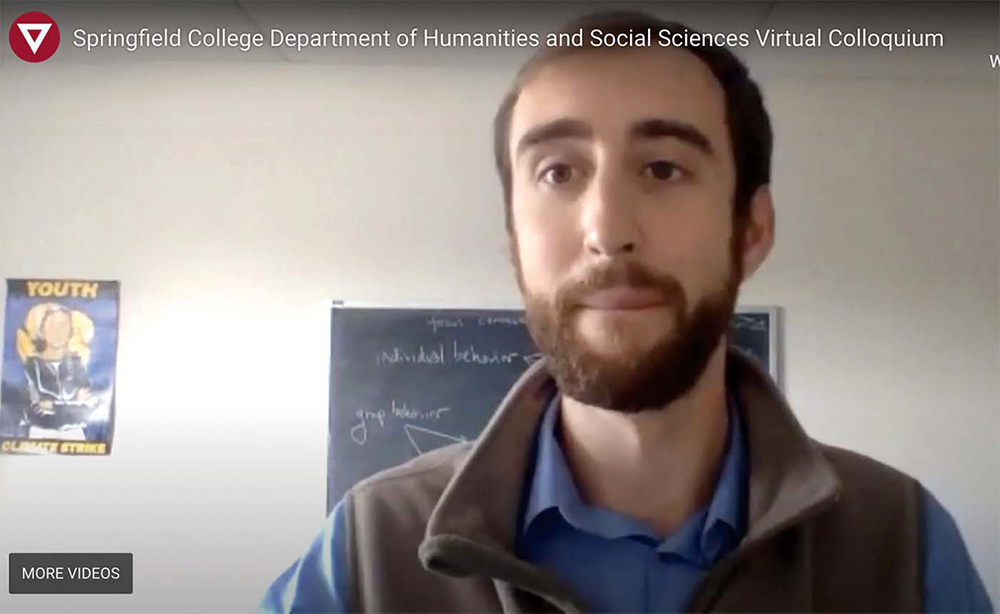 In October, members of the Department of Humanities and Social Sciences virtually hosted a colloquium featuring a discussion led by Assistant Professor of Philosophy Bob Gruber, PhD, on "The Ethics of Collective Action." "Each of us cares about making the world better," said Gruber, "but, are we morally obligated to act sustainably when our individual actions won't make a difference? For example, are we morally obligated to drive less even if each of our own personal greenhouse gas emissions are nearly negligible?"
Van Raalte Delivers Prestigious Lecture
Springfield College hosted the annual Humanics Lecture on Oct. 20, 2020 featuring 2019-20 Distinguished Springfield Professor of Humanics Judy L. Van Raalte and her presentation, Humanics: Give it a "Tri." View the lecture.
Share Your COVID-19 Experience
Springfield College Archivist Jeffrey Monseau, and professors Ian Delahanty, Rebecca Lartigue, and Sofija Zagarins have created a site where students, faculty, staff, and other Springfield College community members can submit photos, videos, poems, impressions, and other creations inspired by this pandemic.
A work in progress, the Springfield College COVID-19 experience site initially was designed so that classes could submit items for assignments. All members of the Springfield College community are now encouraged to contribute images, recordings, and reflections at https://sccovid19.omeka.net to help document this historic moment for the future.