Department
Pride Athletics
Wrestling Shines in the Classroom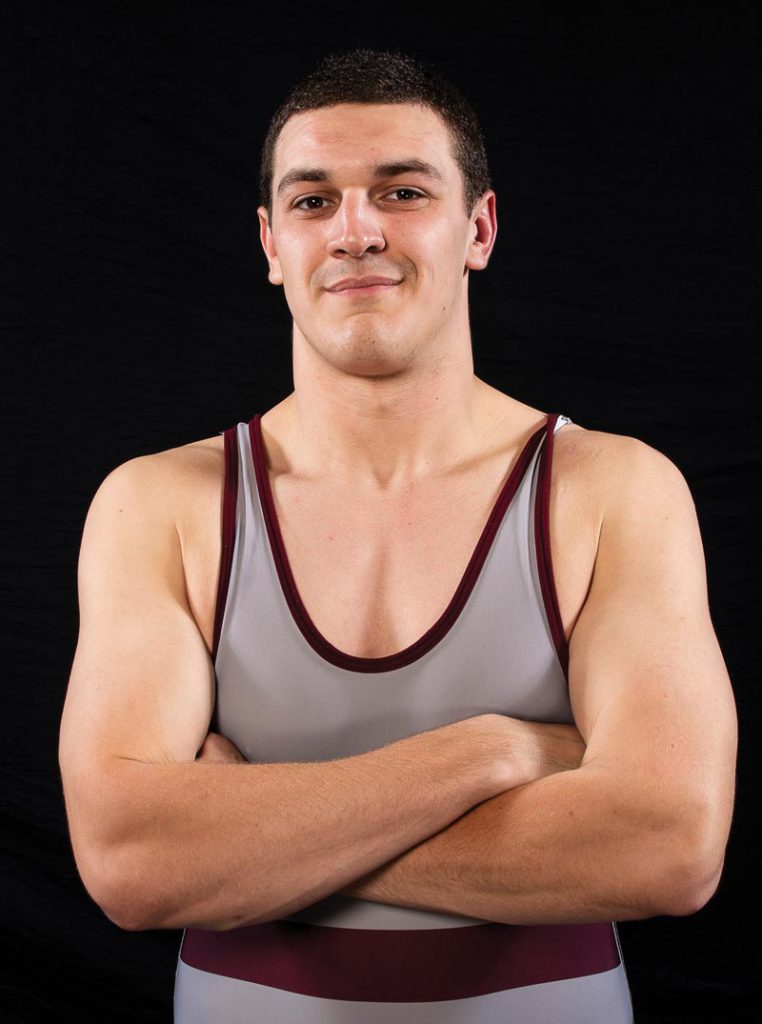 For the second-consecutive season, the wrestling team produced the sixth-best team GPA among Division III wrestling programs, as the National Wrestling Coaches Association (NWCA) recently released its Top 25 Division III All-Academic teams. This season, head coach Jason Holder's squad produced a combined GPA of 3.611, which was good enough to land them sixth nationally. This marks the first time since 1994-95 that Springfield College had consecutive seasons where they had the top-six GPAs in the country. Additionally, seven Springfield student-athletes earned NWCA Division III Scholar All-America recognition including sophomore Joseph Fusco (Billerica, Mass.), first-year Gianni Manginelli (Dumont, N.J.), first year Joey Manginelli (Dumont, N.J.), sophomore Michael Vietri (Dumont, N.J.), first year Jacques St. Jean (Goffstown, N.H.), junior Bryce Finnegan (Northborough, Mass.) and first year Chase Parrot (Stamford, Conn.). It is the first time in program history that Springfield has had back-to-back years of having at least seven wrestlers collect national academic honors. For Fusco, it was a historic recognition as he became the first Springfield College wrestler to earn the academic honor four times.
In addition to their academic success, Springfield College produced the fifth most national qualifiers in Division III wrestling this season as Zack Lawrence (Delanson, N.Y.), Chris Trelli (Bristol, Conn.), Joey Manginelli, and Fusco earned a spot in the NCAA Division III Championships following impressive showings at regionals. However, due to COVID-19, their championship competition in Iowa was cancelled less than 24 hours from when it was slated to begin.
Pennington and Avdoulos Honored for Diving Excellence
Springfield College diver Connor Pennington (Monson, Mass.) captured two regional titles as he won the one-meter and three-meter competitions at the NCAA Division III Northeast Regional Championship in the Art Linkletter Natatorium on February 28-29. It was a fantastic junior season for Pennington, as he collected New England Women's and Men's Athletic Conference (NEWMAC) Men's Diver of the Year honors. He repeated as the NEWMAC champion on the one-meter board with a score of 584.80, which proved to be a school, NEWMAC Championship, and Open record, and later went on to take second on the three-meter board behind the defending national champion as Pennington broke another school record and scored a 583.05 in the finals. Peter Avdoulos '85 was honored as the NEWMAC Men's Diving Coach of the Year for the 15th time in his career and third-consecutive season as he helped lead a men's diving group to impressive levels, including having two divers finish in the top three in both conference championship events.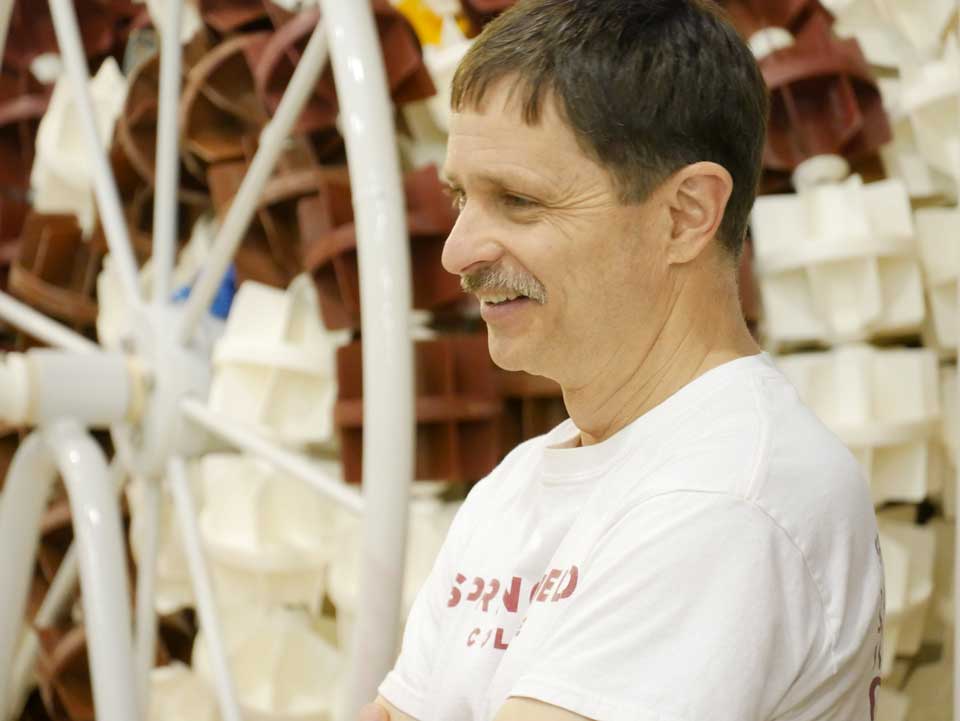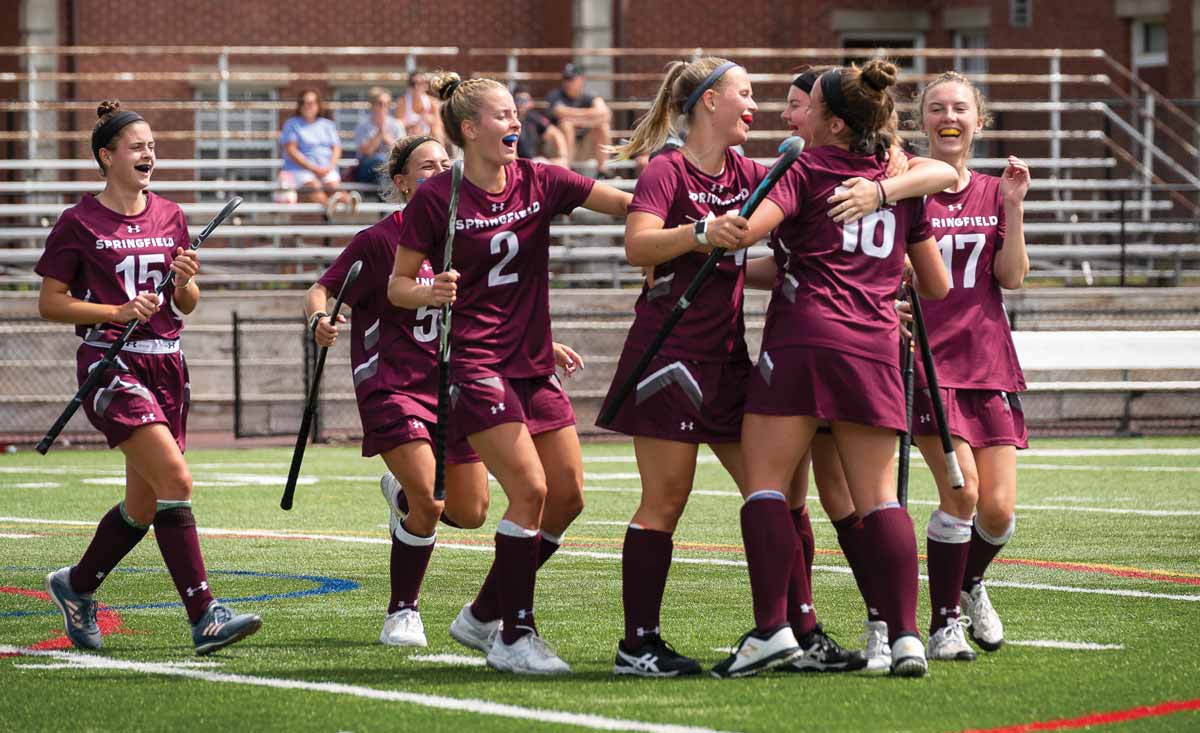 Field Hockey Academic Honors
The Springfield College field hockey program was recognized with a 2019 Zag Field Hockey/National Field Hockey Coaches Association (NFHCA) Division III National Academic Team Award, while 21 student-athletes earned individual national academic honors. The Division III National Academic Team Award recognizes programs that earned a team GPA of 3.0 or higher during the fall semester of the 2019-20 school year, and Springfield was among the 147 Division III programs from across the country recognized. The Pride had a remarkable 21 student-athletes named to the 2019 Zag Field Hockey/NFHCA Division III National Academic Squad, which recognizes student-athletes that have achieved a cumulative GPA of 3.30 or higher through the first semester of the 2019-20 academic year. This marks the fifth year in a row that Springfield has placed at least 18 student-athletes on the national academic squad for field hockey. Among the 21 players who earned honors, junior Taylor Conley (Yarmouth Port, Mass.), junior Belle Copponi (Dover, Mass.) were the senior athletes who have been represented nationally for their academic performance for all four years of their Springfield careers, while first year Emma Wesoloski (South Deerfield, Mass.) was named a Scholar of Distinction after owning a 4.0 GPA in the first semester.
Poisson Named Under Armour Athletics Director of the Year
The National Association of Collegiate Directors of Athletics (NACDA) released its 2019-2020 Under Armour Athletics Director of the Year Awards, and Springfield College's Craig Poisson, G'90, DPE'99, was one of four recognized from across the NCAA Division III landscape.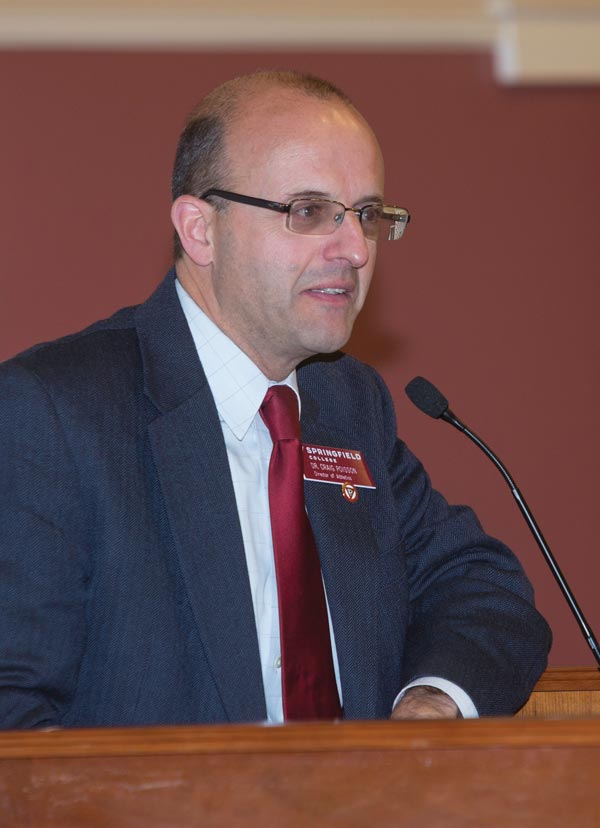 Poisson is among the 28 directors of athletics honored from throughout the nation representing colleges and universities from Division I Football Bowl Subdivision to the junior and community colleges, and is joined by Division III colleagues Dana Harmon (Worcester Polytechnic Institute), James Miller (North Central College), and Laurie Turner (Pacific Lutheran) as honorees. Winners were scheduled to be recognized in June during NACDA's 55th Annual Convention at the Mandalay Bay Resort in Las Vegas prior to the pandemic.
All NACDA-member directors of athletics in the United States, Canada, and Mexico who met the criteria were eligible for the award. Among the criteria were service as an AD for a minimum of five consecutive years; demonstration of commitment to higher education and student-athletes; continuous teamwork, loyalty, and excellence; and, the ability to inspire individuals or groups to high levels of accomplishments.
Appointed the Springfield College Director of Athletics in July of 2015, Poisson took on the role with more than two decades of athletics administration experience, spending the previous 19 years as a member of the Springfield College athletics staff and professor of physical education. Honored specifically for his efforts during the 2019 calendar year, Poisson's leadership resulted in a number of impressive accomplishments, including Springfield College earning honorable mention recognition for the NCAA and Minority Opportunities Athletic Association Award for Diversity and Inclusion, having 54 student-athletes complete the spring semester with a perfect 4.0 GPA, while the 650-plus student athletes combined for a cumulative GPA of 3.3.
On the field, the men's and women's lacrosse teams each won NEWMAC Championships, the men's volleyball team advanced to the NCAA Division III Championship Semifinals, the men's golf program captured the inaugural Massachusetts State Collegiate Athletic Conference Championship, and Springfield sent individuals to the NCAA championships in women's and men's diving, men's and women's indoor and outdoor track and field, men's gymnastics, and wrestling. A new initiative to aid in student-athlete development called the Pride Athletic Success Seminars (PASS) program for first year student-athletes also was developed to help orient first-year student-athletes to Springfield College and the resources available to them.
Poisson's fundraising efforts allowed three Springfield College teams to compete overseas in 2019 as the men's basketball team traveled to Costa Rica, women's volleyball traveled to Puerto Rico and field hockey traveled to Spain; during the annual Giving Day in March, more than 450 donors selected Springfield College Athletics as the recipient of their donations, which resulted in more than $40,000 of annual support that directly impacts the student-athlete experience; and, the 30th annual Springfield College Athletic Golf Classic held in September attracted nearly 200 golfers who helped raise almost $40,000.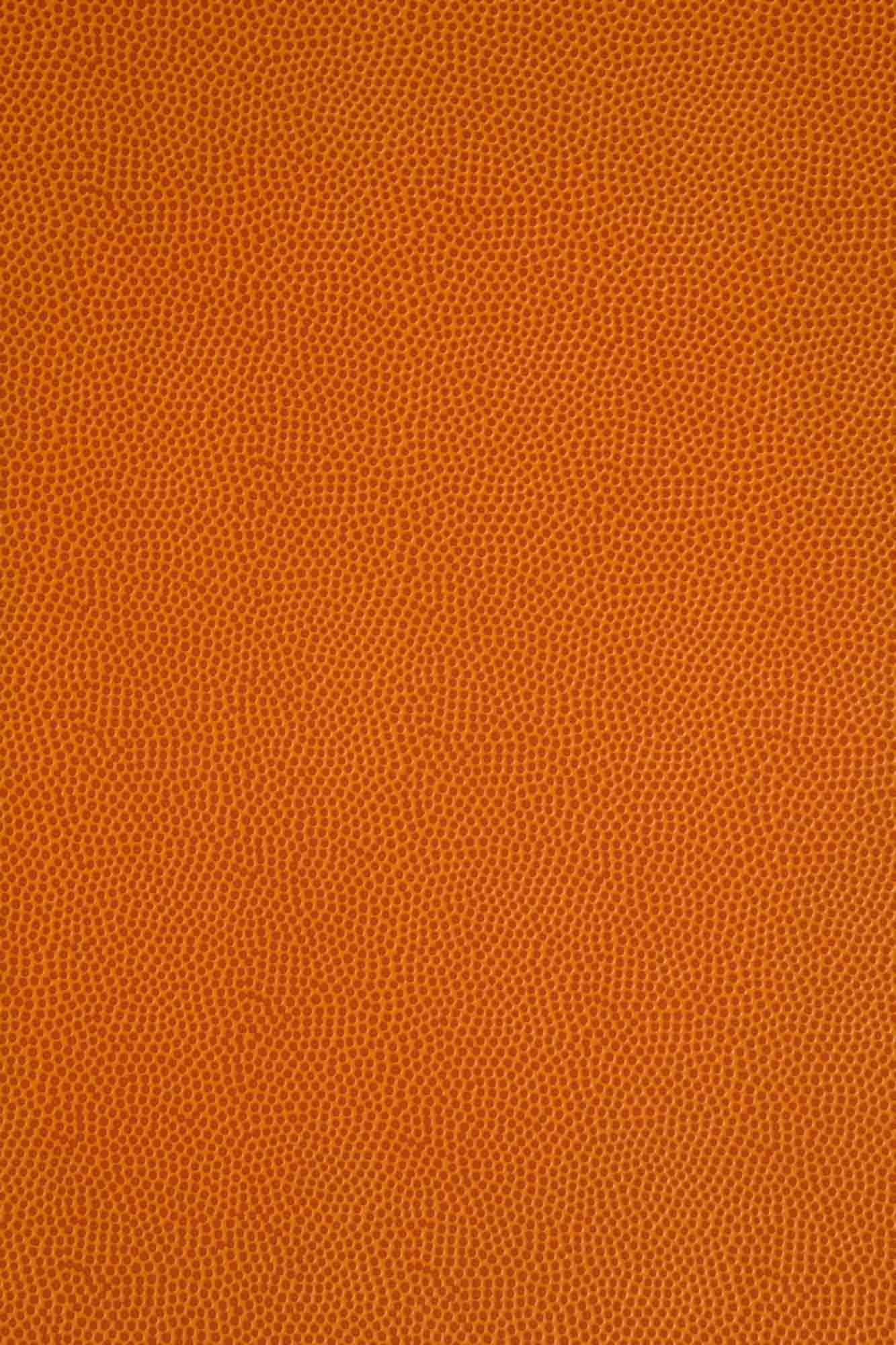 A Legendary Trio
There's no denying that playing basketball at Springfield College, the birthplace of the sport, comes with a sense of pride and a feeling of responsibility that only a small cadre of student-athletes ever get to experience. What a unique feeling it must be to step out onto the court each day in Blake Arena and play basketball for the institution where Dr. James Naismith first imagined the game over 100 years ago. In the decades to come, when looking back at the history of all those student-athletes who took to the hardwood at the Birthplace, there will be a special place for three student-athletes who wrapped up their careers in 2020. Alex Goslin, Jake Ross, and Heath Post; what a trio they were.
But, their legacy is further reaching than just points and rebounds. They were winners. They made those around them better. In her four years, Goslin helped the women's basketball program to 77 wins, marking the first time since 2005-06 that the Pride had at least 18 wins in four-consecutive seasons. As sophomores, Ross and Post were cornerstones of the 2018 team that captured the hearts of those on Alden Street with a magical run to the NCAA Division III Championship Final Four. The duo didn't disappoint in their final seasons with the Pride as they led Springfield to a NEWMAC regular-season title—their second in three years—in an electric atmosphere in Blake Arena, as Springfield advanced to the NCAA Championship Second Round in Blake Arena. The men's team owned a 23-5 record, marking the best record in program history since the 1996-97 campaign.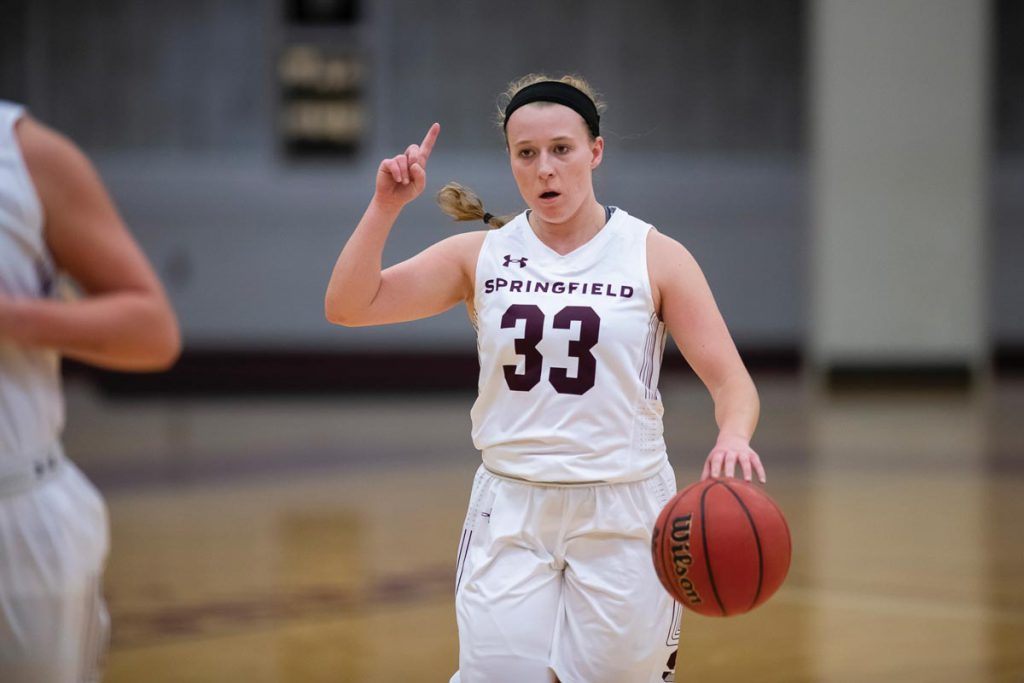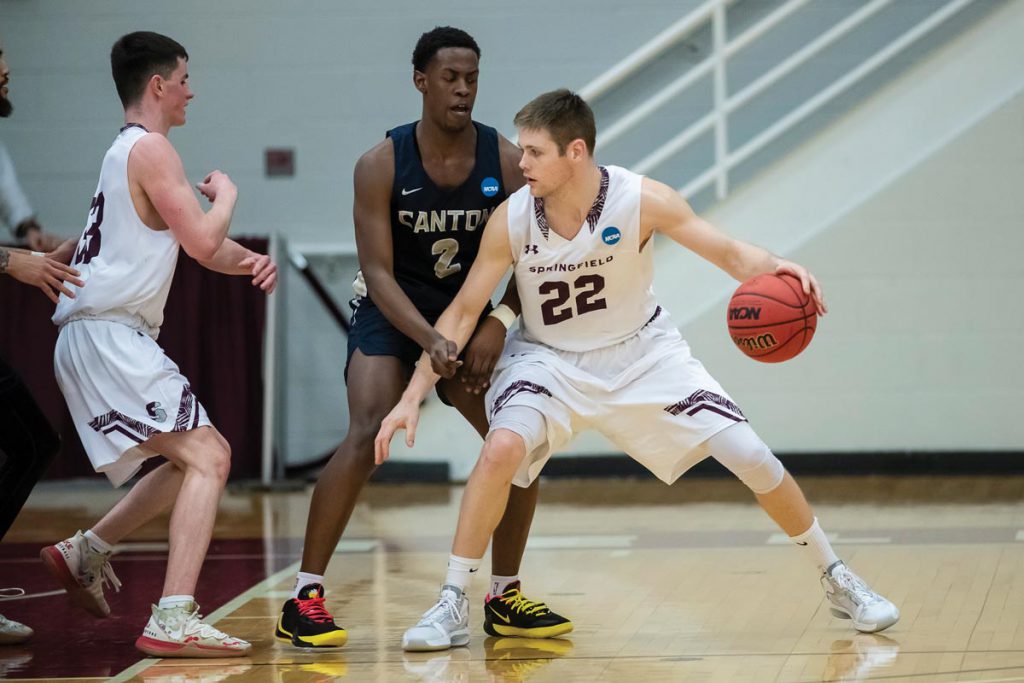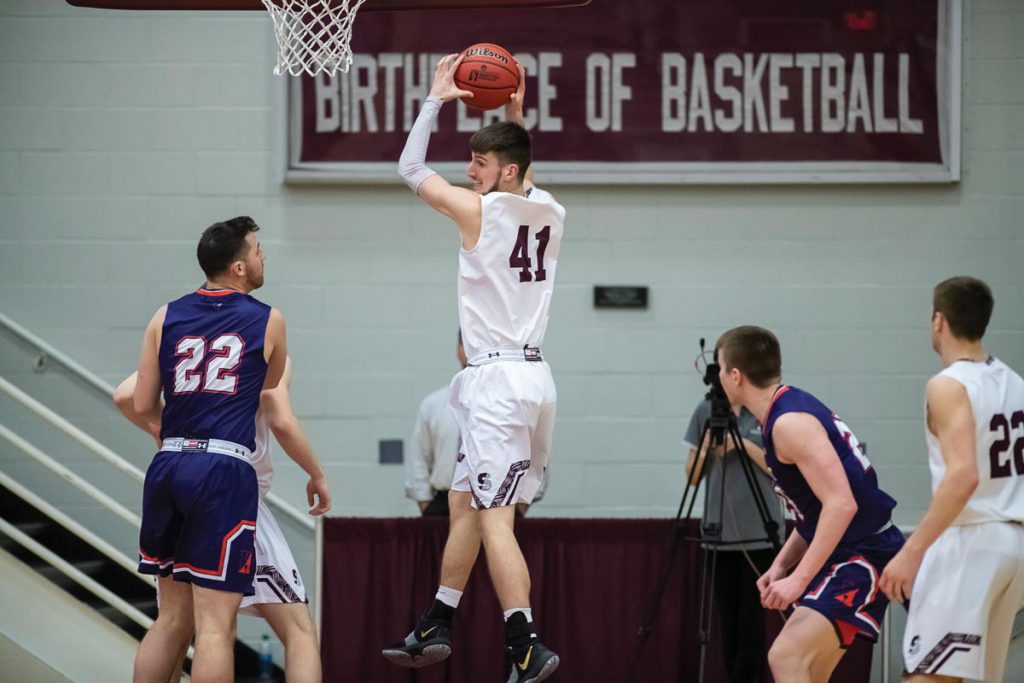 These three could flat out play. Goslin finished her career with the sixth-most points in women's basketball program history, as the 5'0" point guard netted 1,220 points. Post ranked ninth in all of college basketball with 1,009 career rebounds, which was also the most in Springfield College men's basketball history. He finished his career with 33 doubles and was one of only eight active men's basketball student-athletes across the country, regardless of division, to amass 1,500 points and 1,000 rebounds in their careers. Ross cemented himself as one of the best to ever play basketball at Springfield as the D3hoops.com and NABC First Team All-America selection wrapped up his career tied for seventh all-time in Division III history, and was the Division III active career scoring leader and was fourth in all of college basketball with 2,634 points. He also was third among all college basketball players with 53 career double doubles, and collected 1,008 rebounds in his career, the 14th-highest total among all active college basketball players.
They shined off the court as well. Goslin was a Springfield College Student Trustee and owned a 4.0 GPA en route to collecting CoSIDA Academic All-America honors in her senior year. She is just the third women's basketball player to earn the prestigious honor, and first since 1983. Post, who was on the executive board of the New Student Orientation Program, also was named to the CoSIDA Academic All-America Team, an honor that has only been bestowed to one other men's basketball student-athlete at Springfield since 1981. For those of us who had the pleasure of watching them mature during their time on Alden Street and evolve into model student-athletes, there is no doubt what wearing THE jersey at THE Birthplace meant to these three. And for that, we will always remember them. We are thankful for all they did to leave the programs in a better place than when they arrived.