Where Hard Work & Philanthropy Meet
The Burkes were inspired to create a scholarship that would finance a student's complete education.
The philanthropists — Bill, a 15-year member of the Springfield College Board of Trustees, and Cindy (Griffin) Burke — met by chance on a ski weekend with mutual friends in 1986 after he graduated from Loyola University in Baltimore and she from Bentley University in Waltham, Mass. They connected, their relationship grew, and the couple married in 1990 in the Parish of St. Ignatius of Loyola at Boston College, the same church where his parents were married, and where Bill was baptized as a child. The couple raised their four children — Hailey, Kelsey, William, and Christopher — became successful in business, maintained an unyielding Catholic faith, and made a mark as philanthropists for family, friends, and even strangers.
One of their generous gifts, one that was very personal for Cindy, was to support the Springfield College Learning Commons and dedicate a room in memory of Cindy's mother. The Forum, a state-of-the-art learning space on the second floor that can hold up to 60 people, is named in memory of Patricia Griffin Freda, who passed away in 2017. She was an unrelenting believer in the importance and necessity of an education, says Cindy.
As the Burkes toured The Forum on the day it was dedicated, and learned about the different types of studies, collaborations, and presentations that students participate in there, Cindy was struck by the synergy of her mother's name associated with a space in which education is at the forefront every day on campus.
"It checked the box for me that my mom was very inquisitive and self-taught, so I felt that was a perfect place, and it came to life with all those activities," she says.
Following a Board of Trustees meeting that same day, Bill and Cindy discussed the dedication, The Forum, and the special students that Springfield College educates. As their conversation continued, they both were moved to ask "What if? What if we could help students with their financial obligations? What if we could make a difference in the life of someone who will carry the Humanics mission forward?" The couple was inspired to create a scholarship that would finance a student's complete education.
Their generosity is nothing new for them. It comes from the way they were raised.
"We just sat down and said 'we worked hard, but we are so blessed and there are other people out there — other than our kids — who can benefit from this,'" says Bill, who retired in May from a successful career as chief operating officer at Newell Brands, owner of Yankee Candle, Rubbermaid products, Sharpie markers, Mr. Coffee machines, and numerous other consumer brands. "Both our parents were big on pay it forward, pay it backwards, help out whatever way you can," says Bill.
THEIR STRONG FAITH and generous spirit are at the foundation of their relationship. Bill's education at Loyola, a Jesuit school with a mission similar to our Humanics philosophy — its motto "Strong Truths Well Lived" — and Cindy's faith-filled Catholic upbringing, are at the heart of their philanthropy.
"If you go back to St. Ignatious [co-founder of the Jesuit religious order] and what he preached and taught — spirit, mind, and body, using different words, but the same meaning and the same outcome — I would say that was a very strong aspect of [our philanthropy]," says Bill.
"The other incentive for us, honestly, was President Cooper," says Cindy. "When I met her [I thought] 'This woman is going to change the institution and take it to the next level.'"
Besides an outstanding education, Cindy believes students should have the time to enjoy campus life and experience opportunities to create friendships and relationships with other students that can turn into lifetime bonds, much like she had at Bentley, and continues to experience, with "the 10 best women who are still in my life."
A decision followed their conversation, and soon after Bill told President Mary-Beth A. Cooper of their plan to establish a scholarship fund.
Knowing that Springfield College is nationally recognized for its health science programs, and that graduates serve communities by providing care based in the Humanics philosophy, the Burkes wanted to help attract and keep outstanding healthcare professionals in western Massachusetts. Their goal was to ensure that students in programs demanding a minimum of five years to complete undergraduate and postgraduate requirements would not find their financial challenges prohibitive.
So, they established The Bill and Cindy Burke Fund for Health Sciences that would support a local student in the School of Health Sciences (priority is given to physician assistant majors) who currently is a commuter. The fund covers tuition, fees, residence hall, the meal plan, and books.
The Burkes wanted to help a selected scholarship recipient experience the rich campus life available at Springfield College, while the recipient completed degree requirements with no debt, thus enabling them to begin a career with financial stability.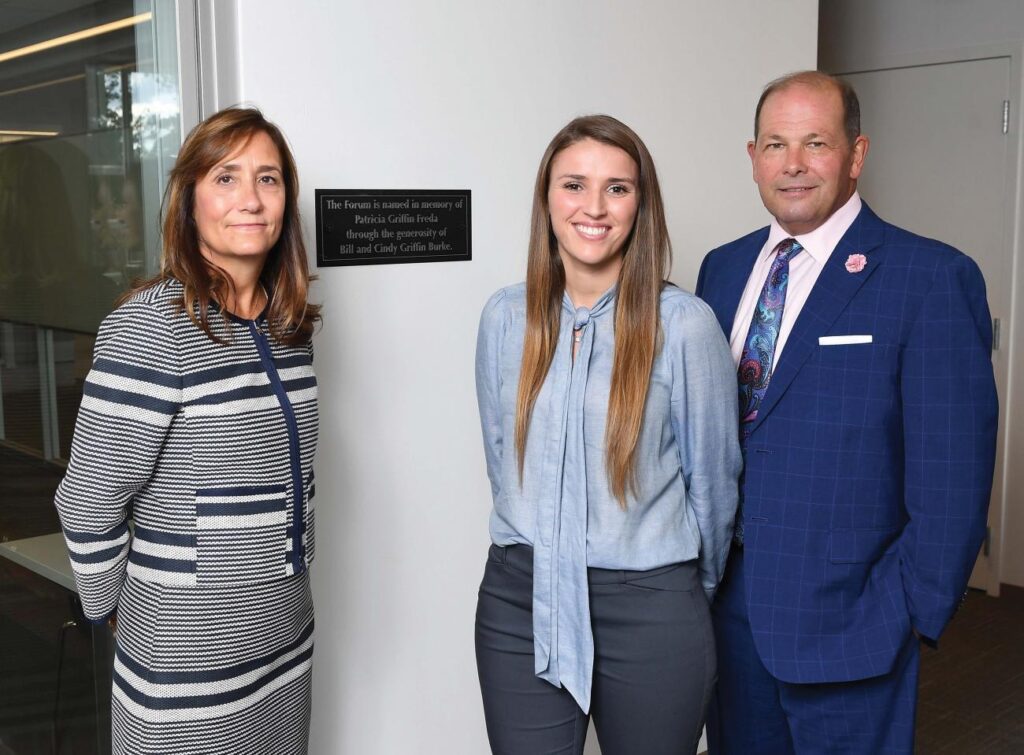 THE SCHOLARSHIP RECIPIENT, Avery Pedro, arrived as a first-year student at Springfield College in 2016, after excelling in academics and athletics at Palmer (Mass.) High School. She comes from a family with a strong work ethic and was ready for the rigors of her physician assistant program, one she felt was a good fit with her desire to help fix what she views as a broken health care system. Avery lived on campus that first year, but come the next fall with school loans piling up, she made the difficult decision to move home with her family to save money in order to pay for her education. She already had taken out school loans and was holding down multiple part-time jobs.
Besides working at Villa Rose Restaurant in Ludlow, Mass., and in the Office of Development at the College, Avery has spent her non-classroom hours completing her 30 hours shadowing physician assistants and 470 hours working directly with patients at Baystate Medical Center, both requirements of her major before the spring 2020 semester. She also worked the last two years with Claire Christofori, a teenage girl with cerebral palsy, to help increase her independent living. The Springfield College Humanics philosophy is a perfect fit for a young woman whose way of living is giving.
"I grew up with my entire family being busy and I've never known any other lifestyle. It's knowing what I want for the future and seeing what happens if you don't work hard," Avery says.
Avery gives credit to her parents, Luis and Doreen Pedro, and believes it was her strong family work ethic that made her a good candidate for the scholarship. In selecting Avery for the scholarship, administrators noted that she valued her education, and she had the passion and drive to be a leader who could affect change.
TODAY, THE MAJOR GIFTS coming into the College, especially from alumni and Trustees, are all about giving back to students. This idea of supporting students comes at a time when higher education affordability is especially on the minds of students, parents, and college administrators.
"The excitement around seeing alumni, trustees, and friends of the College rally to support our students specifically has been amazing. Being able to witness the generosity and spirit of just one couple is amazing," Cooper says. "That's really what's going to be the difference for these students moving forward. It won't be facilities. It's going to be dollars in their pocket. That has the most direct impact."
"There are many things that college administrators are doing to help address affordability," says Cooper. "It is critical that we contain our costs and manage our operating budget as sharply as possible so that we are not passing along unnecessary costs to our students.
"It is particularly important now that we create as many scholarship and funding opportunities for our students as possible so that we can help keep their debt manageable."
Cooper emphasizes that the value of a Springfield College education is tangible and can be demonstrated as a smart return on investment due to world-class Springfield College faculty, top-notch facilities, well above national average retention rate, consistent rise in ranking in U.S. News and World Report standings, and more.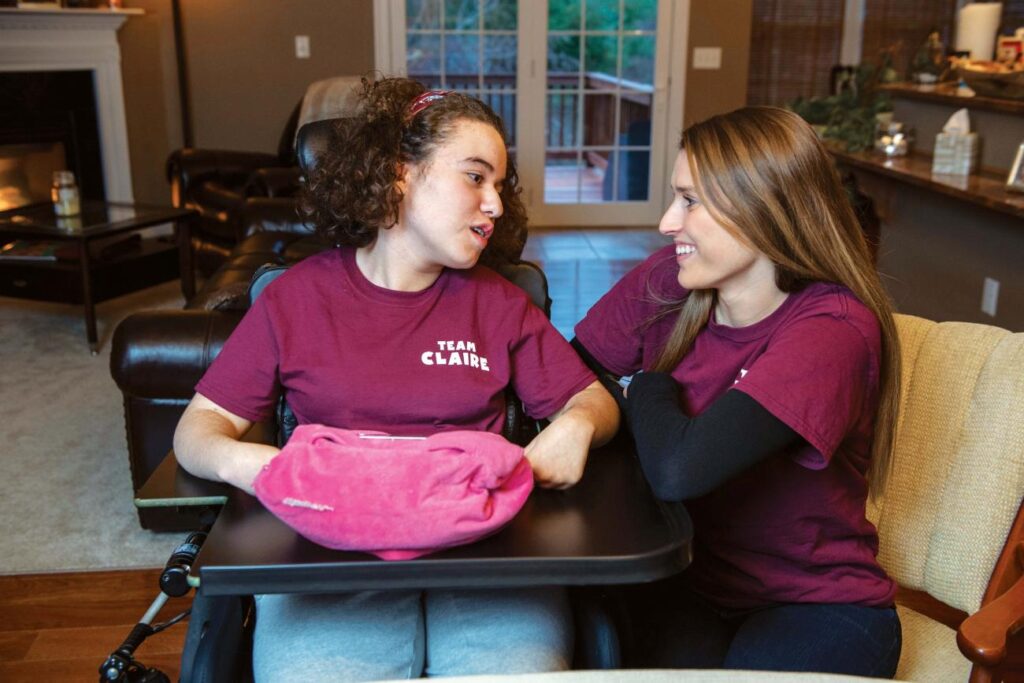 WITNESS OTHER generous acts of giving to Springfield College students. Robert "Rip" Van Camp '54 matched $125,000 of the funds raised during the President's Gala at MGM Springfield on Oct. 26. Attendees at the Gala raised more than $500,000 to go directly to support need- and merit-based student scholarships. And, Paul '65, G'72, PhD, and Nancy Couzelis '68 in 2018 established a $1 million endowed fund for the expressed purpose of providing 12 scholarships per year to students, known as "Couzelis Scholars," majoring in exercise science or physical education.
"We encourage people to direct their funds to what's important to them. But the single thread of student scholarship, raising over $500,000, says that people really like connecting a face to their donations — real students with real needs," Cooper says.
Students like Avery Pedro.
IT'S HARD FOR Avery to wrap her heart and mind around the generosity of donors like the Burkes. What could she possibly do to adequately acknowledge such an incredible scholarship? The brief "thank you" phone call she had with the couple the day she found out she had earned the scholarship was not enough. So, she began sending them cards, filling every inch of space with tiny handwriting, updating them on her studies and other activities. She also sends them periodic emails.
The Burkes appreciated Avery's gesture.
"I felt like that was the best gift. When we started getting those letters and cards, she didn't have to do that, we obviously know how busy she is, but I think her true, authentic self came through," Cindy says.
While the Burkes are confident that their scholarship is assisting an exceptional student and person, they know there are so many other Springfield College students who excel and have the potential to make a positive difference in the world. That's why they are hoping that others might be inspired by their scholarship and the opportunity to help a real person, because it brings a real person to an often-faceless experience of donating to a general fund, program, or department.
"There are so many students working hard at Springfield College who deserve a break. My hope is that this story will provide more students with opportunities for their lives to be changed," says Avery.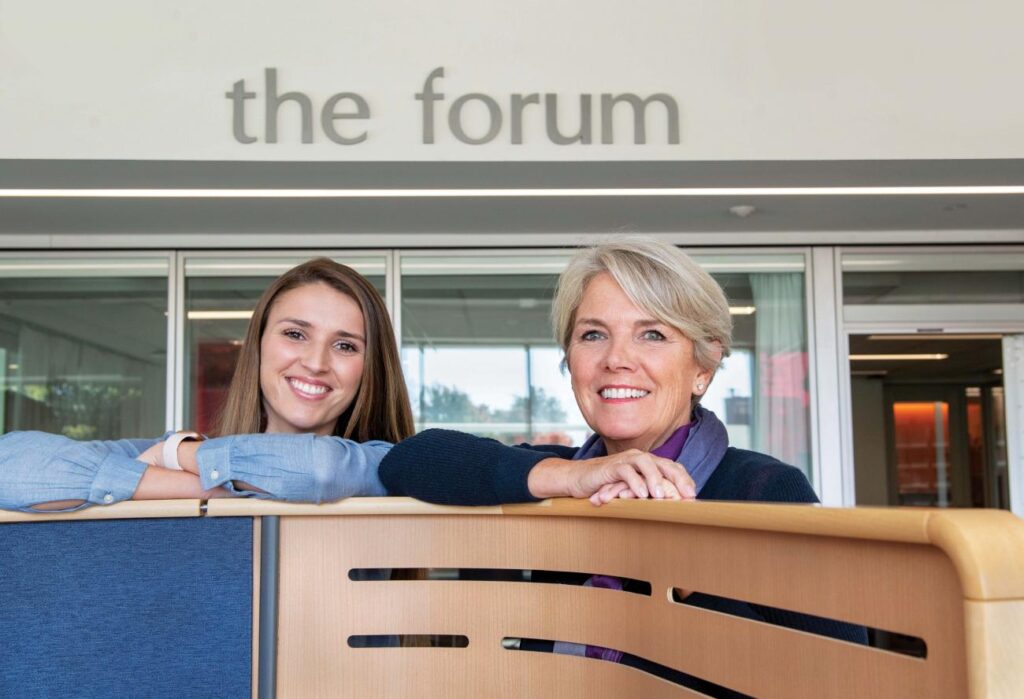 BRINGING THE IMPACT of a donation to life may inspire others to help students in need, the Burkes believe.
"Somehow if it can personalize the notion of giving in a way that is really meaningful, for me, that would be the best outcome," Bill says.
For Cooper, it's all about making college affordable so students can complete their degrees and graduate with less debt.
"If we can help them while they're with us with an end result of lowering student debt, it will help them start their post-graduation life with less burden," she says.
Avery still has a lot of hard work ahead of her at Springfield College and in the future. To bolster her skills and knowledge as a physician assistant, Avery plans to use what she learned in health care management to understand where the industry she wants to work in and the patients she treats are both coming from. Those perspectives resonated with her after watching a documentary in one of her health care management classes. A man working in his garage accidently cut off two of his fingers. His insurance only covered reattachment of one finger — so he had to choose which one.
"That was my 'aha' moment. What is wrong with this? We have the medical ability to make his life better. Why are we not giving someone the ability to live more independently?" she asks.
In a couple more years, Avery and other physician assistant students will participate in the white coat ceremony, the formal presentation of their white lab coats as they take the physician assistant professional oath and begin working with patients. The image of the white coat is what drives her to succeed in the program.
"I can't wait to get to that point to send Mr. and Mrs. Burke the invitation. Come see me get this white coat, because you're a big reason I'm here," Avery concludes.