IT'S MAY 8 and the Springfield College men's lacrosse team is in Collegeville, Pa., for the opening round of the 2019 NCAA Division III Men's Lacrosse Championship Tournament against 8th-ranked Ursinus. The Pride is fresh off winning its 12th-consecutive conference title and is poised to make a run in the national tournament. Head coach Keith Bugbee, G'84, would reference the weather as a "Lindsay Day," just picture perfect. He'd preached all year about the importance of showing up, and was confident that this battle-tested group would do just that.
Flash forward 10 minutes and 22 seconds into the game and Springfield was staring down a 6-0 deficit. Not exactly how Bugbee envisioned the day playing out. But, the last 10 months for he and his family had been a distant cry from predictable. Frankly, it had been unimaginable.
I can still distinctly remember the text message I received at 3:35 a.m. on July 3. "I need your prayers. Lindsay was rushed to the hospital and is on life support. Very sick, please pray."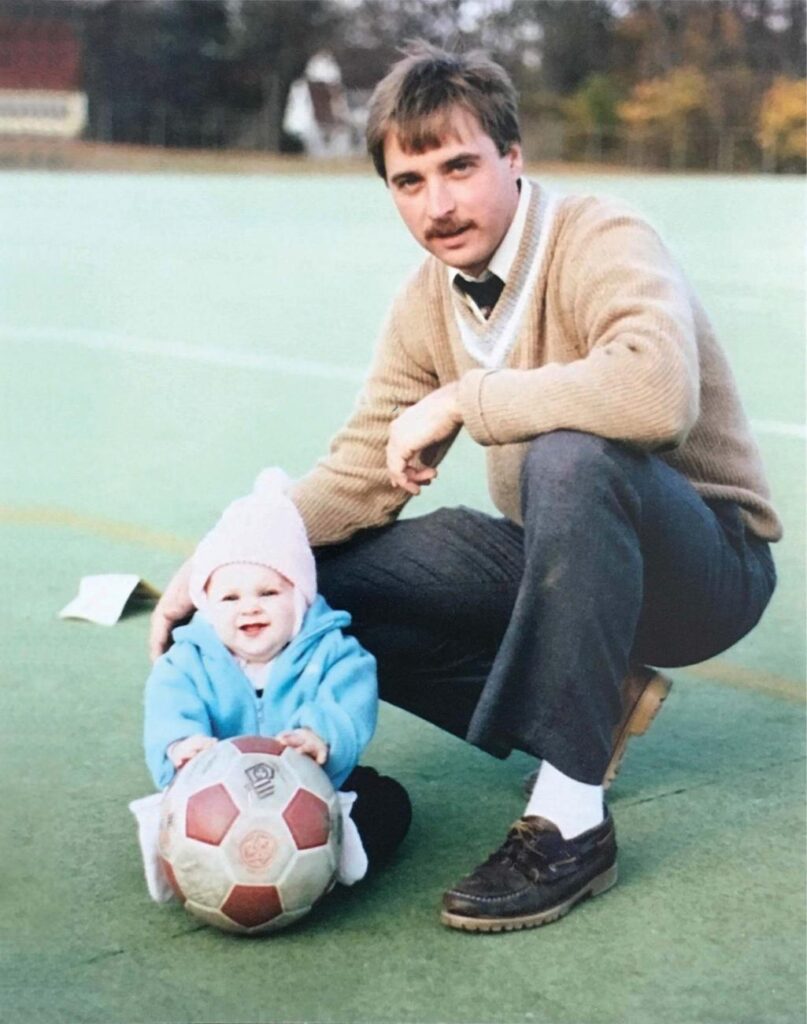 THIRTY-SIX HOURS LATER, Lindsay '08 passed away, less than two weeks after giving birth to her third child, from Group A strep and sepsis. The energetic, loving, and genuine former Springfield College women's soccer and women's lacrosse student-athlete, daughter of Keith and Jane, sister to Jenna '12 and Dave, wife of Evan, and mother to Findlay, Sigrid, and Nolan, was gone at the age of 32.
This is a story of grief, of community, love, and inspiration. Because Keith Bugbee is not an ordinary father, husband, or teacher-coach. He is a man who has left an indelible mark on hundreds of young men, and is grounded in his faith and commitment to his family. He is one of the winningest lacrosse coaches in the history of the sport. But he's quick to point out that it's not about him. It never has been. It's always been about the kids.
"I've always said I have two families, one I go home to, one I go to practice with everyday," said Bugbee.
And, as the Pride had its back against the wall against an Ursinus team that many considered one of the more dangerous teams in the tournament, they, just like their coach had all season, found a way to summon a grit that words cannot describe. Slowly, Springfield chipped away at the lead until the score was tied at 10 with less than six minutes remaining in regulation. Sixty minutes would not be enough to determine the winner. There was no doubt how this game would end, as even the best Hollywood directors couldn't pen this script. Cameron Glover '19, whose father, Don '89, was one of the first goalies Bugbee had coached at Springfield early in his tenure, got loose from behind the cage for the winner just 1:27 into the extra session. Sticks flew in the air. Players rushed the field. The coaching staff embraced. There was something special in the air, and there was no doubt that this truly was "Lindsay Day." And, in the end, his kids showed up.
AFTER 36 YEARS ON the sidelines at Springfield, Bugbee's coaching tree is extensive, as many of his former players and graduate coaches have gone on to coach in the high school, prep, college, professional, and international ranks. Under his leadership and guidance, young coaches grow and develop at a rapid rate on Alden Street.
"We've had a lot of great coaches come through here, but I can't imagine what last year would have been like without the guys we've had. Ryon Lynch '15, G'17, and Vinny Senatore '10, G'12, have been constants over the last few years, and with the addition of graduate assistants Brendan Dooley '17, Jake Reynolds '18, and JT Kapnis '18 last year, this was the right group at the right time for me. They never made me feel guilty for being somewhere else, at times. They filled in for me emotionally and were unbelievable at understanding what was important at such young points in their careers."
When Matt Kinnear, the editor-in-chief of Inside Lacrosse, reached out to Bugbee in early May, the intention of the conversation was supposed to focus on Bugbee's historic 400th career win which came in the New England Women's and Men's Athletic Conference Championship victory at Coast Guard. However, it quickly turned into a conversation about life as tears, laughs, and stories were shared.
"How the story started was not at all what played out," said Bugbee. And that, in itself, is the ultimate microcosm of the last 16 months for the Bugbee family.
Kinnear and Bugbee spoke about what it means to show up, a phrase that has not only become synonymous with the men's lacrosse program, but much of the Springfield College Athletics family that has been there for Bugbee to lean on. Last academic year, each Springfield head coach wore an arm band at one home and one away game with Lindsay's name on it, not only to show solidarity for the Bubgee family, but as a reminder to the student-athletes to model their behavior like that of Lindsay's. The women's soccer and women's lacrosse programs took Lindsay's number out of the uniform rotation. In fact, the women's soccer team names a player of the game based on who showed up and is awarded a shirt with a sunflower — Lindsay's favorite flower — on it.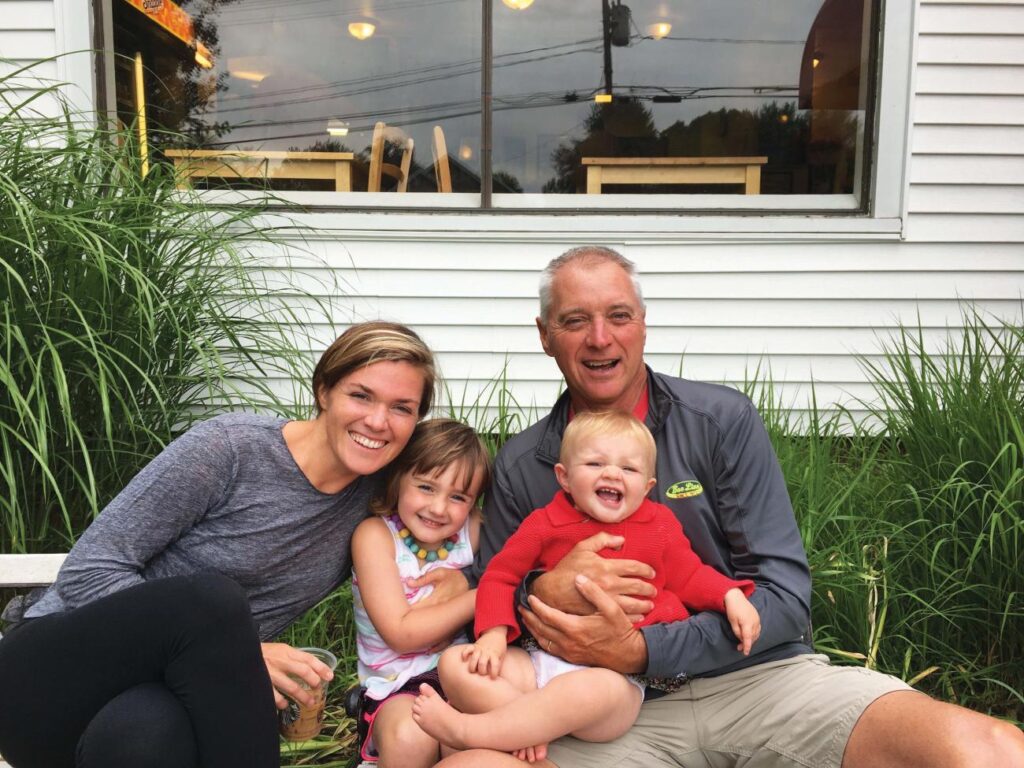 GAME DAYS HAVE always been special in the Bugbee family, especially between Keith and Lindsay. A morning good luck text message had been a staple of their relationship. But, when season-opener against Nazareth on Amos Alonzo Stagg Field rolled around on February 24, Bugbee was unexpectedly paralyzed with emotion. As his team went back into the locker room for final pre-game preparations, a man who had given his all to his family, his faith, and Springfield College stood alone at midfield in tears. Game day would never be the same.
"Lindsay loved to compete. The bigger the stage, the brighter the lights. That was her time. But, that carried on past her playing days. Marriage was game day, having a baby, raising her kids, that's when she would show up. The more important the life milestone, the more she would pour herself into the situation. She loved the moment when she could rise to the occasion."
Bugbee has been a staple in the Springfield College and lacrosse communities since he took over the program in 1984. What started as a part-time gig, and even featured additional responsibilities as the head women's soccer coach for a year, has evolved into Bugbee entering his 37th season on the sidelines of the men's lacrosse team. While he became just the fifth coach in the history of collegiate men's lacrosse to capture 400 victories last season, and the only to ever win his first 400 games at just one institution, his impact goes far beyond wins and losses. His time as a teacher-coach has put him in front of the Springfield College student body for nearly 40 years, whether it's his outdoor adventure or tennis class. And, you better believe that Lindsay found a way to take three of her dad's classes.
HIS PROGRAM PREACHES family because, for Bugbee, it's always been about family, faith, and grit, and in that order. While those in his program have been hearing about this for nearly four decades, the circumstances of Lindsay's passing have elevated his platform and made those words ring even more true.
"Faith means something different for everyone, and I think that's really a staple of Springfield College. For Jane and I, we just celebrated our 38th wedding anniversary, and 34 of those years have been surrounded by those at the Pilgrim Covenant Church. What started as a bunch of young couples exploring our faith, now has us all as grandparents and best friends. It's been so unbelievable to be at the receiving end of the relentless support they've provided us."
After the thrilling win at Ursinus, Springfield would take the field one more time in 2019, clashing with Cabrini in the NCAA Championship Sweet 16.
"When we won the conference title this year, I don't think we were the most talented team in the league. All year, I needed this group to grow up, because it wasn't about winning games, but understanding how to compete, how to conduct ourselves, and honoring Lindsay in our everyday approach. And in that national tournament, I'm confident to say we were as good as anyone in the country."
Springfield would go down early to the Cavaliers, but find themselves trailing just 6-5 at the halftime. As a family, the Bugbee's have always been fascinated by birds of prey, particularly hawks. During Lindsay's celebration of life that was attended by more than 2,000 people, a hawk sat atop the cross that adorned the chapel. When the Bubgee family got home that afternoon, a hawk sat perched on a tree in the front yard. And, as the Pride broke to the corner of the field to discuss halftime adjustments, a hawk circled the field before flying off in the suburban Philadelphia sky.
Cabrini would eventually pull away from the Pride for the 15-8 win as part of their run in winning the program's first-ever national championship. As the final whistle blew, a season that was filled with so many highs and lows had come to an end, and eight seniors had ended their college careers. There was disappointment, shock, and tears. But, there was also a chorus of young men looking each other in the eye, embracing one another, and saying "I love you."
"There've been so many unintended consequences of Lindsay's passing. One that is especially pertinent to the guys on my team is that it's ok to be vulnerable as a male. For a 20-year-old kid who's supposed to be tough and gritty and play a helmet sport, I think it's really impressive for them to admit to someone else that they are loved. Most of my text messages and voicemails haven't ended with "Love you, Coach" until this year. All our guards are down now; it's not phony, it's special," said Bugbee.
There isn't a span of a few days that goes by that Bugbee doesn't hear from his alumni. Former all-time greats on the field like Jack Piatelli '86 and Sean Quirk '95, each of whom were raised by single mothers, understand the situation that the family is faced with and consistently have been there, even if it means just being on the other end of the phone to listen.
LIFE WILL NEVER be the same for the Bugbee family. It will forever be impacted, and the common thread between his biological family and lacrosse family is that it's always been about the kids. But moving forward, it's really about the grandkids.
"All Jane and I ever talk about is, 20 years from now, can we look at each other and say we did everything we could for those kids? What do the next 20 years look like, because they are just babies, just 7 years old, 3 years old, and 14 months. We don't have a monopoly on sadness; everyone is battling something. This is what our life is now. We were so blessed to have Lindsay, and wish she were here every day. But, instead, we honor her. We try to be positive, to smile, to laugh, because she would be so mad at me if I moped around."
And, there have been happy moments for this family, probably none more than when the Bugbee's youngest, David, married his wife, Sarah, on Sept. 21 in New Hampshire. It was a family affair, one where life was truly celebrated, with Jenna and Evan standing next to the newlyweds as they exchanged their vows. Lindsay's memory was woven throughout, with a sunflower displayed during the ceremony, and her daughters serving as flower girls. Together, Evan refers to them as "The Team," a team that helps him on a daily basis navigate his new normal. And, if there is anyone who knows the impact a team can have, it's Keith Bugbee.
"Jane and Evan are amazing. They are my source of inspiration every single day. For now, I want to do everything that I can so when I get to the gates of heaven, and Lindsay comes running into my arms again, that she gives me a hug and says, 'thank you, dad. Thank you for being there for my kids and Evan when I couldn't be there anymore.'"