Gold Rush
Adam Zeitsiff has been a business leader since his early 20s — now he's out to make Gold's Gym that much stronger
Once when you thought of Gold's Gym, it sprouted images of bodybuilding behemoths posing 20-inch biceps in the mirror and the sounds of endless 45-pound plates slamming to the floor, along with the grunts of unfathomable strain. Gold's Gym members are still pushing their bodies to the limit today, but far more of them are female than in the past. Corporate is out to spread a feeling of inclusiveness, which means you'll see all kinds of body types putting themselves to the test.
One of them is Adam Zeitsiff, no six-pack rippler, just a 46-year-old father and husband trying to stay in decent shape like most members attempt to do. In fact, it's not unusual to see him at a location in the Dallas area where he lives, taking aim at that 10 extra pounds he says can often creep up.
What is unusual is that he's the president and CEO of Gold's Gym, a name synonymous with strength for more than half a century.
Zeitsiff proudly attended Springfield College from 1991-95, giving much credit to the school for contributing to the business and health base that helped drive much of his career.
BUT GROWING UP in North Attleborough, Mass., just 90 minutes east of Springfield, Zeitsiff knew before he was even a teenager that he would be a businessperson some day. Watching his grandfather, Robert, a steadfast veteran of World War II, lead manufacturing refurbishment company Newstamp Lighting to success, puffed young Adam up with pride but also rubbed off on him. "My grandfather owned the business, he was the boss, he led people, he treated people really well," Zeitsiff says. "He made them feel like family and I was always exposed to that. And I knew that I wanted to emulate that…He was a huge mentor to me in that regard."
Of course, Zeitsiff felt he needed the education to go with it. Choosing nearby Springfield College allowed him to get the business knowledge and discipline, which would be a huge part of his career. The school Humanics philosophy, which incorporates spirit, mind, and body for leadership in service to others, is something he responded to and takes with him into his work today. "Being in the fitness industry, it certainly ties. Obviously, Springfield's core background still is in physical education, physical therapy, and other related areas…Fitness and wellness is all about spirit, mind and body… There's an omnichannel approach to life in the way you approach things and Springfield certainly taught you that."
Zeitsiff cites Robert Fiore as a key instructor during his time at Springfield. "He was my economics professor…" he says. "He stood out and challenged me and got me thinking in an entrepreneurial way. We'd sit and have coffee in his office and chat…He was involved in businesses, too, and helped me understand what it was like. That was instrumental and motivational for me."
In fact, Zeitsiff was confident enough from his education to be one of two founders of a start-up in his earlier 20s. That entrepreneurial spirit was one of the reasons he was picked to lead Gold's Gym years later. IVCi started with two employees. When Zeitsiff left? Around 100 employees — and still in operation in the present. Focusing on video conferencing — a no-brainer today — it was a real challenge for businesses more than 20 years ago. "I thought I'd give it a go and, in the worst-case scenario, I'd move back in with my mom and dad," he says. "I learned a lot as a young entrepreneur — sweeping floors, selling customers…balancing the books. It was a diverse background…"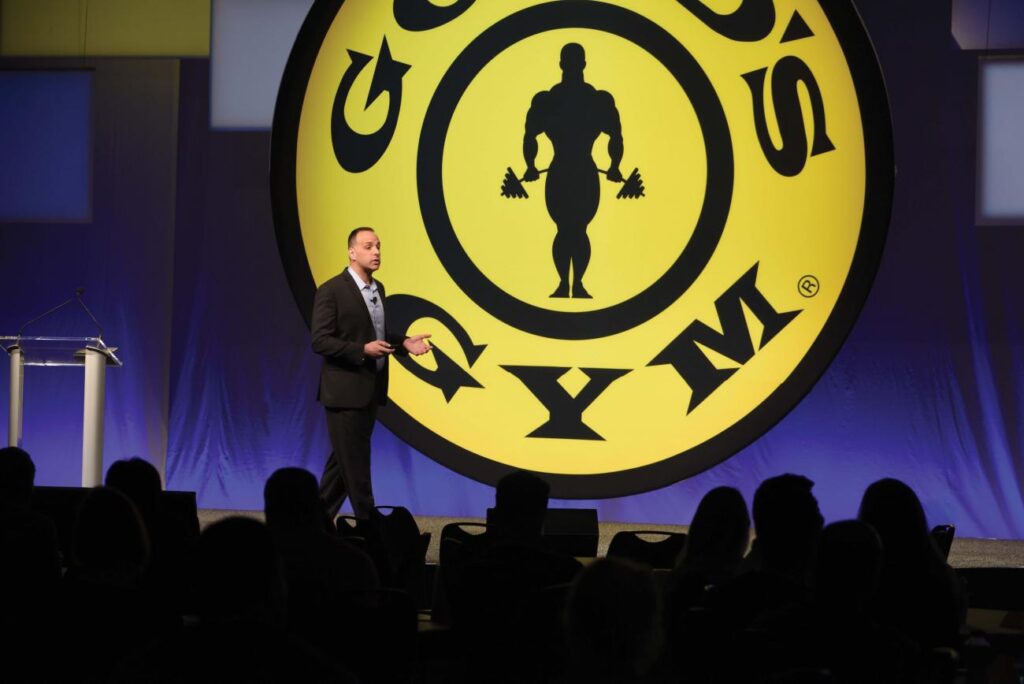 THE GROWTH WAS a source of pride, yes, but a particular occasion stood out. Similar to what he saw at his grandfather's company, it was watching employees and their loved ones enjoying themselves at holiday parties after giving their all for the year. "Some of the most memorable times for me as an entrepreneur were hiring new people, getting to meet their families, and getting to realize that this crazy idea we had is the reason why people are putting food on the table," he says.
Later, in 2009, as president of Jonas Fitness, a software member company for health clubs, he learned a great deal more about technology but also the operational side of gyms, getting behind the scenes by putting systems in place to run those businesses. He served many clients in more than five years there, one being Gold's Gym. This relationship would eventually bring him in as the COO and senior vice president of brand innovation in 2016.
"But what I didn't grasp from the outside looking in was the fitness community Gold's built over 50-plus years…" he says. "Starting in the 60s with Joe Gold and the 70s and 80s with the bodybuilding movement and then the 80s, 90s, all through today, which is full-service, full-amenity gyms."
What partly drove home the point? Considering a mega-blockbuster from a decade before.
"If you watch Men in Black, the first one, and you see when Will Smith finally gets approved and becomes one of the men in black — they're erasing fingerprints, his driver's license from New York City, his NYPD card…and the gym membership card erased…? It was Gold's Gym."
With his first taste of a company of that size and the knowledge to go with it, he went on to Smoothie King in April 2018 as chief information officer and, admittedly, didn't have any intention of leaving. In fact, he marveled at the efficiency of the food service world, seemingly everything accounted for, right down to the lights.
Of course, he didn't know he'd be receiving the offer many businesspeople dream of but few ever receive. It was Gold's. Though they had been considering selling the business, they decided to go another way.
And would Zeitsiff mind being their CEO?
"When you get this kind of opportunity, unless you're about to retire, how do you say no?" he says.
He returned in February 2019.
A TYPICAL DAY for Zeitsiff actually has him saying yes quite a bit. To answering what can be endless emails to start his morning. To what can be a day mostly filled with meetings. After all, Gold's Gym isn't just gyms, it's a brand, it's licensing opportunities, it's a partnership in the making with, potentially, so many.
That's not to say they ignore the base that got them here. Gold's Gym facilities are now in 23 countries, including 156 locations in India alone, he says. Stateside, many locations are franchise-owned, but there are still roughly 160 owned by corporate.
Even Northern Iraq is another location slated to join the Gold's Gym family. "…We have people in countries wearing Gold's Gym T-shirts even where there aren't any gyms — even without the physical footprint."
Zeitsiff isn't afraid to expand in several ways, in line with the number one lesson he learned in business over the years. "Hands down, it's that 'with risk comes reward': you have to be willing to take a certain amount of risks in business in order to set yourself apart from the competition and to achieve success," he says. "But simultaneously, I also learned early on that not every good idea turns out to be what you expected after execution. So, it's just as valuable to be okay with failing quickly, tweaking your model, and pivoting your direction until you find the path that leads you to this success."
His philosophy also comes down to one of transparency.
"As a leader, I think it's so important for my people to know that I am just like them — I'm just another human being out there trying to make a difference in the world, for the company I work for, and for the members we serve every single day," he says. "I also think it's equally important to always be transparent with my team by communicating frequently and directly with them in order to keep everyone on the same page in terms of the company's vision, goals, and mission. For anyone in a leadership position, maintaining a high level of transparency will help your team to feel comfortable communicating back to you directly regardless of their level within the organization — and you'll be amazed at the ideas, feedback, and support you will receive in return."
Of course, Zeitsiff is able to constantly try out the product, staying in shape himself through using Gold's Gym products. It makes him feel better physically, yes, but also keeps him from being out of touch when it comes to his core customers. "I'm always out in our clubs…" he says. "Coaches beam with pride and you see how much they care about our members and their journey. But you also can test the product and give feedback and experience part of it. I think it makes it easier for you as a leader to be transparent and be believable and be appreciative if you also use the same product that you're asking people to do a good job delivering." He pays strong attention to using the digital component — after all, Gold's Gym can't be everywhere, so it employs tools such as GOLD'S AMP, an app offering workouts like you might experience at their gyms, no matter where you are in the world.
For Zeitsiff, it's also about fostering a positive culture, learning partly from the Springfield College experience. Orientation may have meant wearing a beanie but it also meant being a good neighbor.
"You were an 18-year-old kid away from home," he says. "A new experience, no cell phones and no social media…When you were away, you were away…We were taught no matter when you walk by someone to just say 'hi.' When I got out of that environment it felt foreign when it didn't happen. What that did was simple, but it builds community. Just like we're trying to do at Gold's."
BUT SPIRIT, MIND, AND BODY have to go beyond career. One way Zeitsiff expressed this was through being a coach for his daughter Abigail's AAU basketball team for years, helping to culminate in her now playing for Division II St. Leo University, getting one level above her dad, who not only played basketball but also tennis and soccer at the high school level. "Talk about cool bonding…" he says. "And, I enjoyed meeting the other kids and the other parents — you can never erase those memories…It gives them a foundation for fitness, which carries over into adulthood."
Another vital volunteer experience was as co-president for Long Island Elite. A nonprofit dedicated particularly to helping those under 40 who are interested in philanthropy, business, and political arenas, it has raised hundreds of thousands for charities, Zeitsiff says. In fact, he will return just a couple of weeks after we talk as the recipient of their Contemporary Award for 2019. "When you're a small business with a total budget of $100,000-$150,000, you get a $40,000 check one year or even bigger, that's a huge difference-maker in your ability to help in the philanthropic community."
Yes, Zeitsiff has learned the powerful meaning of Gold's Gym. From Joe Gold opening up the first location in Venice, Calif., where bodybuilders went for solace and maybe a shot at something more. To the hints of mainstreaming, from the time of the watershed documentary Pumping Iron showing the competitiveness of a world few knew and another way to consider pushing the limits of the human form.
And the limits of the Gold's Gym member today?
That's for the individual to decide, Zeitsiff says. Maybe a whole new physique or just a return to a cardiovascular level which puts them under a seven-minute mile in a time when they have kids to pick up from recitals, board meetings to prepare for, and maybe are just hoping to push Father Time back a little further. Or, it could be those 10 pounds the CEO and president is sometimes trying to relinquish himself. He may even just be on the treadmill next to you while still eyeing company growth.
Zeitsiff's Other Routine
Zeitsiff was a three-sport athlete in high school, but found his real "workout routine" when he began lifting weights with a friend during his first year at Springfield College, regularly doing two-a-day workouts.
"But after college, I joined the workforce and then became an entrepreneur and a CEO in the technology space," he says. "I let work take over, and my health got away from me. By the time I was in my late 20s, I had gained about 50 pounds and was really overweight and unhealthy. I finally came to the realization that I had to do something about it, so I took some time off from work and got myself back into a healthy routine, which included better eating and getting back into the gym at least five days a week. Within three months, I lost 45 pounds and never really looked back."
Now working out five to six days a week, he likes to mix up his routine with three days of strength training, two days of GOLD'S BURN classes and one day a week where he gets out in his neighborhood for an early morning run using GOLD'S AMP, the company's digital coaching app. A classic multi-tasker, it also allows him to get to know the products and any tweaks in an intimate way.
"Most people who work in this business are here because they want to help people and have a healthy lifestyle," he says. "In fitness, that doesn't mean you need to have three percent body fat or be ripped up like in a movie. It's about making it a part of your life…It can be part of everyone's lifestyle — even just 30 minutes a day."

And Zeitsiff, in fact, has other growth to consider. As we finish our talk, he informs with a hearty laugh that he has a 5-week-old named Mia.
We told you he wasn't afraid of expansion. Spirit, mind, and body. Zeitsiff didn't just experience it at Springfield College.
He still lives it.
And, for now, on less sleep.