Department
Parade of Classes
1950s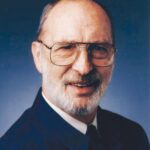 Wally LaFountain '50 was inducted into the Maine Sports Hall of Fame.
Howard Knuttgen '52 shared that the American College of Sports Medicine (ACSM) Board of Trustees has approved the designation of its International Scholar Award for the next five years to be called the Howard G. "Skip" Knuttgen International Scholar Award, in recognition of his service to ACSM and to the international exercise science community. Knuttgen studied under ACSM co-founder Peter Karpovich, MD, and served as his research assistant.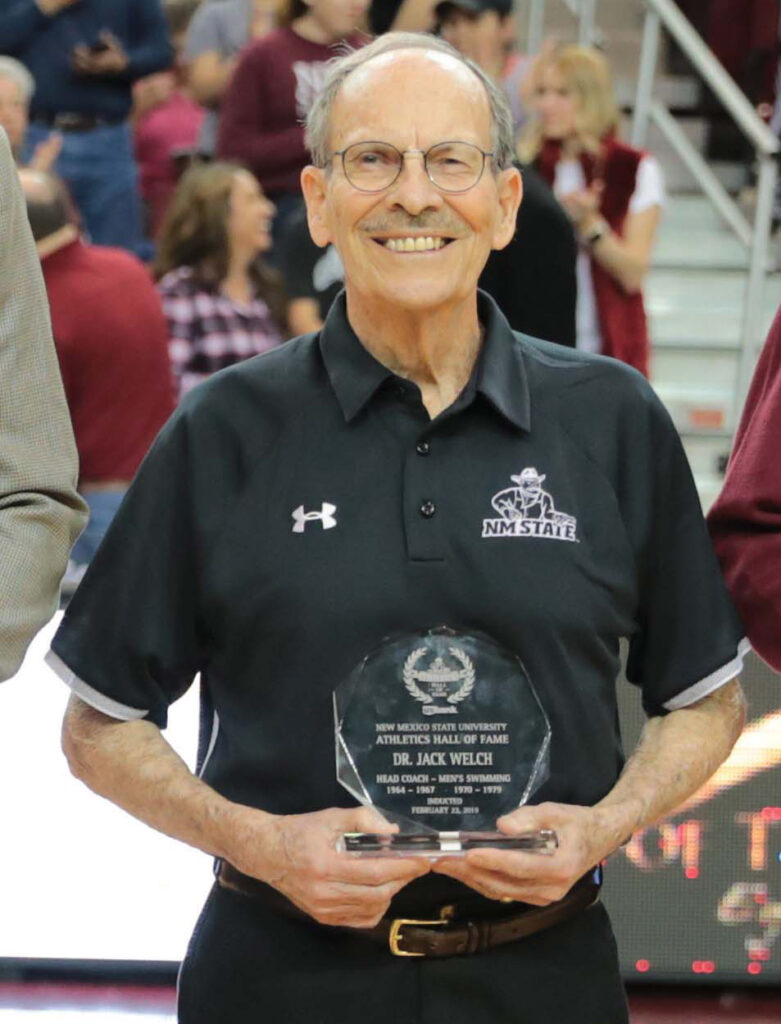 Bob Orozco '55 was interviewed by National Public Radio's Ina Jaffe for a feature story on individuals who work beyond retirement eligibility. The 89-year-old leads daily morning fitness classes at the Laguna Niguel Family YMCA. Giving back, he says, gives his life meaning. He has been a Y member for 80 years. A Laguna Niguel Family YMCA room is named after him — check out the story.
Bob Hoffman '57, G'58 and Hank Greenfield '57, G'58, had a mini reunion in New Jersey in May.
Jack Welch '57 was inducted into the New Mexico State University Athletic Hall of Fame. He started the men's swimming team in 1964 and was instrumental in founding the women's swimming team in 1972.
1960s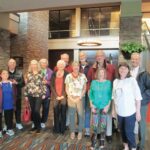 Jean Rogers-Erickson '63 shared that, after 33 years with Re/Max, she has joined EXP Realty, an agent-owned virtual company. She stated that she can help you find a retirement home anywhere in the United States. On July 27, 2019, she married Jim Erickson.
Jack Charney '64, G'72, has been inducted into the Rome (N.Y.) Sports Hall of Fame, according to WKTV. Charney played football and track and field at Rome Free Academy. He was a three-year starter on the Springfield College football team.
Bill '65 and Jo '65 Plunkett and Art '65 and Sue '73 Wester shared a fun adventure, meeting up in Houston before traveling to New Orleans for "eating, drinking, and telling stories." Bill and Art were college roommates.
Doug Coupe '66, G'70, Trustee and Tarbell Medallion recipient, was featured in Golf Digest for his amazing display of 15,000 golf balls, alphabetized and sorted by color, that sit along the walls of his attic in his Bluffton, S.C., home.
Dick Whiting '66, CAS'68; Scott Taylor '66, CAS'68; John Wilcox '67, G'68; and John Hedbavny '68, G'70, returned to campus for Reunion Weekend 2019.
James MacIntyre III '67 shared that he is serving as chaplain of the Purceville (Va.) Fire Department.
Paul Wagner '67 wrote to say that he and Ralph Arietta '66; Anthony Scolnick '64, DPE'68; Bill Scanlon '66, G'68, CAS '76; Ben Davis '66, G'67; and, Leon Drury '66, G'68; all members of the 1965 basketball team, reunited in September in Burlington, Vt.
Col. Bob Jackson '68, G'73, recently authored Improvise, Adapt, Overcome: How to Understand Common American Idioms. The book is published by Outskirts Press and addresses today's social issues. Aimed at high school students, it conveys acceptance of people as they are and that it's okay to be different. The book is available at www.outskirtspress.com/bobjackson.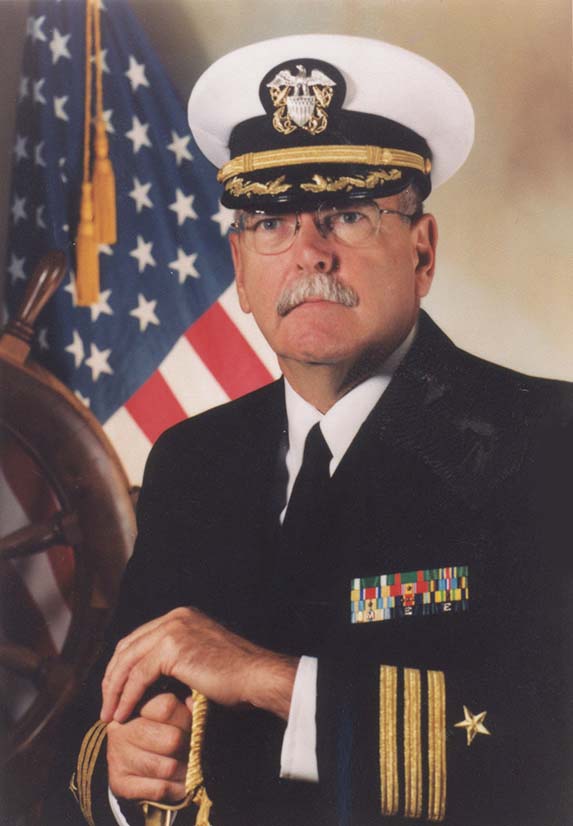 Diane Mason '68 has volunteered with Special Olympics as a swim coach. One of her swimmers was chosen to attend the Special Olympics U.S. Games in North Carolina and earned a silver medal. Mason is a physical education teacher at Hillcrest School for Exceptional Students in Ocala, Fla.
Jack Matthews '68 completed his first novel, Arte Perdida. Research for the novel took him to Germany and the Azores. He also spent a week in Portugal Cove, Newfoundland, exploring background material. The novel features Manny Pereira, a decorated and disabled Vietnam War veteran, and his friend Carla, a child psychologist, as they race to find a pathological murderer.
Dot Johnson '69 was honored with a prestigious Gold Key Award during the 77th annual Gold Key Dinner, hosted by the Connecticut Sportswriters' Alliance. The Gold Key is regarded as the highest sports award in the state. Johnson was a field hockey coaching legend at Granby (Conn.) High School, earning seven state titles and a 393-83-80 record before retiring in 2002.
Cmdr. Tom Keating '69, a retired member of the NCIS Field Office, was recognized by the NCIS director at the USS Constitution in Boston, Mass., for "distinguishing himself by immediately resolving suspicious incidents, generating valuable information, interviewing suspicious persons, and 'being the eyes and ears' for the Department of the Navy outside of the wire.'"
1970s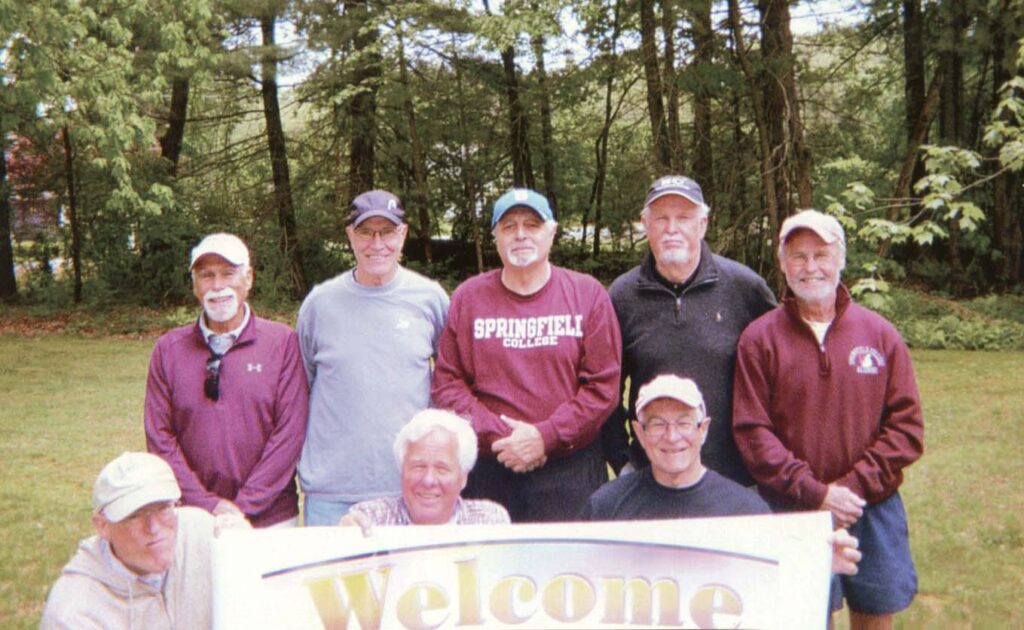 Bill Guzze '70 wrote to share that the "Florida Street grads from 1970" reunited at the home of Juhan Lauritis '70 in Hampden, Mass. It is the 10th time the group has gotten together.
Jean-Guy Poitras, G'70, DPE'83, received the Lifetime Achievement Award from the Badminton World Federation for his career of more than 40 years as an international technical official. During that time, he was also a physical educator, badminton coach, and administrator and tournament organizer. In 2017, Poitras was elected to the Badminton Canada Hall of Fame.
Jeff Yearing '70 was inducted into the Ridgewood (N.J.) High School Athletic Hall of Fame in 2019. He retired from his position as head women's soccer coach there after the 2017 season when he was diagnosed with multiple myeloma. His teams won 15 conference championships, four state sectional championships, and two Bergen County titles. He retired from teaching physical education and health there in 2011 after 39 years of service. He also served as an assistant coach for boys varsity soccer and baseball. He was recognized by the National Soccer Coaches Association and is an inductee in the New Jersey Girls Soccer Coaches Association Hall of Fame and the New Jersey Scholastic Coaches Association Hall of Fame.
Jay Martin '71, Ohio Wesleyan University head men's soccer coach, has been elected to the United Soccer Coaches Hall of Fame. Martin is the winningest coach in NCAA men's soccer history, with a total of 708 wins entering the 2019 season, and was the first men's soccer coach in any NCAA division to reach the 700-win mark. Heading into the 2019 season, he has guided his 42 Battling Bishop soccer teams to a 708-145-70 record. His career winning percentage of .805 entering the 2019 season ranked 11th all-time in the NCAA. In 42 seasons, Martin's teams have compiled a 276-28-21 record in conference play.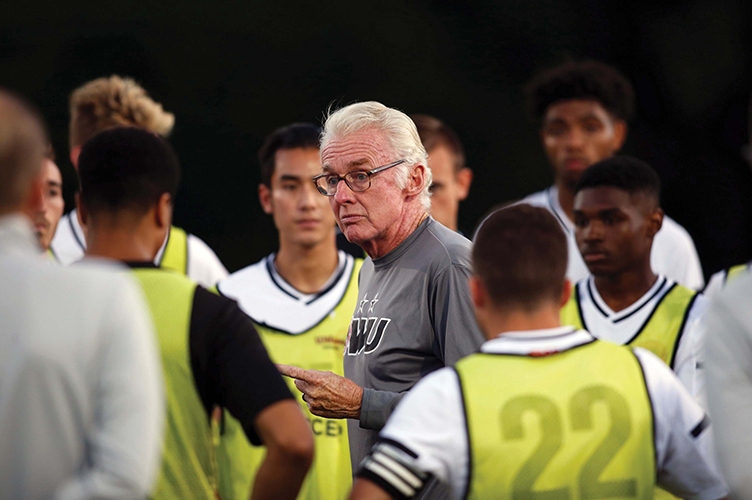 Dick Cuddihee '71, G'73, was featured in an article in the Monadnock (N.H) Ledger-Transcript. As the longtime head of the Peterborough Wave Swim Club, Cuddihee has taught countless children how to swim, including his own three children.
James DeBoy, G'72, PhD, retired from Lincoln University after 44 years as professor of health sciences, including 22 years as department chair. His research interests focused on obesity prevention, student learner outcomes assessment, and shared governance in higher education. An AAUP member for five decades, DeBoy served as faculty contract administrator at Lincoln for the past 12 years. He and his wife will split their time between Sea Isle City, N.J., and Ft. Myers, Fla.
Jim Grassi '72, G'77, and his wife Debbie Grassi '75, recently met up with his former basketball coach, Ed Bilik '57 and Gerry Bilik '63. Grassi writes, it was a "great visit with a coach/friend that made a great impression on me."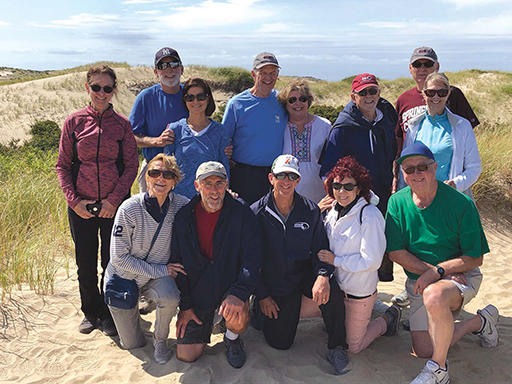 John Farrell '73 wrote to say that, in the fall of 1969 a group of guys in International Hall formed an intramural team named Stash. They played basketball, volleyball, and softball all four years. In 1975, they had a Stash reunion on Cape Cod and have met almost every year since. Seven of the originals — Farrell, Jeff Ellison '73, Bob Haff '73, Dan Tafe '73, Gene Cadman '73, Steve Bailey '73, and Hal Cramer '73 met recently on the Provincetown Dunes.
Lynda Hammarstrom Hylander, G'74, and Lance Hylander, G'75, celebrated their 45th wedding anniversary. Lance served in the U.S. Army Medical Service Corps for 33 years, retiring as colonel. He then worked for 10 years as a government contractor before earning a Doctor of Education in organizational leadership from Argosy University in Honolulu, Hawaii. Lynda's career as an army wife took her and their family all over the United States and Germany. She completed uniki rites, becoming a master dancer, from Halau Mohala 'Ilima, in Kane'ohe, Hawaii, in 2007. They currently live in Oahu, and have a summer home in Plymouth, Mass. They have two children and two grandchildren.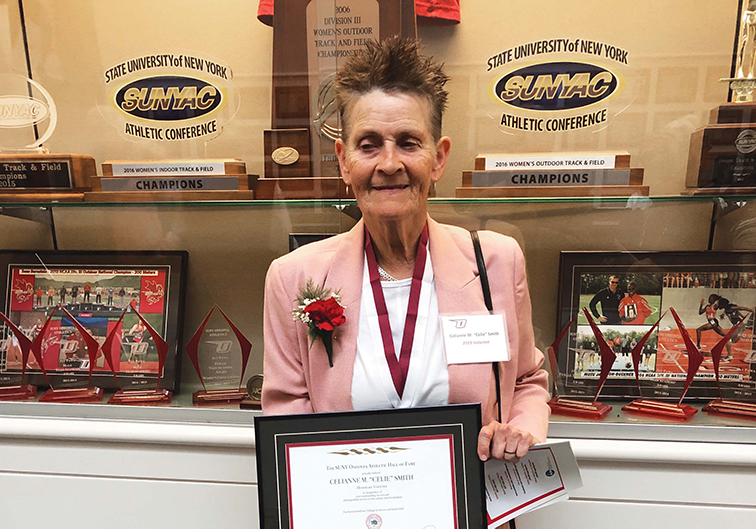 Celie Smith '75 was inducted into the SUNY Oneonta Athletic Hall of Fame after a lengthy career as an athletic trainer and professor.
Cindy Eskstedt Connelley '76 has been inducted into the Agawam (Mass.) Athletic Hall of Fame as a "Shriner's Kid" and as NCAA Division I basketball and softball coach, NCAA Division II basketball coach, and NCAA Division III athletics director, professor, teacher, and athlete. Connelley played shortstop and was co-captain at Springfield College.
The Rev. Herman Kelly Jr., G'76, DMin, competed at the National Senior Games last June in Albuquerque, N.M. He has won three gold medals at the Louisiana Senior Olympics. Kelly is a pastor of Bethel African Methodist Episcopal Church in Baton Rouge and teaches a class at Louisiana State University that helps orient first year students to campus life.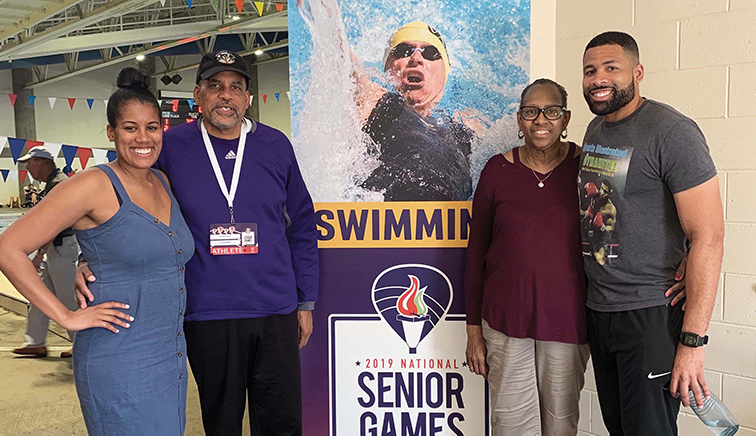 Major James C. Kisser, Jr. '76, G'78, has earned a Doctor of Religious Studies in pastoral ministry from Trinity Seminary. Kisser and his wife, Major Deborah L. Kisser, are the assistant administrators of The Salvation Army 1,200-acre Ladore Camp, Retreat, and Conference Center in Waymart, Pa.
Roxanne Reed Lord '78 participated in the 2019 USA Powerlifting Master National Team, and at the IPF World Classic Championship in Helsingborg, Sweden, in June 2019. Last year at the IPF World Classic Championship in Calgary, Canada, she won a gold medal and set an American record in the back squat. In Spokane, Washington, at the 2018 USA Raw National Championships, she set a new USA record in the back squat and earned a silver medal overall. Lord teaches anatomy and physiology at Christopher Newport University in Virginia.
Joel Dearing '79, associate professor of physical education and athletic administration graduate program director at Springfield College, was inducted into the American Volleyball Coaches Association (AVCA) Hall of Fame in Pittsburgh in December 2019. Dearing coached men's and women's volleyball at Roger Williams University and Springfield College. Dearing is one of just 84 volleyball coaches to ever to be inducted in the AVCA Hall of Fame. Congratulations, Coach Dearing!
Deborah Weymouth '79 has received the 2019 Distinguished Citizen Award from the Heart of New England Council of the Boy Scouts of America, according to Sentinel & Enterprise (Fitchburg, Mass.). Weymouth is the president and CEO of UMass Memorial HealthAlliance-Clinton Hospital.
1980s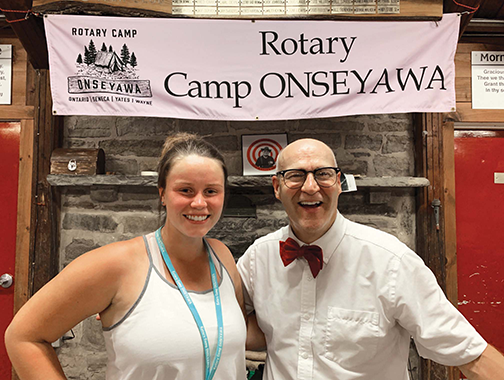 Jeff Messer '80 was featured in an article in the alumni magazine of Slippery Rock University, where he has been head baseball coach since 1986. During that time, the program has 30 winning seasons, won 13 division titles, won two Pennsylvania State Athletic Conference (PSAC) Tournament championships, earned 12 NCAA tournament bids and qualified for the NCAA World Series on four occasions. He is the winningest coach in PSAC history.
Ted Baumhauer, G'81, was visiting Camp Oneswaya, a Rotary camp for disabled children, when he met Carrie Bailey '18, an occupational therapy student.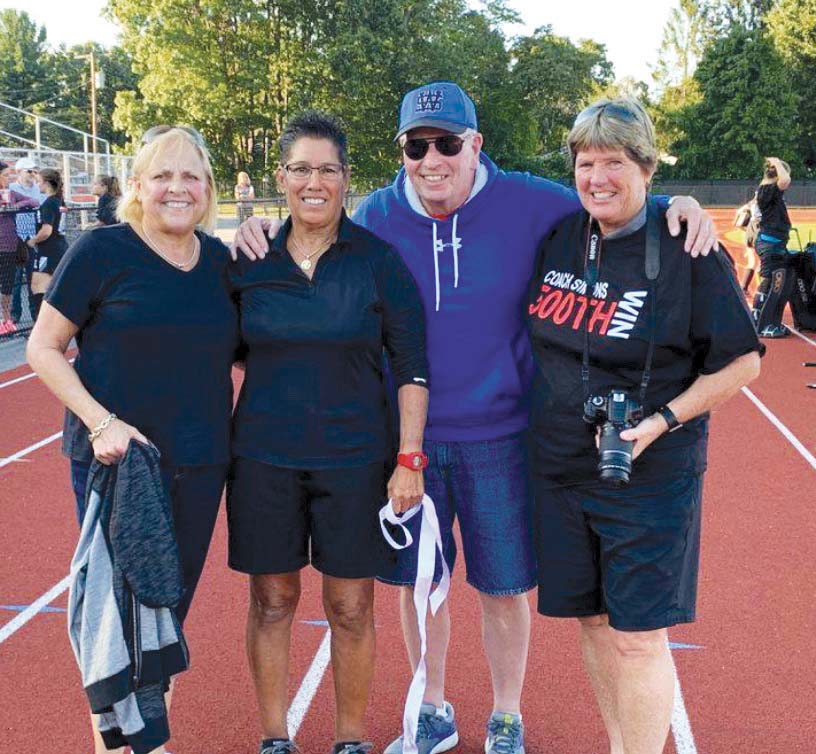 The kudos have been rolling in for Longmeadow (Mass.) High School (LHS) varsity field hockey coach Ann Simons '81, who claimed her 500th win as the LHS coach on Sept. 17 in a 4-2 victory over Agawam (Mass.) High School. She is the first varsity coach to reach the achievement in her school's history. The win put Simons' coaching record at 500-130-85. The team celebrated the momentous occasion as former student-athletes, family, friends, parents, and Ann's mom Norma Simons — who flew in from Arizona for the game — joined the festivity. Simons was recently inducted into the West Springfield High School Hall of Fame.
Katherine Cargill Pacitto '82 shared that she recently retired from teaching physical education and health for the past 36 years in the Swampscott (Mass.) School District. She also served as head athletic trainer and assistant athletic director at Swampscott High School.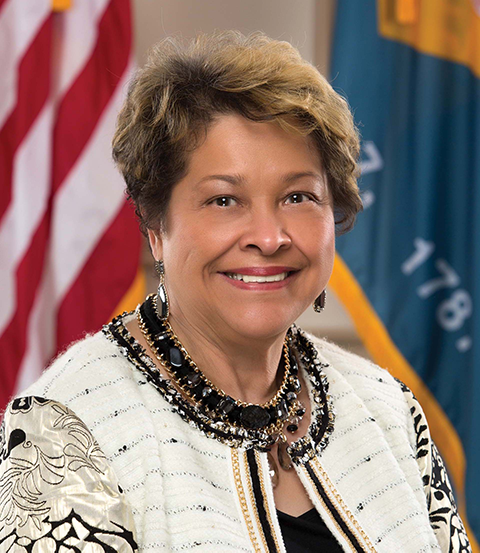 Margaret Rose Henry, G'82, was honored with the Association of Junior Leagues International 2019 Mary Harriman Community Leadership Award. Henry is a retired Delaware state senator and a member of the Junior League of Wilmington. The Harriman Award acknowledges a Junior League member whose service provides a contemporary link to Junior League founder Mary Harriman's sense of social responsibility and her ability to motivate others to share their talent through effective volunteer action.
Recently back from a visit to Greece, Ellen Demos Bletsos '83 reports that she and her husband Evangelos '87, met Spiros Griveas, G'06, and his wife, Vania, for their traditional Springfield College reunion in Athens.
Dave Boyle '83 met up recently with musical artist John Ford Coley, who performed at the South Shore Music Circus, in Cohasset, Mass.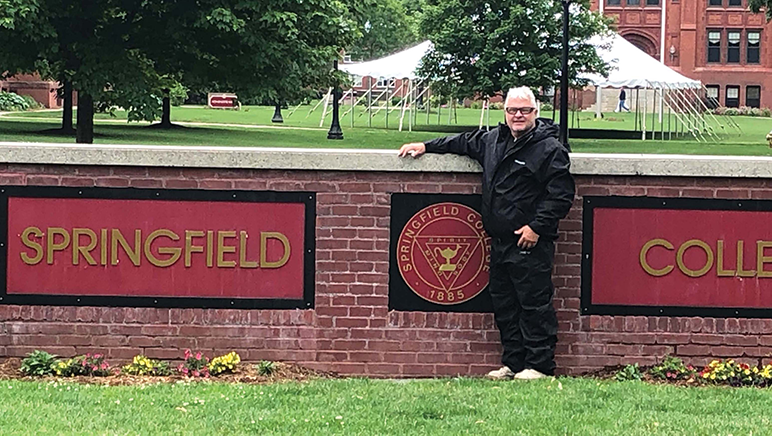 Walter Cummings '83 shared that after graduating from Springfield College he taught at Beatrice Rafferty School in Pleasant Point, Maine. He joined the Maine National Guard in 1987 and spent 30 years on active duty until retiring 2017. Since then he has been enjoying life and traveling via motorcycle.
John Beary '83, Gary Palomba '83, Curt Pires '83, and Scott Bird '83, G'85, got together recently to enjoy some golf, good food, good spirits, and good Springfield College memories.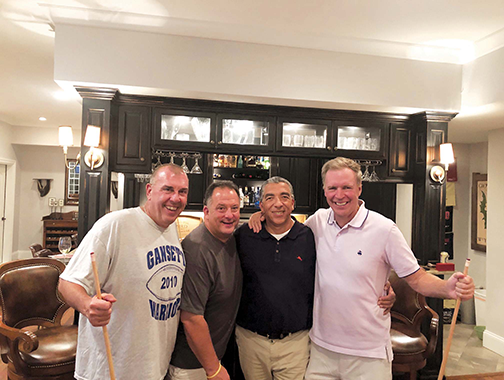 Mary Robertson '83 retired after 34 years of teaching at Huckleberry Hill School (Lynnfield, Mass.) She was recognized as Elementary Physical Educator of the Year from MAHPERD and presented at many professional conferences. Mary's greatest impact was in the gymnasium that she and her students called the Wellness Center. Before she left, Robertson celebrated with her students from the 100-mile club, an initiative she started to promote individual responsibility for the importance of movement.
Eileen Lohner Turk '85 shared that she has retired. "Life has been grand!" she said.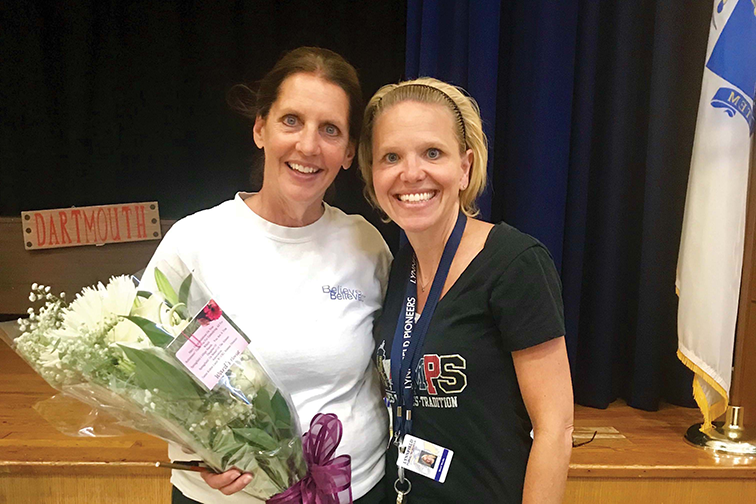 Russell Thomas '85, G'00, has been inducted into the 2019 Wisconsin Basketball Coaches Hall of Fame. Thomas worked for 22 years in the Milwaukee Public School system where he oversaw adult sports and was senior manager of interscholastic athletics programs.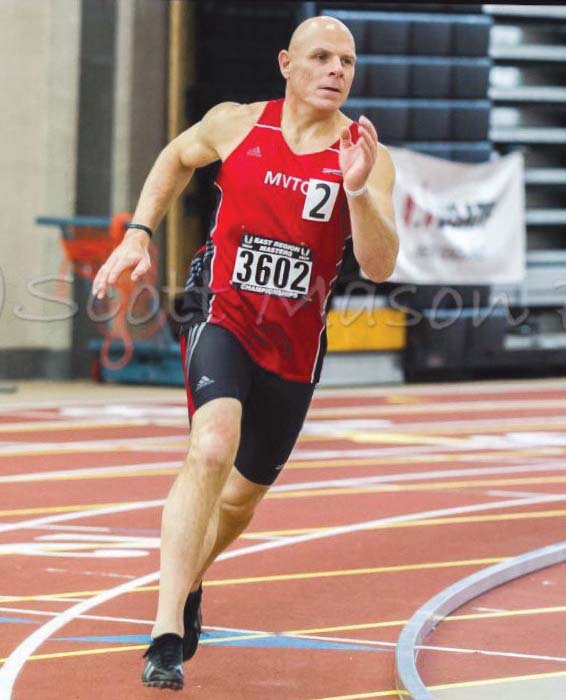 Jim Matlock '86 is living in East Lyme, Conn., with his wife and two sons. He is nearing the end of 24 years in law enforcement as a Connecticut State Trooper. Matlock plans to travel more and continue following his passion of competing in masters track and field in national and world competitions in the pentathlon. Matlock is a member of the Mass Velocity Track Club based out of Boston, Mass. He still stays in touch with many Springfield College alumni.
Gil Krohn '87 and John Tarbox '87, former Alumni Hall roommates, reunited for a weekend in Connecticut. Krohn owns a gym in Florida and Tarbox is a physical education teacher in Rhode Island.
Dan MacLeod '87 and Joanne Gee MacLeod '88 currently have two children at Springfield College, Cole '20, and MacKenzie '22. A third, Danah, is a high school senior. Will she join her sister on the Springfield women's gymnastics team? "We will see … We are triangles," writes Dan, whose father, Bob '55, pitched for Springfield in the College World Series in Omaha, Neb.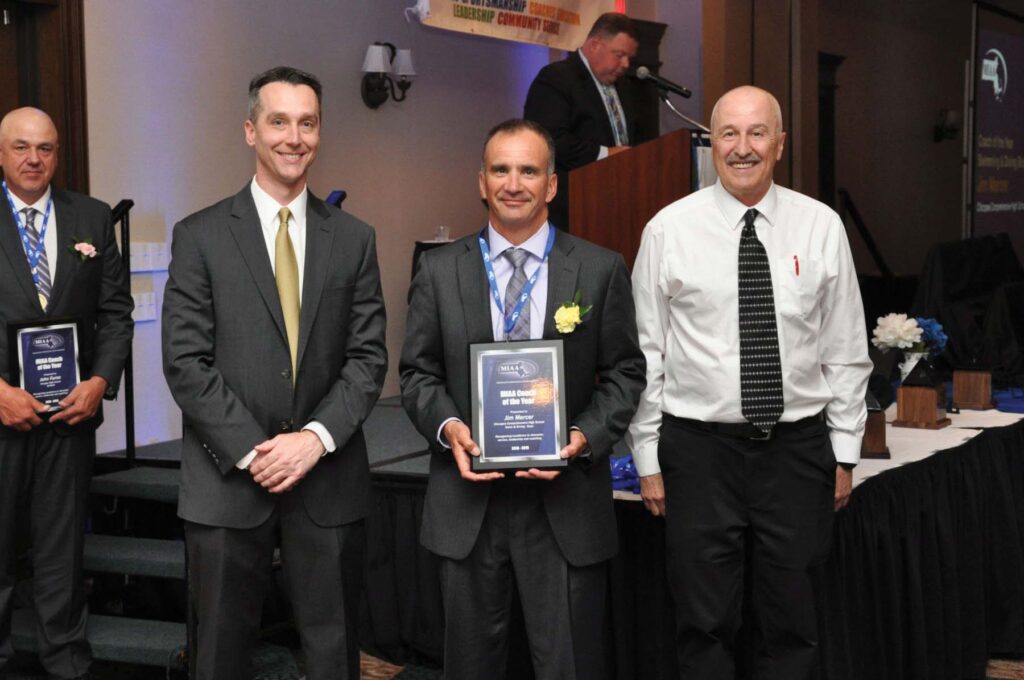 Jim Mercer '88 was named the Massachusetts Interscholastic Athletic Association (MIAA) 2019 State Coach of the Year for boys swimming. He teaches physical education, self-defense, and mindfulness at Chicopee (Mass.) Comprehensive High School. Additionally, he coached the 2003 under-15 boys and the 2004 under-16 boys teams for the Western United Pioneers F.C., premier soccer club. He is an inductee in the Chicopee Comprehensive High School Athletics Hall of Fame.
1990s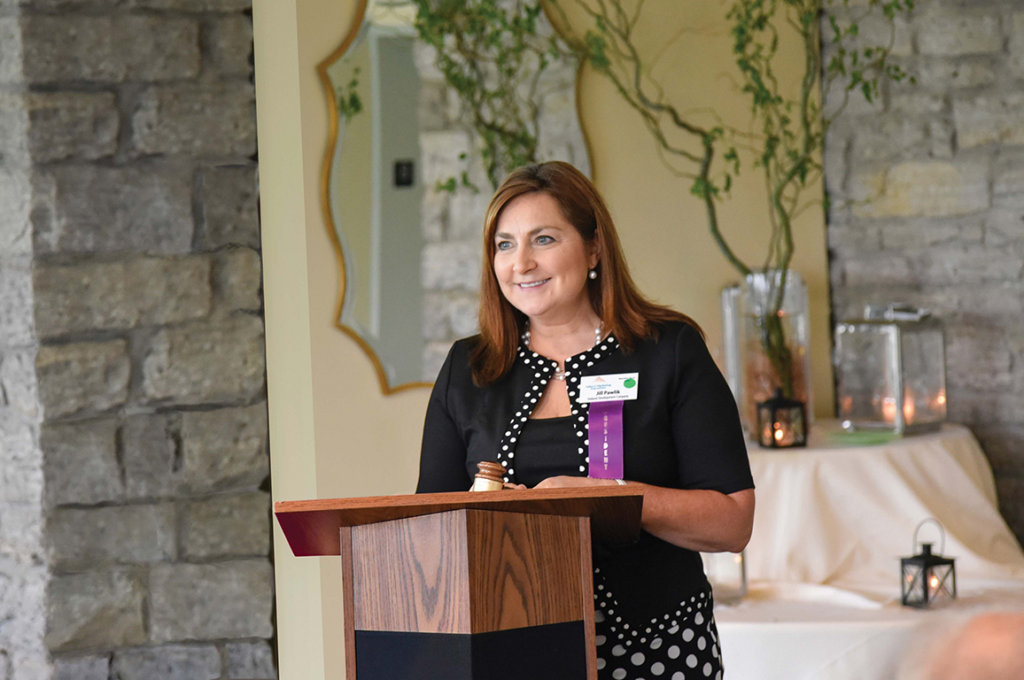 Professor of Physical Education Ted France, '91, G'93, EdD; Associate Professor of Physical Education Michelle Moosbrugger '00, PhD '06; and Associate Professor of Physical Education Joel Dearing '79 recently hosted a youth coaching webinar entitled "The Art and Science of Youth Coaching" with Professor Emeritus Al Petitpas, EdD.
Jill Storms Pawlik '91 recently completed her term as president of the Buffalo Niagara Sales and Marketing Executives, a professional development organization. She has been on the organization's board since 2015 and was just elected to another three-year term. Its community partner is Junior Achievement of Western New York. She recently was presented with the Connector Award for expanding Junior Achievement of the Western New York network and resources.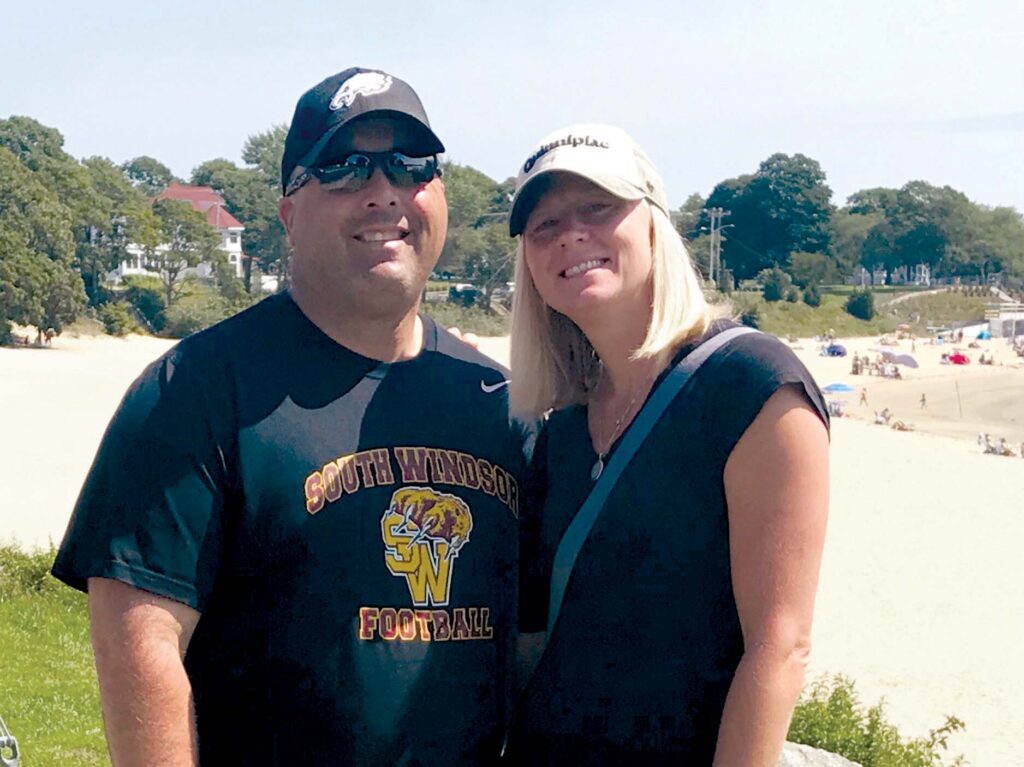 Dina Gentile, G'93, shared that she has published a textbook, Athletic Administration for College, High School, Youth, and Club Sport.
Kristen Coates Kresge '94 has completed a Master of Education in health and wellness from American College of Education. She teaches physical education and mental health education at Valley Central School District in Montgomery, N.Y.
Leslee Agerty Sharon '95 and Eric Sharon '95 celebrated their 21st wedding anniversary on Aug. 1, 2019.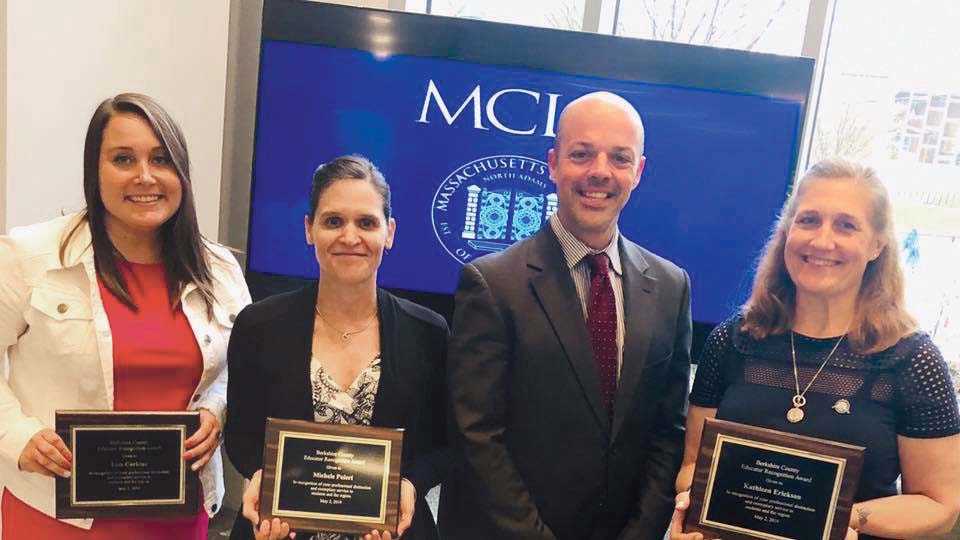 Michele Naventi Puleri '95 received the Berkshire County Educator Recognition Award for grades three through six in recognition of her "professional distinction and exemplary service to students and the region."
A group of alumni and friends — including Carolyn Snow-Redington '95, G'00; Kim Wiezbicki Trudeau '78; emeritus professor of biology Charles B. Redington, PhD; Richard Bolles '65, G'79; Karen Bolles; and Don Trudeau — visited with President Cooper and her husband, Dave, on Don Pedro Island in the Gulf of Mexico.
Chris Nunes '94, G'95, and Mike McCarty '91 have been nominated for gold medals for their districts from the National Recreation and Parks Association.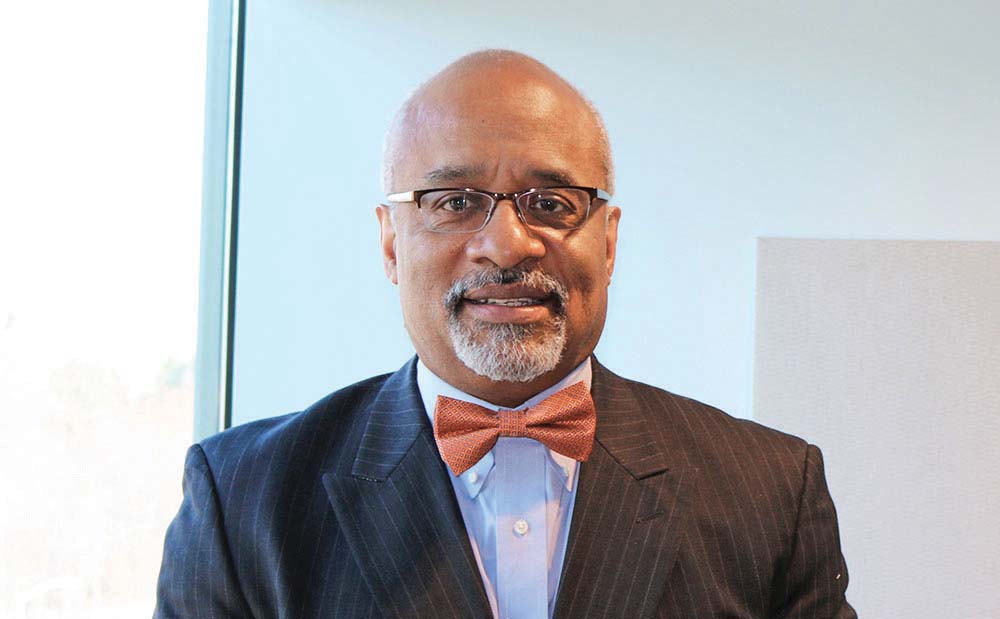 Lew DeLuca, G'96, has led the Financial Literacy Office at Southern Connecticut State University since 2014, which was recognized by LendEdu as a Top 50 Financial Literacy program in the country.
Teodoro Anderson Diaz, G'98, G'06, has been hired by Wheeler Clinic as vice president of adult behavioral health services.
Members of the class of 1998 who recently joined up in Mystic, Conn., included Kristin Scharpf Jackson '98, Erica Spruill Pearson '98, Claire McHugh '98, Diane Welch Maillet '98, G'03, Meghan McManus Haughney '98, and Denise Ignatowski Tanner '98.
2000s
Andrew Baxter '02 has been named head coach of the men's lacrosse team at Fairfield University.
Ben Goodhue, G'02, has earned the MAHPERD High School Physical Education Teacher of the Year award.
TJ Alvino '03, vice president of sales and services of Cygilant, has been named to CRN's annual Channel Chiefs listing, recognizing him for his contributions toward the company's successful channel partner program. Cygilant is a security software company.
Alex Spence '03 was named by the Boston Globe as the Division II High School Coach of the Year. Spence coaches the Concord-Carlisle Regional High School boys tennis program.
David Coleman '04 has been hired as a parks and recreation manager for Apple Valley, Calif., according the Daily Press (Victorville, Calif.).
Aimee Dalenta '05 has been appointed as chair of the early childhood education department at Springfield (Mass.) Technical Community College, according to BusinessWest.com.
Curtis Schmidt '05 has been named head football coach for the Whitesboro (Marcy, N.Y.) High School.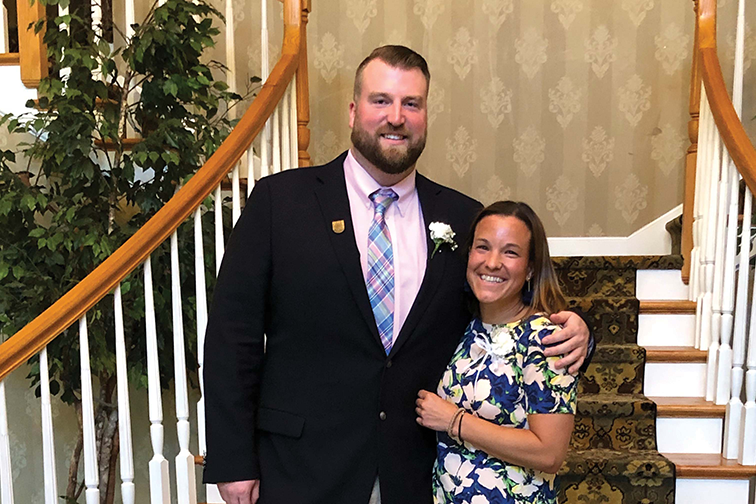 Kimberly Longobucco '05, G'07, and John Strawson '09 were inducted into the Torrington High School Athletics Hall of Fame.
Ross Craig '06, G'07, recently climbed Mount Rainier, unguided, with his wife. Craig has cystic fibrosis, an often life-threatening disorder that affects the lungs and digestive system.
Rashaad Roach '06 has been inducted into the East Haven (Conn.) High School Alumni Association Hall of Fame, according to Patch.com.
Emily Uguccioni '06, a member of the inaugural Springfield College 40 Under Forty class, has been recognized as a 2019 Healthcare Heroes honoree under the health/wellness administrator/administrator category by BusinessWest and Healthcare News. She is executive director of Linda Manor Assisted Living in Northampton, Mass. Since taking the post, occupancy has doubled and Linda Manor has been named the best assisted-living facility in Northampton by the Daily Hampshire Gazette and SeniorAdvisor.com.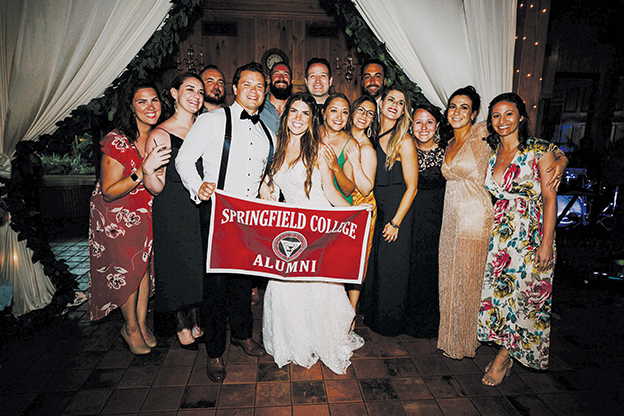 Ellen Margiotta, G'07, has been honored as the MAHPERD Elementary Physical Education Teacher of the Year.
Robert Raynor '09 has been hired as vice president, compliance and Community Reinvestment Act officer by Florence Bank, according to BusinessWest.com.
Ashley Taylor-Smith '09 and John Lillis were married Saturday, May 11, 2019. Joining them for their Florida festivities were Kate Breuninger Adams '09, G'11; Mollie Arsenault '09; Michael Adams '09; Patrick Armstrong '09; Sarah Garneau Armstrong '09; Karissa Pastyrnak Raynor '10, G'12; Robert Raynor '09; Jason Hurlock '09; Corinne DeJoseph '11, G'13; Jennifer Zguro Neseralla '09; Katharine Colanton '09; and Denise Fumicello Gurley '09. The bride would like to give a special shout out to those friends not able to attend but who were there in SC spirit: Sarah Izzo Morin '09, Jameson Croall '09, and Christina Meyer Schratwieser '09.
2010s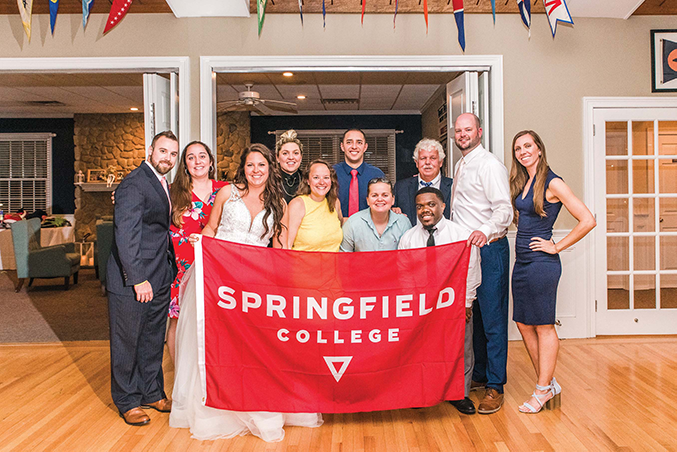 Anthony Solano '10 has been acting for the last few years, including appearances on the TV shows Blue Bloods, Friends From College, and Saturday Night Live. You can read more on his website www.AnthonyTSolano.com.
Jeffrey Greig '10 and Lyndsay Magenheimer '11 were married on May 17, 2019. Matthew McLaughlin '11, Jillian Arnold '11, Allie Navarro '11, G'16, Laura Sico '11, Michael Nicolosi '11, Katie Bolton '11, Aaron Saunders '11, Robert Smith '74, and Amanda Faro '11 were in attendance.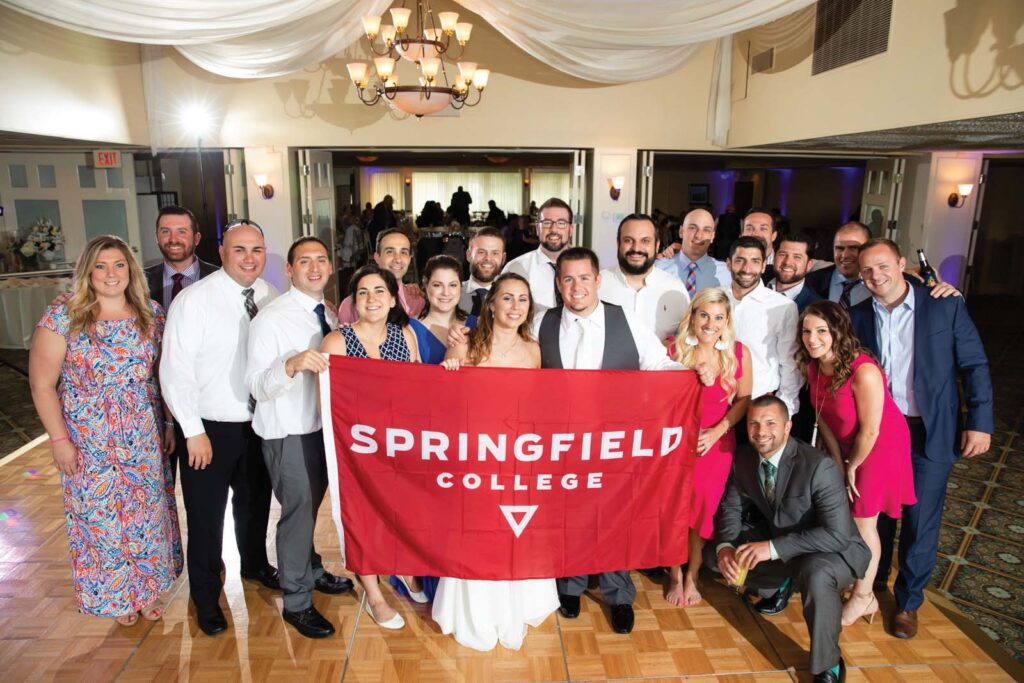 Jamie Kriger Dugan '11 and Matt Dugan '12, G'15, were married at the Haven Country Club in Boylston, Mass., on Saturday, June 1, 2019.
Staci Drewson, G'12, PhD '15, was honored as the 2019 NJAHPERD Higher Education Teacher of the Year. Drewson is an assistant professor at Monmouth University.
Luke Osberg '12 and Gracie DiRoberts '12 were married on May 26, 2019 in Glastonbury, Conn.
Laura Russett '13, G'15, and John Dayton '13, G'16, were married on July 6, 2019, at The Ranch golf club in Southwick, Mass.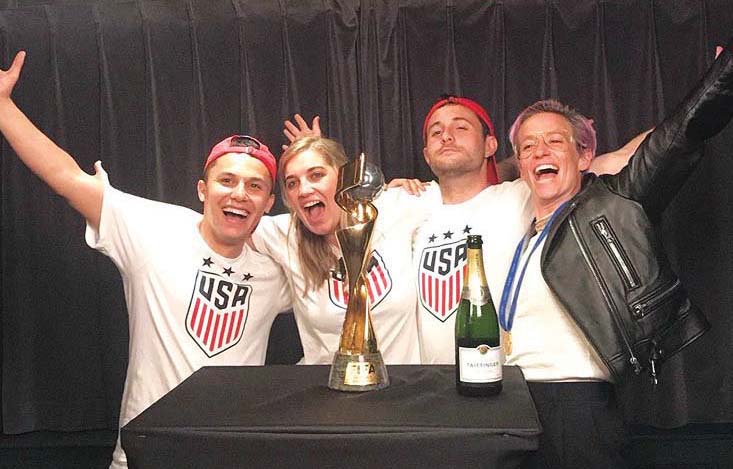 Along with the entire country, the Springfield College campus community celebrated the U.S.A. Women's Soccer team's incredible FIFA Women's World Cup win. The victory was even more exciting knowing that Sam Zapatka '13 was a part of the team. Zapatka spent the month in France with the women's team as an event operations coordinator for the U.S. Soccer Federation.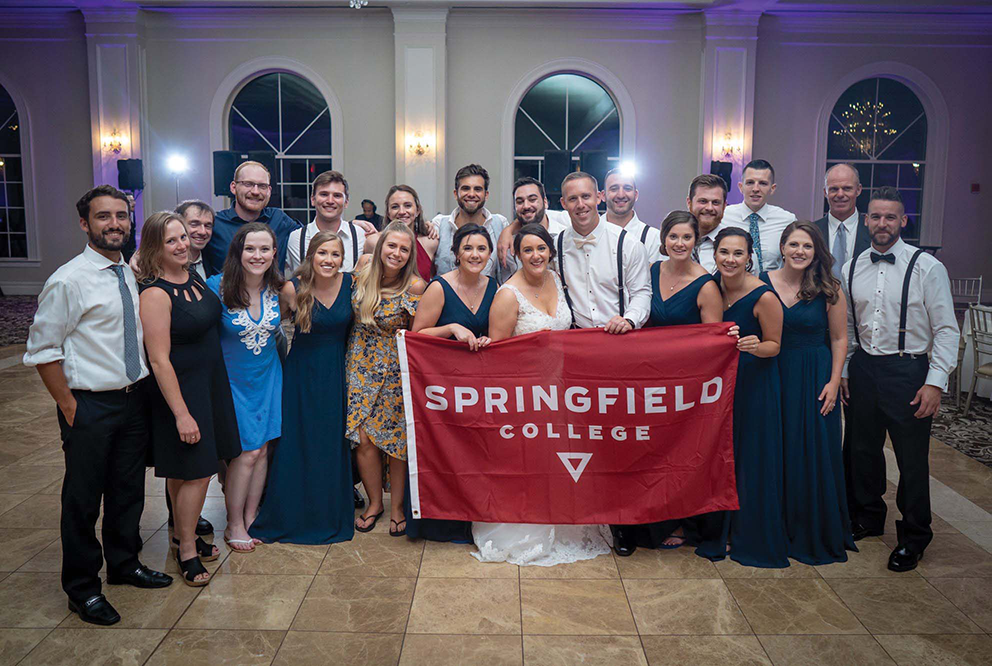 Alexandra Lucey '14 married Steven Carra '14 on July 5, 2019 in Lake Placid, N.Y. Alexandra is the daughter of Alumni Director Tamie Kidess Lucey '81, G'82, and the granddaughter of the late Ted Kidess, G'35, DPE '58, International Center founder.
Myles Callender '15 was named to BusinessWest 40 Under 40.
Elizabeth Saia '15, DPT '17, and Christopher Warren '15 were married on July 12, 2019.
Conor Galvin '16 was featured on American Ninja Warrior in June. Galvin competed on the men's gymnastics team as a student.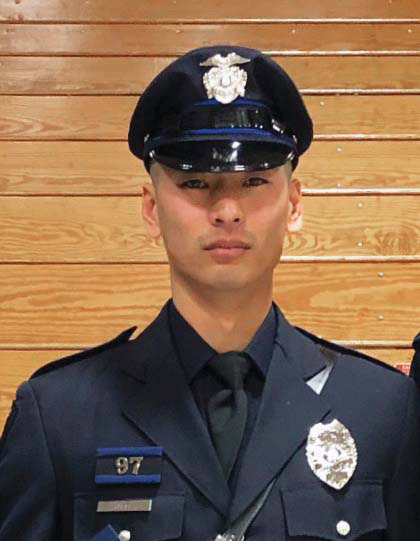 Andrew P. Iacoi '17 graduated from the Rhode Island Municipal Police Academy on Dec. 20, 2018. He is employed by the Westerly, R.I. Police Department.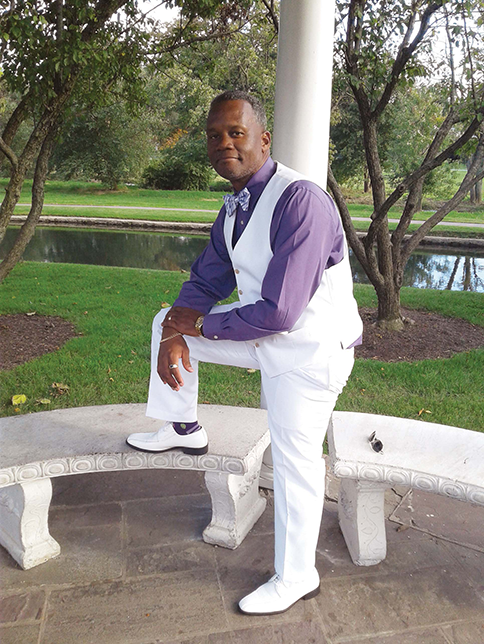 Molly Keays '17, G'19, works as the youth, teen, and camp director for the Hampshire Regional YMCA in Northampton, Mass., with several alumni, including CEO Julie Green Bianco '86, account and administrative coordinator Nicole Prucnal'14, and development director Jon Scully, G'11. They recently hosted their 6th annual golf tournament at the Crumpin-Fox Club, and more than 100 golfers, including supporters Pat Consedine '90 and Jeff Hyde '86, attended in support of raising money for their annual fund.
Kenneth Lucas '17 is working as an SAP procurement requisitioner for Brown and Root in New Jersey. He has been in the industrial maintenance field for over 20 years and is now in the process of a career change. Since May 2019, he has been volunteering as a peer recovery coach for a local men's and women's transitional home in Wilmington, Del. In addition to assisting with the recovery aspect of the agency, he facilitates programs such as informational resources, basic computer training skills, expungement and pardon processes, and grooming and hygiene. All of these topics are critical for men and women, as they re-enter society.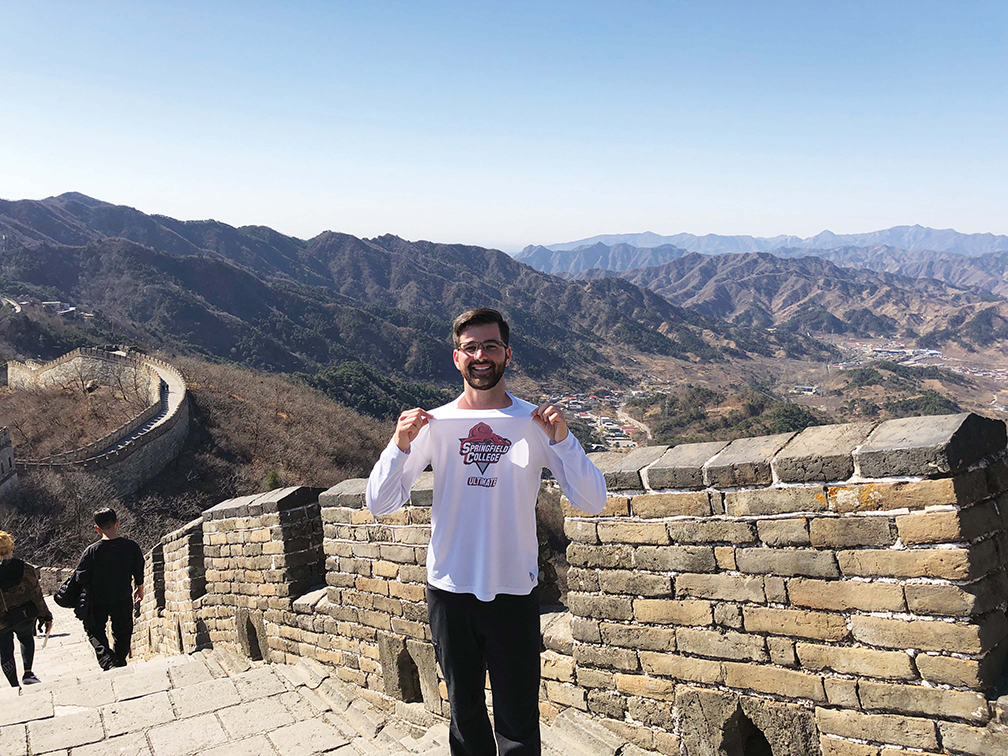 Nicole Cring '17 and Jason Weedon '17 were married on June 29, 2019.
Stu Sokoloff '17 helped spread the Pride worldwide during his recent trip to China.