Now Available to View:
1943 "Marching Men" Digitized Films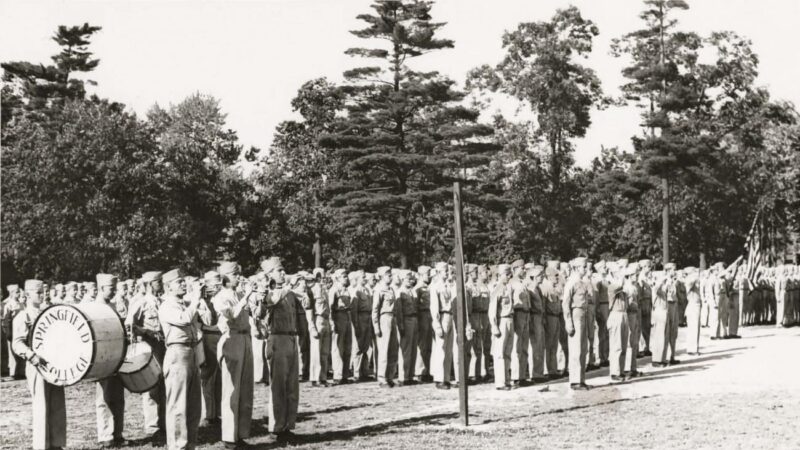 The Archives and Special Collections staff has digitized four film reels titled "Marching Men on the Campus" with photography work by Ray Winans. The film shows the training and "marching" of the Army Air Corps 323rd college training detachment that trained on the campus in 1943. Highlights included the men doing calisthenics and marching wearing gas masks, an unsettling scene given the idyllic campus surroundings. (springfield.edu/marchingmen)

To the Editor,
I am moved to read your memorial for the Rev. Dr. Samuel N. Slie. I knew about Sam Slie years ago, but nothing of his WWII experience or his return to post-war Italy to volunteer in work camps with the American Friends Service Committee.
I carried an AFSC work camp flier through Bates College telling its history of post-war remediation/reconciliation volunteer youth programs. It inspired me to join Ecumenical Voluntary Services to help build a road in the Ryukyu Islands (now southern Japan) in 1961, to ultimately teach with International Voluntary Service in Vietnam [from] 1967-68, and to stay involved with post-war reconciliation efforts.
Sam Slie's vocation in renowned campus and urban ministries embodies Springfield's YMCA/Humanics ethic. Reading about his war-time, Springfield College, and AFSC history gives valuable context to his remarkable and generous life …
I shared your piece with the American Friends Service Committee, which found some of Slie's records from his work in Italy … I shared it also with relatives. My brother wrote [that] his father-in-law, Dr. Harry Giles, contributed to the development of Humanics at Springfield College.
Yours,
Sally Benson
Palm Springs, Calif.
Please share your stories and memories with Editorial Director and Triangle
Editor-in-Chief Jane Johnson Vottero at jvottero@springfield.edu or (413) 748-3275.
Couzelis Scholars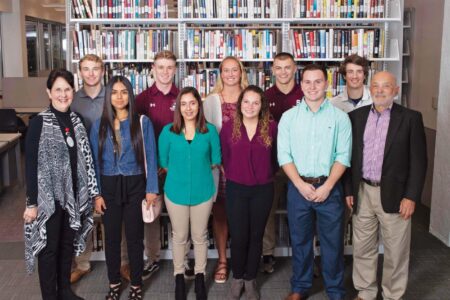 Paul '65, G'72, PhD, and Nancy '68 Couzelis, featured on the cover of Triangle Winter 2019, returned to campus in October and had the opportunity to meet with some of their Couzelis Scholars, above. A $1 million endowed fund provides 12 scholarships per year for exercise science or physical education majors.
Murray Delivers Sports and Social Justice Symposium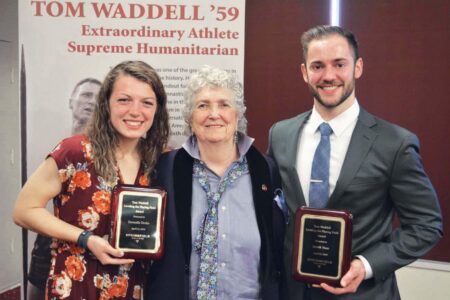 In April, the annual Sports and Social Justice Symposium featured a keynote conversation (part 1 and part 2 videos available to view) with now-Professor Emeritus Mimi Murray '61, G'67, PhD, legendary educator, coach, and crusader for gender equity.
Murray spoke about her tenure as head women's gymnastics coach and her national champion teams, her role as a sport psychology consultant including for USA Olympic teams, and her work with professional, collegiate, and high school athletes and coaches.
The symposium concluded with the awarding of the Tom Waddell Leveling the Playing Field Award that goes to student-athletes who work to build a more fair and just world. This year's award winners were Jannik Haas, a mathematics major and member of the men's gymnastics team, and Emmalie Drake, a physician assistant major and member of the field hockey team.
The symposium is supported by the Dr. Tom Waddell '59 Fund. Visit springfield.edu/giving.
Climate Action Comes to Springfield College
Students and staff and faculty members participated in the Climate Strike that took place Sept. 20 on the campus and across the globe. Members of the Environmental Science Club, Art for Activism, the Art Club, and Scientists Embracing Equality & Diversity organized the event.
Ryan Focuses on Biomedical Science and the Human Condition in McCabe Lecture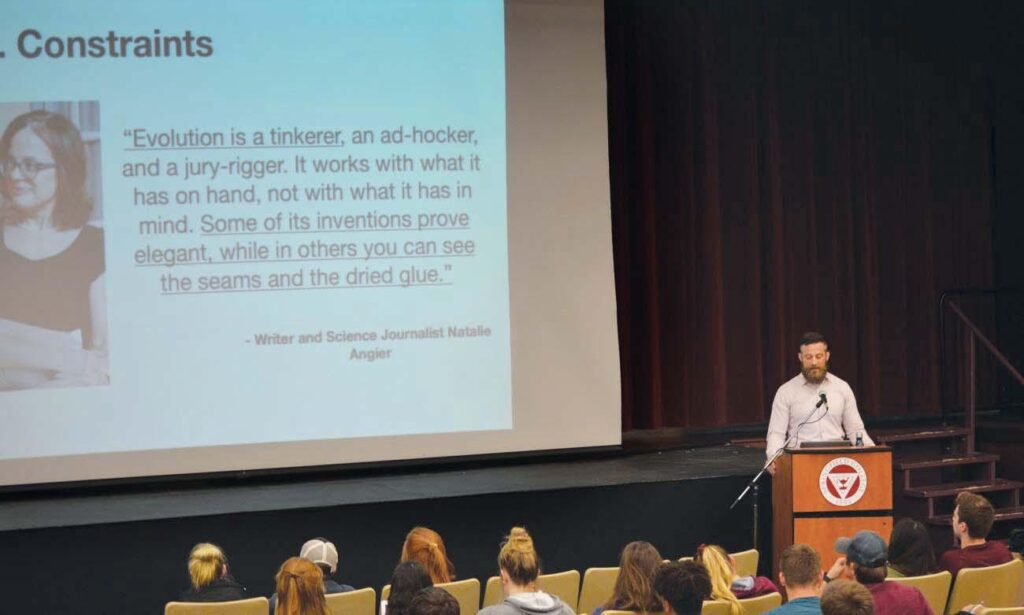 The Department of Biology and Chemistry presented the annual Britton C. and Lucille McCabe Lecture featuring Calen Ryan in April. His presentation, "Evolution in Medicine, Human Reproduction, and Health," focused on biomedical science and how it has improved the human condition, and has a remarkable legacy of cataloguing and mitigating disease.
A PhD candidate in the department of anthropology at Northwestern University, Ryan studies tradeoffs in human development and reproduction with a focus on the genetic and molecular processes underlying "costs of reproduction" and how those contribute to health and aging in a population in the Philippines.
Center Receives Grant
The Center for Excellence in Teaching, Learning, and Scholarship received a $265,000 grant from the Davis Educational Foundation to assist in the creation of faculty development opportunities focused on the implementation of real-time assessment procedures to help increase and maintain student academic success.
The goals are to improve the timelines of interventions when students are not meeting learning objectives and to move the class forward when all students are meeting those objectives.
Irrgang Delivers Greene Lecture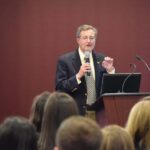 The Department of Physical Therapy hosted the 23rd annual Greene Memorial Lecture featuring James J. Irrgang, PT, PhD, FAPTA.
Irrgang is a professor and chair of the department of physical therapy at the University of Pittsburgh, with a secondary appointment in the department of orthopedic surgery as vice chair for clinical research. He serves as the scientific director of the American Physical Therapy Association Physical Therapy Outcomes Registry.
His research interests include development and validation of patient-reported outcome measures as well as clinical research related to the knee and shoulder. His areas of clinical expertise are related to evaluation and treatment of the knee and shoulder.
MLB PLAY BALL Event Returns to Campus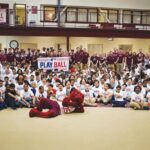 In conjunction with the Boston Red Sox Foundation, and Major League Baseball, Springfield College hosted its second annual PLAY BALL Event for local youth in the Field House.
Sport management and recreation students, and baseball and softball team members served as clinicians to more than 250 kids from five Springfield, Mass., schools, introducing the youth to baseball and physical activity. Sport management and recreation students in the SMRT 116 Event Management Class, led by professor Ariel Rodriguez, work with the Boston Red Sox Foundation and Major League Baseball staff to help organize and plan all aspects of the event.
College Hosts Special Olympics Qualifying Tournament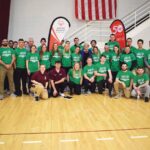 The Department of Sport Management and Recreation, in collaboration with the Special Olympics of Massachusetts, hosted its annual volleyball tournament at Blake Arena and the Field House.
This year marked the eighth consecutive year that a new class of graduate students in the sport management program handled all aspects of the operations for the tournament, partnering with the Special Olympics of Massachusetts. Volunteers from the campus community also assisted during the event. (See the recap).
College Reaches Top 20 in U.S. News Rankings, Ranked as Best Value
Springfield College has advanced into the top 20 in its category in the 2020 U.S.News & World Report "Best Colleges" rankings. In the "Best Regional Universities – North" category, Springfield College is ranked 19.
This represents a continued and consistent rise for the College in the last 10 years, with its score having increased 48 spots since the 2011 rankings, including jumping up nine spots from the 2019 rankings.
The College also was ranked 15 in its category of the U.S.News & World Report "Best Value" rankings, and was again ranked in U.S.News & World Report A+ Schools for B Students category.
Effective Health Care for Transgender, Non-binary, and Gender-nonconforming Patients Topic of Presentation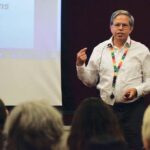 Springfield College hosted a presentation focused on Effective Health Care Practices for Transgender, Non-binary, and Gender-nonconforming Patients, presented by Christopher Wolf-Gould, MD.
Wolf-Gould explored the barriers that transgender, non-binary, and gender-nonconforming individuals often face in health care systems, and improvements that need to be made to help reduce such barriers. He covered topics such as medical training, public policy, and insurance coverage.
Wolf-Gould, a family physician in Oneonta, N.Y., is a regional expert clinician in transgender health care and an ally of the LGBTQ movement.
Master of Science in Athletic Training
Springfield College now offers a Master of Science in athletic training, accredited under the 2020 Commission on Accreditation of Athletic Training Education (CAATE) Curricular Content Standards.
"Springfield College is poised to provide outstanding educational experiences," said athletic training program director Mary Barnum, G'90, EdD. "We are fortunate that we have a strong and successful history to build upon, and current faculty who are engaged in leadership positions at all levels of the athletic training profession."
The program incorporates innovative and engaging ways to well prepare graduates to become quality health care providers and leaders in the changing landscape of the athletic training profession.
Dean Hallowell Attends Global Rehabilitation Alliance Meeting in Geneva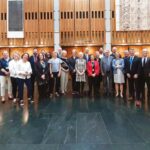 Dean of the School of Health Sciences Brooke Hallowell, PhD, participated in a meeting of the Global Rehabilitation Alliance (GRA), an initiative of the World Health Organization (WHO), recently in Geneva, Switzerland. Twenty-five representatives of international organizations from around the world participated.
The GRA mission is to advocate for the availability of quality, coordinated, and affordable rehabilitation through system strengthening according to population needs. Hallowell is one of 14 initial signatories for international associations that founded this initiative in 2018 at the World Health Assembly, hosted by the WHO in Geneva. She represents the American Speech-Language-Hearing Association.
Loomis Lakeside Partnership Initiates Students-in-Residence Program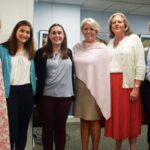 Springfield College and Loomis Lakeside at Reeds Landing have partnered in developing an intergenerational Students-in-Residence program. Graduate students enrolled in programs in the School of Health Sciences participate in the unique residential program working with and learning from older adults. Doctor of Physical Therapy students Julie Torchia and Allie Tupaj are the inaugural residents in the program.
"We are looking forward to helping create sustainable programs that are mutually beneficial to both the residents at Loomis, and the students," said School of Health Sciences Dean Brooke Hallowell.
In time for the start of the fall semester, Torchia and Tupaj moved into a two-bedroom apartment at Loomis Lakeside at Reeds Landing, a premier continuing care retirement community located on East Campus. Living as members of the community, these students are leading ongoing partnership projects, and contributing to ongoing social and educational aspects of community living.
Logging in eight hours of community engagement project work each week classes are in session, the students collaborate with residents and staff in all levels of living — independent, assisted living, or skilled nursing care — to develop and implement activities and programs that enhance the quality of life of residents at Loomis Lakeside and that further the mission of Springfield College. (Learn more about the program)
Fabien Cousteau and Céline Cousteau on Campus for Speaker Series
Springfield College hosted deep ocean explorer and environmentalist Fabien Cousteau and explorer and filmmaker Céline Cousteau for an evening titled, "One Ocean, One People: The Cousteau Legacy and a Call for Environmental Action," in October. Fabien and Céline are the grandchildrenof legendary explorer Jacques-Yves Cousteau. This year marks the sixth year of the College's endowed Arts and Humanities Speaker Series, made possible through the generosity of Carlton '63 and Lucille Sedgeley.
Fabien and Céline highlighted their commitment to fulfilling their family legacy of protecting and preserving the planet's extensive and endangered marine inhabitants and habitats.
Fabien stressed the need for bold and innovative thinking to progress conservation efforts worldwide. Co-founder of the Céline Cousteau Film Fellowship, Céline uses her global voyages to offer a thoughtful perspective on the connection of the environment to world populations.
U.S. Secret Service Partners with Criminal Justice Program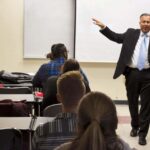 The criminal justice program recently partnered with the U.S. Secret Service to identify and guide first-year students and sophomores toward a career with that agency.
Led by U.S. Secret Service Senior Special Agent John Mazza and U.S. Secret Service Special Agent in Charge of Talent and Employee Acquisition and Global Recruiting Raj Karira, the agents will meet with individuals and small student groups to offer guidance and support to help students navigate the application and hiring process.
"Springfield College students are highly regarded due to the College reputation for educating future leaders that demonstrate commitment to the College mission," said assistant professor of criminal justice Gary Berte, PhD.
Both Mazza and Karira visited Berte's introduction to criminal justice class to meet with students and answer questions regarding a career with the Secret Service. Mazza, who gained his emergency medical services management training at Springfield College, has served as an internship placement recruit officer for Berte and Springfield College students over the last two years.
Board of Trustees Leadership Elected
The Springfield College Board of Trustees recently held elections during its annual meeting on the campus. Reaffirmed in leadership positions were James H. Ross III '79 of Wilbraham, Mass., and Michele A. Megas-Ditomassi '79 of Longmeadow, Mass.
Ross enters his second year of a three-year term as chair for the Board. He is principal officer of The Hollenbach Group, LLC, of Springfield, Mass., and has been on the Board of Trustees since 2012.
Megas-Ditomassi returns for her second year of a three-year term serving as vice chair. She is a retired educator.
Also elected were Mark Elgart '80, Dia Flanagan, and Kristian Rhim, Class of 2022.
General Counsel Named
Linda K. (Elle) Morgan, Esq., an attorney with extensive experience in higher education, has been named vice president and general counsel at Springfield College.
Morgan joined the College in August to provide legal counsel and guidance to the leadership of the College and serve as secretary to the Board of Trustees. She is a member of the president's senior leadership team.
With 13 years as a practicing attorney and more than six years in positions of senior-level organizational management and financial administration, Morgan is demonstrably practiced in providing leadership to institutional compliance with laws and regulations pertinent to higher education, including the Higher Education Opportunity Act, Title IX, FERPA, HIPAA, and the Jeanne Clery Act.
Morgan most recently worked for the Commonwealth of Massachusetts providing expertise in areas of employment law adjudication and related statutory interpretation. Her previous experience also includes service as associate dean for gender equity at Bard College, grant administrator within the School of Medicine at the University of Maryland, and as an attorney in private practice. She possesses a Bachelor of Science in business administration from the University of Maryland University College and a Juris Doctor from Western New England University School of Law. She has teaching experience as an adjunct professor at Holyoke Community College and Greenfield Community College.
Distinguished Springfield Professor of Humanics Hosts Humanics Triathlon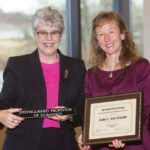 Provost and vice president for academic affairs Martha Potvin, PhD, named Professor of Psychology Judy L. Van Raalte, PhD, the 2019-2020 Distinguished Springfield Professor of Humanics at the annual Humanics Lecture in the spring.
Through Van Raalte's Humanics Triathlon Project, three distinguished speakers have been welcomed to the campus. William D. Parham, PhD, ABPP, director of the National Basketball Players Association Mental Health and Wellness Program in September presented, "The Ink Used to Indelibly Etch Lasting Impressions: Invisible Tattoos of Trauma within Athletic Communities."
In December, Janice L. Hilliard, PhD, an athlete education, development, and transition expert presented "Athletes, Leadership, and Social Responsibility: Where We Came From, Where We Are, and Where We Are Going."
In January, Courts for Kids President Derek Nesland presented, "Who Says There's No Traveling in Basketball? Community Development Through Court Building Around the Globe" highlighting the service-to-humanity mission provided by Courts for Kids, a nonprofit organization that helps build multi-sport courts in economically disadvantaged areas throughout the world. In January 2012, Van Raalte led a group of Springfield College students to northern Uganda where they joined Courts for Kids to build basketball courts at Lira Integrated Schools.
Van Raalte received the Distinguished Contributions to Science and Research in Sport, Exercise and Performance Psychology Award for 2019 from the Society for Sport, Exercise and Performance Psychology, APA Division 47.
The National Institutes of Mental Health, the NCAA, and the International Tennis Federation have funded her research. Van Raalte served as president of the American Psychological Association Society of Sport, Exercise & Performance Psychology (APA Division 47) and vice president of the International Society of Sport Psychology. She is a fellow of APA and AASP.
College Represented at Diversity, Civility, and the Liberal Arts Institute
Springfield College was one of 25 Council of Independent Colleges (CIC) member institutions that participated in the second annual Diversity, Civility, and the Liberal Arts Institute, held in Atlanta, Ga., from June 2-5. Representing Springfield College were School of Arts and Sciences Dean Anne Herzog, PhD, Counseling Program Director Allison Cumming-McCann, PhD, Communications Professor Martin Dobrow, and Director of Multicultural Affairs Felicia Lundquist.
November performance of The Illusion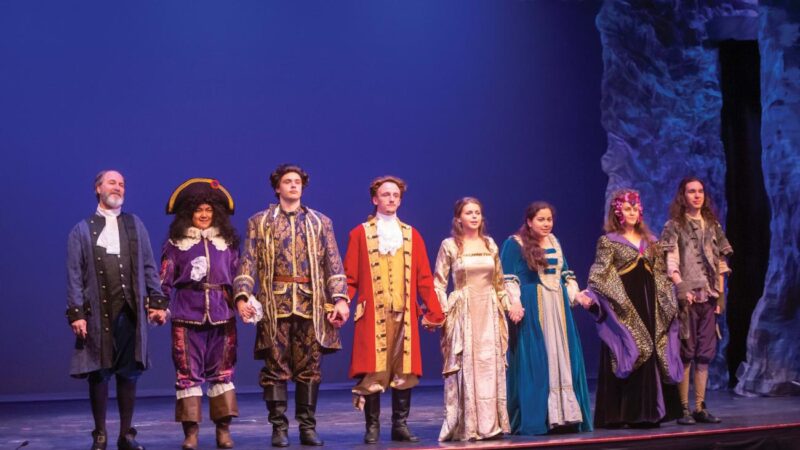 Springfield College Theater performs "The Illusion," by Pierre Corneille. Martin Shell, professor of theater and chair of the department of visual and performing arts, directed the November performance, which is part of the Springfield College William Simpson Fine Arts Series.