THERE IS SOME DEBATE whether Mary Jane left the group in San Francisco, Calif., after they lost first gear heading up Lombard Street, or whether she boarded a plane in Chicago to head home to Bermuda. The five from Abbey Hall pooled their money to the tune of $2,000, bought and outfitted a used van, and left to tour the United States after De Souza's 1980 graduation.
Mary Jane De Souza, Lisa Sabbatino '79, Judy Howe '79, Emily Huntington '77, and Joanie Quinlan '79 had decided to do a cross-country trip, mostly camping, but wanted a place to sleep if weather was bad. De Souza had the idea to buy the "Great Gourd," an orange Ford Econoline van with a standard transmission.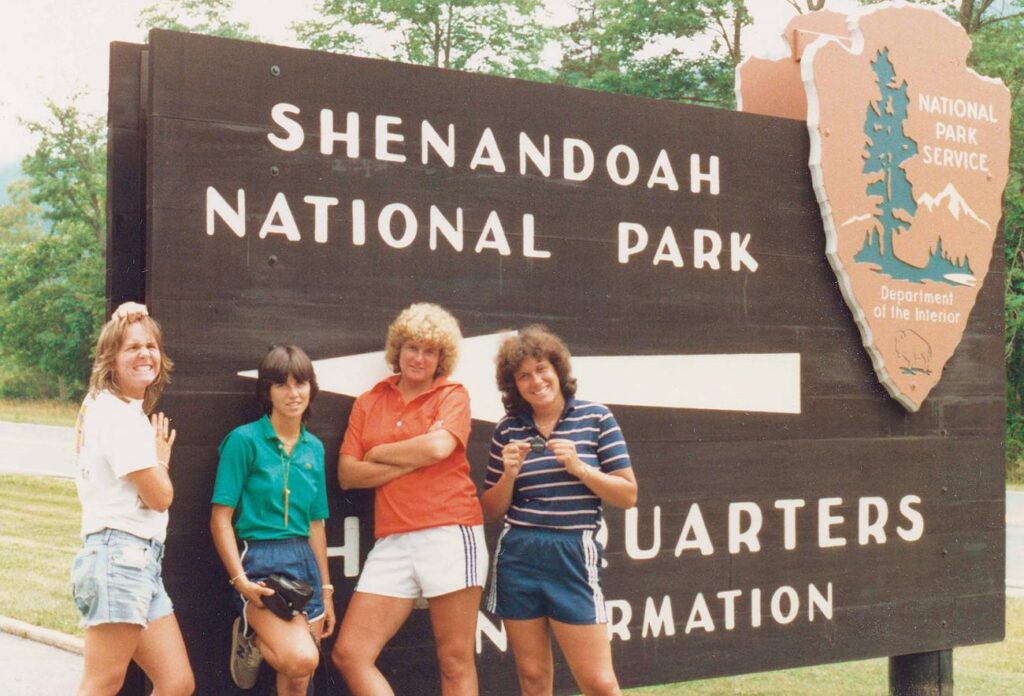 "Mary Jane found 'Wayno' who converted the bare van into "a plush Herculon-Naugahyde-covered traveling machine," says Sabbatino. With limited bed space in the van, they took turns, trading positions between the van and a tent, so that everyone got van time. Every fifth night they slept in a hotel, so they could shower.
Five women together in one van for two months can be stressful. "The first thing we'd do when we stopped at campgrounds was get out of the van and run in five different directions to get away from each other," says Sabbatino. "We just had to get away from each other, and then we'd come back and sit around the campfire."
"Mary Jane made us eat dinner every night at the Wendy's salad bar. The rest of fast food was off limits," recalls Sabbatino, who says she knew Mary Jane better than any person on the campus. "We would have to sneak an occasional fried chicken sandwich, but she couldn't know about it."
She was into healthy eating before it was a thing, would get excited over the funniest things, and was so "fun fun fun," says Sabbatino. "We did laugh our way across America on the adventure of a lifetime, with our Dr. Bronners peppermint soap and Skin Trip coconut lotion."
I FIRST MEET MARY JANE and hear this story at a 2018 holiday party where her propensity for fun is on full display. After picking up her guitar for a mini concert, she brings out bags of toy microphones for her guests so that we all can perform, reminding me of my days on Gulick 4A, singing "Piano Man" into my hairbrush with my floor mates.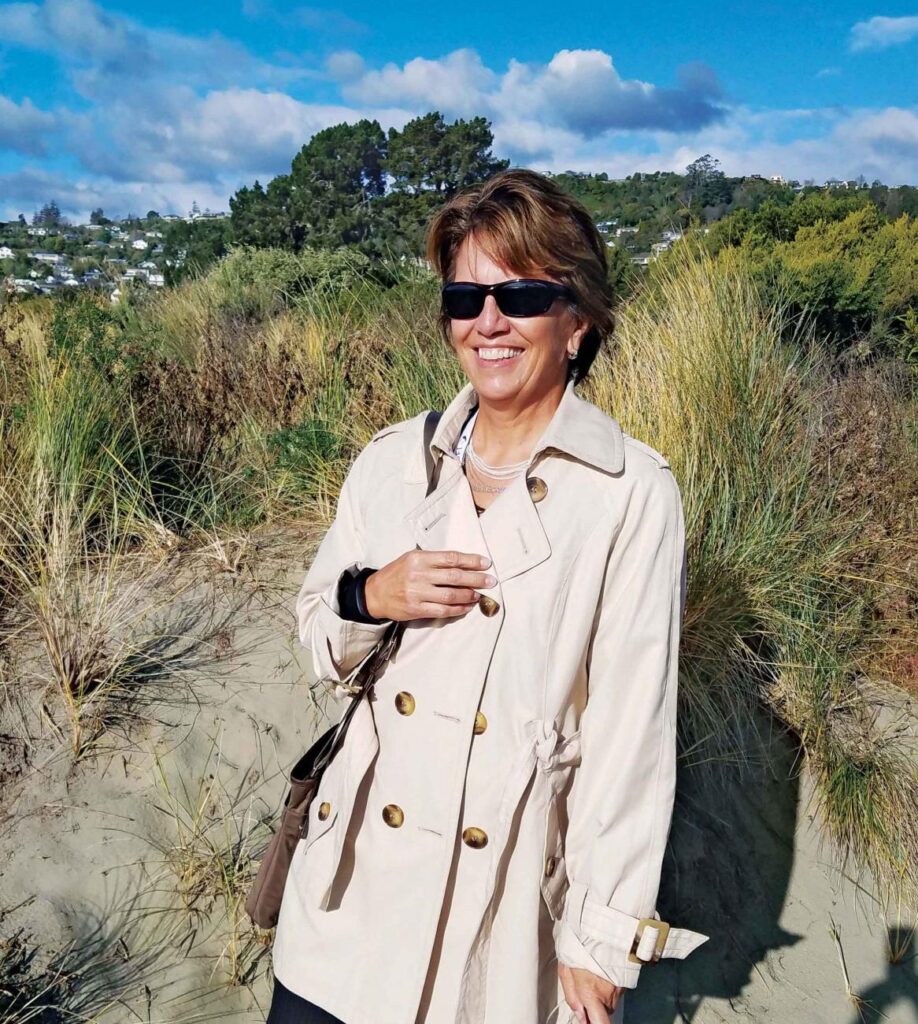 De Souza, today, is professor of kinesiology and physiology and director of the Women's Health and Exercise Laboratory at Penn State University, and internationally renowned for her research on the female athlete triad.
After graduating with a bachelor's degree in physical education, De Souza taught for a bit, but "had a hankering for science" and returned for a master's in exercise physiology.
"The first class I went to was Mimi Murray's class called The Female Athlete. Dr. Murray said we all had to do a literature review. And, she says, 'and De Souza, I want to see you at the end of class.' I hadn't even gotten out of my chair and she came down and said, 'You're going to do your review of lit. on the menstrual cycle and exercise.' I said "Why? I don't know anything about that and I am interested in cardiovascular physiology," recalls De Souza.
"And she said, 'that's what all young graduates say … but don't worry, you're going to love it.' And Dr. Murray left me sitting in that [Schoo Hall] classroom astounded. And, she never relented. I negotiated as much as I could, but she was relentless, and I fell in love with it."
How did Murray know? "She was my undergrad advisor," says De Souza, "and she watched me like a hawk." De Souza went on to earn a PhD in exercise physiology from the University of Connecticut in 1988 and hold a post-doctoral fellowship in reproductive physiology at the UConn School of Medicine from 1988-1990.
This was no surprise to her friends. Sabbatino says, "Mary Jane was very comfortable in the lab, even then. I have memories of her outrageous celebratory excitement over an observation about the changes in the behavior of mice when exposed to certain hormones in Bob Barkman's lab, or the 'wow' moment when she learned that lobsters … have hemocyanin instead of hemoglobin. The rest of us only experienced that kind of excitement when trying to do a new disco move on the dance floor."
De Souza's renown is for her research in the areas of women's health and exercise, including endocrinology of the female athlete, effects of exercise on the menstrual cycle, eating behaviors, food intake and exercise, bone health and osteoporosis in female athletes, and energy deficiency and bone health.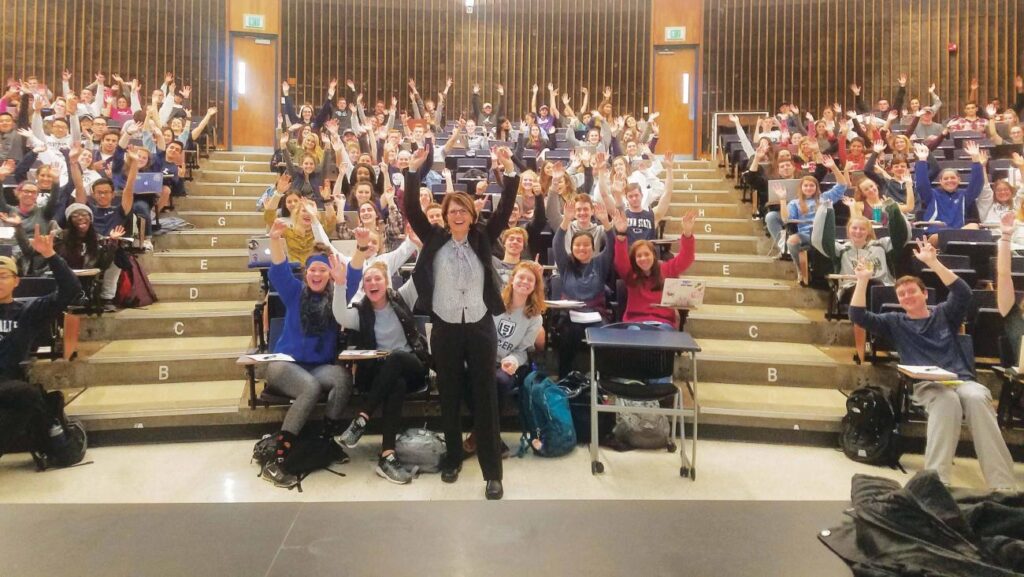 De Souza clearly enjoys her work. "You have to be an expert on the psychological aspects of eating, you have to know about ingestive behaviors that are driven by hormone cues, you have to know about reproductive function, you have to know about metabolism, you have to know about skeletal. So, it's a very ripe and fertile area that integrates a lot of physiology. It's really fun!"
Her particular expertise is the female athlete triad—a syndrom of energy deficiency with or without disordered eating, menstrual disturbances, and bone loss—and as a past president and active member of the Female Athlete Triad (FAT) Coalition, a group of national and international organizations and individuals, De Souza and her colleagues work to prevent and treat the triad. They do this through advocacy, education, international leadership, public policy, and research, which recently has shown that the triad also affects male athletes, so the group is expanding its work and will be known as The Female and Male Triad Coalition.
These scholars are committed to making this information accessible. "The FAT coalition is dedicated to the translation of knowledge. … We can do all the science we want in the laboratory, but if we don't translate it, we've done nothing … We have to get to athletes and the people who take care of athletes. I'm all about grassroots efforts."
SHE COMES BACK into town, and I meet Mary Jane for the second time. At Auntie Cathie's Café in Agawam, Mass., the waitress pours our coffee over notes of the Counting Crows and the low din of other diners and Mary Jane talks about how she came back to teaching.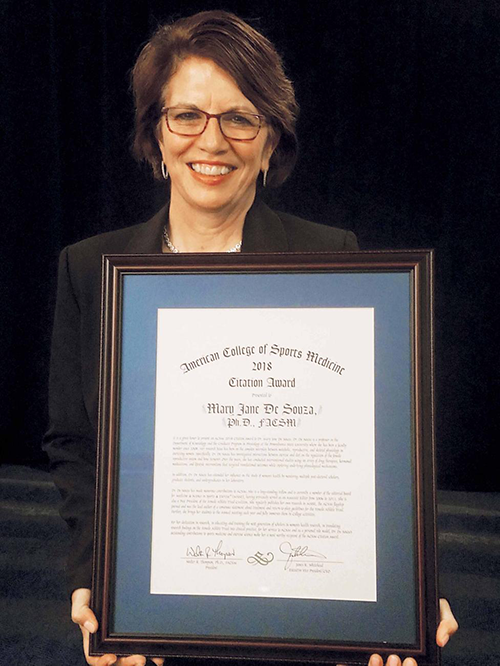 "I think I was a good teacher," she says of her first stint in 1980, "and I got what I could out of it, [but] my mind was restless, and I just knew I wanted to go and do something science." "Doing something science" has brought her full circle.
Following her doctoral work, she conducted clinical research at the University of Connecticut Health Center, then at New Britain General Hospital, before the University of Toronto recruited her to direct its Centre for Girls and Women's Health and Physical Activity.
"It was a tenure track position and I thought it was time for me to get into academia," rather than continuing to do 100 percent research. "My positions were all research, really. I had wonderful experiences in reproductive endocrinology and infertility and I also learned a lot about menopause and hormone therapy."
But she wanted to get back to the United States and the opportunity at Penn State arose.
"They just made me an offer that I could not turn down. It's a lot of lab space. It's real state of the art. It's a Research 1 institution. They have a real impressive research support engine, where they put out your grants, they do the contracts. They do everything. All you need to do is write the science. I have not seen a place that operates the way they do." When asked if she has her own labs there, she responds, "We have seven labs."
"It's a very impressive facility, and within our facility is a mini-hospital, so we can do all kinds of clinical research. We do 24-hour studies where we can draw blood every five minutes for 24 hours to look at pulsatility of hormones. We can do feeding studies, we have a metabolic kitchen in the building, we can do exercise training studies. We can do lock up where they're sleeping there. … It's the real deal."
But, De Souza is very clear that she could not have achieved her success without the career influencers who supported her at Springfield College.
IN HIGH SCHOOL back in Bermuda, she "got every award: school spirit, athletic, music. But, because I was only a second honors student, when I went to guidance to get my transcript to go to Springfield College, the counselor wouldn't give it to me. She said, 'Mary Jane, you're not smart enough to go to Springfield College.'" De Souza's mom was having none of it, and went with her to see Sister Doris, the principal, who "apologized and got my transcript, and I was the first kid in my class to get early acceptance."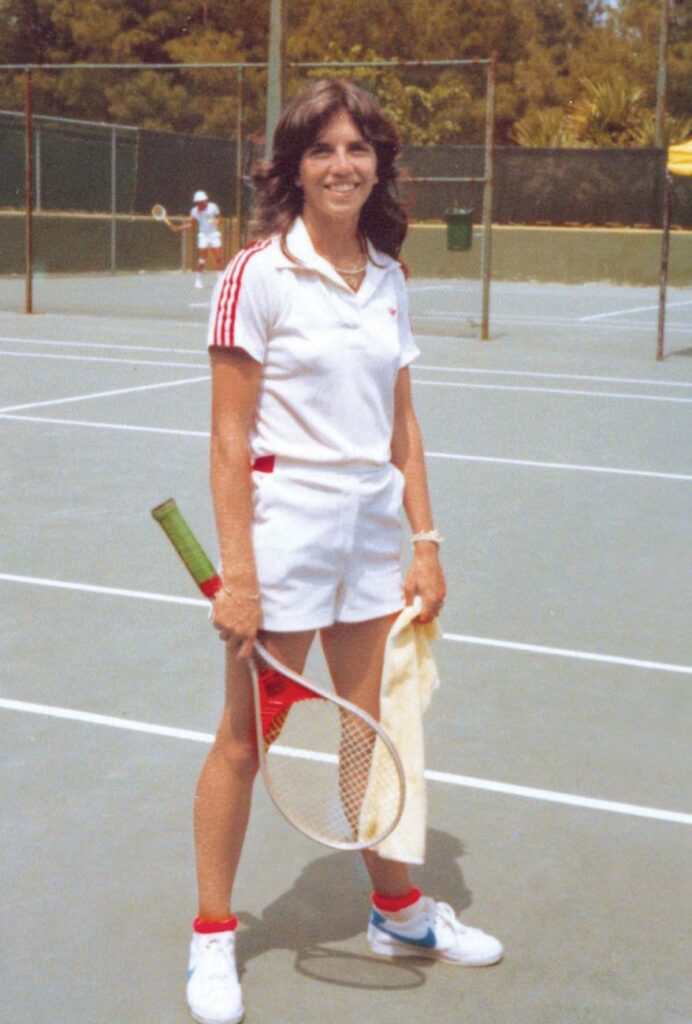 As a physical education major, she had a science-heavy schedule. "Peter Polito was so hard, but I appreciated physics and comparative physiology and biochemistry. They opened my eyes that I loved science."
"Bob Barkman taught a comparative physiology and biochemistry course that I consider the best course that I have had anywhere in my entire career. And, the labs were unbelievable," she recalls.
"But, I didn't have a lot of confidence. I was still
working on that. That high school experience really shattered me."
She recalls Bill Sullivan '59, G'63, PhD, then-assistant dean of graduate studies and professor of research and statistics, who saw her "in line registering for classes, and he said, 'De Souza'—everyone called me De Souza—'why are you in sport admin?'" She recalls responding, "Dr. Sullivan, I hope if I get good grades, you'll let me transfer into exercise physiology, and he said, 'You're in it today but on the condition that you be my teaching assistant. I said I couldn't be a TA for statistics! And he said, 'yes you can!'" She says she learned so much from that experience. Today, her research is quantitative.
"He took such good care of me," she says with fondness, describing how her influencers and mentors made all the difference in her life and career.
"They believe in you, when you have no idea what your potential is," she says. "You're hoping and trying to be something, but you don't really know what that looks like. And, here you have these people who believe in you and give you a responsibility, like 'I know you can learn stats.' 'I know you're going to love the menstrual cycle.' And that makes you rise up. I think those were major significant shifts for me—having people that I really admired believe in me."
"To have that kind of support and belief changed the course of my career," says De Souza.
And, she is paying it forward. "That is my primary focus when I interact with kids: I talk to them about believing in themselves. … I tell that story in every class that I teach, because I tell them not to ever let anyone derail your dreams. Because if you believe in yourself, that's half the battle. And then along the way you'll get lucky and you'll find people who DO believe in you, and who help you over the humps and help you find paths that you don't even know you can reach."
IF YOU SEARCH for De Souza on the Internet, your yield of information will be copious. You'll see the scholarly lectures and webinars that she delivers, many available on YouTube. And, you'll find comments on Rate My Professors like: Great prof. Super engaging and very knowledgeable. Really makes class enjoyable. … Dr. De Souza is an amazing professor! She makes sure all of her students know just how much they are cared for. … One of my favorite professors. Is very clear on what she wants you to learn … She cared about our success … She is super passionate and care [sic] about her students.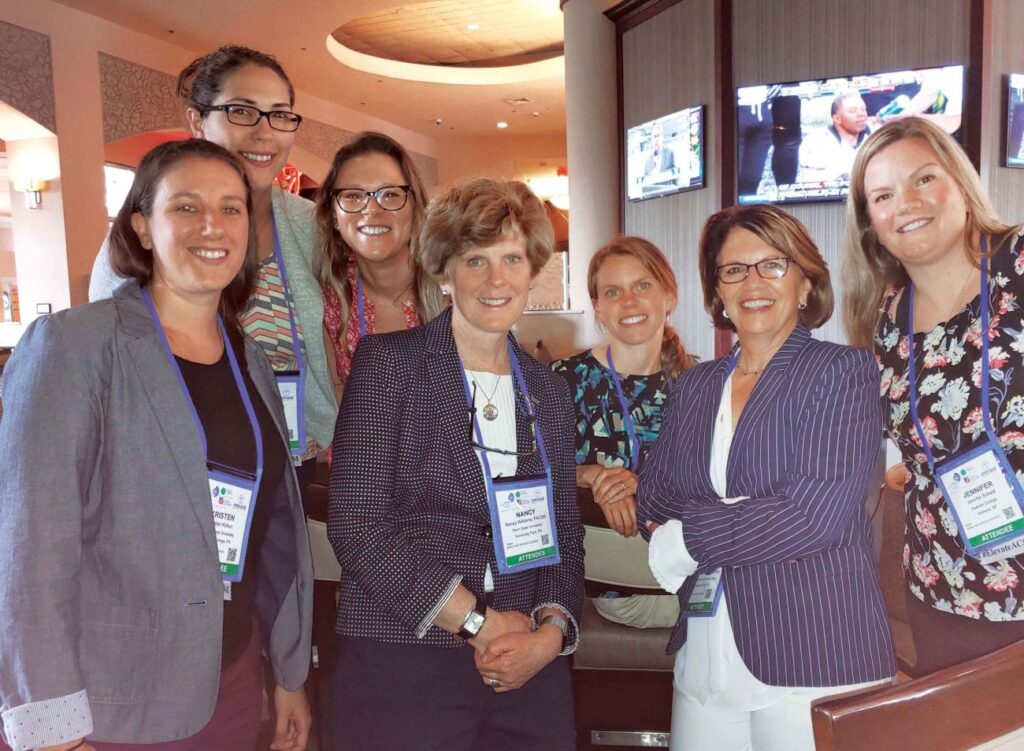 When asked, "Do you think you're a Mimi Murray or a Bill Sullivan to anyone?" she says, "Yeah. I do. … I think that's the single most important thing that we have to contribute, is to make kids believe in themselves and reach well beyond what they think they can, because that's our job. … And, I think that's what Mimi did for me. She always believed in me. She never let me settle … She always pushed me to the next thing."
Her many awards and recognitions are enviable: American College of Sports Medicine (ACSM) Citation Award for Career Research Achievement; New England Chapter of ACSM Honor Award and Past President's Lecture; University of Michigan Katarina Borer Lectureship; Penn State University Teaching Excellence Award, to name just a few. Pages of published manuscripts, book chapters, and other publications; national and international presentations; extramurally and intramurally funded research grants, and industry-sponsored research grants round out her vita. She has served on numerous journal editorial boards.
De Souza says one of her big accomplishments was a webinar she gave in January on the female athlete triad recovery and sport nutrition. Hired by Gatorade, she delivered a presentation to members of the ACSM, and says that it was the most registered for webinar in the history of the ACSM and Gatorade.
De Souza turns her attention to the future and the legacy she would like to leave.
"It's not about how many grants I can get or how many papers I can publish. It's about making a difference that greatly benefits a lot of people. And that can be programmatic, that can be individual students, that can be funding. But, if you don't leave a bigger story, what's the point?"
"I'm looking for that thing now. Where can I make a contribution? … I need to use my experiences to benefit a larger purpose," she says, adding that she would like to find a way to bring her experience back to Springfield College, the place where she got her start.
She's gotten lots of national awards, but what would thrill her most is to be invited to do a distinguished lecture at her alma mater. "That to me would mean more than anything else than I could possibly achieve in my career. Because then, [the place] you started acknowledges that you did something. … Great physiologists have come from Springfield College," she says.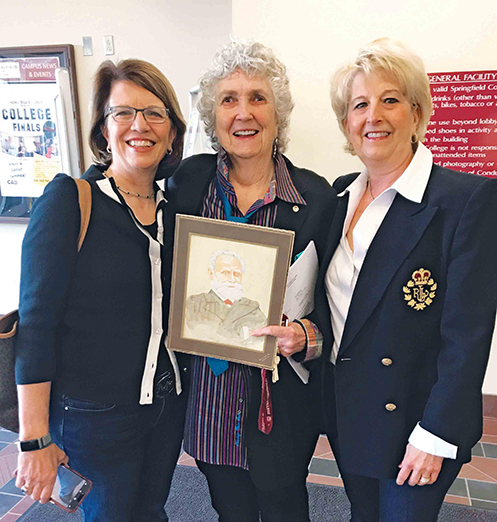 AN INTENSE WORKLOAD doesn't keep her from those who are important to her. She and her close friends from Springfield College—Abbey Hall in particular—seem as connected as the day they left the campus.
"She was a very serious student, but she was just as serious about having fun," says Sabbatino. "I remember her pounding away on her blue Smith Corona self-correcting typewriter. This work was done in time for tennis practice and a few laps around the track." (De Souza is a serious tennis player. She represented Bermuda at the 1976 Montreal Olympics.)
She continues to share her life with the Springfield College people who are most important to her: Sue Tougas '80, Sabbatino, Nancy Grace '80, Mary Roda '75, and Karen Calkins '78, for starters. And, recently she reconnected with the professor who set her on her research journey, Mimi Murray. In fact, De Souza came back to campus to attend Murray's last lecture on May 7.
As our conversation concludes, I ask what her autobiography would be called.
"Pushing limits. If you had asked me if I'd ever do what I'm doing—I never knew it existed. But, I had people like Mimi Murray saying, 'Why can't you be me, Mary Jane?' She was the first person who put in my head 'you can be a PhD' … She gave me that first vision, where I didn't know it existed."