Department
Pride Athletics
Long-standing Iconic Coaches Retire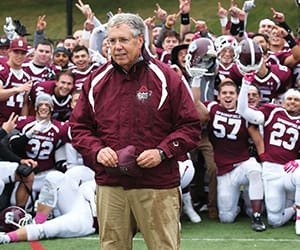 Mike DeLong
Longtime Springfield College Head Football Coach Mike DeLong '74 has announced his retirement after 32 seasons at the helm of the football program. DeLong, Springfield's all-time winningest football coach, guided the program to 11 postseason appearances, including five trips to the NCAA Tournament.
DeLong posted a 201-139-2 career record and is one of only 19 coaches in the history of Division III football to reach the 200-win career plateau. DeLong directed the Pride to five NCAA Tournament appearances, five Freedom Football Conference (FFC) titles, one Empire 8 co-title (2006), and six Eastern College Athletic Conference (ECAC) Championships.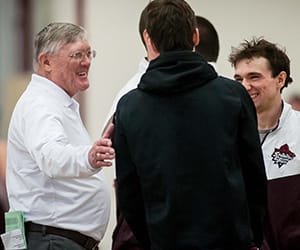 Ken Klatka
Springfield College Head Men's Track and Field Coach Ken Klatka '69, G'70, has announced that he will retire at the end of the 2015-16 academic year after spending the last 40 years at the helm of the program.
In his 46th overall season as a coach, he ranks among the nation's most successful coaches, totaling more than 450 wins in his career. In 2011, Klatka was inducted into the Springfield College Athletic Hall of Fame.
Women's Soccer Claims Championship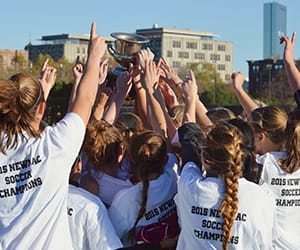 Emerging from a penalty-kick shootout for the third-consecutive time, the Springfield College women's soccer program earned its fourth-straight New England Women's and Men's Athletic Conference (NEWMAC) Championship, defeating Babson College at Steinbrenner Stadium on the campus of MIT on Nov. 8.
For her efforts throughout the postseason, sophomore goalkeeper Ciara Boucher (Manchester, Conn.) was named the NEWMAC Women's Soccer Tournament's Most Outstanding Player.
This marked the first time in the history of NEWMAC Women's Soccer that a team has advanced through each round of the conference tournament via winning a penalty-kick shootout as the Pride won its sixth title in the past eight seasons.
Holt Named Academic All-American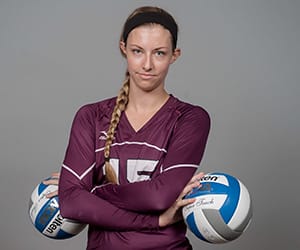 Junior Lauren Holt (Granby, Conn.) of the women's volleyball program was named a First Team Capital One Academic All-American® by the College Sports Information Directors of America (CoSIDA). Holt becomes the 31st student-athlete in Springfield College history to earn CoSIDA Academic All-America® recognition. This marks the fourth time that a member of the Springfield College women's volleyball team has earned the national academic honor.
Holt was one of only three women's volleyball student-athletes at the NCAA Division III level to earn both First Team Capital One Academic All-American® honors and American Volleyball Coaches Association (AVCA) First Team All-America honors.
Student for a Day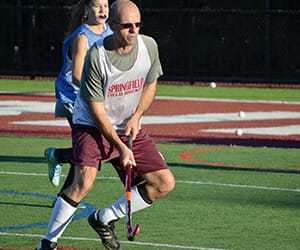 In his first year as director of athletics, Craig Poisson took it upon himself to learn what life was like for a current Springfield College student-athlete. On Oct. 26, Poisson became a member of the field hockey team, following around first-year Amanda Nusbaum (Conway, N.H.) as he attended classes, lunch, practice, and dinner.
A video showcasing Poisson's day is available at springfield.edu/student-for-a-day.
Scholar All-America Recognition to Senior Midfielder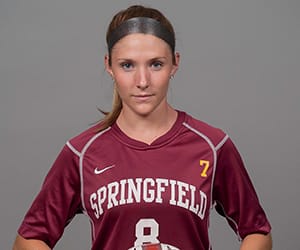 Senior midfielder and captain Brooke Hattinger (Weymouth, Mass.) was recognized by the National Soccer Coaches Association of America (NSCAA) for her hard work in the class room and on the field, earning Scholar All-America recognition.
A biology major with a 3.83 grade-point average, Hattinger is just one of six student-athletes chosen from New England, and one of three from the New England Women's and Men's Athletic Conference (NEWMAC).
Men's Soccer Earns ECAC Title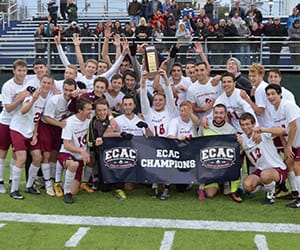 For the second time in the past three seasons, the men's soccer team claimed the Eastern Collegiate Athletic Conference (ECAC) Division III New England Championship, as the Pride prevailed with a 2-1 victory over top-seeded and host Endicott College in the championship game at Hempstead Stadium.
With the win, Springfield, which played in its fourth postseason championship game in the last five seasons, finished its historic 2015 season with an overall record of 16-4-2, breaking the Division III program record for total wins (16) and fewest losses (4) in a single season. Additionally, the Pride finished its 2015 campaign with a winning percentage of .810, the highest in the program's Division III history.
Cerasuolo to Head Football Program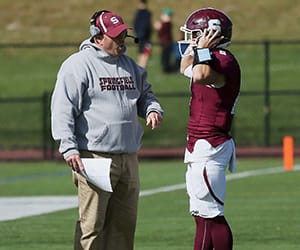 Mike Cerasuolo '93 has been named head football coach by Director of Athletics Craig Poisson. Cerasuolo is the 14th football coach in the program's 126-year history, and is just the fifth coach in the past 70 years.
Cerasuolo recently concluded his 15th season as offensive coordinator for Springfield College, devising game plans that helped the Pride establish itself as one of the premier offenses in Division III football.
Under his direction, the Pride has won five national rushing titles, including most recently in 2011, while the offensive unit has eclipsed the 40-point mark 35 times, the 50-point plateau 16 times and the 60-point mark on 10 occasions. Also during his tenure, the Pride has had nine student-athletes who play offense earn All-America honors, including Chris Sharpe '07, who won the 2006 Melberger Award, awarded to the top Division III football student-athlete in the country.
A standout center, Cerasuolo was named Springfield College's most valuable offensive player during his senior year, was a two-time Division II All-New England selection, and a 1992 Associated Press and New England College Football Writers' Association All-Star. After earning a bachelor's degree in physical education from Springfield College, Cerasuolo earned a master's degree in sport pedagogy from Ithaca College in 1995.