Towering Presence
Hoshiyama Devoted Life to Service
It was an irony never lost on Fred Hoshiyama that he was born on Dec. 7, 1914. Transpose the last two digits of 12-7-14, and you get 12-7-41: "a date which will live in infamy."
The attack on Pearl Harbor occasioned not only the United States involvement in World War II—which almost all Americans regard as a heroic battle against tyranny—but also a more shameful part of our history, the forced relocation of more than 100,000 Japanese-Americans at internment camps. Most were American citizens, including Yaichio "Fred" Hoshiyama. YMCA legend, Springfield College luminary, Hoshiyama lived his whole, long life in "service to humanity."
Recipient of a master's degree from Springfield in 1944, Hoshiyama died at 100 on Nov. 30, 2015.
In a letter to members, Kevin Washington, president and CEO of YMCA of the USA, described the 5-foot-2 Hoshiyama as "a towering presence in our movement."
Hoshiyama's contributions were legion, often focused on programs for at-risk youth. He was also an essential force in developing the Japanese American National Museum.
Born in Livingston, Calif., near road signs reading "Japs Keep Out," he was christened "Fred" by an elementary school teacher who found his given name too difficult to pronounce. He was the eldest of four surviving children to parents born in Japan. His father died when Hoshiyama was eight. In his autobiography Pearls, he remembered eating sparrows and robins as a child, and helping his mom by shining shoes and selling pencils. Still, buoyed by an effervescent drive that defined him his whole life, Hoshiyama went to the University of California-Berkeley, graduating in 1941.
Shortly after beginning his career in the Y, he was swept up in the relocation ordered by President Franklin D. Roosevelt. He and his family lived for four months in horse stalls at the Tanforan Racetrack, then were shipped to the Topaz War Relocation Center in Utah.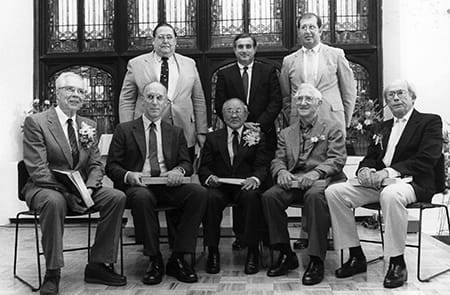 Behind barbed wire, Hoshiyama was—remarkably—able to convince armed guards to allow him to run Y-type recreation programs for children. "I just felt that human beings are too precious for them to become just animals, caged, in a warehouse," he explained in a 1989 interview when he was inducted into the YMCA Hall of Fame at Springfield College.
So persuasive was Hoshiyama that he was one of a small group of Japanese-Americans (termed "enemy aliens" officially) to gain early release to study at an American school. After being vetted by the FBI, the Army, and the Navy, Hoshiyama made an obvious choice: the school across the country with deep YMCA roots. He arrived in Springfield in January 1943, beginning an association that would last more than seven decades. In 2002, Hoshiyama, then a lively 87, received an honorary doctorate in Humanics.
A patriotic American, Hoshiyama always felt his country needed to stand up for freedom. Without a trace of bitterness he described the internment as "a black mark" in the 1989 interview, adding, "We're glad it's over, and we hope that will never happen again to any…citizen or any group."