Department
Alumni at Home and Road
Grateful for his education at Springfield College, Deputy Fire Marshal Thomas Brown '80 gives back in more ways than one.
Brown picked up the phone and called the Arthur C. Luf Children's Burn Camp, where he had volunteered as a counselor for approximately 20 years, and said he would not be coming this year due to the pain from a back operation and two hip replacements in the last year.
"It is the teachings of Springfield College that cultivate outstanding leadership in the fields of health, physical education, recreation, humanities, health sciences, and human services."
Brown thought about the kids at the camp for burn victims whom he had met over the years: the casualty of a domestic dispute in which a parent lit their staircase on fire, forgetting there were children upstairs; a teenager who threw a Molotov cocktail that bounced off a police car and exploded on him; children with burns over 80 percent of their bodies; firework accidents; missing fingers; missing limbs.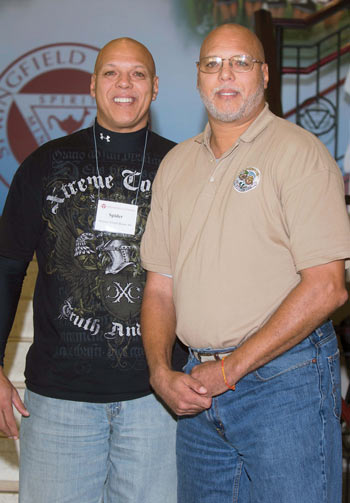 The next day he called back and said he would be coming 
after all.
"You arrive and see some of the old counselors, the kids come in, and it seems like something in your chest opens up and you're fulfilled," Brown said. "I said, 'I'm home.'"
Brown has many great memories of Springfield College but recalls a lecture from Joel Dearing, associate professor of physical education, in which Dearing mentioned putting Humanics into action through volunteering. Brown decided to live out that philosophy by volunteering with his local fire department. That decision turned into a 31-year career as a firefighter and EMT for Brown, who has risen to the position of deputy fire marshal with the Stamford (Conn.) Fire Rescue Department. He has been awarded two Emergency Medical Service medals in addition to Firefighter of the Year for his work as a camp counselor.
Brown decided to continue his volunteering with the children's burn camp in Union, Conn., where he is known as "Big Tom." Some of the children are missing fingers but the camp adapts the archery bow so they can still shoot. Staff will use a harness to pull campers with mobility issues to the high-angle ropes course. The camp makes every effort to ensure the kids are successful.
Beyond the selfless act of volunteering, Brown is happy to help because he remembers receiving assistance as a youth.
"Coming from a working class household, where my dad was a carpenter and my mom a loving mother of three children, there was no way that they could afford to send my brother (Michael Brown '80) and me to Springfield at the same time. If it wasn't for the financial assistance from Springfield's alumni and college supporters, our education would not have been possible," Brown said.
Not only does Brown make annual contributions to his alma mater, but he has also named Springfield College in his estate plans.
"It is the teachings of Springfield College that cultivate outstanding leadership in the fields of health, physical education, recreation, humanities, health sciences, and human services. If, in a small way, my financial assistance can make that possible for a current or future student, I feel that I served my purpose."