Department
Pride Athletics
DeLong Hits 200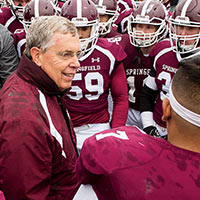 Head football coach Mike DeLong '74 became the 19th coach in the history of Division III football to reach 200 career victories when he led Springfield College to a 20-17 victory over Union on October 3 on Stagg Field.

DeLong, who is the winningest football coach in Springfield history and the third-winningest active Division III football coach, has spent the last 32 years at the helm of the Springfield College football program, earning a winning percentage of over .600.
Graves and Women's Basketball Coaching Staff in China, Hong Kong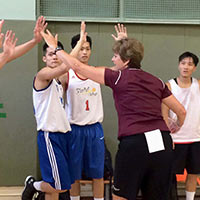 Head women's basketball coach Naomi Graves, and assistants Marc Taney, G'16, and Jaimie Rubin, G'15, PhD'18, spent two weeks in August spreading the goodwill of basketball through camps and clinics in Asia.
Thanks to the generosity of Frank Fu '73, DPE'75, the trio held camps for the students of Hong Kong Baptist University, as well as for the Hong Kong community. Following Hong Kong, Graves reconnected with Xingping Zhang at Sun Yat-Sen University in Guangzhou, China. Zhang was a former exchange coach who worked with Graves and the Springfield College women's basketball program in 2001. Graves presented at the university on Aug. 24, a trip that was funded by the Fok Foundation.
"It is my hope that this is the beginning of a promising relationship," said Graves. "I look forward to spreading the game of basketball and continuing Springfield College's work as an international ambassador for the sport."
Springfield College Nationally Ranked 24th for Best Colleges For Female Student-Athletes
Springfield College was recognized by Niche.com as the 24th best institution in the United States for female student-athletes to attend. Springfield was one of only five Division III institutions and the only program in New England to crack the top 25.
Best Colleges for Female Athletes ranked 703 colleges based on NCAA Championship appearances, percentage of female students participating in varsity sports, and more than 200,000 student opinions from nearly 75,000 students. A high ranking indicates that the program has performed well in NCAA tournaments, and athletes are given the support and resources they need to succeed both on and off the field.Springfield ranked ahead of Cal-Berkeley, Ohio State, Duke, and Penn State. Springfield College has long been a leader in women's athletics and celebrated it 50th anniversary of women's varsity athletics in the 2013-14 academic year.
Additionally, Springfield College ranked 39th in the category of Best Non-Division I Colleges for Student-Athletes. Niche.com ranked 290 colleges based on dozens of statistics and more than 800,000 student opinions from nearly 75,000 students.
Women's Swimming and Diving Earns Second-best Team GPA In Division III, Third-highest Among All Divisions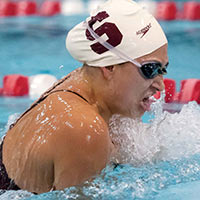 The women's swimming and diving team was recognized for its dedication to both athletics and academics, and recently honored as a College Swimming Coaches Association of America (CSCAA) Scholar All-America team.
Springfield registered a team cumulative grade-point average of 3.70, ranking the best in New England, No. 2 in Division III, and no. 3 across all NCAA divisions. To be selected as a CSCAA Scholar All-America Team, programs must have achieved a grade point average of 3.0 or higher over the spring semester.
Seven Pride student-athletes were individually recognized. Sophomores Emily Medeiros (Wakefield, Mass.), Christiana Greco (Wilbraham, Mass.) and Morgan Kitzmiller (Dover, Pa.) earned CSCAA All-America honors; juniors Callie Phillips (East Longmeadow, Mass.), Melanie Avdoulos (East Longmeadow, Mass.), Alyssa Carle (Franklin, Mass.) and first-year Taryn Hamel (Westfield, Mass.) garnered CSCAA Honorable Mention Scholar All-America recognition.
To be selected to the CSCAA Scholar All-America Team, swimmers and divers must have achieved a grade point average of 3.50 or higher and have participated in their respective NCAA/NAIA/NJCAA swimming and diving championships. Honorable mention selections have similarly achieved a GPA of 3.50 and achieved a "B" time standard or competed at their respective qualifying meets.
Sullivan Consults for National Team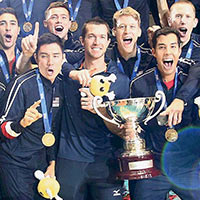 Head Men's Volleyball Coach and Associate Professor of Physical Education Charlie Sullivan '91, G'97, helped lead the U.S. Men's Volleyball Team to the Fedération Internationale de Volleyball World Cup title on Sept. 23 in Japan, marking the first time since 1985 that the United States has won the event. The first qualifying event of the season, the win secured a bid to the 2016 Olympics for the national team.
Sullivan served as a consulting coach and spent the first three weeks of September with the national team and was charged with scouting the United States opponents.
Earlier in the summer, Sullivan served as head coach for the U.S. Pan American Men's Volleyball Team, which competed at the Pan American Games on July 17-26 in Toronto, Canada.