This issue includes listings through Dec. 31, 2021.
Faculty and Staff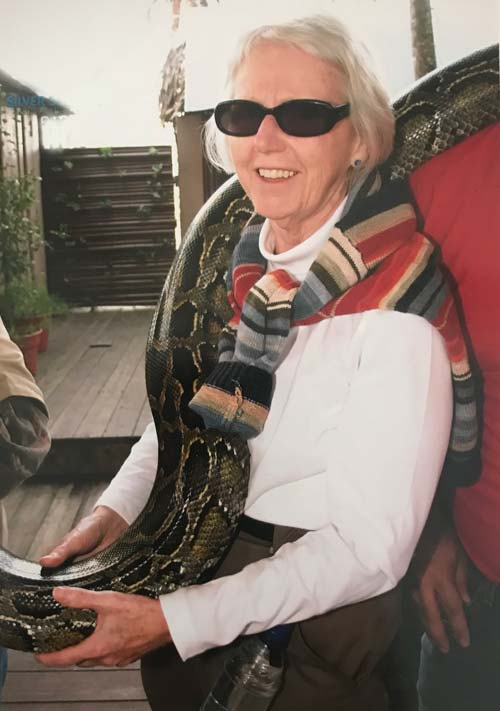 Emeritus faculty member Frances Casey, St. Albans, Vt., Sep. 30, 2021. She lived in Florida with her husband Jerry Lee Espy, returning to Springfield after his death. She taught special education students in Granby, Mass., before joining Springfield College as a professor in the rehabilitation department. She returned to school for teaching credentials but continued until she earned a Doctor of Education from UMass Amherst, while working full time and raising a family.
Robert Rue Parsonage, PhD, Cable, Wis., July 31, 2021. Parsonage was chaplain and assistant professor of religion and philosophy at Springfield College from 1963-1973, becoming actively involved in the Civil Rights Movement, joining Martin Luther King Jr.'s Southern Christion Leadership Conference, and traveling south with faculty and students to work for social justice. He later served as executive for education in the National Council of Churches of Christ in the USA, and was the U.S. Representative to the World Council of Churches Committee on Science and Society. He served as president of Northland College, Ashland, Wis., from 1987-2002. His obituary said, "He left this world peacefully, with no regrets, surrounded by love."

Gamaliel Torres, Springfield Mass., Nov. 8, 2021. Harvest Table employee at Cheney Hall, Torres was a member of the Springfield College community from 2017-19, before returning to work for Harvest Table in November 2021.
Honorary Degree Recipients
Lucy Wilson Benson, H'81, Amherst, Mass., July 12, 2021. Benson served as the U.S. Under Secretary of State for Arms Control and International Security Affairs from 1977 to 1980, at the time the highest position ever held by a woman in the U.S. Department of State. Prior to that, Benson served as Massachusetts Secretary of Human Services under Governor Mike Dukakis, and as national President of the League of Women Voters from 1968-1974. One of her many achievements as league president was the admission of men to full membership. In 1976-77, Benson was a member of the Select Committee on the Administration of Congress, appointed by the Speaker of the House of Representatives. She served on the Advisory Committee of the U.S. Commission on Civil Rights from 1964-1971 and the President's Special Committee on U.S. Trade Policy in 1968.
Notable Alumni
David Allen Kaynor '70, Montague, Mass., June 1, 2021. Kaynor was the great-grandson of Springfield College founder David Allen Reed. Kaynor's father, Allen Reed Kaynor, was a professor and director of guidance and psychological services at Springfield College. Kaynor taught special education classes at Minnechaug Regional High School in the late 1970s. He was an all-American swimmer in college, and coached swimming at Minnechaug Regional High School in Wilbraham and Pine Knoll Swim School in East Longmeadow.
He was a professional contradance fiddler, caller, and teacher, and wrote a book about calling dance. He called and played for regular contra dances at the Guiding Star Grange in Greenfield, Mass., from 1980 until December 2019. He directed the Vermont Fiddle Orchestra and co-directed the Fiddle Orchestra of Western Massachusetts. He received numerous awards throughout his life, including the 2021 Country Dance and Song Society Lifetime Contribution Award.
Alumni
Warren G. Charters '48, Vista, Calif., July 19,2021. Charters was director of the downtown Los Angeles YMCA. He received a master's degree in physical education and began teaching science, English, and physical education at Artesia High School, in Lakewood, Calif. He coached basketball and other sports. Said his son, "Even at 106, during his hospice, we watched YouTube videos on Springfield College … He truly loved Springfield College and its affiliation with the YMCA."
Robert Fowler, JD, '51, Nashua, N.H. July 10, 2021. Fowler served in the U.S. Navy during WWII and was stationed in the Philippines. He began his career at Liberty Mutual in Boston later joining the Norfolk & Dedham Group where he worked for over 35 years, and retired as an officer of the company. He attended Portia Law School (New England School of Law) where he earned his law degree.
Jack O. Proud, G'52, Moncton, N.B., Canada, Oct. 15, 2021. Proud was a physical educator at the Saint John (N.B.) Vocational School. He built the Rustico Golf and Country Club on P.E.I. He started working for World's Finest Chocolate in 1962, from which he retired three years ago. He served as president of the Canadian Restaurant and Foodservices Association, and was an honorary lifetime member of the Canadian Golf Superintendents Association.
Margaret W. Fienemann '55, Burlington, Conn., Dec. 19, 2020. Fienemann was a teacher in Plymouth school system for many years until her retirement in 1990.
Gloria J. Mellberg Boudreau '56, South Hadley, Mass., Oct. 25, 2020. She worked as a microbiologist at the VA Medical Center in Northampton, and later taught middle school science and college biology classes. She published articles for children and adults, and a children's book, "The Immune System." She won two awards from the Society of Children's Book Writers and Illustrators.
Prescott K. Johnson '56, PhD, Green Valley, Ariz., July 21, 2021. Johnson was a second lieutenant and platoon commander with the U.S. Army Intelligence Division in Korea. He served the South American Federation of YMCAs in Uruguay, and taught future YMCA executives and physical education specialists throughout Latin America at the Instituto Técnico. He went on to work with YMCAs in Milwaukee, Wis; Portland, Ore; the West Region Field of the USA; and New York City. He was inducted into the YMCA Hall of Fame in 1995.
Judy Witham Moss '56, West Hartford, Conn., Oct. 16, 2021. Moss was in the second women's class at Springfield College, earning a degree in recreation. She and her husband Cliff co-directed youth programs and summer camps. She was a teacher and coach in several Connecticut schools and was a private piano teacher. She received the Springfield College Tarbell Medallion in 1987.
Betty Rae Herrick '57, Tunkhannock, Pa., Nov. 18, 2020. She taught public school physical education before moving to the State University of New York (SUNY). Much of her career was spent at SUNY Oneonta, and she retired from SUNY Potsdam, where she was the director of student activities and the college union.
Arthur J. VanDerburgh '57, DO, Portland, Maine, July 5, 2021. He was a U.S. Army medic during the Korean War for 18 months. He was commissioned as medical officer in the U.S. Naval Reserve with the rank of Lt. Commander. He was chairman of the pathology department at the former Osteopathic Hospital of Maine (Brighton Medical Center), serving as director of medical education and as a trustee. VanDerburgh taught pathology at the University of New England College of Osteopathic Medicine and retired as professor emeritus. He was president of the Maine Osteopathic Association, received the Roswell P. Bates Public Service Award, and the Distinguished Service Award for Outstanding Lifetime Contributions to the Osteopathic Profession and Society.
Clark Allen '58, Lantana, Fla., July 22, 2021. He served as editor-in-chief of the college newspaper and the yearbook. He was general manager of the college radio station and a member of both the track and cross-country teams. During college, Clark participated in the Marine Corps Platoon Leadership program and he served as an officer for three years once he graduated. After a brief stint as a sports reporter for the Washington Post, he began his life-long career in advertising and marketing for consumer packaged goods. He was the founding member of the Clinton, N.J., First Aid and Rescue Squad, and was a certified EMT and EMT trainer.
Virginia Bernard Kenny '58, Plano, Texas, Oct. 21, 2021. Kenny taught in Germany with the U.S. Department of Defense Dependents Schools. She and her husband Peter, an Army lawyer, lived at various Army postings, before settling in Charlottesville, Va. She was a school and community volunteer, including spearheading healthy school lunchroom offerings, and tutoring children with learning disabilities.
Bruce G. Abell '59, Reno, Nev., Aug. 25, 2021. Abell had a 37 year high-school teaching career in San Jose, Calif., where he also coached baseball. His daughter said, "He had fond memories of his time at Springfield College."
John P. Stewart '59, Greeneville, Tenn., Nov. 7, 2020. Stewart's career included experience as a city manager in California City, Calif., economic development director for Kern County, Calif., executive vice-president for NAMI East, Governor's Council for the Tennessee Suicide Prevention Network, and coach.
Michael Arenstam, G'62, EdD, Saco, Maine, Aug. 14, 2021. Michael's life centered around education, whether teaching history in a high school classroom or educating politicians and the public about the importance of mental health issues. He found comfort and support in groups and organizations such as NAMI Maine and Most Holy Trinity Church in Saco, where he was an active member.
Edward "Brant" Wintersteen '62 , Naples, Fla., Sep. 18, 2021. With the dream of becoming a coach, he came to Springfield College, became captain of the football team, and went on to teach and coach at White Plains (N.Y.) High School. He enlisted in the Navy, attended Officer's Candidate School in Newport, R.I., and became an ensign assigned to the USS Long Beach, a nuclear-powered cruiser. His Naval career continued with his assignment to the U.S Naval Academy in Annapolis, Md., where he taught navigation and rose to the rank of lieutenant.
Brant left the Navy, went into the Reserves, and resumed his position at White Plains High. As the football coach, he had a 100-27-1 career. He received eight coach of the year awards in four sports, and was inducted into the Westchester County Hall of Fame and the White Plains High School Athletic Hall of Fame. He studied at Columbia Teacher's College, George Washington University, and Hunter College, earning his master's degree.
Martha Van Allen, DPE'66, Westfield, Mass., Sep. 1, 2021. Van Allen taught health and physical education in Little Falls, N.Y., public schools, Argyle (N.Y.) Central School, and the State University of New York at Potsdam where she helped initiate and coach women's sports teams in New York. In 1963, she came to Springfield College to pursue her doctorate and, upon completion, joined the faculty and coached the women's basketball team. In 1970, she joined the physical education faculty at Westfield State College. Her love of sport led her to become a nationally rated official in basketball and field hockey. As a pioneer and advocate for women sports opportunity, she served on a committee to establish the first state women's intercollegiate athletics association. At Westfield State, she was instrumental in initiating the women's sports, voluntarily coaching the first women's tennis, basketball, field hockey, and softball teams. An active member of state, regional, and national professional organizations, she presented numerous programs and, in 1984, received a Merit Award in Physical Education from the Eastern District of the American Alliance in Health, Physical Education and Recreation, followed in 1986 by the Presidential Medallion. She was honored by Westfield State in 2020 when she was the first department faculty member to be recognized with the Physical Education Honor Award, and with the status of professor emerita.
Elizabeth Patton Beam, G'72, Export, Pa., July 3, 2021. Beth was a graduate of The MacDuffie School and Bates College, and a longtime resident of Greenwich, Conn., where she was a high school guidance counselor for 35 years. She was an avid reader, walking, jogging, and bike riding were part of her daily routine. She loved the outdoors and planting flowers. She was a fierce competitor and thoroughly enjoyed beating her family in all sports and games.
Lyn Deyermond Hemminger '72, PhD, Austintown, Ohio, Nov. 30, 2021. She received a master's degree in physical training from Indiana State University and a PhD from Kent State University. She retired from Youngstown State University in 2011 after a long career as a professor of health and physical education.
Richard A. Whitworth '72, Melrose, Mass., Dec. 19, 2021. He was one of the last draftees for the Vietnam War and served in the National Guard for 11 years. He was first the aquatics director, then the executive director for the Melrose, Mass., YMCA, a post he held for 37 years. He was part of the YMCA National Swimming Committee, a contributor to the Boston Globe sports section "Ask the Expert," and tournament director for the MIAA State Swim and Dive meet. He is listed in the National Coaches Hall of Fame.
Cheryl Suzio ' 77, New Haven, Conn., Aug. 17, 2021. A past Springfield College Alumni Council President, Suzio was the vice president of safety and health at Suzio-York Hill Companies. She also served on the board of the John J. Nerden Camp, and numerous other civic and industry associations from which she earned many honors.
David Anthony Magazu '80, Mooresville, N.C., Dec. 17, 2021. He spent 23 years in the college ranks coaching football at Ithaca College, Western Michigan, Eastern Michigan, Michigan, Navy, Northern Illinois, Ball State, N.C. State, Indiana State, Colorado State, Kentucky, Memphis, and Boston College; 14 seasons in the NFL with the Carolina Panthers, Denver Broncos, and Chicago Bears; and a season with the Birmingham Iron of the Alliance Football League.
Matthew J. Morgan '91, West Haven, Conn., Nov. 1, 2021. Morgan played lacrosse at Springfield College. He began his career at Miles Laboratories in West Haven, later transitioning into Bayer Pharmaceutical. He then joined Yale New Haven Hospital, where he worked as a data analyst in planning and business development. He enjoyed serving cold beer and bad jokes from behind the bar at Brick Alley, Duffy's Tavern, and Lorenzo's. He found it hard to hang up his skates & cleats after college, and won a Scafati Cup with his Randall's team in the New Haven Senior Hockey League. A prized part of his athletic career was partnering with his brothers on the New Haven Lacrosse Club. The three brothers competed with the top-flight club in tournaments across New England and Mid-Atlantic states. Away from work, Matt found great fulfillment serving as a coach in hockey and lacrosse. Matt spent many years coaching for West Haven High's lacrosse team and the West Haven Youth Hockey Association.
James I. Hoffman '39, Dallas, Texas, 10/8/2021
Margaret Kalbaugh '44, Chambersburg, Penn., 7/11/2021
Patricia H. Miller '50, Lexington, Va., 4/8/2021
Faye Baumgarten '50, Troy, Maine, 4/27/2021
Charles F. Seeger '50, Kingsport, Tenn., 8/3/2021
Albert E. McCullock '51, Ashburn, Va., 4/10/2021
Richard M. Keohane '51, Cooper City, Fla., 8/29/2021
Richard L. Matthies '51, North Branford, Conn., 9/25/2021
Herbert L. Law '52, Painted Post, N.Y., 4/25/2021
Millard H. Mason '52, Wethersfield, Conn., 9/8/2021
Werner Haas '52, Columbus, Ohio, 9/30/2021
F. A. Brill '52, Hockessin, Del., 10/10/2021
Floyd L. Milbank '52, Loudonville, N.Y., 10/29/2021
Ernest L. Hoffman '52, Bloomington, Ill., 11/13/2021
Buena Washburn '52, Salem, Ore., 11/23/2021
Stanley E. Zulkowski '53, Bear, Del., 5/11/2021
Christine McGregor '54, Wilbraham, Mass., 4/1/2021
Lloyd J. Vye '54, Henrico, Va., 5/15/2021
Louis G. Alexander '54, Somers Point, N.J., 9/14/2021
Lorraine Roche '54, Windsor, Conn., 11/20/2021
Nancy Vantuyl '55, Schenectady, N.Y., 4/29/2021
Berton Krasner '55, Longmeadow, Mass., 5/29/2021
Rodney W. Little '55, Dover, Penn., 8/13/2021
George P. Sparks '55, Emerald Hills, Calif., 10/20/2021
Bradford W. Davis '55, Bloomfield, Conn., 11/2/2021
Paul E. Grogan '56, South Glastonbury, Conn., 6/8/2021
William E. Huber '56, New Britain, Conn., 6/24/2021
Roger B. Hatlem '56, Viroqua, Wis., 9/21/2021
Adriano J. Marinelli '56, Burlington, N.J., 10/15/2021
Richard R. Van Loan '56, Essex, Conn., 11/26/2021
Harold C. Kenyon '56, Greenwich, N.Y., 12/25/2021
Edgar N. Doubleday '57, Navarre, Fla., 6/23/2021
Stanley W. Fitch '57, West Springfield, Mass., 7/11/2021
Tiiu Harunk '57, Los Angeles, Calif., 7/13/2021
Arthur M. Johansen '57, Bradenton, Fla., 9/9/2021
Antonio Fernandes '57, South Dartmouth, Mass., 10/7/2021
Robert L. Baker '57, Alfred, N.Y., 11/19/2021
Carolyn Peckham '58, Pownall, Vt., 4/4/2021
Peter H. Cohan '58, Oak Ridge, Tenn., 7/5/2021
Richard A. Shane '58, Westbrook, Maine, 9/26/2021
Patricia F. Shultz '59, Hamden, Conn., 11/15/2021
Delmar D. Long '60, Rock Hill, S.C., 4/27/2021
Walter H. Pevny '60, Sebastian, Fla., 9/6/2021
E. B. Wintersteen '60, Naples, Fla., 9/18/2021
Anthony D. Richardi '60, Braintree, Mass., 12/8/2021
Frederick P. Toot '61, Englewood, Fla., 8/28/2021
Joseph Y. Dwoskin '61, Castle Rock, Colo., 11/16/2021
Nancy K. Mason '62, Springfield, Mass., 6/10/2021
Vincent L. Minotti '62, South Orleans, Mass., 11/14/2021
Kathleen A. Budries '63, Lutherville Timonium, Md., 4/6/2021
Alfred L. Roncarati '63, Wollaston, Mass., 9/9/2021
Marilyn J. Gerrard '63, Oshkosh, Wis., 10/5/2021
Laurence E. Eckstein '64, New York, N.Y., 4/10/2021
Virginia Bowman '64, Avon, Conn., 6/24/2021
Thomas F. Hanley '64, Fredericton, N.B., Canada, 10/29/2021
Brian G. O'Neil '65, Aspen, Colo., 4/12/2021
Richard R. Powell '65, Bay City, Mich., 4/22/2021
Edward B. Finkle '65, The Villages, Fla., 6/13/2021
Frank J. Gavel '65, Wilton, Conn., 8/12/2021
Edward J. Sullivan '65, Lake Helen, Fla., 8/13/2021
Ronald C. Galinsky '65, Media, Penn., 9/4/2021
Joel L. Chadys '66, South Portland, Maine, 4/10/2021
Brent W. Beck '66, St. Johnsbury, Vt., 4/27/2021
Spurgeon R. Wentzell '66, Dillsburg, Penn., 5/29/2021
Mary Lou Gilman '66, Gardner, Mass., 6/8/2021
Carolyn K. Barney '66, Shelton, Conn., 11/20/2021
John C. MacMaster '66, Swanzey, N.H., 11/27/2021
Robert A. Francolini '67, West Granby, Conn., 7/29/2021
Linda E. Rhodes '67, Edgewater, Fla., 8/7/2021
Virginia N. Domain '67, Chanhassen, Minn., 10/8/2021
Martin E. Savage '68, West Hartford, Conn., 7/20/2021
Robert D. Flaherty '68, Beacon Falls, Conn., 7/24/2021
Jo-Ann Mancini '69, West Boylston, Mass., 11/10/2021
Susan L. Swanson '69, East Orleans, Mass., 12/5/2021
George R. Atkinson '69, Truckee, Calif., 12/9/2021
Frederick E. Josephson '71, Galveston, Texas, 5/9/2021
Mary L. Upham '71, Seneca, S.C., 6/21/2021
Frederick A. Douglas '71, Winthrop, Maine, 8/7/2021
Rudolf E. Doenges '72, Charlestown, Mass., 6/11/2021
Stephen H. Cottrell '72, Manchester, Maine, 10/15/2021
Anthony Cavallo '72, Longmeadow, Mass., 10/28/2021
Philomena Gajda '73, Westfield, Mass., 7/20/2021
Michael A. Cummings '73, Bridgeport, Conn., 8/21/2021
Gail Cody '73, Boston, Mass., 10/27/2021
Mitchell R. Maziarz '73, Ludlow, Mass., 11/23/2021
Jane E. Bontempo '75, Suffield, Conn., 5/26/2021
Stephen A. Schmall '75, Hyannis, Mass., 6/14/2021
Diane M. Lanchantin '75, Natick, Mass., 6/19/2021
John D. Quinlan '75, Austin, Texas, 7/29/2021
Richard M. McBride '75, Valencia, Spain, 8/28/2021
Michael J. Kane '75, Springfield, Mass., 9/25/2021
Willard E. Plumley '75, Greenfield, Mass., 10/9/2021
Gerard A. Boucher '75, Longmeadow, Mass., 11/11/2021
Peter A. Hitas '77, Agawam, Mass., 6/16/2021
Philip A. Tompkins '77, Library, Penn., 6/29/2021
Julius Gundersheim '78, Hadley, Mass., 10/29/2021
Jay E. Partridge '79, Norway, Maine, 6/4/2021
Margaret M. Powers '79, Swampscott, Mass., 6/23/2021
Margaret L. Flaherty '79, Longmeadow, Mass., 7/22/2021
Lisa T. Simm '79, Maynard, Mass., 9/27/2021
Paula M. Perfito '80, Holyoke, Mass., 11/6/2021
Sharyn L. Thomas '80, Springfield, Mass., 11/6/2021
Janet Swallow '81, Palm Springs, Calif., 12/2/2021
Ronald D. Young '81, Palm Springs, Calif., 12/2/2021
Gayle P. Royer '82, Katy, Texas, 6/13/2021
Jo Anne Poppe '83, Highland Lakes, N.J., 7/23/2021
Teresa A. Mullaly '83, Agawam, Mass., 11/13/2021
Mary-Ann C. Fitzgerald '84, East Longmeadow, Mass., 4/24/2021
Douglas A. Pothul '84, Honolulu, Hawaii, 8/29/2021
Richard A. Muller '85, Swampscott, Mass., 4/22/2021
Catherine M. LaDuke '87, Chatham, Va., 10/24/2021
Jacqueline J. Anderson '89, Savannah, Ga., 4/24/2021
Donald T. Canizares '89, Morris Plains, N.J., 6/13/2021
Pamela K. Howe '90, Greensboro, N.C., 4/23/2021
Ruben Sanchez '90, Simsbury, Conn., 9/19/2021
Marsella M. Newton '91, Salem, N.J., 6/23/2021
Carroll Ahearn-King '91, Chicopee, Mass., 11/26/2021
Donald Montgomery '92, Springfield, Mass., 4/20/2021
Patricia L. Duval '92, Manchester, N.H., 8/10/2021
Thomas W. Lukegord '93, Eliot, Maine, 6/27/2021
Kathleen A. Kowalik '93, Worcester, Mass., 9/30/2021
Robert T. Lassonde '93, Manahawkin, N.J., 11/19/2021
Kristopher A. Roukey '95, Hudson, Ohio, 5/2/2021
Michael A. Daluz '96, New Haven, Conn., 4/6/2021
Richard A. Stoney '96, Hollywood, Fla., 5/17/2021
Philippa Scott '97, Vernon Rockville, Conn., 8/16/2021
Alison D. Van Dyke '98, Ballston Spa, N.Y., 6/25/2021
Beth A. Breit '98, Woodstock, Ga., 8/27/2021
Garry W. Coughlin '98, Danville, N.H., 9/3/2021
Mark D. Forgette '98, East Barre, Vt., 9/25/2021
Kerrie E. Massaro '98, West Hartford, Conn., 11/1/2021
Mark Haseltine '99, Plaistow, N.H., 6/21/2021
Gail A. Eichinger '99, Salamanca, N.Y., 11/16/2021
Colleen E. Fitzsimmons '00, West Harrison, N.Y., 9/27/2021
Robin A. Stephens '01, Concord, N.H., 11/6/2021
Michele T. Tourville '02, Ludlow, Mass., 6/2/2021
Luz Vargas '02, Columbus, Ohio, 7/16/2021
Dean C. Mackie '02, Indian Orchard, Mass., 11/20/2021
Diana G. Denham '03, Framingham, Mass., 7/25/2021
Mark LaPaglia '08, Marshfield, Mass., 6/13/2021
Lorine A. Marshall '10, N. Charleston, S.C., 5/27/2021
Daniel F. Verre '10, Wethersfield, Conn., 10/3/2021
Nelson A. Ashley '10, New Castle, Del., 11/9/2021
Clarence D. Gonsalves '10, Malden, Mass., 11/23/2021
Catina R. Kendrick '16, Springfield, Mass., 5/12/2021
Nicholas A. Ryder '18, Baltimore, Md., 7/25/2021