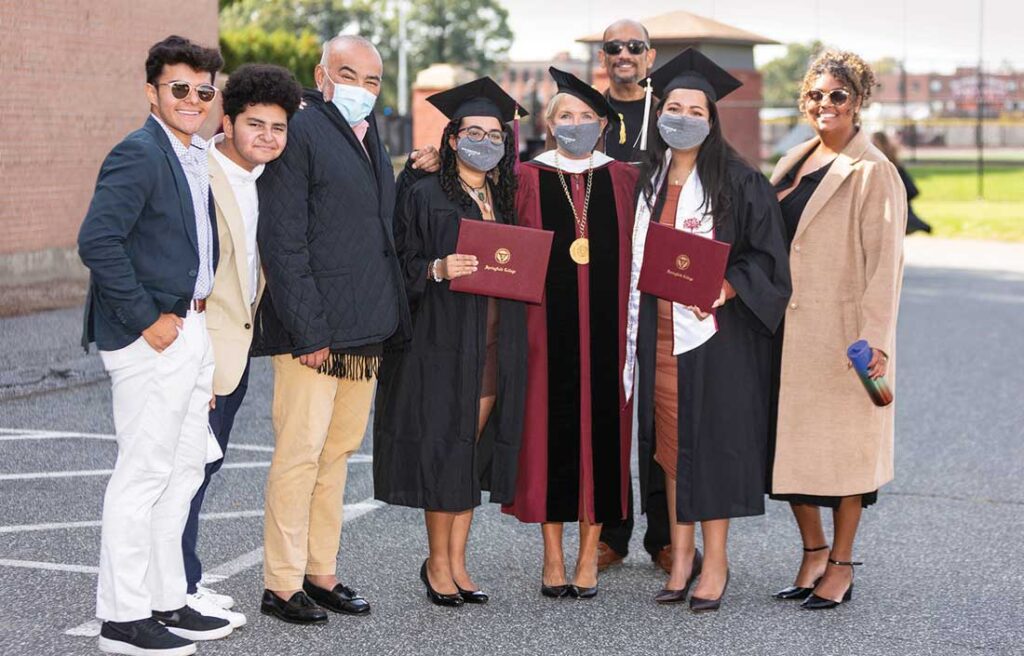 The commencement ceremony for the Class of 2020, postponed because of the pandemic, was held in person on Saturday, Oct. 2, 2021, in the Field House of the Wellness & Recreation Complex on the campus. Coupled with Homecoming Weekend, held Sept. 30-Oct. 3, students were able to walk across the stage in their regalia and celebrate with faculty, family, and friends. They enjoyed a reception hosted by President Mary-Beth Cooper and members of the Springfield College Alumni Council following the ceremony.
Professor Elected to Professional Board
Associate Professor of Environmental Biology and Environmental Science Program Director Justin Compton has been elected to serve on The Ecological Society of America (ESA) Board of Professional Certification.
Compton's research spans environmental and biological sciences, and emphasizes collaborative teaching practices that cultivate sustainable relationships between humans and the environment. He is a certified senior ecologist and has been a member of the ESA for more than 18 years.
Professor Feted for Creative Applied Practice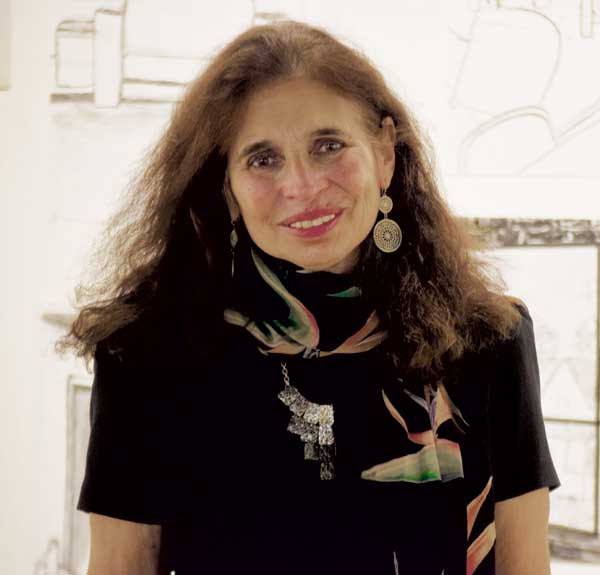 Director and Professor of Art Therapy/Counseling and Art Education Programs Simone Alter-Muri, PhD, received the American Art Therapy Association (AATA) 2021 Outstanding Creative Applied Practice Award. Alter-Muri was honored during the AATA 2021 virtual awards ceremony for her personal art that emphasizes social justice, resilience, and promotion of art therapy in the community.
Student Wellness Team Recognized
The Student Advocates for Wellness recently received the Outstanding Peer Education Program Award at the National Association of Student Personnel Administrators (NASPA) General Assembly.
The Student Advocates for Wellness were recognized for the Asking for a Friend Instagram program allowing students to submit questions about student wellness that were answered in real-time through Instagram @SC_studentadvocates.
This is the second consecutive national award for the Student Advocates for Wellness. In 2020, they earned the NASPA Outstanding Peer Education Group Award.
Campus Activities Board Recognized for Programming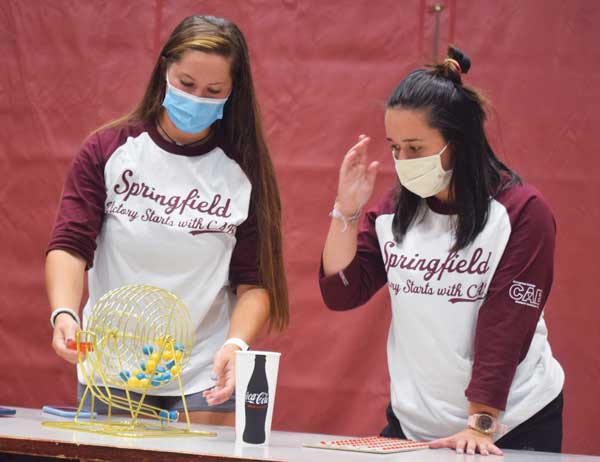 The Campus Activities Board (CAB) was recognized at the National Association for Campus Activities (NACA) Northeast Regional Conference, in October, with the 2021 Excellence in Programming Award. It is the fourth time in the past five years that CAB has received the award.
Veterans and Military Services Center Opened on the Campus
The Springfield College Veterans and Military Services Center, located at 272 Middlesex St. near the Springfield College archway, was opened during a Veterans Day Observance Ceremony, hosted by the offices of student affairs and spiritual life, on Nov. 11.
The Veterans and Military Services Center is the newest campus addition to offer space and support services for military members.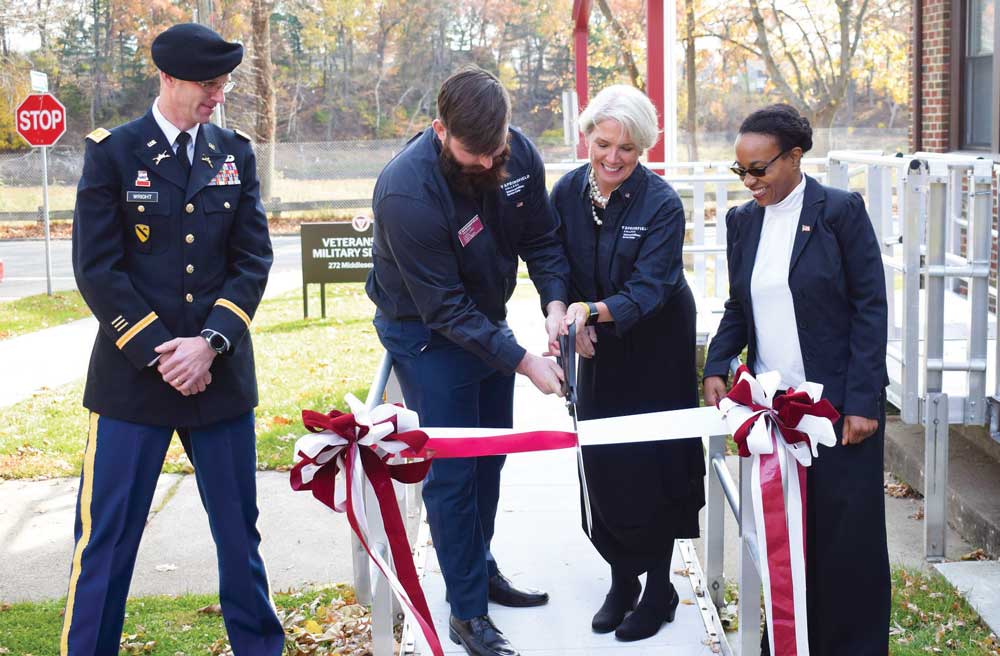 Elvers Named Woman of Impact
The Center for Leadership and Civic Engagement Director Charlene Elvers was named a 2021 BusinessWest Women of Impact award recipient. Elvers is part of a cohort recognized for community leadership, vision, passion, drive to excel, and desire to mentor and help others.
Elvers has led The Center for Leadership and Civic Engagement since 2016. Staff at the center develop high-impact programs that foster connections and collaboration between the College and the community, and that identify partners whose needs the College can help address.
AmeriCorps Celebrated
The Massachusetts Service Alliance hosted the Massachusetts AmeriCorps Opening Day in western Massachusetts. Representatives of the Springfield College program, the largest in western Massachusetts, gathered with other AmeriCorps members in Springfield's Riverfront Park to take the service oath and celebrate the start of the 2021-22 service season.
Springfield Mayor Domenic Sarno, and state senators Eric Lesser and Adam Gomez were on hand to celebrate the more than 20,000 hours of service provided annually by Springfield College AmeriCorps members to Springfield public schools.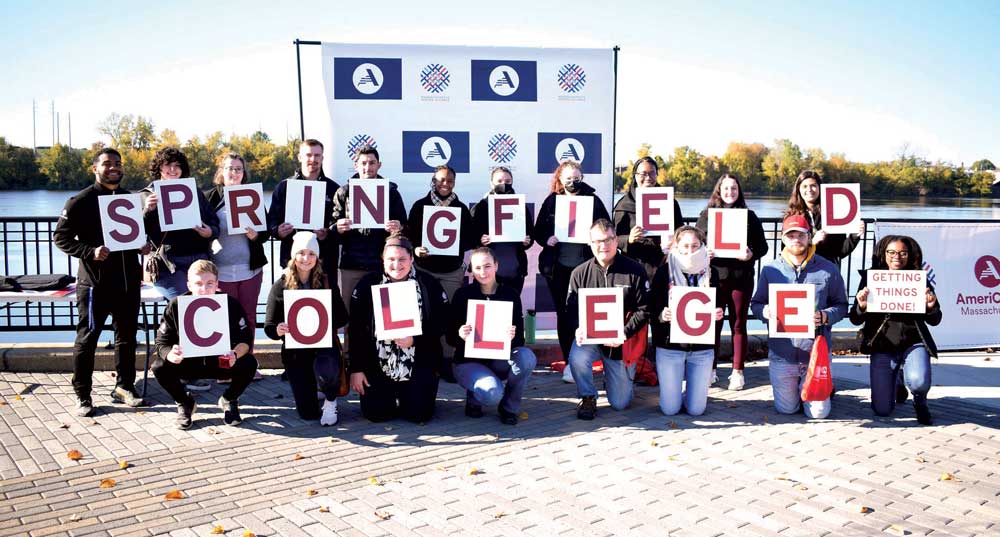 Psychology Professor, Doctoral Student Earn Grant
Springfield College Professor of Psychology Sally M. Hage, and doctoral student Mary Iellamo, were named grant recipients by the Center for Institutional Courage, allowing them to research the harmful impact of institutional betrayal, and the promise of institutional courage to right wrongs.
Hage was one of 15 national recipients and joins colleagues from nationally recognized recipient institutions such as UCLA and Stanford. Her scholarship is focused on prevention, social justice, health promotion, ethics, group work, youth development, and multicultural training. She has conducted research on preventing and coping with trauma, mindfulness, and multicultural training.
Second Annual SEAT at the Table Week Held
The second annual Springfield College SEAT (social justice, equity, accountability, transformation) at the Table week took place via in-person and virtual formatting in October.
The week-long panel discussions and interactive workshops offered educational experiences across media, pedagogies, and practices. The SEAT at the Table week was organized by members of the Office of Multicultural Affairs (OMA) and the Collaborative Council, including Felicia Lundquist, director of OMA; Charisse DelVecchio, OMA graduate assistant; and student Luther Wade.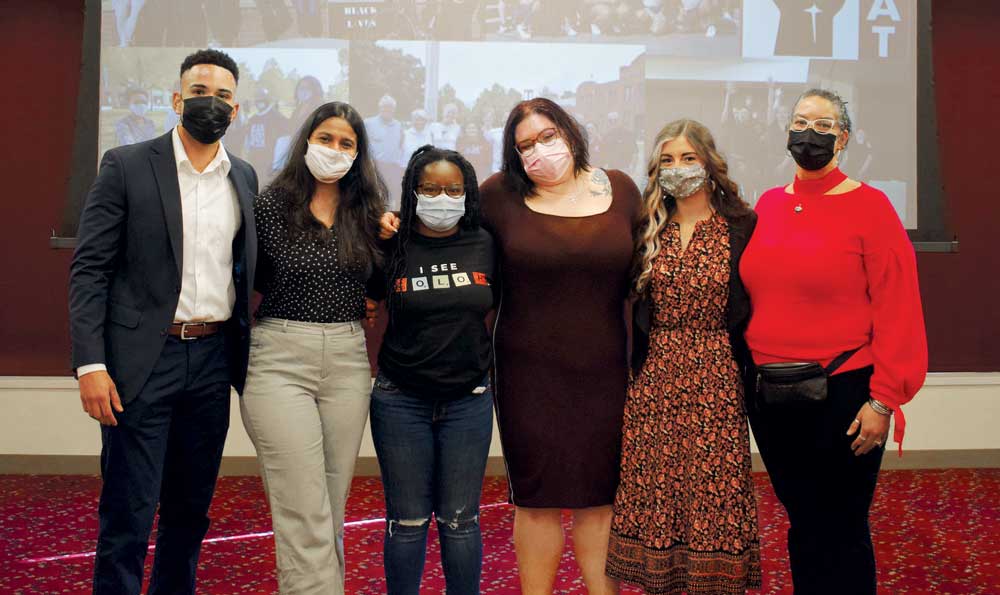 Springfield College, UMASS Law Finalize Accelerated Law Degree Opportunity
Springfield College and the University of Massachusetts School of Law in Dartmouth have finalized a 3+3 agreement that will create new, accelerated opportunities for Springfield College students to obtain law degrees. Springfield College pre-law students will spend three years working toward their undergraduate degree before enrolling at UMass Law, where they will begin taking law courses that fulfill their remaining undergraduate requirements while beginning their legal education, saving them thousands of dollars in tuition payments and living expenses.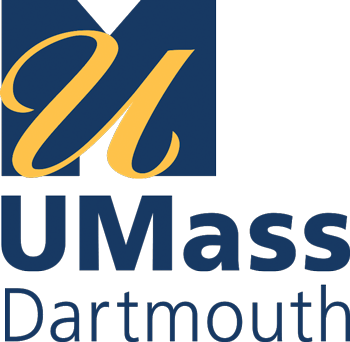 "As the only public law school in Massachusetts, UMass Law is committed to providing an accessible and excellent legal education that prepares lawyers to advance justice through service and leadership. We can't imagine a better fit for our students," said School of Arts and Sciences Dean Rachel Rubinstein.
Professor of History and Pre-Law Advisor Thomas Carty was instrumental in forging this pathway for Springfield College students with UMass Law.
Mental Health Highlighted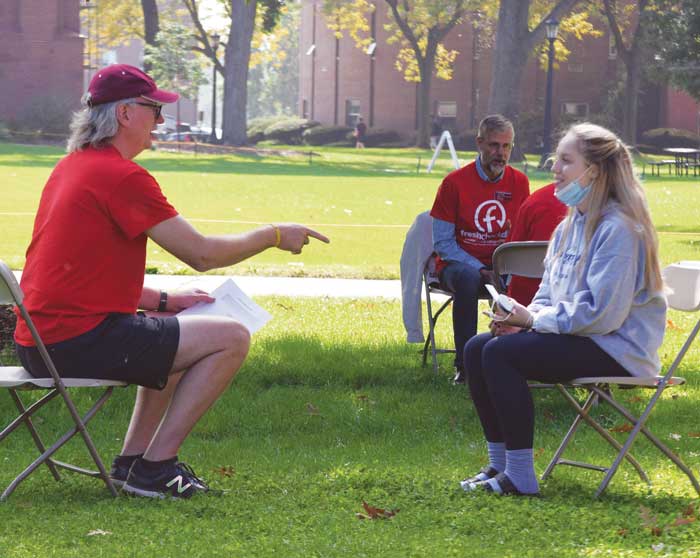 Fresh Check Day, an annual mental health awareness event highlighting mental health resources and coping strategies, was held in October to help reduce stigma around mental health and help-seeking through awareness, education, and innovative programming.
Goals of program organizers include increasing awareness of mental health resources and services available to students; reducing stigma and misconceptions around mental health and suicide that often deter individuals from seeking help; empowering peers to be gatekeepers by understanding warning signs and knowing what to do if a friend is exhibiting signs of suicide or a mental health concern; and increasing willingness to ask for help if experiencing emotional distress.
Timely Questions Explored During Constitution Day Celebration
Springfield College joined colleges and universities across the country in the annual observation of Constitution Day recognized on Sept. 17.
During this year's program, "The Meaning of the Constitution in 2021," expert legal panelists moderated by Professor of History and Pre-law Advisor Thomas Carty, addressed such constitutional questions as: Can the government require you to wear a mask and get a COVID vaccine? Who should determine your rights related to cell phones, social media, and speech in general? What rights do you have when a police officer confronts you?
Alumna De Souza Presents Esteemed Karpovich Lecture
The School of Physical Education, Performance, and Sport Leadership (PEPSL) hosted the 2021 Peter V. Karpovich Lecture, which was presented in October by Mary Jane De Souza '80, G'84, PhD, FACSM. De Souza is professor of kinesiology and physiology at Pennsylvania State University.
De Souza lectured on the challenges and repercussions faced by female athletes who push physical limits, negatively impacting their health. Many female athletes, she said, straddle a thin line between maximizing overall training stimulus and maintaining health and nutrition necessary for optimal performance. She discussed a surge in sport and training performance standards for women that compromise reproductive and bone health.
College Again Achieves Top Tier Rankings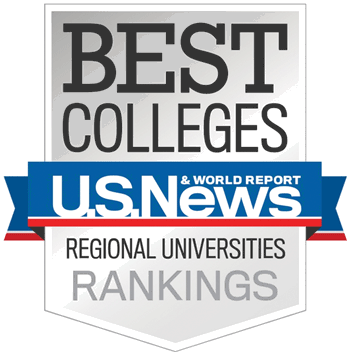 Springfield College, for the seventh-consecutive year, is ranked in the Top 30 in the "Best Regional Universities – North Region" category in the 2022 U.S. News "Best Colleges" report. The College also is ranked 16th in the "Best Value" category of the report, up two spots from last year. The accolades show the College is committed to affordability while still delivering an exceptional college experience. In the Best Value category, the only other New England college ranked higher than Springfield College was Bentley University (#2 overall).
An historically strong first-year class joined the community last fall when more than 570 traditional undergraduate students were welcomed to the campus community as part of the Class of 2025. The class represented the strongest academic profile of any entering class in history, with an average cumulative high school GPA of just over 3.5. The first-year class represents 22 states and 15 countries.
Alumna Competes in Beijing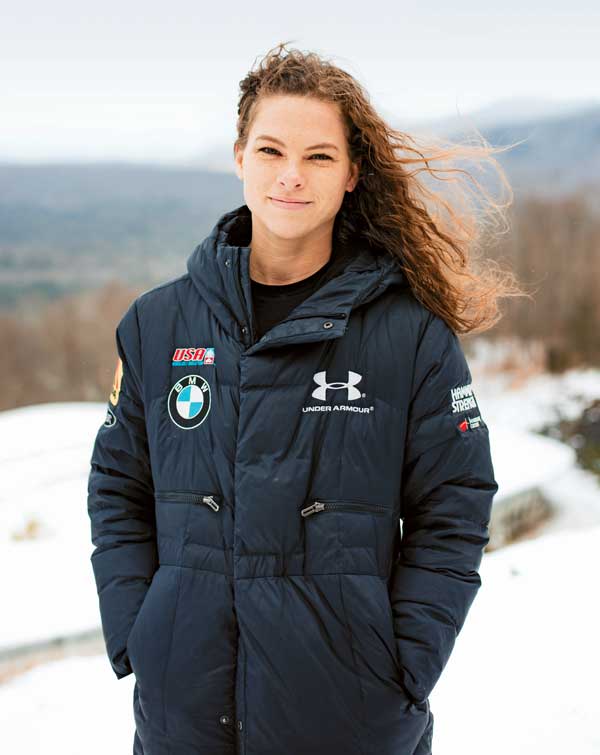 Former women's track and field standout Kelly Curtis '12 competed for Team USA at the 2022 Olympic Winter Games in Beijing in February. Curtis was one of three athletes named to the U.S. Olympic skeleton team.
As a student-athlete, Curtis, who is in her first season on the world cup circuit, was a three-time NCAA Division III All-America honoree, two-time NEWMAC Field Athlete of the Year, and the 2011 Penn Relays champion in the heptathlon. She works in cyber security for the U.S. Air Force.
Springfield College Award-Winning Fiction Writer Reads from Short Story Collection
Award-winning fiction writer Justine Dymond, associate professor of English, read from her short story collection, The Emigrant and Other Stories, on Sept. 23, in The Forum of the Harold C. Smith Learning Commons.
The Emigrant and Other Stories (Sowilo Press) won the 2018 Eludia Award from Hidden Rivers Arts. Dymond has received numerous other awards and been honored with several grants and residencies. She has been on faculty in the Department of Literature, Writing, and Journalism since 2008.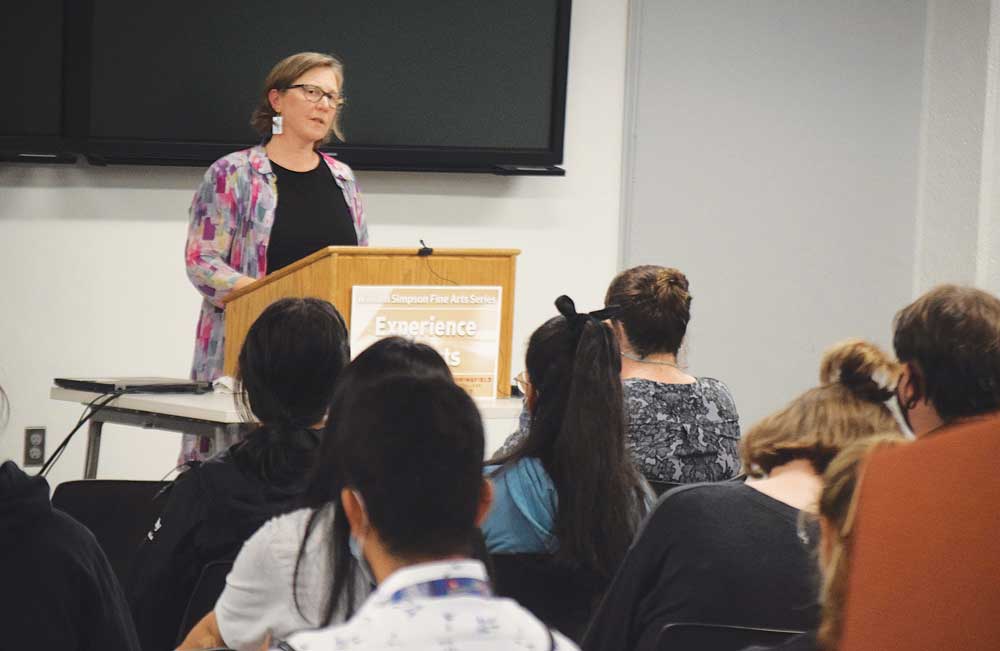 Speaker Addresses Health and Equity
Springfield College hosted a virtual conversation with Dr. Celine Gounder on the pandemic, and the intersection of public health with racial and economic equity and justice on Sept. 30, as this year's Arts & Humanities speaker. The Arts & Humanities Speaker Series is made possible through the generosity of Carlton '63 and Lucille Sedgeley.
Springfield College President Mary-Beth Cooper led a conversation with Dr. Gounder talking about Gounder's role as an infectious disease expert, highly sought after for her guidance on the coronavirus, featured frequently on media outlets such as CNN, MSNBC, CNBC, NPR, The New York Times, and more.
A clinical assistant professor of medicine and infectious diseases at the New York University Grossman School of Medicine, Gounder was appointed to President Joe Biden's Transition COVID-19 Advisory Board in 2020 and is chief executive officer, president, and founder of Just Human Productions, a nonprofit multimedia organization.
College Welcomes Dean Rubinstein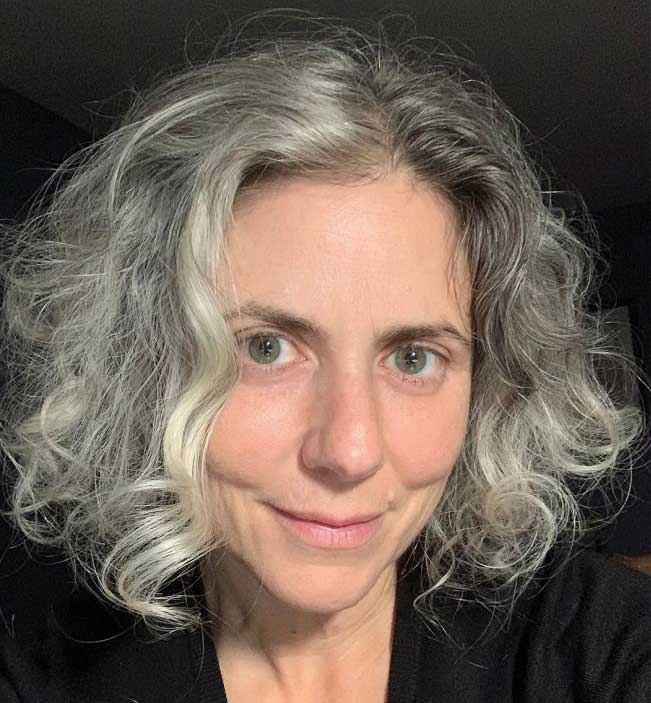 Rachel Rubinstein, PhD, has joined Springfield College as the dean of the School of Arts and Sciences.
Rubinstein was professor of American literature and Jewish studies at Hampshire College for 16 years, where she also served as the dean of academic support and advising for six years. She subsequently became the Holyoke Community College inaugural vice president of academic and student affairs, a position that combined two previously separate divisions. Most recently, she was senior advisor to the deputy commissioner of academic affairs and student success at the Massachusetts Department of Higher Education, where she focused on initiatives in the Equity Agenda.
The child of immigrants from Mexico, her scholarship focuses on migration, multilingualism, racial formation and literary nationalism, as well as on pedagogies in the fields of ethnic and race studies.
Rubinstein received a BA from Yale University in English and a PhD from Harvard University in English and American literature.
Perfect Pass Rate. Again.
One hundred percent of physician assistant program 2021 graduates passed the Physician Assistant National Certifying Exam in their first attempt to become certified by the National Commission on Certification of Physician Assistants. Physician assistant program graduates consistently have earned a 100 percent pass rate on the national certifying exam for first-time takers.
The Springfield College Physician Assistant Program educates primary care physician assistants eligible for employment in a wide variety of medical settings and specialties.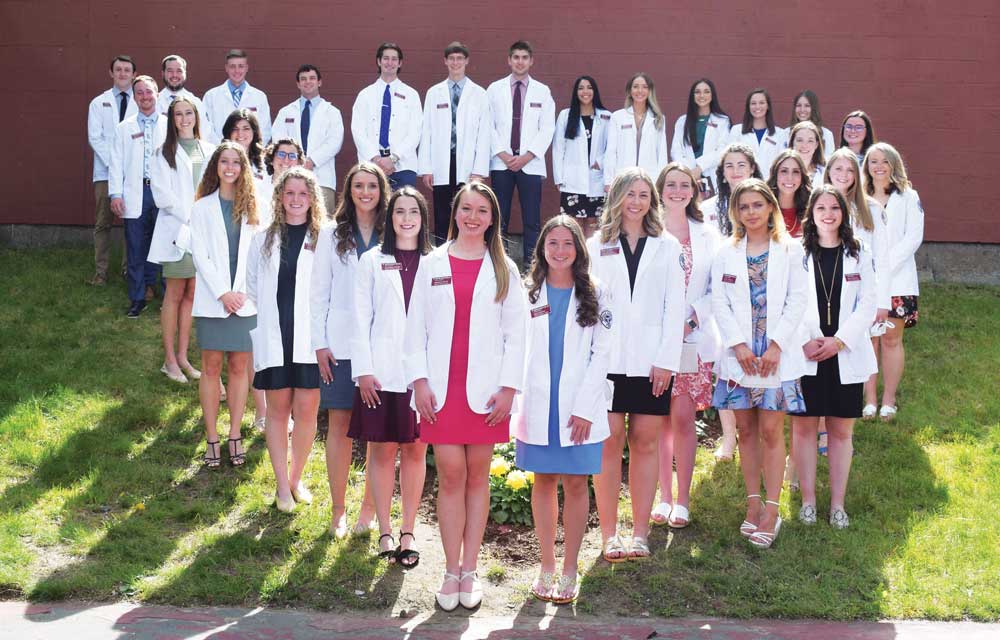 First Bachelor of Social Work Cohort Welcomed
The Springfield College Bachelor in Social Work (BSW) program welcomed its first cohort of students in fall of 2021, and will prepare students for professional, responsible, ethical, and competent entry-level generalist social work practice in a wide range of settings.
BSW graduates will possess the skills, knowledge, values, and cognitive and affective processes to effectively work at the direct practice level. The program also challenges students to engage and intervene with larger community and political issues that contribute to human suffering among individuals, communities, and global societies.
Since 1989, the Springfield College social work master's program has been accredited by the Council on Social Work Education.
Hydroponic Farming on Display in Cheney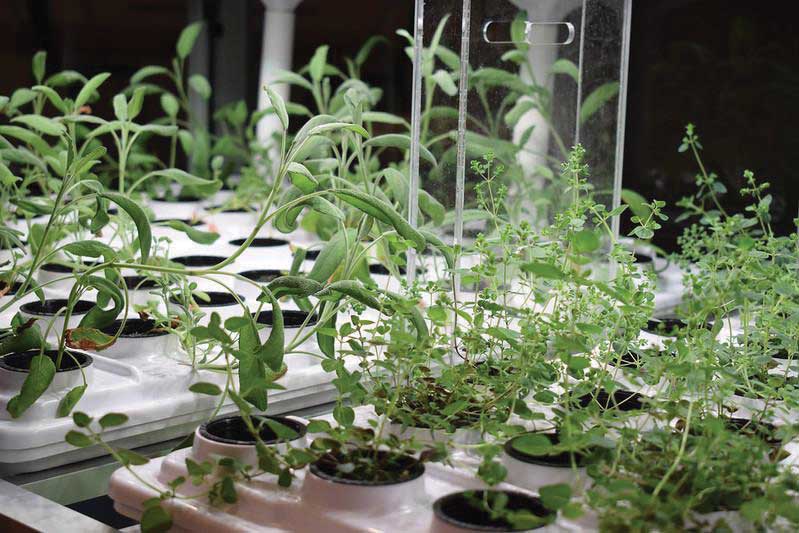 Springfield College and Harvest Table Culinary Group have partnered with Babylon Micro-Farms to provide the campus community with a sustainable hydroponic farming display in The Table @ Cheney Hall. The farm allows guests to enjoy fresh produce with high nutritional value and an extended shelf life, while remaining committed to land sustainability.
The micro-farm contains 15-square-feet of vertical farming area and allows the Harvest Table culinary team to grow and harvest their own fresh produce on campus year-round. This innovative approach to farming is nutritious, hyper local, pesticide free, sustainable, and accounts for 95-percent less water and food waste than traditional farming during the growing process.
Teachers Benefit from Partnership
Springfield College and Springfield Public Schools (SPS) will continue their partnership through the S-Cubed program, which increases the number of teachers who come from racially or ethnically diverse backgrounds and/or are fully prepared and dedicated to meeting the challenges faced in the high-priority areas of mathematics, science, and moderate disabilities.
Since 2013, S-Cubed has been a Massachusetts Department of Elementary and Secondary Education-approved program for teachers working in the SPS system who want to achieve post-baccalaureate initial teaching licensure. Linda Davis-Delano, PhD, director of educator preparation and licensure for the College, oversees the program.
Humanities Research for the Public Good
Springfield College was selected as one of 24 Council of Independent Colleges (CIC) member institutions to participate in the second cohort of its "Humanities Research for the Public Good" grant program, a national initiative to promote student research and public engagement at private colleges and universities while showcasing the rich archival, library, and museum collections held by the selected institutions.
Each participating institution receives $10,000 to support a year-long undergraduate research project that draws on institutional collections to address a topic of interest to the local community, and will collaborate with a community-based partner organization to share the results of student research with community members through public programs, including exhibits, presentations, podcasts, and documentaries.
An exhibit hosted at the Lyman and Merrie Wood Museum of Springfield History will run from March 29 to June 26 and feature the student-led research. A Legacy of Campus Activism: The Springfield College Protests of 1969-1970 includes both a panel installation and short documentary film.
A Legacy of Campus Activism pays tribute to the history and legacy of Black student activism and protest at the College in the late 1960s. Such concerns as student acceptance rates, scholarships, additional courses in Black studies, and fair representation in all manner of student life were at the forefront of the student activists' campaign. Many prominent local Civil Rights advocates weighed in, leading to campaigns within the broader Springfield community focused on racial equality, and questioning of the role the College played in its sensitivity to the needs of the surrounding neighborhood. Utilizing the Springfield College Archives and Special Collections, student researchers brought together period photographs, documents, and video interviews with former Black student activists to reflect those experiences and relate them to campus life today.
The Springfield College grant project team consists of Associate Professor of History Ian Delahanty, College Archivist Jeffrey Monseau, and Vice President for Communications and External Affairs Stephen Roulier. The trio oversees student researchers focusing on the shared history of activism and protest during the late-1960s, both at Springfield College and in the city of Springfield. Students will demonstrate how those connections can inform present-day Springfield College students and Springfield community members.