Ensuring Safety for a Different Kind of Fall
Facilities Management Staff Make Students Return Possible
Creation and installation of 90 custom-made physical barriers. Reconfiguration of 70-plus learning spaces. The development and placement of many hundreds of COVID-19-related signs.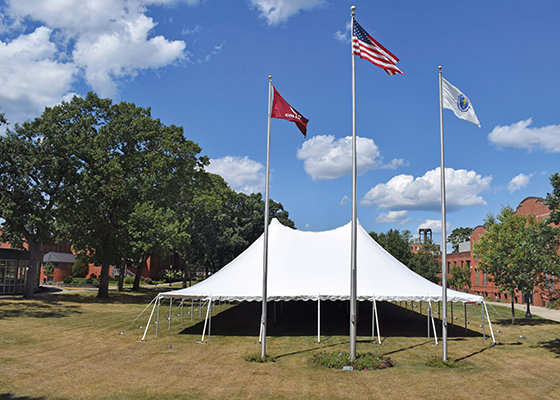 These were just a handful of a multitude of out-of-the-ordinary tasks that the Springfield College Facilities Management staff had to contend with to prepare for reopening campus this fall semester. When Springfield College students switched to distance learning after the extended spring break in mid-March due to concerns over the COVID-19 pandemic, it was unclear at that time what the fall semester on campus would look like.
The uncertainty and rapidly changing information on the virus led to critical adjustments all over campus. In particular, the Facilities Management staff was thrown into overdrive.
Using guidance and information from the Centers for Disease Control, President Cooper's leadership team, more than 15 COVID-19-related College planning committees, and Massachusetts reopening guidelines for higher education, the Facilities Management staff spent from the end of March up until students returned the week of August 24 readying the campus for what was eventually determined to be in-person learning.
"There was no textbook on how to deal with COVID-19 and reopening," said Kevin Roy, director of facilities management. "We took changes in stride and stayed on course."
Challenges for Roy's staff were many as crews worked longer hours and had to deal with some staff shortages due to furloughed maintenance employees in the wake of COVID-19 budgetary considerations.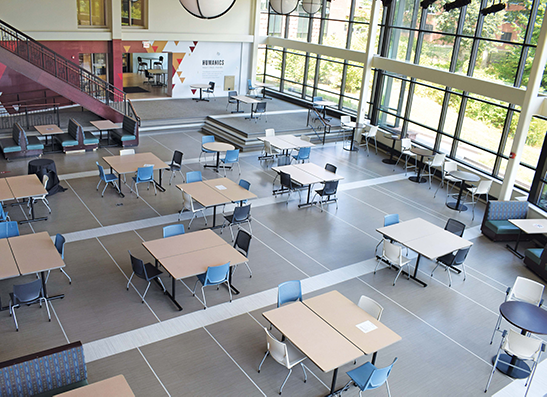 Under ordinary conditions, the crew members would begin the cleaning and maintenance repairs inside the more than 10 residence halls as soon as spring semester ended. But half the rooms still had students' belongings up until the end of June. That meant Facilities Management staff could not finalize their work until mid-summer with less time to do it.
To properly do that job, and cleaning and disinfecting of other areas on campus now, the crews used newly purchased electrostatic cleaning devices and ultraviolet (UV) lights, and Environmental Protection Agency-approved chemicals to improve operations. The four new electrostatic devices disinfect larger areas in a shorter amount of time. By spraying an electrostatically charged mist onto surfaces and objects, it allowed the appropriate sanitizers and disinfectants to wrap around and evenly coat all types of surfaces for a more effective clean.
The four portable UV lights are used in various areas on campus to disinfect and sanitize. Roy noted that many hospitals and the transit system in New York City began using UV lights to combat COVID-19.
"We did research early about what we would need. When asked that in April it was hard to envision. We knew we wanted to have good options available to us," he said.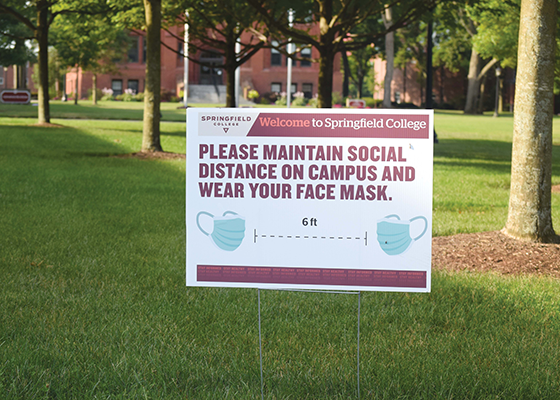 Jennifer Vigneault, associate director of planning, spearheaded efforts to assess nearly 100 potential spaces for learning and determine which ones to reconfigure and use in the fall. With assistance from Registrar Marshall Bradway, who compiled information on the number of classrooms and seating needed for the fall semester, the two began their tasks in May.
"I did calculations based on CDC requirements and recommendations that other schools were using to figure out how we could meet the 25-person maximum per classroom," she said. "Every room had its own unique features and challenges."
Vigneault took photos of each classroom before and after its original setup, used a six-foot pole to measure the distance between desks, and placed black dots on the floors to mark the appropriate spot for the classroom furniture. Crews then arranged the furniture in the new configurations and moved the extra furniture to other spaces within each building. Hickory Hall was more challenging because of its circular design, which limited the available space compared to a square- or rectangular-shaped room.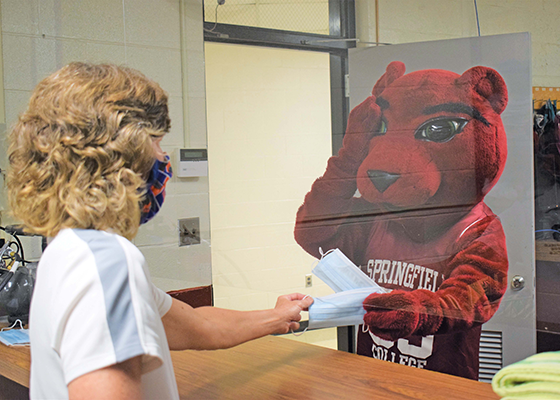 Another task that took considerable time and effort for the maintenance crew was the creation and installation of the custom-made physical barriers all over campus. Some of the Lexan barriers hang from ceilings, some are mounted to desks, while some are rolling, portable barriers. (Lexan is a polycarbonate resin thermoplastic.) Roy and David Hall, assistant vice president for student affairs, did a walk-through of campus early on to identify forward-facing areas that would see lot of student traffic. Heads of departments also reached out to Roy and Hall to identify needs in their areas. From there, Roy and his crew created some mockups of the barriers to get a sense of the cost and magnitude of the endeavor. For example, they installed the physical barriers, signage, and stanchions in the Flynn Campus Union and tested them to make sure they provided a safe area.
Installing a variety of signs inside and outside of every building—from two-sided A-frames, to stickers on the floor reminding people to stand six-feet apart, to messages about wearing proper face masks, was a monumental task for Roy's crew.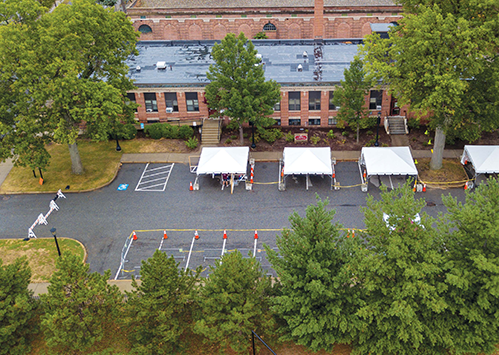 Besides the physical alterations to the campus, changes in the way the Facilities Management crew handled certain tasks needed to be modified. Daniel Kelly, interim custodial supervisor, oversaw the work of his custodial staff, in part, related to the cleaning of the 237 bathrooms on campus. It became a priority to have all 237 bathrooms clean before 7 a.m. each day. That schedule differs from the one in which the disinfecting and sanitizing would have been completed by 10 a.m. Kelly and Roy felt it was a good message to send to the campus community that they could expect clean bathrooms at the start of their day. A 9 a.m. to 5:30 p.m. shift has been added in the areas where there is more activity this fall in public spaces such as Judd Gymnasia and the Flynn Campus Union. The custodial crew also cleans doorknobs, handrails, and other high-touch areas multiple times throughout the day.
"Not only was it a challenge putting together the bathroom cleaning schedules for 237 bathrooms across campus, it was even more challenging because we increased our cleaning, disinfecting, and sanitization procedures with limited staff," Kelly said.
Roy said if there was any positive result of not having students on campus over the summer, it was the opportunity to install 5,000 LED lights in most residence halls and classrooms on campus, a task unrelated to their COVID-19 work.
The Facilities Management team has been an important presence on campus since the pandemic began, Roy said.
"We have come to work and done our job every day. I am thankful to have committed staff that care about the greater good of the College," Roy concluded. "Everyone has pitched in and I am proud of their efforts."