A Part of the Family
Branwen Smith-King '78, G'79, gives back because she knows how important the student-athlete experience is to building a sense of community.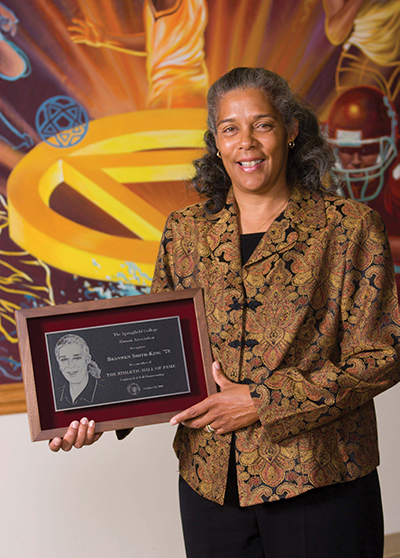 When Branwen Smith-King '78, G'79, was an undergraduate student at Springfield College, she would watch the male student-athletes working out in the weight room and wonder why she was not allowed in there.
"In Bermuda, when we lifted weights, we trained with the boys. There was no gender separation. So seeing that at Springfield was a shock to me," she said.
Then one day, she decided to sneak in and join them.
"I went over and did some cleans or some squats, and I put on whatever weight the men were doing. And that was the end of that discussion because I was accepted," she said.
As a black woman from a different country, there were many cultural differences Smith-King encountered on the campus, starting with the beanies.
"My first day on campus, I saw everybody with these things on their heads and I was like, 'What is that? Why do I have to do that?' I was used to not being a follower and conforming to big groups," she said.
Although she ended up wearing her beanie, the new, and at times discomforting, experiences continued. One day the physical education major would be learning a new sport in her skills course, the next day she would be confronted by a student asking if she was black or white.
Smith-King realized that what prompted the question had to do with where she sat in the dining hall; not with the black students or even necessarily with the white students. She sat with her women's track team, which provided the foundation for everything that made Springfield College start to feel like home to her.
"I grew up in a community where we helped each other, looked out for each other. I just feel like that's an important part of my calling and my Christian beliefs; we're all here for a reason and to come together as a community," she said.
Smith-King found that same sense of community at Springfield College. Sometimes it was staying up all night with her roommate Sue North, as she dealt with a tough breakup with her boyfriend. Sometimes it was training with the men's track team. But it almost always came through sports.
"A lot of my friends, like Spider Brown and all those guys, we were all very close. It was a really strong community and I think, as an international student, that really helped me because I found common ground as I learned about the culture and I started feeling a part of the family," she said.
That sense of community and mutual support is the reason Smith-King gives back to the College. As a student, Smith-King was heavily involved in the battle for gender equality in athletics and Title IX funding.
She recalls the women's track club, before it was a varsity sport, having bake sales in the dining hall to raise money for a track meet in Boston. Thanks to increased funding and the support of donors like Smith-King, today's student-athletes have the opportunity to travel to out-of-region events to compete against some of the best talent in the country.
"I grew up more middle class, in a diverse community in Bermuda, and thought I had everything I needed as a child. And I learned, and eventually realized, what other folks live without. And it's really important to me to help others. I learned that at Springfield," she said.
After 18 years as the head women's track and field coach and 15 years as assistant director of athletics at Tufts University, Smith-King moved back to Bermuda to work for the Bermuda Olympic Association as the secretary general. She was a member of the Bermuda national track and field junior and senior teams from 1971 to 1979 and won gold for Bermuda at the 1971 Caribbean Free Trade Association Games.
"It was hard to leave but it was always a dream of mine to come back home and contribute," she said.