Department
Parade of Classes
1930s
Something No One Can Ever Take
In memory of her parents' strong affiliation with Springfield College, Pat Sargeant created a special way to honor their unique legacy.
By Doug Scanlon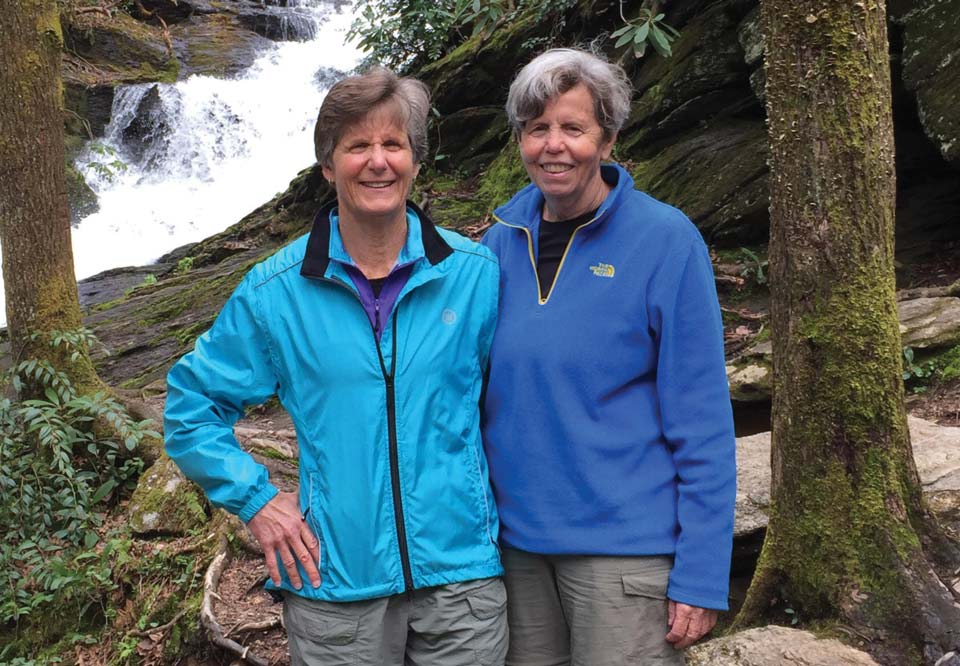 The curious thing about legacies is that they do not always travel linearly. Take, for example, Pat Sargeant, who shares many similarities with her parents, Bliss '34 and Adeline '39.
Sargeant excelled at school and in sports. She served in the United States Air Force and retired as a Lt. Colonel, as did her father. Sargeant also values education, remembering her father telling her to "take advantage of every educational opportunity, because knowledge is something no one can ever take away from you." After earning her undergraduate degree, she received three master's degrees.
Although she did not continue her parent's legacy of attending Springfield College, she could not help but be influenced by the values Springfield College instilled in them and that were … impressed upon her.
Sargeant played Division I volleyball for four years at Florida State University and later coached and taught at James Madison University and the US Air Force Academy. Although she did not continue her parent's legacy of attending Springfield College, she could not help but be influenced by the values Springfield College instilled in them and that were, in a way, impressed upon her. Because of those values, and Sargeant's benevolent willingness to continue her parents' legacy, future generations of students will be able to afford a Springfield College education.
When Bliss passed away in 1988, Adeline created a memorial fund in his name at Springfield College. While working on his master's degree, Bliss was the assistant wrestling coach and taught the wrestling course. After graduation, he was a professor of physical education and executive secretary of the Student Council at Springfield College.
In 1947, he coached the varsity wrestling team. His involvement in wrestling continued through officiating, including the 1948 Olympic Games and 1951 Bolivarian Games, intercollegiate wrestling, and, later, high school wrestling. After Adeline passed in 2003, Sargeant added Adeline's name to the memorial fund and began to think about how best to honor her parents' legacy.
Sargeant said of her parents, "They definitely had a sense of pride in their affiliation with the school. The two of them embraced the entire atmosphere of Springfield College."
After attending a Springfield College alumni event, Sargeant walked away impressed with the direction of the College. She met with her financial advisor to discuss plans for naming the Sargeant Memorial Fund as the beneficiary of her IRA. Later, when she designated the fund to receive a percentage of her trust in her estate plan, she contacted the Office of Development about how to structure the gift to honor her parents.
Initially the Bliss P. '34 and Adeline G. '39 Sargeant Memorial Fund created an endowed scholarship for a student majoring in physical therapy, which was Sargeant's profession. With Sargeant's future gifts to the fund, it will create endowed scholarships for an undergraduate student majoring in psychology (Adeline's major), a graduate assistantship for women's volleyball, and a graduate assistantship for wrestling, as well as endowed funds to enhance the varsity wrestling program and operational support budget for Camp Massasoit.
The Camp Massasoit fund honors the legacy Bliss and Adeline left at the camp. They both worked there from 1937 to 1942. Bliss was in charge of the boys program; Adeline was instrumental in adding a girls program. After the boys' session ended in 1937, a weeklong program for girls began. The success of the girls' program led to the establishment of a coed camping program the following years with boys and girls in separate units.
"I remember my parents telling stories about camp. There were always a lot of smiles and laughter," Sargeant said.
The specific endowed scholarships and funds were chosen to recognize her parents' passions and their support of Sargeant's academic and athletic ambitions.
"I was fortunate I had my parents' total support. Not just financial, the big part was the time that they spent attending events, driving me to practice, and taking an interest in what I was doing," Sargeant said.
With six endowed funds honoring the legacy of Bliss and Adeline Sargeant, Springfield College will be forever tied to their memory.
1940s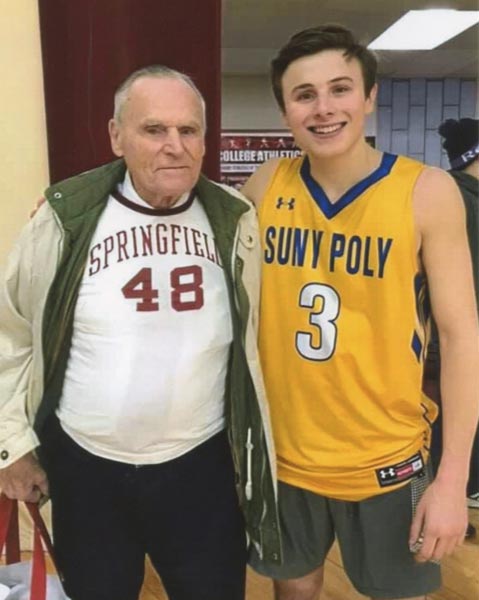 Jerry Lawton '48 wrote to say that, in February, he visited Springfield College to watch his great-grandson, Nathan Farnham, play volleyball against Springfield and Lasell. The trip was a 95th birthday and Christmas gift to Lawton from Nathan's family. Lawton wants to thank everyone at Springfield College for the VIP treatment he and his family received. "From the parking, College tour, and special seating at the arena, your part in this made the event a very special present," Lawton wrote.
1950s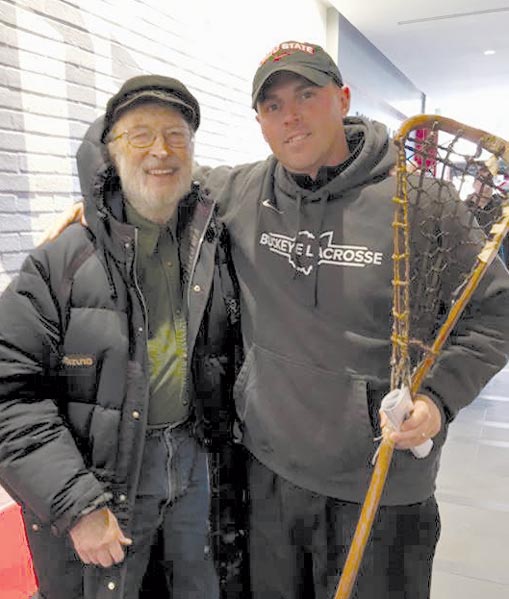 Skip Knuttgen '52 and Nick Myers '01 met when The Ohio State University men's lacrosse team played and won, 11-4, at Boston University on Feb. 8. Both played lacrosse at Springfield College and coached men's lacrosse at The Ohio State University. Knuttgen became the first full-time coach at Ohio State in 1955 and coached for five years. Myers has been coaching at Ohio State since 2008.
Waine Morse '55 shared that, at age 86, he has finally retired. Again. After 33 years as a public school teacher, he worked for the next 23 years at Old Greenfield Village, a historic museum complex on the Mohawk Trail in Greenfield, Mass. The museum has closed but he still has pleasant memories of working there, including the time it was featured on the NBC TODAY Show.
Bob Hoffman '57, G'58, shared the lasting impact of his deceased classmate, Don McCullough '57, G'58, through an article in the Hartford Courant. The article profiled a recipient of the Donald McCullough Leadership Award. The award is the University of Connecticut highest student leadership award and is presented annually to a UConn student.
1960s
A Familiar Springfield College Story
When reminded of the challenges he faced as a student, one alumnus becomes inspired to help others.
By Doug Scanlon
On a chilly January morning, George Galiatsos '61, G'65, approached the old familiar doors of Marsh Memorial and was surprised by how powerful the memories were.
"This was the place, in the basement, that my two buddies and I had our first class, and I couldn't help but think that this was also a time in my life that I didn't have a cent to my name. Now, here I am, taking the last step in creating a scholarship. I am almost in awe that this is happening."
Using his IRA, Galiatsos has established an endowed scholarship designed to help a student during an emergency, a situation he remembers all too well.
Galiatsos was the ninth of ten kids, the first in his family to attend college. He had received some scholarships, but still would have to work to put himself through, which he did mainly working as a janitor in West Springfield, where he commuted with his two friends.
Later, when he found himself in a financial pinch, he tried securing a $500 loan from a local bank and was quickly rejected. Fortunately, his older sister rescued him. Upon graduation, he became a teacher and coach in the Suffield (Conn.) Public School system, never forgetting the money challenges of his college years.
Now retired, Galiatsos began to think about how he could give back and help someone who might be struggling as he had. He and his wife had been to every reunion, impressed always with the energy and enthusiasm of the underclassmen and women.
"We just love them. And, I had been thinking: These students really are replicas of the men and women I went through college with. I know a lot of the guys I was in school with needed money, I needed money, and many of the current students at Springfield need money."
"I've known people who simply take. I see Springfield College, however, as a place that gives. I wanted to help those kinds of people."
So, after several conversations with his wife and daughter, Galiatsos decided to contact the Office of Development about setting up a scholarship. Now officially established, the George and Magda Galiatsos Endowed Scholarship gives preference to a student in financial need who is at risk of leaving Springfield College.
"I've known people who simply take. I see Springfield College, however, as a place that gives. I wanted to help those kinds of people. I gave so other people could complete their studies and use their talents to make a contribution toward our society in places that are really needed."
Cap Arata '63 has been inducted into the Millburn (N.J.) High School Hall of Fame. In 2003, he was inducted into the Lyndhurst (N.J.) Athletic Hall of Fame.
Matthew Sanzone '63 of Great Barrington wrote to say that he and his classmates gather annually on the campus for a mini-reunion.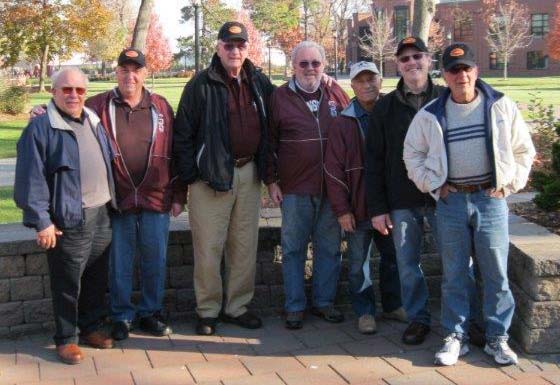 Paul Wagner '67 shared that he has become a full citizen of Costa Rica. Enjoy the weather for us, Paul!
David Magistrelli '68 distributed Springfield College stress basketballs with the boys' basketball team at Lone Peak High School (Big Sky, Mont.), where he is the head coach of the junior varsity team and the assistant coach for varsity.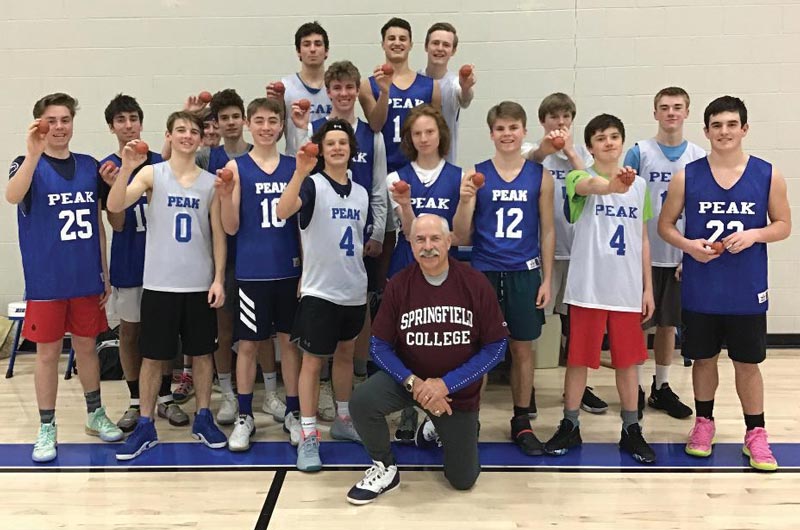 Mjr. Ronald Markiewicz '68 has been honored by selection to the U.S. Army Officer Candidate School Hall of Fame for a lifetime of service to the nation and the U.S. Army. During his service in Vietnam, he served as a helicopter pilot and was awarded the Silver Star and Distinguished Flying Cross for gallantry, as well as the Purple Heart. During his 20-year career, he also received numerous other awards for military merit. After retiring from the Army, he was instrumental in the installation of the only monument for Vietnam service in Arlington National Cemetery. He is a member of the Masonic Burial Team for Arlington National Cemetery, is the chairperson of the Fort Belvoir Jewish Congregation Council, and is in training to be a docent at the Museum of the United States Army, scheduled to open in June 2020.
Nick Nickerson '68, at the age of 78, completed a 3,000-mile run to raise money for research into causal factors associated with autism spectrum disorders. His run began on April 2, 2017—the 10th anniversary of the United Nations World Autism Awareness Day—and concluded on the steps of the United States Capitol in Washington, D.C., on Sunday, Jan. 12, 2020.
1970s
Bob Surette '70 has been named to the South Jersey Soccer Hall of Fame Class of 2020 for his work coaching at Delran (N.J.) High School. The induction ceremony, scheduled for April, was cancelled due to restrictions made necessary by COVID-19. Surette recently retired after 50 years of teaching health and physical education and coaching collegiate and high school soccer, baseball, and wrestling. He was twice Teacher of the Year in Prince George's County (Md.) Public Schools. Surette was an assistant varsity soccer coach at the University of Maryland. He reports that this is his fourth hall of fame induction for coaching national and state championship teams in soccer and baseball at Delran High School and Riverdale Baptist (Md.) High School.
The 2018 Riverdale Baptist baseball team was ranked number one by USA Today, and finished the season as the best high school baseball team in the history of both the high school and the state of Maryland, reports Surette. The 2000 team compiled a 43-3 record, ranking number 12 by USA Today, and beating teams from Florida, Dominican Republic, Puerto Rico, Texas, and California. The 1983 Delran High School soccer team finished the season with a 23-1-1 record and was the first South Jersey soccer team in 50 years to be ranked number one in the state.
Surette writes that he has coached athletes who went on to become U.S. World Cup/Olympic Soccer, Major League Baseball, National Football League, and National Hockey League players.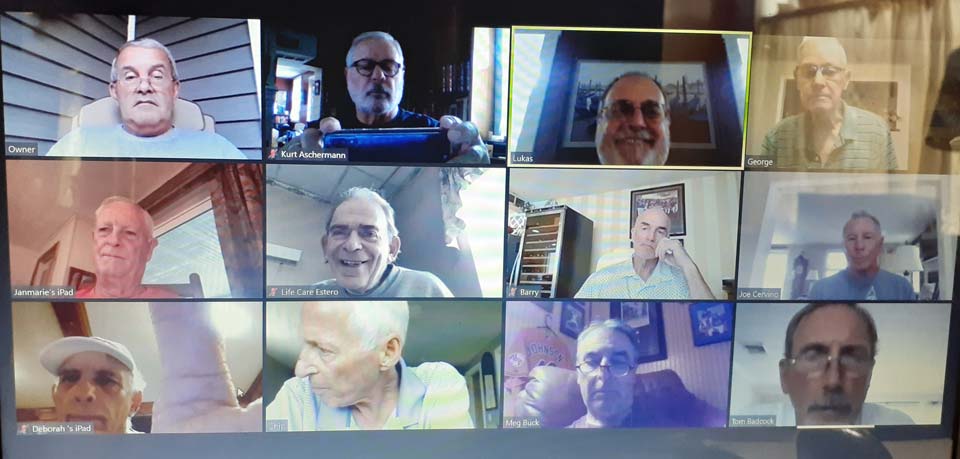 Some inventive baseball alumni have been hosting their own reunions during the pandemic. The idea came from the usual 'we should keep in touch' conversation that took place during the Baseball Reunion and dedication of the Aschermann Family Field in October. "Along came Zoom and I realized I could get it done," says Kurt Aschermann '71. "Now we are fourteen, all from the 70-72 teams." President Mary-Beth Cooper, Executive Director of Athletics Craig Poisson, and emeritus Coach Charlie Roys are rumored to have attended, as well.
Harold Newton '71 shared that he has been inducted into the Frederick County (Md.) Soccer Hall of Fame.
Congratulations to David Roach '71, G'72, who has been appointed to serve on the Lake Placid 2023 World University Winter Games Organizing Committee by the United States International University Sports Federation (USIUSF).
The World University Games, one of the largest global multisport competitions, is conducted under the auspices of the Switzerland-based International University Sport Federation (FISU) and staged biennially in varied cities around the world. The Winter Games bring together elite student-athletes from more than 60 nations to compete in sports and events including alpine, freestyle, and cross-country skiing; biathlon; speed skating; curling; figure skating; hockey; short track speed skating; and snowboarding.
Roach recently announced his retirement after serving 45 years in collegiate athletics. A member of the USIUSF Board of Directors, he has been the director of athletics at Fordham University in New York City since 2012. Under his guidance, the Rams have had 12 Atlantic 10 titles along with one Patriot League championship. Over that time, the Rams have made 16 NCAA appearances and women's basketball competed in four WNIT bids. Fordham sent three teams to the NCAA Championships in 2013-14 for the first time in school history (football, women's basketball, and softball).
Prior to that appointment, Roach served as athletic director at Colgate University and Brown University. Before working in administration, Roach served as head swimming coach at Tennessee and Brown. He was inducted into the Rhode Island Aquatic Hall of Fame in 1988, the Brown University Hall of Fame in 1989, and received a Springfield College Distinguished Alumnus Award in 2018.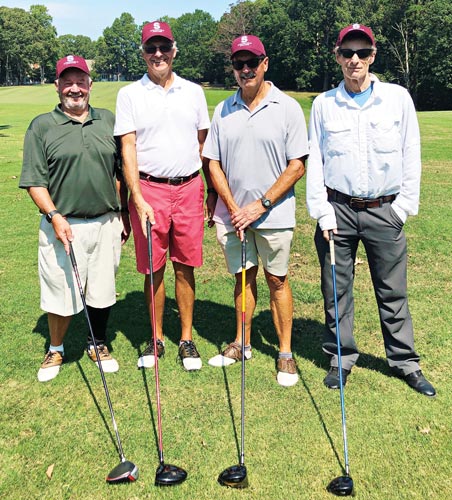 Bill Vogler '71 of Cobden, Ill., wrote to say that he, Doug Moulton '70 of North Andover, Mass.; Tim Meyer '70 of Charlottesville, Va.; and Ken Spracklin '70 of Williamsburg, Va.; all former Springfield College swimmers, met for a mini-alumni reunion golf outing in early fall 2019 in Williamsburg, Va. Moulton, Meyer, and Spracklin were members of the national championship 400-yard medley relay team at the college division NCAA National Championship in 1970.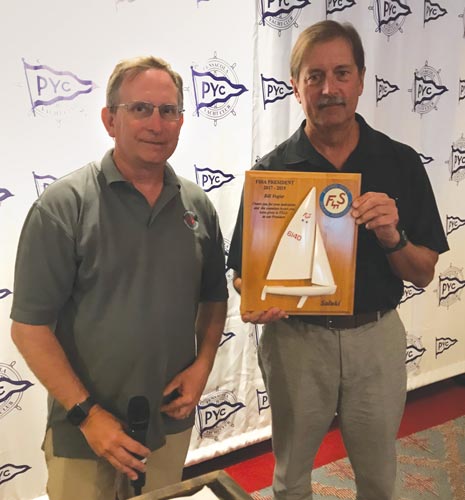 Vogler writes that he recently completed a two-year stint as president of the national Flying Scot Sailing Association.
Nick Papas '73 has retired as head varsity basketball coach at Buckingham Browne & Nichols School in Cambridge, Mass. Papas amassed a 571-378 record after his 45 years of coaching and earned induction into the high school halls of fame at Watertown, Melrose, and Minuteman (Lexington, Mass.), as well as the Massachusetts Basketball Coaches Association and the New England Basketball Hall of Fame.
Pete Kimball '75, Dave Paddock '75, Dave Paling '75, Jim Wentzel '75, and Ron Waskiewicz '75 gathered for a small reunion in Deerfield, Mass., last August. The former residents of the fourth floor of Alumni Hall last saw each other in 1975!
Christine Davis '76 has been selected as the 2019 recipient of the Intercollegiate Tennis Association (ITA) Meritorious Service Award, given annually in recognition of an ITA coach who has gone above and beyond in commitment and contribution to the ITA specifically, and college tennis in general. Davis is the head women's tennis coach at Smith College.
Michael McCombs '78 won a National Aquabike Championship title for the 60-64 age group at the USA Triathlon Multisport National Championships in Miami.
Branwen Smith-King '78, G'79, has been named secretary general with the Bermuda Olympic Association.
Joel Dearing '79 was inducted in the American Volleyball Coaches Association (AVCA) 17th annual Hall of Fame class. Dearing was honored in ceremonies at the 2019 Jostens Coaches Honors Luncheon, held in conjunction with the 2019 AVCA Convention in Pittsburgh, Pa.
The AVCA annually recognizes those individuals who have reached the pinnacle of their profession and the sport with the AVCA Hall of Fame.
Dearing, a former men's and women's volleyball coach at Springfield College, is regarded as one of the greatest collegiate volleyball coaches of all time. In 22 seasons at the helm of the Springfield women's program, Dearing led Springfield to an overall record of 595-196, accumulating a winning percentage of .752, ranking him in the top 10 all time in Division III. Over the course of his 30-year career as a coach, Dearing has an all-time win-loss record of 728-310, good for a .701 winning percentage.
In his 22 seasons with the women's program, Dearing guided Springfield College to 19 seasons, in which the teams won 20 or more matches, and he never posted a losing season. Earning NCAA championship tournament bids nine times, Dearing's teams went to five consecutive NCAA tournaments from 1993-97, winning the Division III Northeast Regionals in 1995 and 1996 to advance to the national quarterfinals. In his final year as a head coach of the program, Dearing posted an outstanding record of 31-5 and advanced to the NCAA Regional Championship. In 2008, Dearing went 32-5 and won the New England Women's and Men's Athletic Conference Championship (NEWMAC) and advanced to the NCAA tournament, earning NEWMAC and AVCA Regional Coach of the Year honors, while the 2003 campaign featured a Springfield squad that owned a 34-3 record, including a school record of 21 consecutive wins.
Dearing spent seven seasons on the sidelines of the Springfield College men's program from 1989-1996, accumulating an overall record of 130-52, good enough for a winning percentage of .714. Additionally, he was named the Division II Coach of the Year in 1991 and was chosen the Eastern Intercollegiate Volleyball Association Division III Coach of the Year in 1996.
Prior to joining the Springfield College staff, Dearing served as the director of athletics at Roger Williams University (Bristol, R.I.), where he started both the women's and men's volleyball programs. While there, Dearing compiled an overall record of 174-136. His women's teams posted a 133-114 mark in eight years, while the men's squads had a three-year record of 41-22.
A USA Volleyball Association Level III accredited coach and member of the USA Volleyball cadre, Dearing has conducted clinics throughout the United States, in Aruba, Argentina, Bermuda, China and Ireland. Dearing has served as a member of the Volleyball Hall of Fame Board of Directors and Induction Selection Committee chair, and in the spring of 2006, USA Volleyball, the AVCA, and Molten USA recognized Dearing with the Trailblazer Award for his role in establishing the Molten Division III Men's Invitational Volleyball Championship in 1997. During the 1997-98 academic year, Dearing was honored as a Distinguished Springfield Professor of Humanics, was the recipient of the 2013 Volleyball Hall of Fame Mintonette Medallion of Merit Award, and was inducted into the Springfield College Athletic Hall of Fame in 2015.
Laurel Greco Vicidomino '79, Eileen Sears Bow '79, Teresa Saletnik Mazik '79, G'90, CAS'96, Yvonne Grenon Benelli '79, Nancy Vitalone Raccaro '80, and Lisa Raccaro Sacramone '80 recently gathered in Pompano Beach, Fla. Wrote Laurel, "We were able to rent an SC matching van!!! In the sea of white ones at Alamo, there was one maroon one so, of course, we took it!"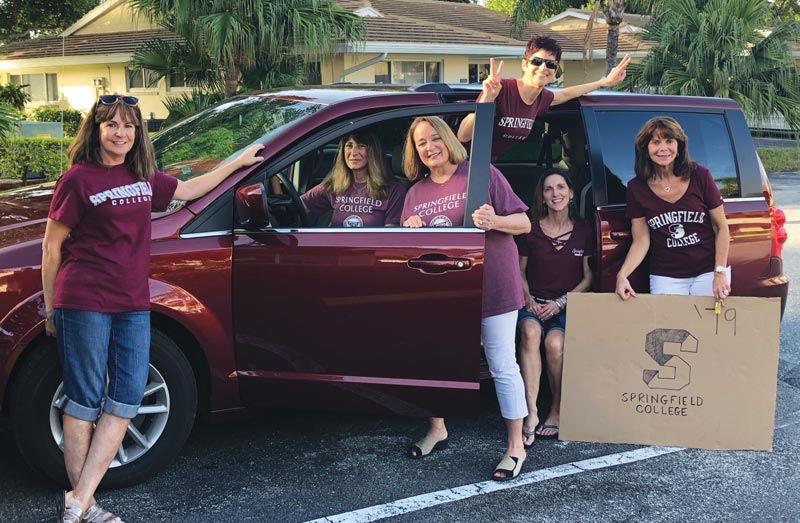 1980s
Jeff Allen '81 was featured in the Swimming World Magazine list of "The Ten Most Impactful People of 2019." Allen was noted for his efforts to use social media tools to form a 17,500-member coaches group called the Swim Coaches Idea Exchange Group. They are now the number one source for coaches to share ideas, theories, advice, and workouts.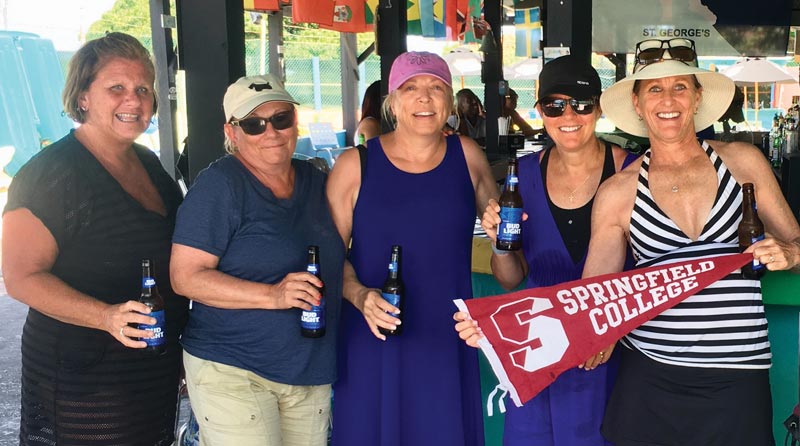 Patty Barrett '81, Amy Lind Kean '81, Ann Puhalla Keville '81, Lori Sichler Mooney '81, and Cheryl St. Pierre Sleboda '81 enjoyed a cruise to Bermuda in celebration of their 60th birthdays. While on the trip, they happened to meet alumni from the class of 2019. Small world!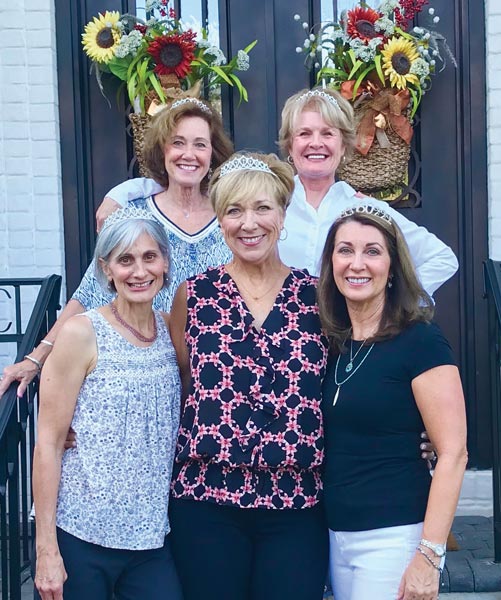 Michelle Basque Pikor '81, Sue Marshall Holz '81, Jill Wolcott Samaniego '81, Joan Imken Skesavage '81, and Eleanor Silveiro Stone '81 got together to celebrate turning 60 years young. They said it was a good excuse to wear a crown.
David Boyle '83, vice president of strategic accounts at Martignetti Companies, has been named Sales/Delivery Partner of the Year by the Massachusetts Restaurant Association. Congratulations, Dave!
Russ Thomas '85, G'00, was inducted into the Wisconsin Basketball Coaches Association Hall of Fame in the "Friend" category.
Bob Bussiere '86 was inducted into the Delaware Youth Soccer Association Hall of Fame.
Elizabeth Butcher McCarty '86 has been recognized as the SHAPE Arkansas Physical Education Elementary Teacher of the Year. The award is given to teachers who have shown exemplary interest in SHAPE and support and promote quality physical education in Arkansas.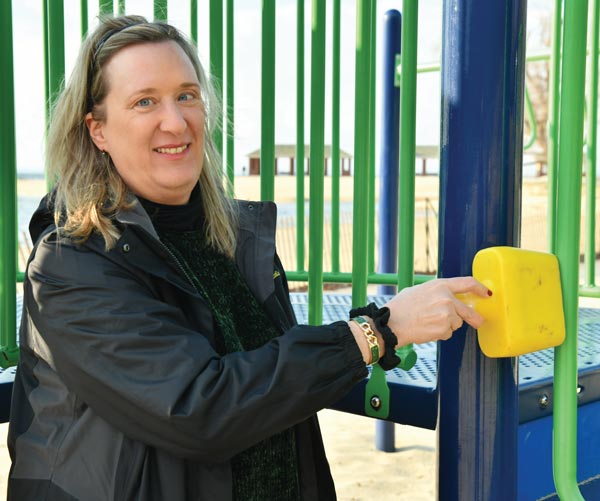 Joann M. Robertson '87, CSP, CPSI, ARM, CPCU, shared that she is currently working as a certified playground safety inspector for Playground Medic in Hawthorne, N.Y. She also provides training for playground supervisors and is a certified safety professional and a certified playground safety inspector.
1990s
Arthur Groux '92 has been named the new executive director of the Bennington (Vt.) Rescue Squad. Previously, Groux served as planning section chief for the Connecticut Region 3 Incident Management Team, a role in which he responded to many high-profile incidents, including a power plant explosion and the Sandy Hook Elementary School shooting.
Daryl Kiesche '92 and Chris George '94 recently celebrated the anniversary of their first Valentine's Day in which they dined at Chi-Chi's in West Springfield, Mass. The couple have been best friends since first "hello" in 1992 the Beveridge Center. They were married in 1998 and have two beautiful daughters, ages 19 and 15.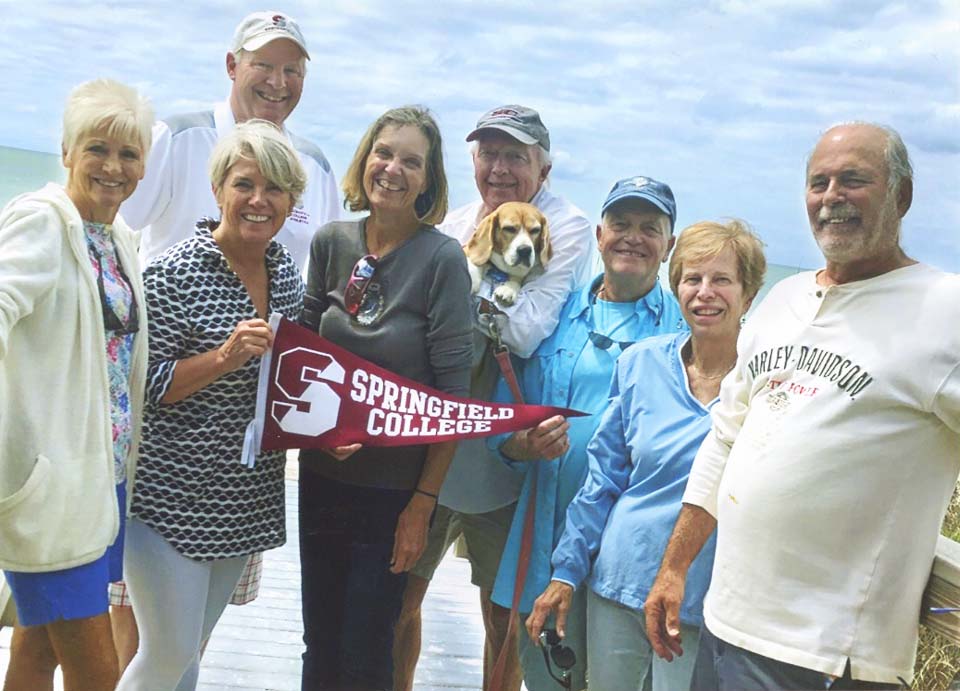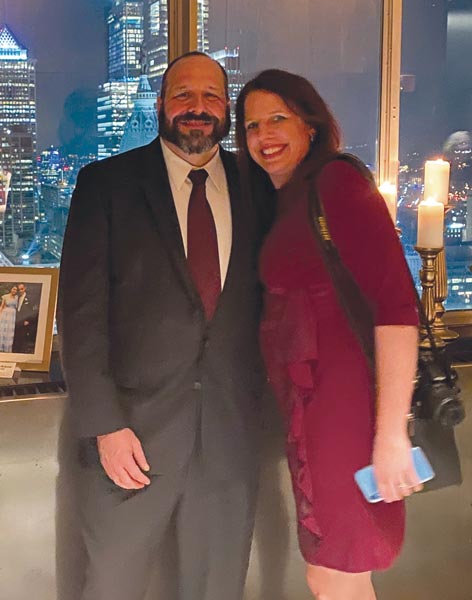 Chesapeake College has named Kamari Collins '98, G'05, vice president for student success and enrollment management. Collins previously served as vice president of student affairs at Springfield Technical Community College.
Michael Slinsky, G'98, shared that he has been promoted to clinical supervisor of Clearview Counseling Group in Longmeadow, Mass. Congratulations, Michael!
2000s
Scott Scharffenberg G'02 has been named executive director of Massachusetts Roca, a support program designed to help high-risk young men leave streets and gangs and go to work. Scharffenberg previously served as chief operating officer of Roca. He has 26 years of law enforcement experience working with the Essex County Sheriff's Department.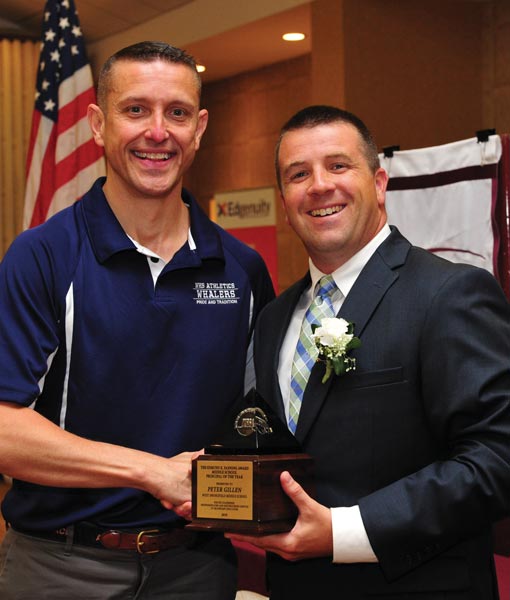 Pete Gillen, '04, G '07, was named the 2019 Massachusetts State Middle School Principal of the Year. Gillen and his family were recognized at the Massachusetts School Administrator Association's annual conference in Hyannis, Mass. He is currently the principal of West Springfield (Mass.) Middle School. He also is the co-founder of NPT Education, which offers consulting and mentoring services to school administrators and teachers. Gillen is in the final stages of earning his Doctor of Education degree from William Howard Taft University.
John Sutyak, G'02, has been named athletic director at Ferrum College. Sutyak previously served as athletic director at Wheaton College.
Nate McMahan '07, G'08, was featured in the Milford (Mass.) Daily News. He was hoping to raise $10,000 for the Dana-Farber Marathon Challenge as he trained for the Boston Marathon. McMahan's 6-year-old daughter is a cancer survivor who received treatment at the Dana-Farber Cancer Institute's Jimmy Fund Clinic.
Jeff Bartlett '08, a health educator at Holten Richmond (Danvers, Mass.) Middle School, was awarded the Health Teacher of the Year award by the Massachusetts Association for Health, Physical Education, Recreation, and Dance. Congratulations, Jeff!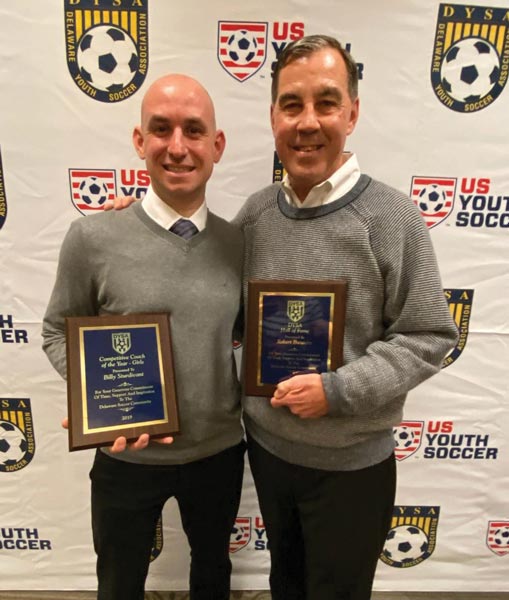 Billy "BJ" Sturdivant '08 was presented with the 2019 Girls Competitive Coach of the Year Award by the Delaware Youth Soccer Association. Also recognized was Robert "Bob" Bussiere '78, an inductee in the first class of the Delaware Youth Soccer Association Hall of Fame. Both coaches played soccer at Springfield.
Balance and Perspective
Meg Wisell Mahoney '09 had many positive experiences as a student, which is why she continues to give
By Doug Scanlon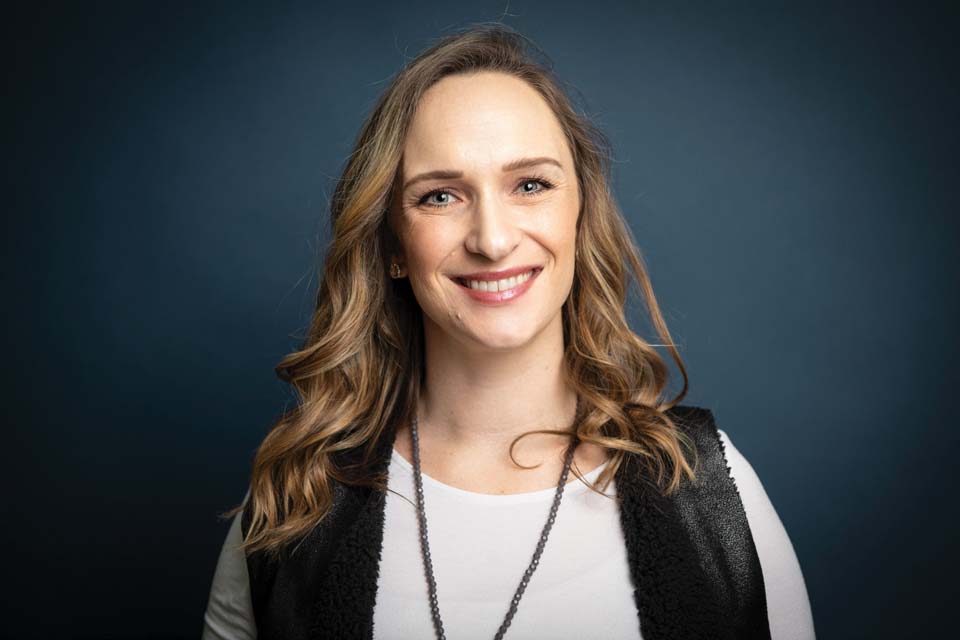 Meg Wisell Mahoney '09 still remembers her first gift to the Springfield College Fund. She received a call from a phonathon student and immediately felt a sense of empathy.
"I was thinking: I literally had that same job when I was a student. I have so many fond memories of being at Springfield College, so each year when they call me, I give," Mahoney said.
Mahoney currently works in sales for a technology company, a career set in place by the numerous co-curricular activities at Springfield College.
"I feel like Springfield College equipped me for dealing with a lot of challenges. It gave me leadership skills that I didn't know I had. I learned a lot about community, relationships, and how to live a healthy, active lifestyle," Mahoney said.
I have so many fond memories of being at Springfield College, so each year when they call me, I give."
Mahoney played lacrosse as a student and continues to stay connected to the program through her relationship with Head Coach Kristen Mullady '00. In fact, when Mahoney was contacted about supporting the team's trip to Italy in 2018, she made a significant donation to the program.
"I really think Coach Mullady has done wonderful things for Springfield College. She invests a lot of personal time and energy into that team. So I gave a donation for their trip and that made me feel really good," Mahoney said.
Mahoney feels that her experiences at Springfield College helped shape her into the person she is today, which is why she has been a consistent supporter for the past six years.
"I learned so much from the Springfield College community. Spirit, mind, and body brought balance and perspective into my life," she said.
2010s
Stephanie Douglass, G'11, shared that she has successfully completed doctoral studies at Keiser University and earned a PhD in instructional design and technology. In addition, she has taken a job at Jacksonville State University as an instructional designer. Way to go, Dr. Douglass!
Rebecca Minton '12 was a recent recipient of the Pioneer Valley Grinspoon Excellence in Teaching Award. Bravo!
Kearney '13, G'15, Recognized as Hero by Celtics
Rob Kearney '13, G'15, was recognized with the Heroes Among Us Award on Feb. 7 at the Boston Celtics Pride Night Celebration at TD Garden in Boston. Kearney was recognized for his overwhelming impact on the lives of others. Kearney is the first openly gay man to actively compete in a Strongman competition at the professional and international level, and he is the current American Log Lift record holder.
At the game, Kearney was joined by members of the campus community, including Boston Celtics Senior Group Sales Account Executive and fellow Springfield College graduate Marc Rogers '12. Springfield College Associate Director of Alumni Relations Maria D'Agostino Crawford '91, Springfield College Assistant Director of Alumni Relations Samantha Morris-Avery G'14, and Springfield College Director of Annual Giving for Leadership Gifts and Athletics Kylie Martin Laurenitis '13, G'16, presented Kearney with a special gift from the College.
In April 2015, Kearney was the keynote speaker at the first Springfield College "Tom Waddell Day" celebration, which has become an annual event paying homage to Springfield College graduate Tom Waddell '59 for his life and commitment to Humanics and diversity. Kearney also served as the Springfield College student trustee in 2013.
The Heroes Among Us program is one of the premier community outreach programs in professional sports. Established as an initiative of the Boston Celtics in 1997, Heroes Among Us honors individuals who have made an overwhelming impact on the lives of others.
The Heroes Among Us Award is presented to an individual or individuals who, through their unique commitment and humanitarian spirit, have made exceptional and lasting contributions to our community. At every home game, the Celtics and their fans have saluted the exemplary efforts of these citizens during a special in-game presentation on the legendary parquet floor.
Mary Crevier '14 and Mike DellaVolpe '14 were married on Aug. 25, 2018.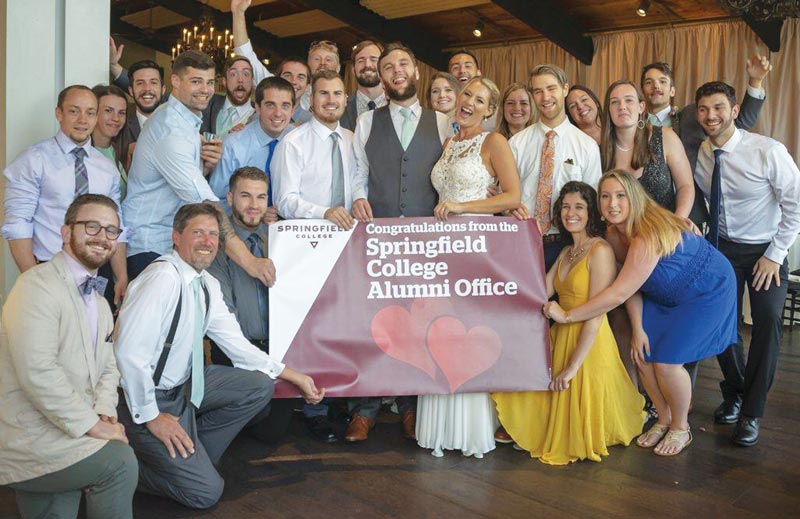 Cassie Grenier '15 was recently featured on WTNH News 8 (New Haven, Conn.). While climbing the middle mountain range at Grand Teton National Park in Wyoming, the rock slope above her gave way and rocks, some as tall as refrigerators, began falling on her. She suffered a traumatic brain injury and nearly lost her life. She was airlifted off the mountain and underwent months of surgeries. Grenier made a miraculous recovery; nearly everything except her vision remains intact. She has since been named a national champion in visually-impaired alpine skiing. Grenier hopes to earn a spot on the U.S. National team and compete in the 2022 Paralympics in Beijing. You are an inspiration to us all, Cassie!
Sam Parziale '15 and James Warner '15 were married on Oct. 19, 2019.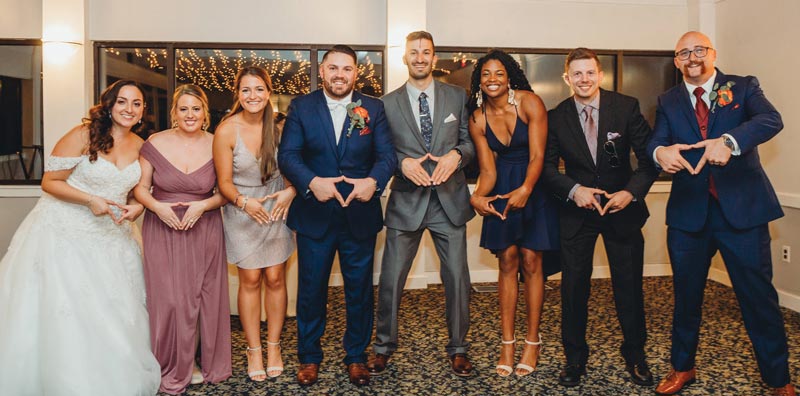 Gabriela Christ '16 and Jon Zirna '16, G'17, were married on Sept. 28, 2019, in Buffalo, N.Y. The couple were high school sweethearts and both competed in gymnastics at Springfield College, and served as team captains.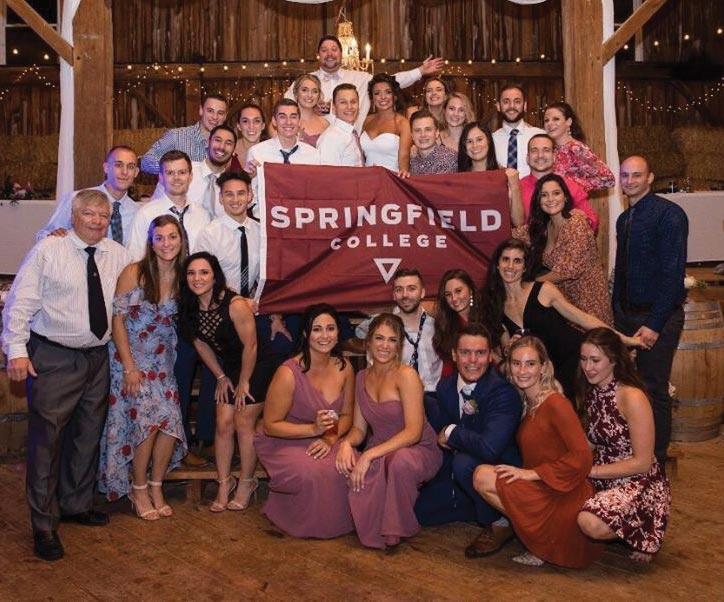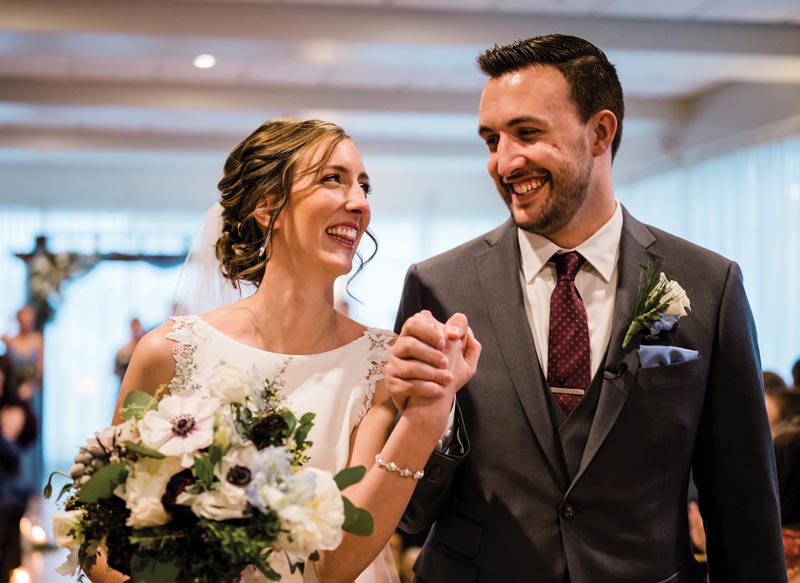 "Sharing our SC wedding!" wrote Fiona Cole '16, G'17, who married Tim Johansmeyer '15 in January in Newport, R.I. Springfield College alumni represented classes from 2013 to 2020. Cole writes, "Hope everyone is staying safe and healthy!"
Flat James and March Sadness
While the pandemic resulted in a cancelled March Madness, a few good sports sent in their photos. Save your Flat James Naismith. We'll try again next year.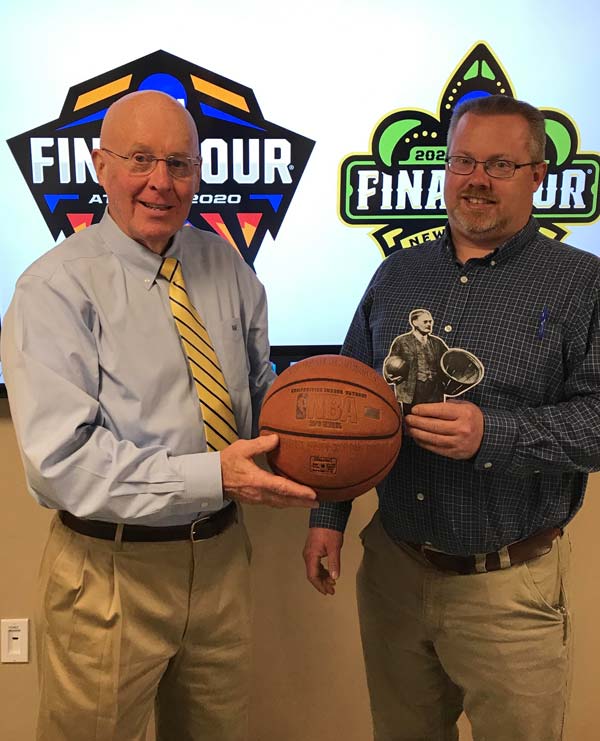 Richard A. Foot '68 and Tim Dunn '96 had a pre-March Madness celebration with Flat James Naismith as they anticipated 2020 March Madness while at a meeting at the YMCA of Frederick County, Md., for a meeting of the Y's Endowment Committee, on which Foot serves. Dunn is the Frederick County YMCA vice president of facilities and information technology.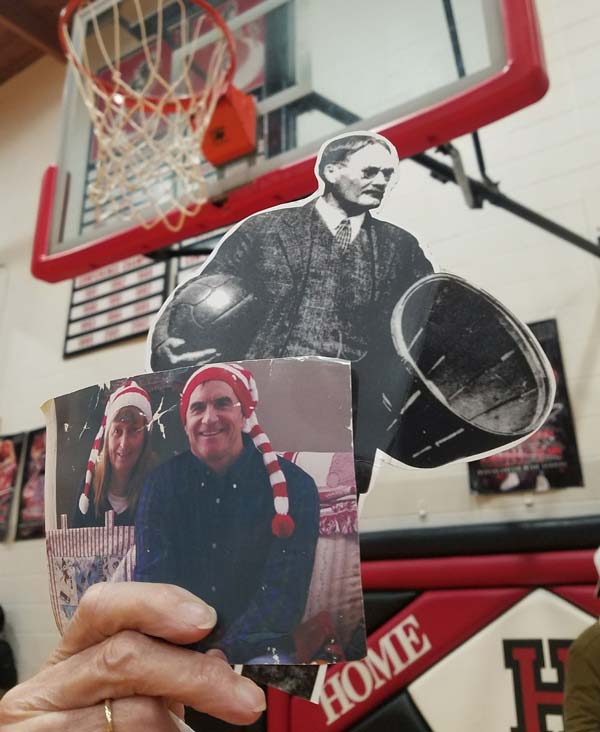 Laurie Faust Hinman '82 and David Hinman '81 (Salida, Colo.) heeded our call for selfies with James Naismith for March Madness, shooting a pre-tournament photograph. They wanted to attend Laurie's niece's high school district playoff game in Jefferson County, Mo., but weren't able to be there in person. Laurie's mother took a photo of their likeness with Flat James on Feb. 25. Laurie's niece Sarra plays for Grandview High School. Her team won the game in the semifinal round. "What a cool idea!" said Laurie.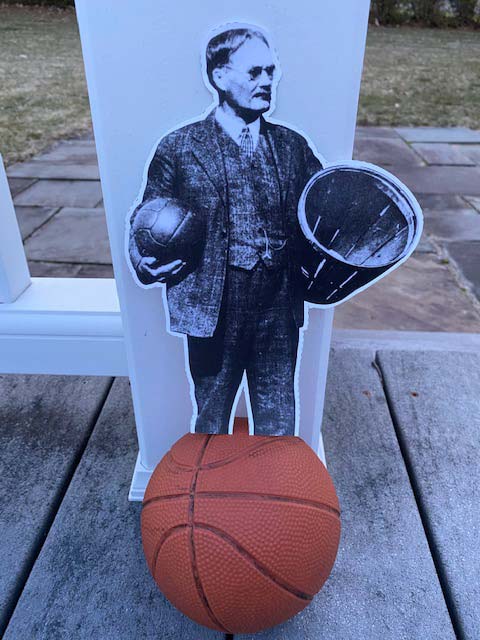 Sarah "Sally" Rice McCaigue '78 sent us her picture and lamented March Sadness. Next year, Sally!