Leaders in Strength and Conditioning
ON THE SPRINGFIELD COLLEGE athletics web pages, there is a tab for strength and conditioning. Clicking on that tab pulls up photos and descriptions for current members of the staff, and then at the bottom of the page in big letters there is a section that reads "Leaders in the Field."
Under that heading, there is a list of 165 names of people who currently are in, or who have gone through, the strength and conditioning program at the College, and what they are doing for work now.
One-hundred and sixty-five names. From John Cena '99 to Rusty Jones '76, G'86, the list speaks for itself.
Another number that speaks for itself is the number 14. That quantifies the size of the Certified Strength and Conditioning Specialist (CSCS) staff at Springfield College.
"We have myself," says Brian Thompson, PhD, director of strength and conditioning, head strength and conditioning coach, professor of exercise science, and graduate coordinator of the strength and conditioning academic program. "Then we have Mary Kate Feit, who is the associate director of strength and conditioning and an assistant professor, and Adam Feit, who is coordinator of physical and mental performance for the Department of Athletics. Then we have six graduate assistants, eight graduate interns, and four undergraduate interns. This spring we expect 14 to 16 certified strength and conditioning coaches."
There are no statistics available that track how many CSCS coaches are on staff at a school, but it is likely that Springfield has among the largest strength and conditioning staff in the country, across any division — I, II, or III.
"I'd be surprised if anyone's bigger," Thompson says, "particularly at the DIII level."
Thompson gave credit to Margaret Jones, PhD, now researcher and professor of kinesiology at George Mason University and the first woman director of strength and conditioning at a Division III school, who helped create strength and conditioning facilities at Springfield College that were inclusive and designed for all athletic programs. Previously, there were weight rooms in the basements of Judd Gymnasia and the Townhouses. When the Wellness and Recreation Complex was built, Jones and Thompson designed the current strength and conditioning room. Jones also established the Master of Science degree program in strength and conditioning, previously unavailable at Springfield College, and was its director until 2010. Thompson came to Springfield College from the University of Illinois in 1998 and has overseen the program since and grown it into what it is today.
"She was the catalyst and driver behind the weight room creation and design," Thompson says of Jones.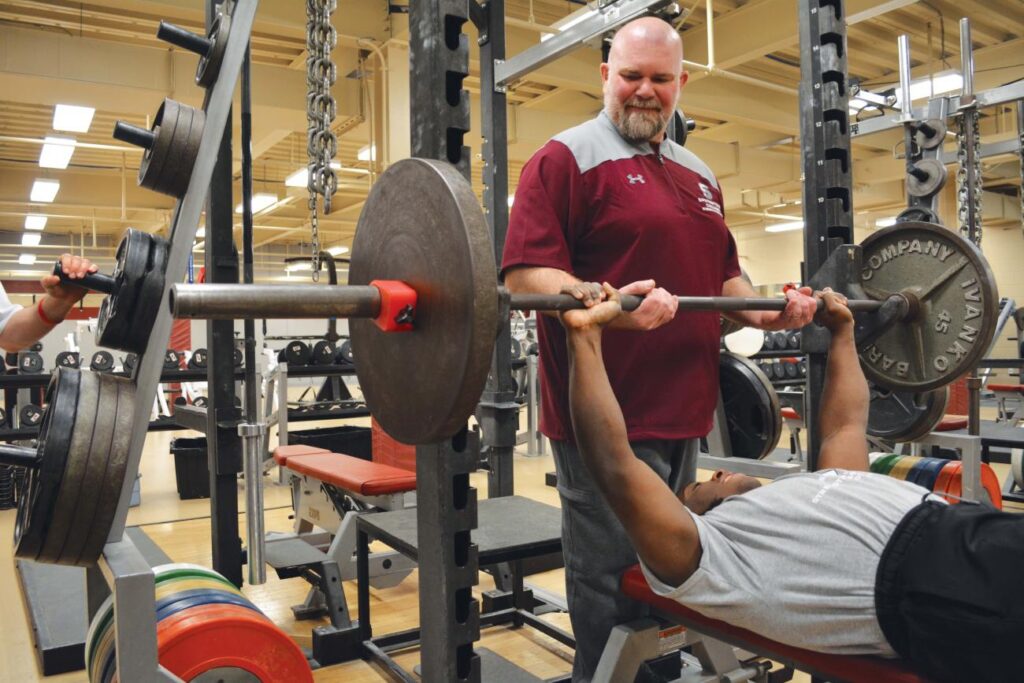 Now, Thompson is in charge of growing the strength and conditioning program on the campus and he's done that by making himself available to those looking to enter the field.
"I do a lot of podcasts, I talk at a lot of conferences, always being out there to make myself accessible to aspiring strength coaches," he explains. "On average, probably three nights a week, I'm talking to a prospective coach or just a young coach interested in the field — whether they want to come to Springfield or not — on my drive home."
Springfield College had the first graduate program to be recognized as an applied program by the National Strength and Conditioning Association, which, simply put, means when students come to Springfield College, they get regular opportunities to learn experientially.
That hands-on experience is part of what makes Springfield so appealing to prospective students, according to Thompson, who is a professor of exercise science and sports studies in addition to being a coach.
"Ours is the teacher-coach model. [At] most schools, they've got the academic strength and conditioning program and they've got athletics," Thompson says, "but, there's no connection between them whatsoever.
But, at Springfield College the faculty members and students in the academic program also are able to work as strength and conditioning coaches with student-athletes in the athletics department. This affords students real experience in real time.
Mary Kate Feit came to Springfield College to get her master and doctoral degrees in strength and conditioning. She found the ability to get experience in the classroom and in the field has been invaluable to her.
"[Being able to teach] classes here, being able to be in the classroom and educate people on different aspects of strength and conditioning, is really great," Feit says.
"Being able to [apply classroom learning] down in the weight room is very helpful in creating the best situation for our student-athletes, and also for our other students. Because we are applying things down in the weight room, we're able to see what works and what doesn't, and we're able to report that back to the students."
Feit sees the Springfield College Strength and Conditioning Program as one that does not compare to programs at any other institution.
"At a lot of bigger universities, when you're a graduate student working in the weight room, you're just assisting someone," she says. "Here you get a lot of hands-on experience."
She added that when Springfield College students graduate, they already will have encountered scenarios in the weight room that they'll experience in the real world. Whether it's an excess of athletes in the weight room, injured athletes, or changes in schedules, students in the program get to see it all, Feit says.
"Our students, as grad students, have already faced all of those little obstacles that come up for a strength and conditioning coach, so they've already figured out the way that they're going to overcome those obstacles," Feit says.
Another added value for students is the Springfield College alumni network. Carolyn Stocker '18, former assistant strength and conditioning coach and coordinator of sports nutrition at Springfield, remarked how far that network extends.
There is a strong Springfield College alumni presence when they attend conferences, says Stocker. "Even though they're 30 years older than me, it's like you're still part of the family," she says. "Regardless of when you graduated or what you're doing now. Yes, it's strength and conditioning, but it's bigger than that."
Danny Priest, from Tewksbury, Mass., is studying communications/sports journalism and is the managing news editor for The Springfield Student newspaper.