It is said that Springfield College currently is the only school in the nation — across all divisions — to have an all-female graduate assistant strength and conditioning coaching staff for football. For the players and head coach, that's purely coincidence.
By Evan Wheaton, Class of 2020
It's hard work.
The Springfield College football strength and conditioning coaches establish programs all summer-long, and they still have to make adjustments at the start of the season.
"We started off by making an overall annual training plan, which is a calender mapping out when you want to do what," says Izabella Mocarski, G'20, "And from there scaling it to be more specific. During this phase, asking 'What do you want to work on here? What do you want to work on there?'"
Mocarski, Terrie Bradshaw, G'20, Olivia Indorf, G'20, and Kellie Gambell, G'20, are the four graduate assistants (GAs) who comprise the strength and conditioning team for Springfield College football.
"I think that we're all really excited and really grateful for this opportunity, but we definitely earned it," Gambell explains. "We were there all last year every day, early mornings, late nights, doing what we could do to earn these roles."
Women play in the WNBA. There are high school and college level athletics for women, as well as powerful icons such as Serena Williams and Megan Rapinoe. But, this isn't about women playing sports. It's about strength and conditioning coaching growing as a field with a female presence.
Lewis & Clark College in Portland, Ore., is a Division III institution where Angela Dendas-Pleasant, who works with the football program, has been head strength and conditioning coach since 2013. Western Oregon University had a staff consisting of two female coaches (Cori Metzgar-Deacon and Rebecca Smith) from 2013-18. They were charged with overseeing strength and conditioning for the football program. Bethune-Cookman University is the one Division I institution that has a female head strength and conditioning coach (Corliss Fingers).
And now Springfield College is joining the list in a historic way.
IT IS BELIEVED that Springfield College currently is the only school in the nation across all divisions to have more than two female GA strength and conditioning coaches for football. For Mocarski, the situation is a normal part of life.
"As weird as it sounds, I don't think it's hit me like that yet," Mocarski says about being part of an all-female graduate assistant strength and conditioning team. "People keep saying it, but I'm like, 'I'm just Coach.'"
Mocarski isn't the only one who isn't rattled by the unique scenario. Head Football Coach Cerasuolo '93 sees four women being the best fit for the job as purely a coincidence.
"We don't look at it as a big deal," Cerasuolo says. "Obviously they're very knowledgeable and very passionate."
And, Brian Thompson, PhD, director of strength and conditioning, head strength and conditioning coach, professor of exercise science, and graduate coordinator for the strength and conditioning program, knew they were the right fit for the job, regardless of gender.
"When I look at hiring GAs for the next year, I look at what they're interested in and where they'll fit the best, and it just happened," Thompson says. "They were all interested in football and they were all fit for football. They all had the passion I needed, the coaching ability, and the knowledge."
Cerasuolo also felt that the GAs were obvious choices for the positions.
"What do you look for in a strength coach? Knowledge and passion," Cerasuolo says. "If you know what you're talking about and you can motivate the players to execute it, then we're going to be in great shape."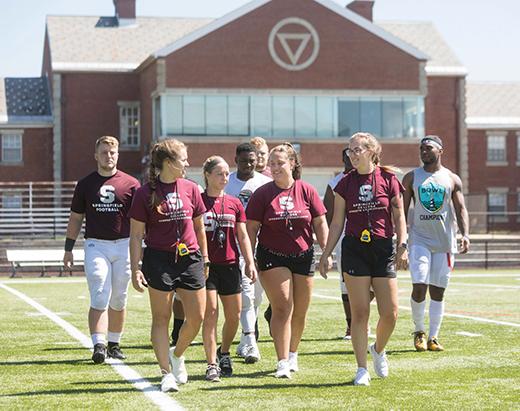 THE INVESTMENT AND passion of the GAs means much more than just being the first to meetings or creating vigorous programs for the players. They've bought into the "Brotherhood" culture and speak the team language.
The phrase "100-strong" is a value of the Brotherhood culture. "'100-strong' is a big one they use all the time," Mocarski says. "It's making sure that all the athletes are always invested as a unit, versus everyone going off in different directions."
"[The Brotherhood is] a huge thing we use as well. Those are your brothers. That's your family. We're part of the Brotherhood," Bradshaw explains. "It's pretty cool that we've become part of the Brotherhood as well."
That genuine mutual respect carries into the weight room, where Bradshaw, Indorf, Mocarski, and Gambell can be heard encouraging student-athletes through the commotion of clanking weights and loud music. The bustling scene is what one would expect  —  sweat covering the mats and equipment  —  as players move from one exercise to the next.
But their responsibilities aren't just shouting for players to 'get back' when they're standing on the sidelines and motivating athletes in the weight room. Being part of the Brotherhood means caring for each other in a deep way.
"Almost everybody can attest that not only do they have an investment in us in the weight room, but they're definitely people who you can count on. [They] are go-to people for any situation that can possibly come about," senior center Nick Bainter says.
The 100-strong unit encompasses the entire Springfield College football program. Everyone has a job to do, and it goes without saying that everyone has one shared task to be there for each other.
"A lot of times, they can see the guys and see their demeanor and see if they're a little down, a little hurt, a little beaten up, whatever the case may be, so that they can give us an idea so we can monitor practice accordingly," Cerasuolo says.
ALTHOUGH THE strength and conditioning field is seeing an increase in female involvement, at the end of the day, the four women who comprise the Springfield College football strength and conditioning staff didn't get where they are now because of their gender.
They got here because they emerged as the top candidates from a strict screening process.
"I hand pick about 12 students every year to come into the graduate program, anywhere from 50-70 applications," Thompson says. "Then I pick usually five or six GAs for next year out of that group."
After spending the previous year as interns, Bradshaw, Indorf, Mocarski, and Gambell were the four candidates that made the cut for the 2019 season.
From working closely with supervisors, to writing and implementing programs about nutrition and conditioning, to managing interns and working with injured student-athletes, the GAs have had tremendous responsibility.
"If you're a grad student at Springfield College in strength and conditioning, you're definitely the real deal," Thompson says. "You know your stuff."
Bradshaw, Indorf, Mocarski, and Gambell  —  who look forward to advancing their coaching careers in strength and conditioning — were chosen from nearly 100 candidates for a reason.
No, not because they're women.
Because they do know their stuff.
Evan Wheaton is from Milford, Conn., and is a communications/sport journalism major and the features editor for The Springfield Student newspaper.