History? Who cares about history?
Back in September 1957, Mimi Murray '61, G'67, certainly didn't.
Sure, she had heard about Springfield College being a "historic" place – Birthplace of Basketball, founder of Humanics, longstanding believer in the triangle as the premier geometric shape. But when she arrived on campus, history meant little to her. What she cared about was the present and the immediate future, and both seemed unbearably bleak.
She had grown up in Summit, N.J., a spirited girl with a radar for unfairness, in love with sport and physical activity. She plunged into competitive sports in high school: field hockey, basketball, and softball. They made her feel alive, made her feel like a whole person. And that's what they talked about at Springfield College, right? Educating the whole person: spirit, mind, and body.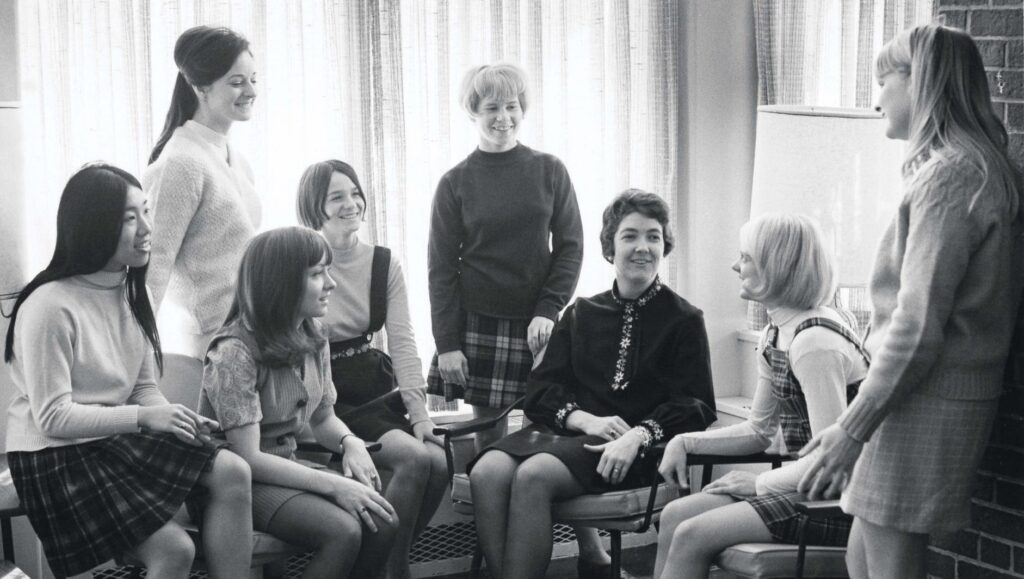 Almost as soon as she arrived, Mimi put on the skirt that was required attire for all women, and rapped on the door of Ruth Evans, H'48, director of women's physical education and a legendary presence in the field.
"Mimi!" Evans said enthusiastically, "we're so glad to have you here at Springfield College. I've heard great things about you. What can I do for you?"
"Thank you, Dr. Evans," Murray began, before blurting out, "When does [field] hockey practice start?"
An imposing woman with a booming voice, Evans narrowed her eyes and paused.
"My dear," she said finally. "We don't do that here."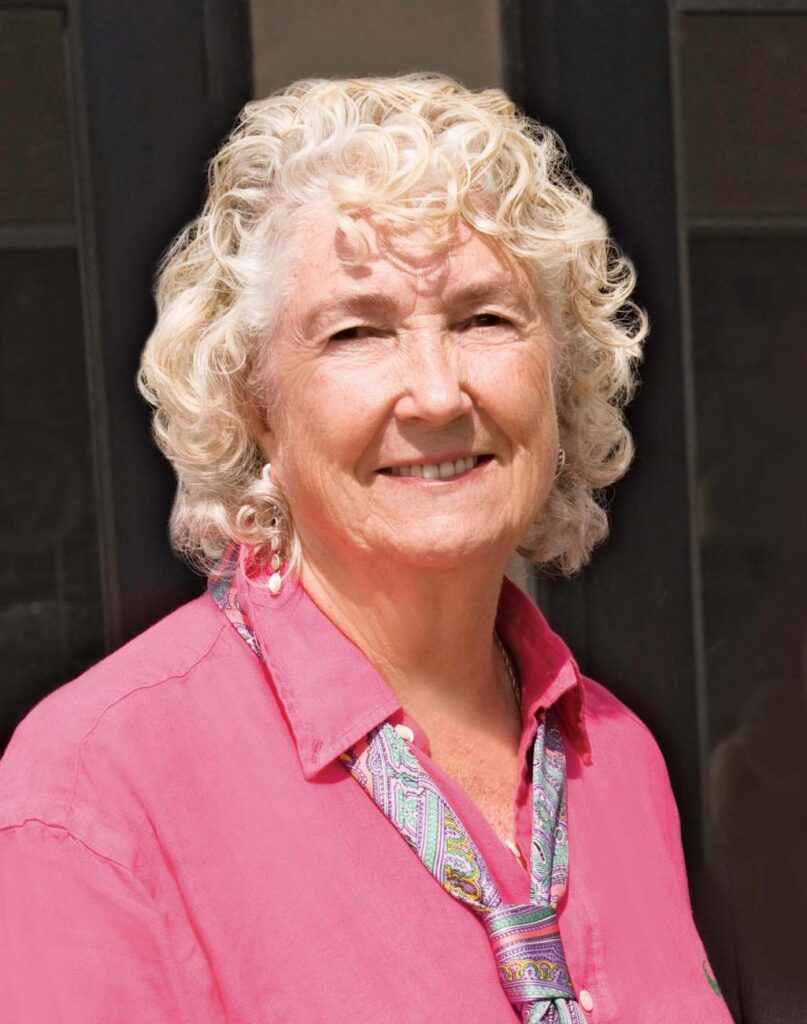 True, the vast majority of colleges didn't field varsity teams for women, but Murray could not believe her ears. Really? No competitive sports? At Springfield College?
This wasn't just a deal breaker for her: it was a heartbreaker. She trudged back to Abbey Hall, waited for the pay phone to become available, and called her mother. She wanted to come home.
"My first couple of days at Springfield College were terrible for me," she admitted recently. "And then, of course, it turned out to be a place I wanted to be all of my life."
THE FIRST faculty office you come to in the Wellness Center is 109. The nameplate announces simply, "M. Murray." In the small office she sits alone, yet it seems to be occupied by many people.
First, there is the teacher. It's not just a professor of exercise science and sport studies who resides here—it is an educational force: shelves cluttered with books, dissertations, inspirational sayings.
Then there is the coach who engineered perhaps the most impressive run of athletic success in Springfield's history. There are photos of strong and athletic gymnasts: perched upside down with one hand on a balance beam, springing to graceful dismount from the uneven parallel bars. Six years of coaching, a dual-meet record of 37-0 (no typo), three national championships.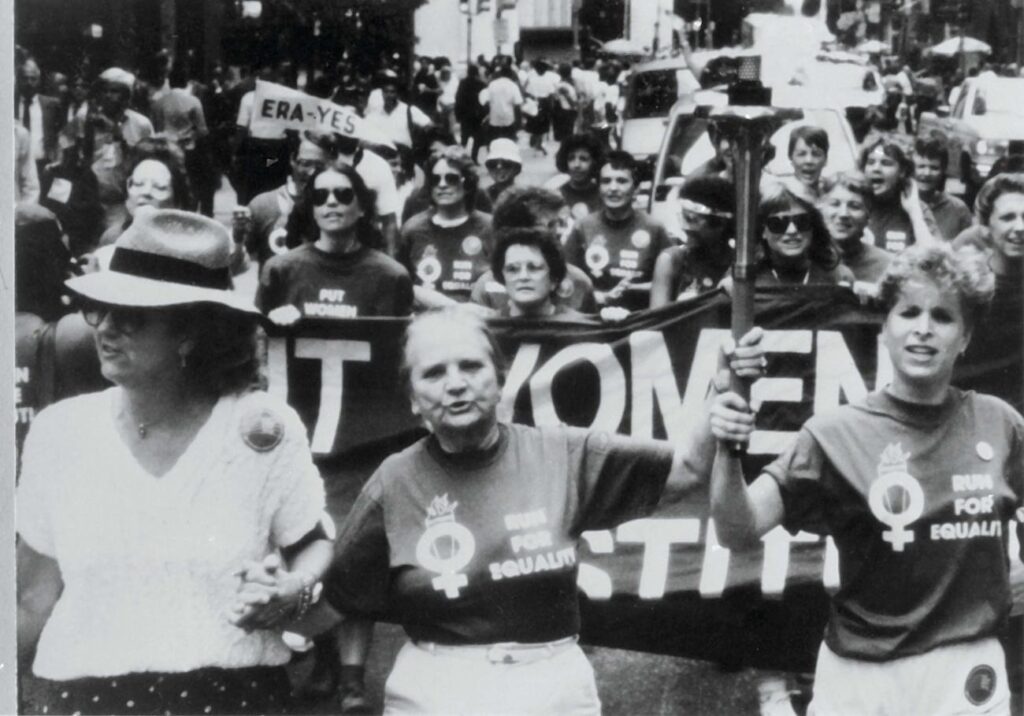 A third occupant is a pioneer in sport psychology, the person who, with Betty Mann, G'74, DPE'84, started the program at Springfield College. She remains the face of a program that metaphorically launched 1,000 ships, all steering to the directions of a book—Mind Gym—that sits on her desk.
Somehow a fourth person crowds into the office: a crusader for gender equity. She is featured on the walls, in Washington D.C., lobbying to preserve Title IX. She is joining forces with U.S. senators Pat Schroeder and Barbara Boxer, hobnobbing with President George H.W. Bush. In one photo she wears one of her trademark hats, while joining hands with Molly Yard, the president of the National Organization for Women.
Wedging into the office is yet another vibrant soul: the local historian, the one who believes that there is a big story at this modest-sized college, that there is a mighty mission. Some wall space is lined with eminences from the Springfield College past: Amos Alonzo Stagg, Class of 1891; Ken Childs; and Jesse Parks.
If you ask nicely enough, the multifaceted queen of Room 109 will even offer an artifact of personal history. It's a frame of two senior photos: one from Springfield College in 1961, one from Summit High School in 1957. The latter—taken just months before her rocky start on Alden Street—includes the yearbook description: "…athletic pursuits…bubbly student leader…the devilish twinkle in her eyes."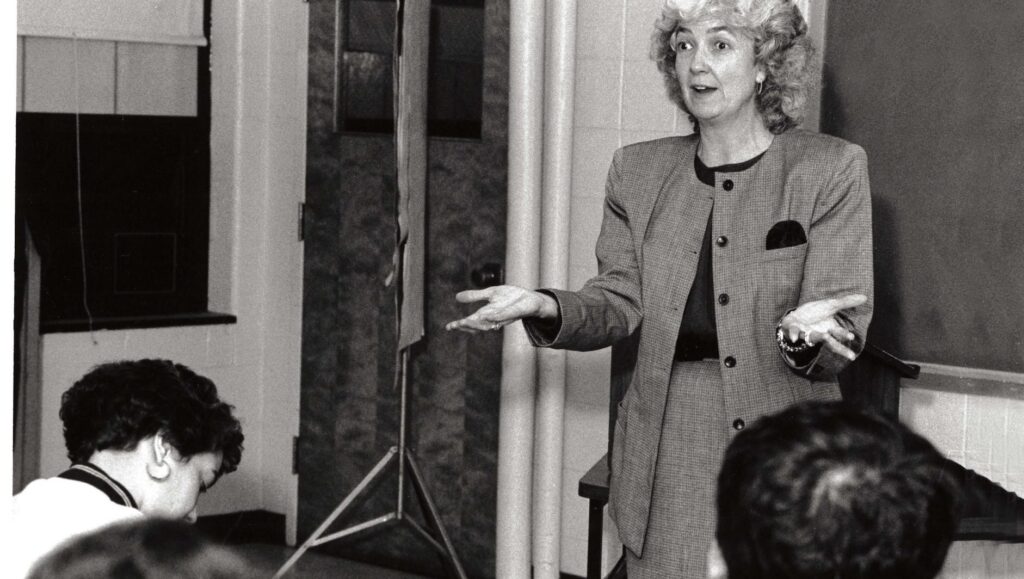 ALL THESE years later, that's still true. It describes the irrepressible Mimi Murray perfectly. Mimi with the shining Corvette, Mimi with the big hats, the floral ties and pocket squares, the jokes in the hallway, the annual Halloween costumes (one year a devil, sunshine the next). Her inimitable manner has made her an unforgettable presence in many lives. She is forever winking, twinkling, sparkling, whispering as if there is this joyous secret that she has with you and you alone.
Back in her student days, there was a fair share of Mimi Mischief. "We were always playing some kind of a prank," she says. One day she drove to a church in Northampton with friends and placed a bra on the statue of the Virgin Mary. That landed her on "social probation" for a semester, but you don't get the sense that she regrets it.
She certainly had a serious side. She was a sponge for knowledge. She soaked in the dignity of Coach Vern Cox '44, G'49. She basked in the grace and power of dance classes with Eugenie Dozier. She smiled at the quirky brilliance of exercise physiologist Peter Karpovich. (To this day, her imitations of Karpovich—calling students "Peasant" with a thick Russian accent-—can bring down the house.)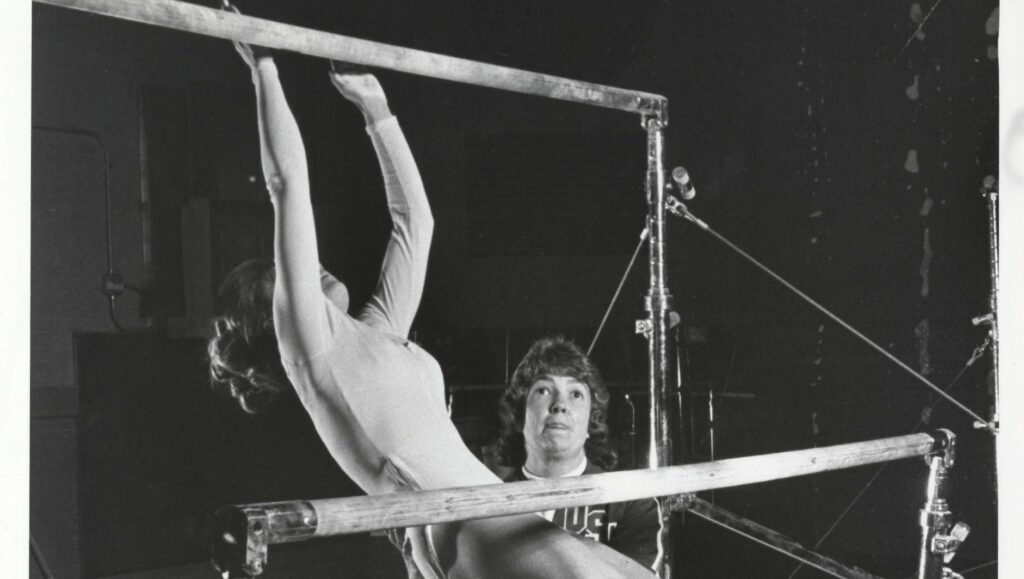 She began to explore Springfield College history. "Isn't it rich?" she asks even now, with a sense of wonder. She marveled at the simple elegance of Luther Gulick's inverted equilateral triangle ("It kind of gives me chills"). She was mesmerized by the commitment of people like Laurence Locke Doggett (president for 40 years) and Amos Alonzo Stagg, who had left long ago, but wound up coaching into his 90s. (He was then still alive, approaching his 100th birthday.)
Her peers were no less fascinating. She took a particular shine to Tom Waddell '59, a three-sport standout whose kind heart, lively spirit, and quiet courage seemed tangible. He shared her passion for dance. "Everybody had a crush on him," she said.
She lived out loud: playing clarinet in the band, serving as fire chief in Abbey, and playing every sport she could. Before long, she helped to launch informal teams in field hockey, soccer, volleyball, basketball, and softball. While varsity sports for women would not officially arrive until 1963-64—still almost a decade before Title IX—the seeds were planted.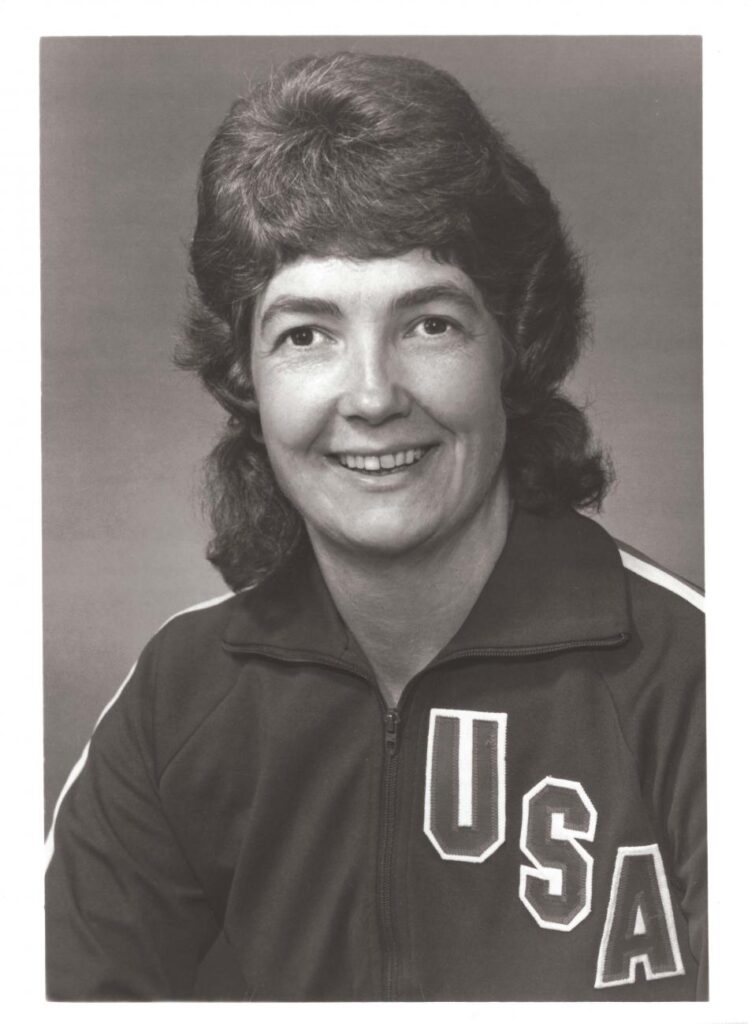 During Murray's senior year, college corporator John F. Kennedy came to the city of Springfield on a Monday and got elected president the next day. At his inauguration in January 1961, he said, "The torch has been passed to a new generation of Americans."
Mimi Murray was graduating with a new age beckoning. "It was such a time," she said. "Everything was so new in the '60s, and I was embracing it all."
SHE LEFT, and she returned.
First, it was back to New Jersey to teach and coach at a high school. It was her first taste of coaching gymnastics. She had never been a gymnast herself, but her vibrant spirit, love of dance, and knowledge of biomechanics made her a natural.
She returned to Springfield in 1966 to pursue her master's. She wound up helping out Eugenie Dozier with dance classes, at one point teaching "Funzies" (Fundamentals of Rhythm) to a class of 70 students: two women and 68 football players. In 1967, she was hired as an assistant professor of physical education. The next year she took over the gymnastics program.
She galvanized her team, getting them to believe in themselves, bringing out a level of effort that even her gymnasts did not believe they could summon. At year's end, they not only won all their dual meets and a regional championship, but a national title as well.
She served as gymnastics coach from 1968-1974, a period that coincided with surging interest in gymnastics, thanks to the dazzling performance of Olga Korbut in the 1972 Olympics. But that period was also one of turbulence: the assassinations of Martin Luther King Jr. and Robert Kennedy, the election of Richard Nixon, violent protests over racism and the Vietnam War, the emergence of the Watergate scandal. It also was a time of growing consciousness around gay rights with the Stonewall riots in 1969.
The Springfield College community was not immune. Shortly before protests erupted on campus around race relations in 1969-1970, Murray's old friend Tom Waddell took a very public stand against racism. In the 1968 Olympics in Mexico City, where he would take sixth in the world in the decathlon, Waddell stood up in support of "Black Power" sprinters Tommie Smith and John Carlos. (Years later, Waddell's activism continued, as he launched the festival of sports and the arts known as the Gay Games.)
And, too, there was a surge of feminist consciousness. 1972 alone saw the founding of Ms. Magazine, the sending of the Equal Rights Amendment to states for ratification, and the at-long-last passage of Title IX.
Within that context, Murray worked her magic with the Springfield College gymnastics team. Her success opened doors on the national level. In 1973, she served as coach of the U.S. National Team in the World University Games in Moscow. She became a sought-after media presence: providing expert commentary on ABC Wide World of Sports and NBC Sportsworld. She was helping to put Springfield College on the national and international map.
BUT IN SOME ways it wasn't enough. Murray had always thought big, and she felt she could be doing more, contributing more deeply, living out the Humanics mission more fully.
"After coaching these wonderful teams, I realized how little I knew," she said. "I knew exercise physiology. I knew biomechanics. But how much did I really know about how the mind does control the body?"
She became enthralled with the growing field of sports psychology and wound up pursuing a PhD from the University of Connecticut. This way, she figured she could expand her reach—not just to her own athletes at the College, but to all athletes, all coaches. With Professor Betty Mann, she launched a graduate program in sport psychology at Springfield and, in time, began establishing a national footprint here as well. She was the sports psychologist for the U.S. equestrian team in the 1984 Olympics in Los Angeles, and also for the field hockey squad in the 1996 Games in Atlanta.
Her national and international star also rose in other ways. She would prove FDR-like when it came to presidential terms: serving as president for national organizations with clunky acronyms but powerful purposes: American Alliance for Health, Physical Education, Recreation and Dance (AAHPERD); International Council for Health, Physical Education, Recreation, Sport, and Dance (ICHPER-SD); and National Association for Girls and Women in Sports (NAGWS).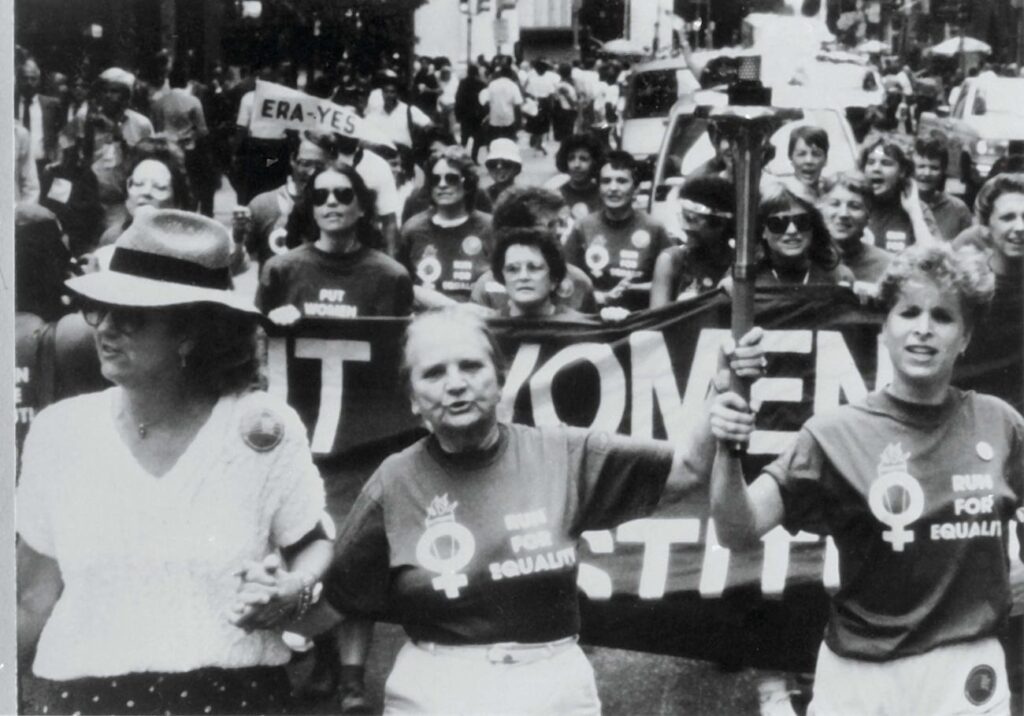 In the latter capacity, she had a memorable interaction with then-75-year-old Molly Yard in 1987. In the bicentennial of the U.S. Constitution, Murray was helping to sponsor a "Run For Equality" from Washington to Philadelphia. Yard decided to run the last mile of the relay. Murray was up ahead in the press truck, decked out in heels and a big hat when she saw Yard beginning to stagger. She promptly hopped off the truck, and linked arms with the president of the National Organization for Women. They crossed the finish line together.
"It was really a very touching moment for me," Murray recalls. "It's so emblazoned in my memory."
BUT IF MIMI Murray was thinking globally, she was always acting locally. Her influence on campus grew and grew as she established a dazzling reputation in the classroom. There would be many disciples over the years, several of whom would become prominent teaching and coaching presences on campus.
Joel Dearing '79 arrived in the fall of 1975, the son of a coach, determined to follow the same path.
"I was born to coach," said Dearing. "It was in my blood. It was in my heart. It was in every part of me."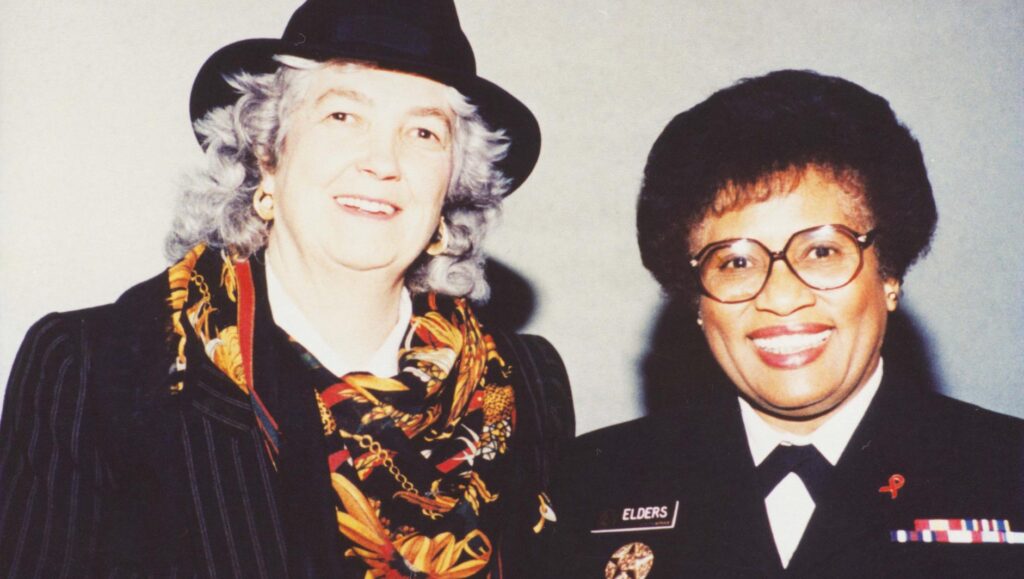 But when he started taking Murray's classes during his junior year, the light blazed with greater intensity. He remembers thinking: "I want to be like her. How was this so magical? How could someone bring it to life like this?"
In time, Dearing would become an extremely successful volleyball coach and renowned professor at Springfield College. He said it's not hard to find the reason why, "I went to her. I went to her with the good, the bad, and the ugly. I went to her with discouragement. I went to her with anger at myself. I went to her with things I didn't understand."
Dearing also absorbed Murray's passion for campus history. Upon learning he would soon be teaching the "Heritage and Values of Sport and Physical Education" course she had created, he arranged to audit her class all over again. "I'm back in the classroom, taking notes," he explains with childlike glee. "Every single class!"
In the 1980s, Kathy Mangano '86, G'88, EdD, fell into Murray's orbit, first as a student-athlete—a standout softball player. "The mental game was huge for me," Mangano recalls. "She was there to listen." In later years, as a successful coach and a scholar climbing the academic ladder, Mangano kept turning to Murray. "Regardless of where I have been in my personal life or professional career, Mimi has been consistently there for me: as a role model, as a sounding board, as a mentor, as a colleague, as a friend."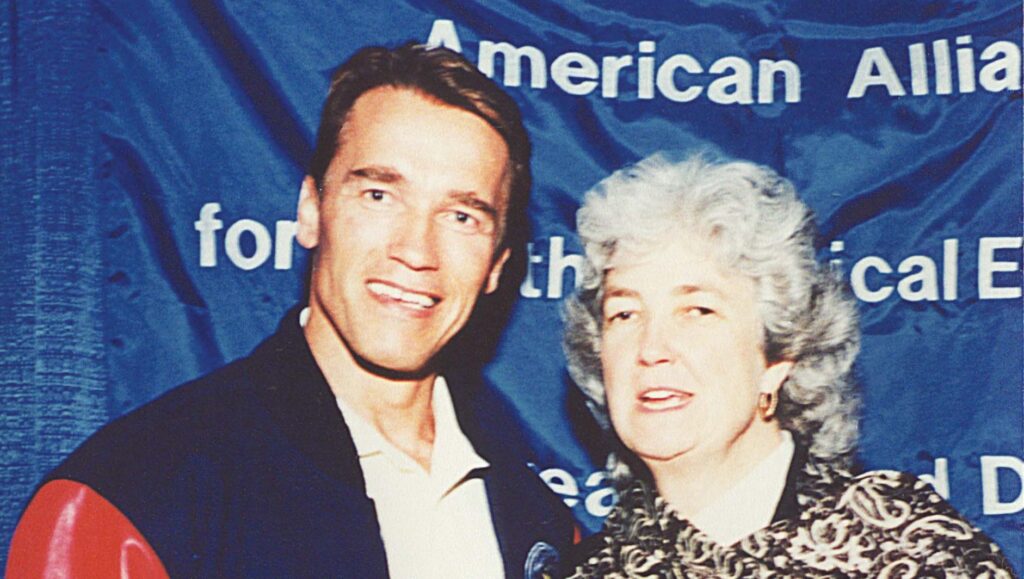 Beyond that, Mangano says Murray has empowered her to confront injustice: "She's given me the confidence to speak up." Mangano has been buoyed by Murray's own relentlessness: "everything she fought for, whether it be Title IX, girls and women in sport, physical education."
In Mangano's eyes, Murray has earned a chiseled spot in the school's Mount Rushmore. "I have Mimi on a pedestal," she says. "It's pretty evident, but there's enough evidence to put her there. I put her in the same category as Naismith, Stagg, Karpovich."
Murray's command of Springfield College history is unparalleled, according to Mangano. "No one knows this institution like Mimi Murray," she says. On a personal level, Mangano states unequivocally, "She has had a profound impact on my life."
In the late 1990s, Michelle Moosbrugger '00, PhD '06, arrived and found herself drawn to the professor who shared her initials. "I was in awe of her from the start," says Moosbrugger, now the co-chair of the Department of Physical Education and Health Education. She recalls telling her classmates, "I could sit and listen to her tell stories all day long."
The draw was not just the sense of history, not just the engaging teaching performances, but a personal style that is unique. "I remember her car being parked where it's not supposed to be parked," Moosbrugger says with a laugh. "And you know it's her car because it's the fanciest car on campus." Additionally, Moosbrugger says, "Her sense of fashion is astounding." The annual Halloween costume has become a running joke. Moosbrugger's young son refers to Murray as "The Scary Crayon."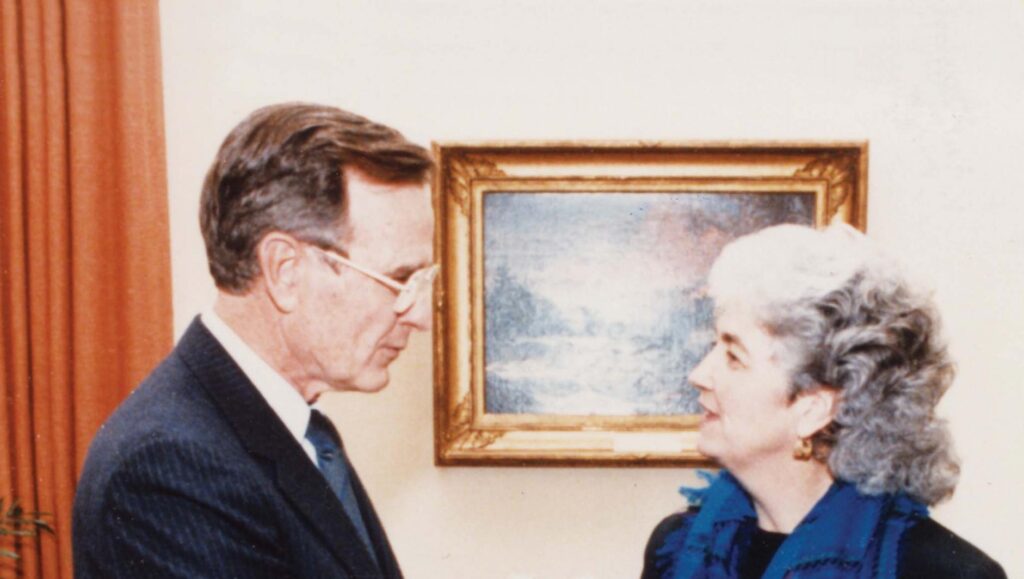 THE PIROUETTES of autumn leaves. The quiet drift of the first snow. The wonders of the first crocus. Year after year after year. Ten years of teaching. Twenty. Thirty. Forty.
In time, Murray stepped into the role of grand marshal at graduation, carrying the College Mace, directing people to stand and sit with appropriate Mimi Murray flourish to the backdrop of Pomp and Circumstance.
The honors continued to flow. Induction in the Athletic Hall of Fame. Being named Distinguished Springfield Professor of Humanics (giving her year-end lecture on the precious history of the College).
Her passion for that history was unquenchable. Many a day, she immersed herself in the basement of Judd Gymasia, digging into the past. "Every time I go to the archives," she says with a wink, "I get a new crush."
Archivist Jeff Monseau turned to her at one point and said, "We've had Gulick, Naismith, McCurdy, Karpovich—and you."
Indeed, in her office hangs a poster the College made in 2010 on 125 years of institutional history. There are pictures and capsules of people like James Naismith, Amos Alonzo Stagg, Tom Waddell, graduation speakers John F. Kennedy, H'56, and Martin Luther King, Jr., H'64,—and Mimi Murray.
"I just revere these people so much," she says. "For me to be on it—every time I look at it, it's like oh-my-gosh!"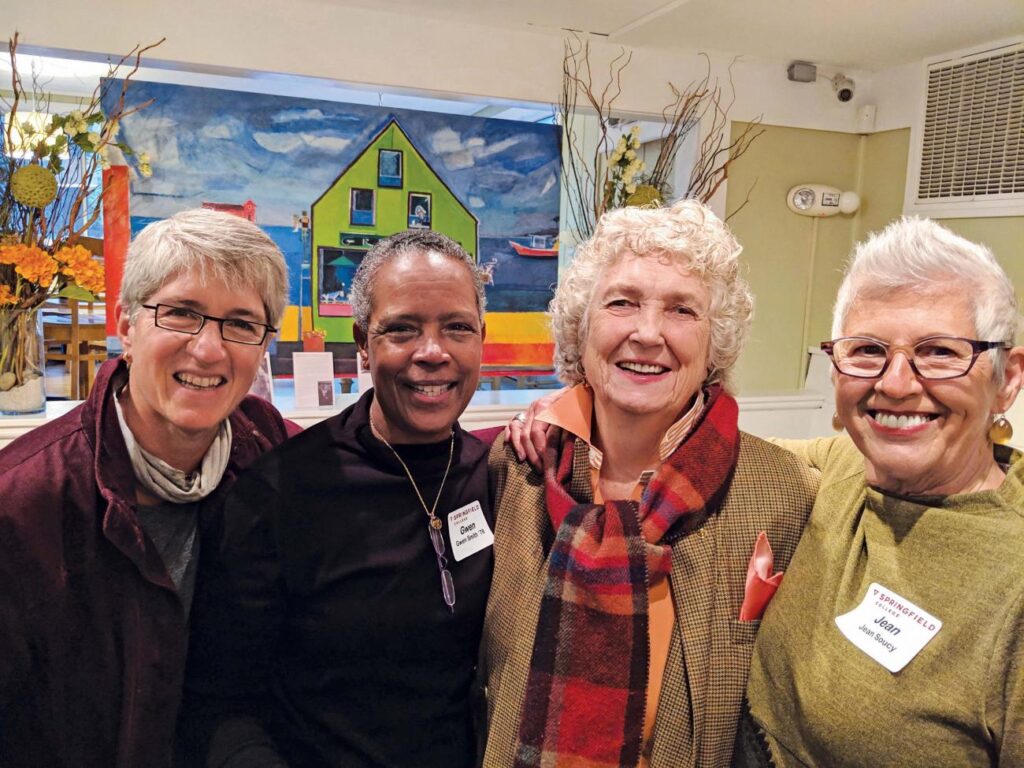 THREE YEARS AGO in April, she had a mini-stroke while in Ogunquit, Maine, where she has maintained a second home for years. It is a place that has become "Triangle North." Mangano has traveled up there many times and is accustomed to the parade of alumni there who tell Murray, "Because of you, I am this," and "I remember when you were there for me."
But visiting this time, seeing the seemingly indestructible Murray struggling, tugged at Mangano's heart.
Was it time to retire? There was just no way Mimi Murray was going to go out like that. She worked hard at rehab. She reduced her work load. She was determined to finish on her own terms.
Fifty years. No one had taught here longer.
Fifty-one.
This year made 52. The number of weeks in a year. The number of cards in a deck. It was time.
She wanted no sendoff party. She agreed to the scholarship fund for physical education graduate students that Mangano spearheaded. She headed into her final spring.
She chuckled when a visitor came by her office and said, "That's a lovely portrait
of you"—pointing to a painting of a resolute soul with lustrous gray hair above her desk. It is a portrait of Amos Alonzo Stagg, he of the coach-into-your-90s, live-to-102 club.
There was one more event for her, the keynote presentation at the Sport and Social Justice Symposium in April. It was an event that fit her heart. She knew that the "Tom Waddell Leveling the Playing Field Award" would be given to student-athletes who had demonstrated a commitment to social justice.
As Waddell had done in his brief but extraordinary life. As Mimi Murray has done again and again.
She had the room in the palm of her hand: captivating stories about Waddell, about the little college with the big mission. Toward the end, she said to students, "I'm tired of carrying the torch, you guys, so it's you out here who are going to have to go to Washington like I did for two years every weekend. Go to our wonderful Congress, and pound those doors."
The two seniors who won the awards in Waddell's name were transfixed by the Mimi Magic.
"She has done so much in her life and so much for this college," said Emmalie Drake of the field hockey team. "It's very inspiring to us as young people in this world to go out and do something so much bigger."
Dr. Mimi Murray '61, G'67, Scholarship Fund
Launched through the generosity of Springfield College Professor Kathy Mangano '86, G'88, EdD, family, colleagues, and friends of Mimi Murray have contributed to create the Dr. Mimi Murray '61, G'67 Scholarship Fund. In celebration of Murray's retirement and honoring her contributions to teaching, coaching, and scholarship throughout her career, this fund will provide scholarship for enrolled physical education master's or doctoral students who are focused on sport and exercise psychology or physical education and who have demonstrated need for financial assistance.
To make a gift or inquiry,
please contact
Julie Considine Tyson at
jtyson@springfield.edu,
(413) 748-3859, or at
springfield.edu/gift.
"The torch has been passed," agreed men's gymnast Jannik Haas. "We're going to try to live up to her expectations and
her legacy."
Down at the Wellness Center, the disciples—Dearing, Mangano, and Moosbrugger—struggled to fight back tears when asked about next year at Springfield College without Mimi Murray.
But who knows? Don't be surprised to hear the screech of a white Corvette in the parking lot on Saturday, Aug. 17.
It is, after all, the first day of field hockey practice.

Watch Marty Dobrow's interview with the Torch Bearer herself, Mimi Murray.