Students
Jacob B. Silver, Ashland, Mass., Feb. 22, 2019. Former Springfield College student Jake Silver played on the Ashland High School football team when he was diagnosed with osteosarcoma. He was determined to finish high school and go to college with aspirations of becoming a sports broadcaster. Silver fulfilled his dream of attending college when he joined the Springfield College community in September. He was enrolled in the communications/sports journalism program and was a vibrant part of the College community.
Staff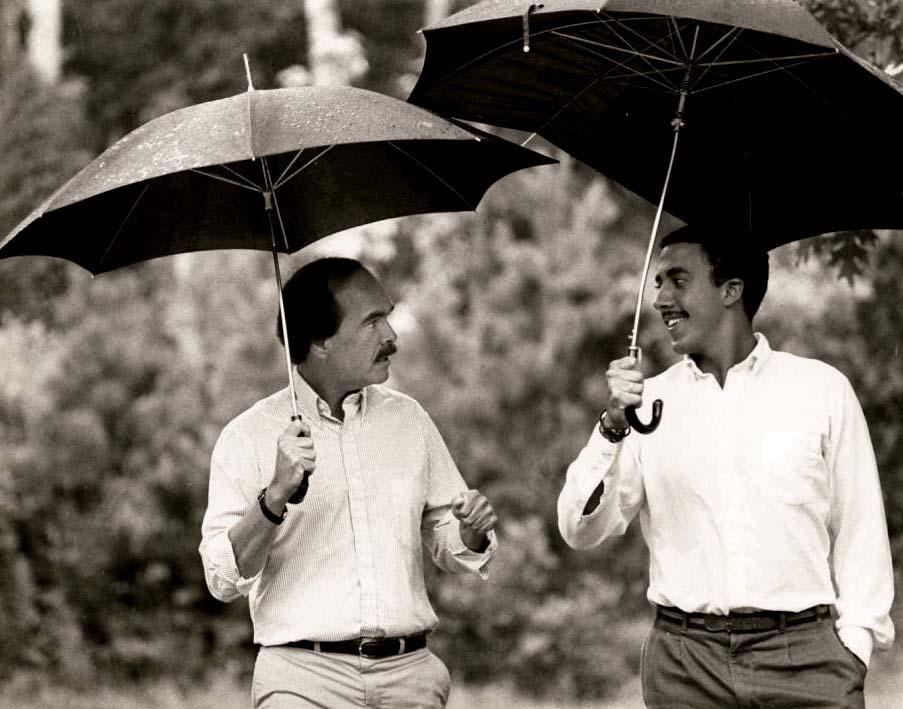 Father Leo James Hoar, G'71, EdD, April 28, 2019. Longtime campus minister Fr. Leo Hoar studied classics and theology at St. Anselm's College and theology at The Catholic University of America in Washington, D.C. Ordained at St. Michael's Cathedral, Springfield, in May 1966, Father Hoar earned a doctoral degree in education from the University of Massachusetts in 1977. He served in campus ministry from 1977-2007 at Springfield College and other local colleges.
He held diocesan appointments to the Ministry to Priests Program and a three-year term on the Liturgical Commission. Previously, he served at the former Holy Family Parish in Holyoke; the former St. Matthew Parish in Indian Orchard; and the former St. Patrick Parish in Chicopee. He was a part-time faculty member at the former Notre Dame High School in Springfield from 1971-73, and then served as director of Notre Dame High School and Sacred Heart Elementary from 1973-77.
"Father Leo" as the campus community affectionately knew him, retired on June 22, 2010.
Diane M. Walsh, Springfield, Mass., Dec. 27, 2018. Walsh was a long-term employee of the College, starting in 1981, and most recently was a research and access specialist in the Library Services Department.
Alumni
Robert R. Thompson '44, Cambridge, Wis., Feb. 19, 2019. Robert's son called to report that his father passed away and wanted to make sure we knew that his father loved SC and keeping in touch with classmates.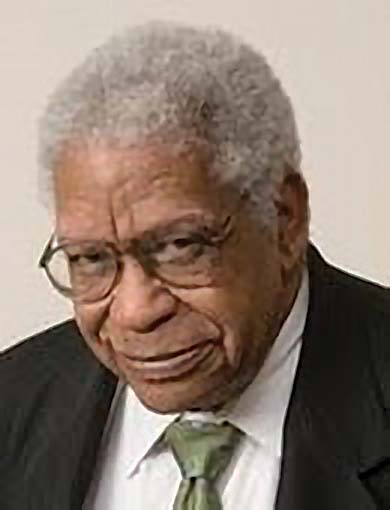 Rev. Samuel N. Slie '49, DMin, New Haven, Conn., Feb. 12, 2019. Pastor, friend, and beacon for interfaith cooperative ministry, Slie was drafted into the then-segregated U.S. Army after one semester at Springfield College. He was a Buffalo Soldier in the 92nd Infantry Division sent to liberate Tuscany, Italy. His war experience led him to see the complexity of prejudice. After completing his undergraduate degree, he earned a Bachelor of Divinity from Yale Divinity School, and was ordained. He returned to Italy to work on post-war reconstruction with the American Friends Service Committee, as a volunteer and then co-leader, leading work camps, rebuilding roads, sewers, schools, and bell towers throughout Italy.
He earned a Master in Sacred Theology from Yale Divinity School in 1963 and a Doctor in Ministry from New York Theological Seminary in 1985.
Through decades of ministry, Slie served as southern area secretary with the National Student Council of the YMCA; regional director of the New England Student Christian Movement; coordinating chaplain of the United Ministry in Higher Education in New Haven; and protestant chaplain at Southern Connecticut State University. He served as associate pastor of The Church of Christ at Yale University, and helped to start the Black Church at Yale. He was pastor emeritus of Shalom United Church of Christ, taught United Church of Christ polity at Yale Divinity School, was a fellow of Yale's Morse College, and was on the board of Yale's Dwight Hall, which elected Slie emeritus board member.
Slie served as coordinator of the Downtown Cooperative Ministries—later named Interfaith Cooperative Ministries at Slie's urging—an ecumenical association of Christian churches, which spawned New Haven social service agencies such as Columbus House and the Greater New Haven Community Loan Fund.
Domingo Los Baños Jr. '49, Pearl City, Hawaii. March 14, 2019. Los Baños, well-known Hawaii educator, World War II veteran, and advocate for fellow Filipinos who fought in the war, died at the age of 93.
He enlisted in the U.S. Army in his first year at the University of Hawaii, serving from 1944-46. He saw combat in the Philippines with the 1st Filipino Infantry Regiment. Following the war, he earned his Bachelor of Science and then a Master of Arts from Columbia University in 1952. He attended Stanford University from 1957-58. From 1959-61, he was a Fulbright scholar and lectured and taught in Bangkok, Thailand, where he taught the royal children at Chitralada Palace School Bangkok, and helped to establish a physical education program at Chulalongkorn University, and coached the Thailand National Basketball Team to a gold medal in the first Southeast Asian Peninsula games in 1959, taking the team to the 1960 Olympic Games in Rome, Italy. Los Baños retired from the Hawaii State Department of Education having served as teacher, coach, principal, district superintendent, and state specialist in physical education.
The story of Los Baños and the other Filipino men who volunteered for service following the bombing at Pearl Harbor is told in a documentary titled An Untold Triumph, America's Filipino Story. Los Baños also narrated the film Remember the Boys. He was on hand on Oahu this past January, when Hawaii's Filipino World War II veterans were presented the Congressional Gold Medal that had been presented by members of Congress during a ceremony in Washington, D.C., on Oct. 25, 2017.
Lawrence Mulvaney '49, Schenectady, N.Y., March 26, 2019. Mulvaney served in the U.S. Marines during World War II before attending college. He taught and coached at Agawam (Mass.) High School before moving to the Schenectady City School District where he taught and coached until his retirement.
Richard Groves '51, EdD, Cromwell, Conn., March 2, 2019. Groves earned a master's degree from the University of Missouri. He was a physical education and biology teacher in Maine before returning to Missouri, where he earned his Doctor of Education degree. His family permanently settled in Newington in 1971 where Groves served as department chair and professor of physical education at Central Connecticut State University. He retired as professor emeritus in 1992.
John R. Kearns '51, Quincy, Mass., March 19, 2019. Kearns served in the U.S. Army in World War II. After his 1947 discharge, he attended Springfield College on the G.I. Bill. He joined the civil service and taught physical education to children of military officers in South Korea and Japan; later was a physical educator in East Hartford, Conn., and Michigan before teaching at the Joseph P. Kennedy Jr. School in Boston. He coached Special Olympics athletes. Military committal services were held in June at Massachusetts National Cemetery in Bourne.
Thomas W. Tewksbury '52, Wheaton, Ill., Feb. 18, 2019. Tewksbury pursued graduate work at Penn State and a professional baseball career in the Milwaukee Braves organization. He worked for Sears for 20 years before becoming the senior vice president of corporate human resources for Allstate Insurance Company. A volunteer board member for several organizations was highlighted by his long-term chairmanship of the board for Central DuPage Hospital. He fostered a strong commitment to improving education and employment opportunities for minorities. For many years he played an active leadership role with SER Jobs for Progress, Inc. He was selected by the U.S. Senate Task Force for Hispanic Affairs to serve on its advisory committee, served on the board of the National Urban League, was named Distinguished Alumnus by Penn State, and served as an elder at First Presbyterian Church of Wheaton.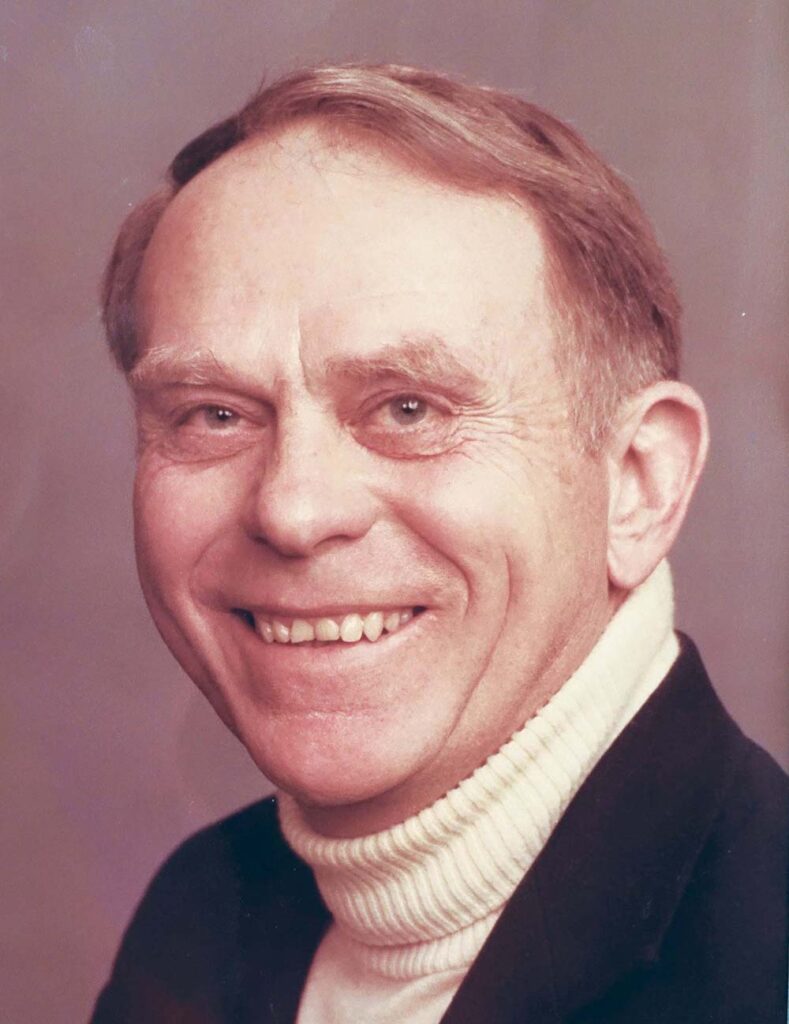 Lawrence Curtis "Curt" Guild '54, Sebastian, Fla., Dec. 5, 2018. An inductee in the Springfield College Athletic Hall of Fame, Guild earned a football scholarship to Dartmouth College, and then transferred to Springfield College in 1949 where he excelled in track and field. College was interrupted by service in the U.S. Army 109th Inf. Regt 28th Div. in Germany. He returned to Springfield and graduated with a degree in physical education. Guild ran the family business, Guild Carbide Products, and was a member of the Longmeadow School Committee. A tournament golfer, he qualified for the Massachusetts Amateur Golf Tournament and the Massachusetts State Open. In retirement, he volunteered with Kairos Prison Ministries International in Florida.
Francis P. Leary '54, Warren, Maine, Dec. 11, 2018. Leary left school in 1946, at the age of 17, to serve in the U.S. Army. In post-World War II, he served in Allied Occupied Japan and often spoke of the time he marched in formation in front of Emperor Hirohito and General Douglas MacArthur. He returned home to resume his education. He received a master's degree in history from the University of Maine. He was a teacher, athletic director, and vice principal at Georges Valley High School in Thomaston, and head golf professional and then pro emeritus at Megunticook Golf Club in Rockport. He served as president of the Maine Association of Football Officials, was a board member and inductee in the Midcoast Sports Hall of Fame, and an inductee in the PGA Maine Golf Hall of Fame.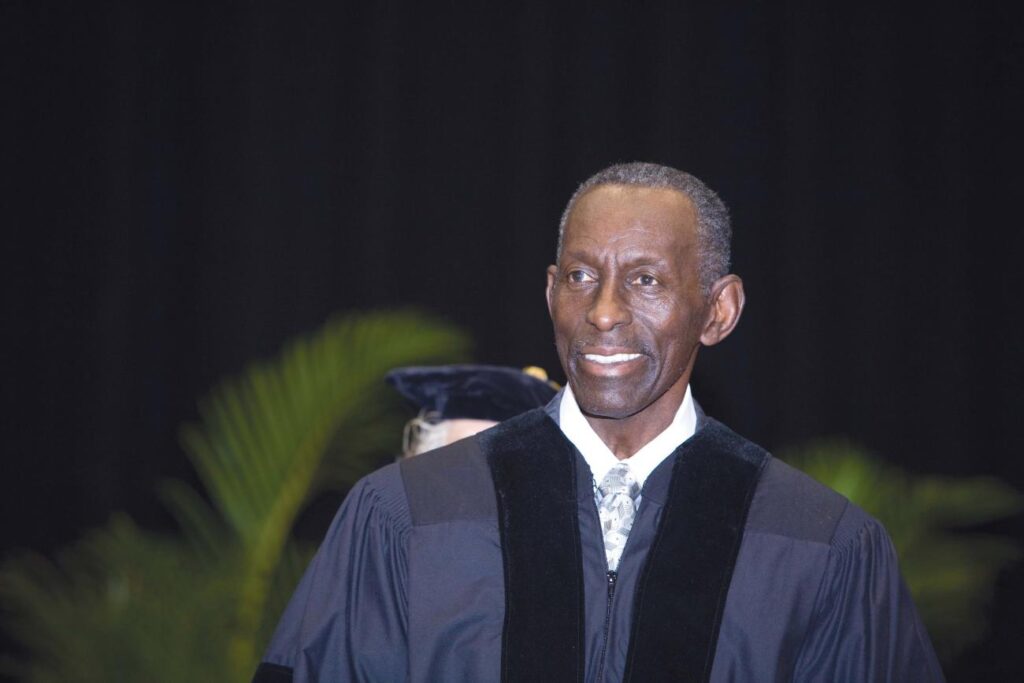 James Frank, G'56, DPE'62, H'09, Stone Mountain, Ga., Jan. 26, 2019. The Springfield College Honorary Degree Recipient, Distinguished Alumni Award recipient, Alumni Council member, and Trustee who earned his master's and doctoral degrees in physical education went on to become the first African-American and first college president to be named president of the NCAA.
In his 40-year career, James rose through the collegiate ranks from student-athlete to coach, educator, college president, and finally to his 15-year term as commissioner of the Southwestern Athletic Conference, which he shaped into a viable, respected entity composed of 10 historically black colleges.
Frank began his career as a physical education teacher and coach at Lincoln University in Jefferson City, Missouri, and subsequently at Woodlands High School in Hartsdale, N.Y. In 1964, Frank was appointed assistant professor at Hunter College/Lehman College. In 1970, the City University of New York named him dean of students at the newly established Medgar Evers College, and promoted him after one year to vice president. From 1973-1982, he served as the 14th president of his alma mater, Lincoln University, which he had attended on a basketball scholarship and where he ran the mile on the track team.
Frank was elected president of the NCAA in January 1981 after first serving as secretary-treasurer. He is credited with diversifying the NCAA and for bringing women's athletics under its umbrella.
From 1983 until his retirement in 1998, Frank served as Commissioner of the Southwestern Athletic Conference. He expanded the league from eight to 10 colleges, found more corporate sponsors, worked for increased African American membership on NCAA committees, put the conference on the national stage, and gained national respect for the conference and his abilities. The conference became the top draw in Division 1-AA football leading the nation in average home attendance. He returned to the position as interim commissioner in April 2001 and served for 20 months.
Frank received many honors, including doctoral degrees and membership in numerous halls of fame, including the National Black College Hall of Fame, and the Lincoln University Athletic, ROTC and Alumni halls. The National Association of Collegiate Directors of Athletics awarded him its highest honor, the James J. Corbett Memorial Award. The National Football Foundation and Hall of Fame awarded him the Distinguished American Award, and the NCAA awarded him the prestigious Gerald R. Ford Award.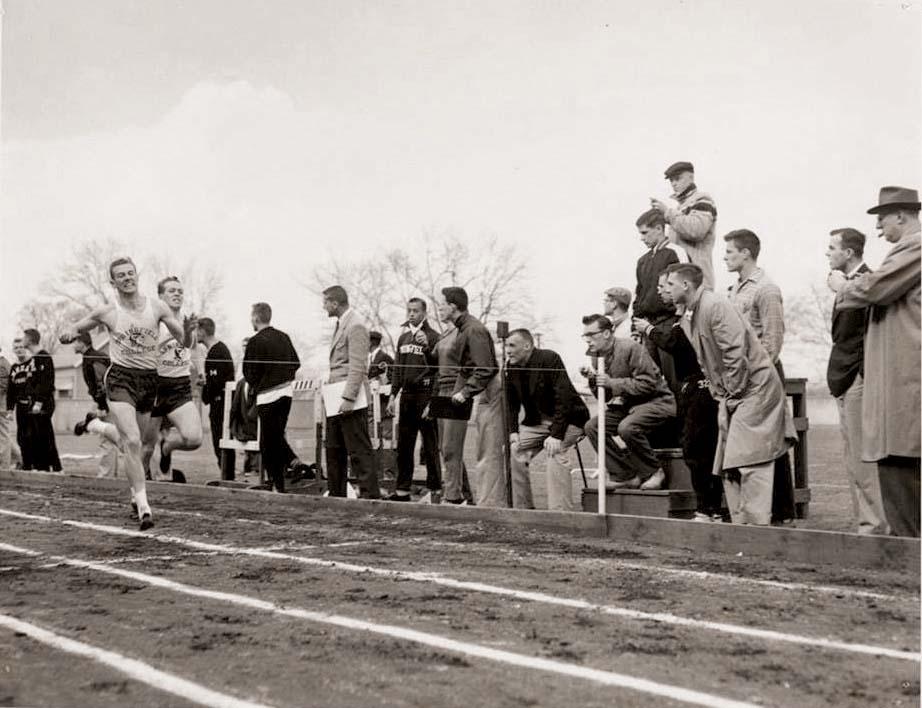 F. James "Jim" White '58, Charlotte Hall, Md., March 9, 2019. A standout track athlete, White majored in physical education before earning his master's degree from Columbia University. He taught in the Bloomfield, N.J., school system, primarily at Bloomfield High School. A 33-year head coach of boys' soccer, he won two state titles. He coached the Lady Bengals basketball team for 18 years, winning a state championship in 1989. He fulfilled his grandfather's wish and became a Master Mason in 2010 after joining the St. Columba Lodge in La Plata, Md.
Donald B. Helms '59, East Lyme, Conn., Jan. 1, 2019. "He is dead as a doornail." In life, Helms insisted that this be the first line of his obituary, a sign of his humor. He served in the U.S. Air Force at the School of Aerospace Medicine, Brooks Air Force Base, in San Antonio, Texas, where he was a researcher in vestibular studies, testing many of our nation's first astronauts, including six of the Original Seven. He received a grant from the National Institutes of Health to attend classes at Baylor University College of Medicine, and also studied at Trinity University of San Antonio and the University of Connecticut. While in San Antonio, he taught at the San Antonio Community College and Rhodes Junior High. He became program director of the Norwich (Conn.) YMCA and later taught in the psychology department at Mitchell College in New London, Conn.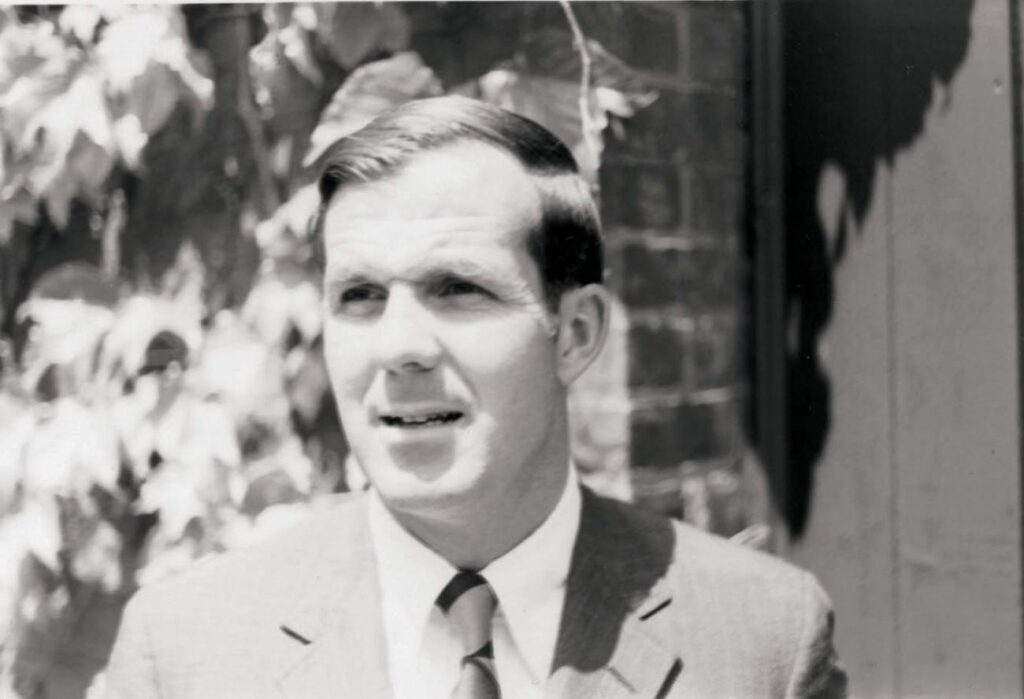 Scott H. Willson '59, G'84, Enfield, Conn., Feb. 12, 2019. Willson was senior vice president at Springfield College, where he had worked for 21 years, before becoming a development officer at Amherst College for 17 years. An avid sports participant, he excelled in soccer, baseball, tennis, and platform tennis. He was the father of J. Meredith Balise '82, Timothy S. Willson '84, Jacqueline W. Kenny '86, and Jennifer L. Willson '86.
Robert L. Fallon '60, Old Orchard Beach, Maine, Dec. 17, 2018. Fallon received a master's degree from the University of Southern Maine. In Maine, Fallon taught and coached at Oxford Hills High School, Morse High School, and Edward Little High School. He was an assistant coach at Brunswick High School and Bowdoin College. He coached the University of New England women's basketball team, and was an assistant girls' basketball coach at Windham High School and Scarborough High School. His recognitions include Girls' Basketball Coach of the Year, Maine Association of Basketball Coaches Bob Brown Coordinator Award; and inductions in the New England Basketball Hall of Fame and the Amateur Football Award Maine Chapter National Football Foundation and College Hall of Fame. He was the husband of Connie Fitzgerald Fallon '60.
Francis Joseph "Bud" Manning '60, Niagara Falls, N.Y., Aug. 17, 2018. Manning was youth director and director of Day Camp Elliott in Haverhill, Mass., youth director for the town of Tonawanda, N.Y., and held other YMCA positions in Grand Rapids, Mich., Atlanta, and Zanesville, Ohio. He earned his master's from the University of Buffalo. He devoted his life to helping children of all ages.
Frederic F. Warman '62, G'73, Monson, Mass., Nov. 20, 2018. Warman served in the U.S. Army Reserves. He taught history, government, and psychology at Monson (Mass.) High School for 30 years, coached cross-country and basketball, served as athletic director, and was active with the high school drama club. He was Monson town moderator for 39 years, and a community policeman, later joining the Monson Police Department. He was a friend of Bill W. for over 30 years. He leaves his wife, Lynn C. (Kattler) Warman '63.
Lennox Richardson Brodeur, G'64, Eastford, Conn., Nov. 24, 2018. Brodeur received a bachelor's degree in physical education from Boston University. Beginning her career on the faculty of Briarcliff College where she coached and taught physical education, her career would be one filled with teaching, community service, and numerous positions on town boards in the areas of education, finance, and recycling. She was elected Powell, Ohio, village clerk, and held that position until her family relocated to Connecticut. From 1996 until her death she was active in university and community endeavors including presidency of the UCONN League. A talented athlete, she advocated equality for women in all aspects of athletics long before passage of federal Title IX legislation. She was involved in Girl Scouting her entire life—as scout, camp director, and troop leader.
David F. "Dusty" Drew III '67, Stuart, Fla., Jan. 31, 2019. Drew and his wife owned and operated Camp Wekeela on Bear Pond in Hartford, Maine. He taught and coached baseball at the University of Southern Maine, and had a 206-143 record and won five National Association of Intercollegiate Athletics District 5 championships. He was named NAIA District Coach of the Year several times, served as chairman of the NAIA Baseball Committee, and was inducted into the Maine Baseball Hall of Fame and the USM Husky Hall of Fame. He served on many town committees in Standish and was a past president of the Kiwanis Club and Watchic Lake Association. He volunteered for the Red Cross and Meals on Wheels program in Stuart.
Michael G. Karafotias '72, Medfield, Mass., Feb. 12, 2019. Karafotias was renowned for his track and field abilities, setting a record of 6'10" for his amazing high jump. He was inducted into the Brockton High School Hall of Fame in 2012. Karafotias was a longtime employee of Tufts Health Plan.
Kirk M. Parker Sr. '74, Feeding Hills, Mass., Jan. 12, 2019. Coach Parker furthered his education at Yale University and Springfield College, where he excelled in academics and athletics. He was a physical education teacher for over 32 years at Robinson Park Elementary in Agawam, a football coach in Agawam, and a wrestling coach in Enfield and Agawam. He was the son of Coach Douglas Parker Jr. '51.
Robert Davies, G'79, Lake Forest, Calif., March 17, 2019. Davies died in a skydiving accident, near the Perris Valley Airport, Riverside County, according to officials. Davies, originally from Long Branch, N.J., studied health at Rutgers University, and psychology at Springfield College. He was the owner of High-Performance Training, Inc., in Lake Forest.
1940s
Frank N. Gillespie '49, Nitro, W.Va., 11/8/2018
1950s
Curtiss A. Natusch '50, Northford, Conn., 11/29/2018
Robert J. MacLennan '50, Annapolis, Md., 12/2/2018
Frank J. Murgo '50, Barrington, R.I., 1/5/2019
John J. Driscoll '50, Sarasota, Fla., 3/18/2019
Everett F. Heer '51, Surprise, Ariz., 11/16/2018
Laurent G. Fortier '51, Auburn, Maine, 3/3/2019
John S. Trecartin '51, Montville, N.J., 3/27/2019
Raymond E. Stevens '52, Glassboro, N.J., 12/19/2018
David B. Potts '52, Marlton, N.J., 1/23/2019
Philip J. Walsh '52, Mechanicsburg, Penn., 3/5/2019
John O. McGuigan '53, Harwich, Mass., 11/9/2018
Nicholas T. Cecere '53, Farmington, Conn., 1/11/2019
Richard P. Neher '54, Walla Walla, Wash., 11/28/2018
Edward W. Travis '55, Millbrook, N.Y., 12/14/2018
Virginia Linscott '55, Newbury Park, Calif., 2/4/2019
Jack Van Vliet '56, Mansfield, Mass., 2/28/2019
Alexander J. MacAdam '57, Antigonish, N.S., Canada, 12/20/2018
Thomas J. Giambra '59, Seymour, Conn., 12/16/2018
Phillip J. Cardone'59, Ludlow, Mass., 12/24/2018
George E. Crowe '59, Enfield, N.H., 1/6/2019
David G. Vader '59, Derwood, Md., 2/13/19
1960s
Stanley W. Haluszka '60, Southwick, Mass., 11/15/2018
Daniel F. Sullivan '60, West Suffield, Conn., 12/4/2018
Philip N. Wherity '61, Brewster, Mass., 11/9/2018
Barbara Tyrrell '61, Holly, Mich., 1/20/2019
D. I. Conrad '62, Enfield, Conn., 2/11/2019
Frank Mugglestone '63, 1/4/2019
Glenn E. Peabody '63, Derry, N.H., 2/12/2019
Charlotte L. Rome '64, Easthampton, Mass., 12/1/2018
Carlton A. Perry '64, Rutland, Mass., 2/3/2019
David N. Smith '65, East Longmeadow, Mass., 3/6/2019
Joel Mannheim '67, Manchester, Vt., 11/5/2018
Bessie H. McKinney '68, Chandler, Ariz., 12/17/2018
Richard P. Bednarz '68, Wethersfield, Conn., 2/10/2019
Robert T. Pandolfe '68, Glastonbury, Conn., 3/23/2019
Robert J. Siconolfi '69, Port Saint Lucie, Fla., 11/12/2018
Robert M. Hautala '69, Monmouth, Ore., 12/14/2018
Josette P. Marquess '69, Tallahassee, Fla., 1/28/2019
1970s
Thomas O. Foye '70, Augusta, Maine, 11/11/2018
Thomas P. Mehan '70, Windsor Locks, Conn., 11/15/2018
Stephen W. Emmons '71, Sierra Vista, Ariz., 12/1/2018
Rennald V. Graber '71, Williston Park, N.Y., 1/15/2019
Bruce A. Carlson '73, Paramus, N.J., 11/28/2018
Michael Karafotias '73, Brockton, Mass., 2/12/2019
Joseph W. Daniele '76, Bomoseen, Vt., 12/28/2018
Jean M. Fielding '76, Greenfield, Mass., 1/11/2019
James A. Nilan '78, Lewes, Del., 2/2/2019
Thomas J. Scott '79, Wailuku, Hawaii, 11/15/2018
Robert B. Davies '79, Lake Forest, Calif., 3/17/2019
1980s
Anita P. Bouchard '82, Wilmington, Del., 11/25/2018
Gregory J. Karl, '82, Canal Winchester, Ohio, 2/4/2019
Derek R. Findlay '89, Midlothian, Va., 3/23/2019
1990s
Elizabeth Reed '94, Holyoke, Mass., 11/13/2018
Howard T. Costa '94, Gloucester, Mass., 2/6/2019
Jeanne M. Seekamp '96, Newton Junction, N.H., 2/1/2019
2000s
Stig Olsson, G'00, Bohus-Malmön, Sweden, 1/26/19
Monica F. Dinardo '09, Fairfield, Conn., 1/26/2019
2010s
Richard G. Boucher '12, Walkersville, Md., 2/15/2019
Joseph P. Deane '18, Madison, Conn., 12/9/20182