Department
President's Perspective
Dear Friend,
On any given weekend, Dave and I have the opportunity to attend student dance performances, athletic contests, midnight bingo or late night breakfast, open house for prospective students and families, and more. I enjoy sharing these events through social media, as they capture the very special place that is Springfield College. These photos and videos tell a story that is likely very familiar to you. I have the honor of witnessing lifelong friendships at their beginnings, the creation of memories, and the development of future leaders who will care for our communities well into the future. It is my honor to share time with inspiring people who, through their engagement with others, are living their lives in the Humanics philosophy.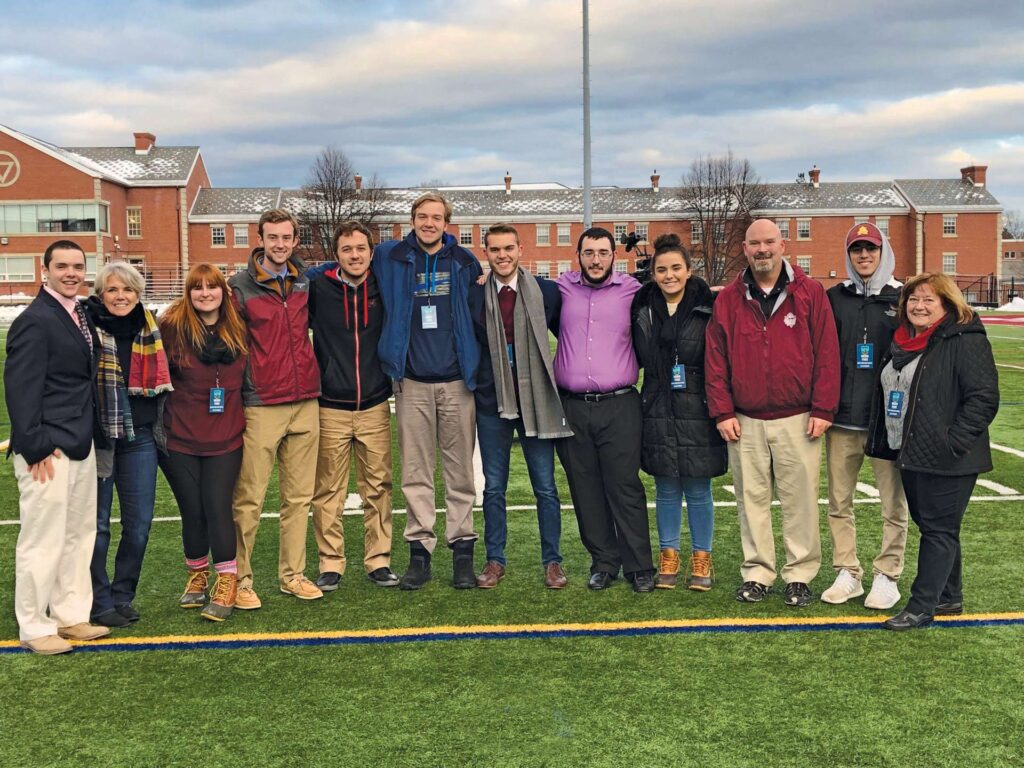 Paul '65, G'72, PhD, and Nancy '68 Couzelis personify this. (See page 12.) Their engagement with Springfield College crossed years, professions, and geography, yet they found one another and have been on a terrific adventure since. I think of the ways that others in our community are engaged in the life of the College, to the benefit of us all, most especially our students.
Engaging with something we care about requires us to devote our most precious resource: time. I am reminded of the maxim that "if you want something done, you should ask a busy person to do it." That could be edited to say, "if you want something done, ask a Springfield College person to do it." Let's take our campus community, as an example.
Our students are excelling in the classroom, on athletic fields and courts, in research labs, and in our communities. Their level of involvement in cocurricular activities rivals students from institutions far larger than ours. And, they genuinely enjoy the busy calendars they manage, embracing the responsibility to ensure that they are balancing spirit, mind, and body.
Members of the staff volunteer on our Staff Council, an employee forum for the expression and meeting of staff needs. They attend College events, engaging with our students as they, in turn, engage in their passions for sport or artistic performance.
In addition to arduous teaching, research, and service roles, our faculty members take on additional responsibilities in support of shared governance, including reviews of general education and our academic programming. Nearly 250 faculty, staff, and students have participated in our strategic planning efforts, setting the pathway for the future of the College.
Our alumni take the Humanics philosophy out into their communities and participate in service projects with local impact. They share names of prospective students who might follow in their footsteps to thrive here. And, critically, they proudly share their Springfield College stories, spreading the good work of Springfield College in the most authentic way possible. Donors and friends of the College have taken the time to share a meal with me just to have a conversation about Springfield College and its future.
Engagement is alive and well at Springfield College. And, more often than not, engaging with Springfield College is enjoyable, motivating, and inspiring. When we ask incoming students why they chose Springfield College, they tell us it was the feeling they had when they stepped on the campus. The place quickly felt like home. I chose to come for the same reason, the people and the care they demonstrate for one another. It's the Humanics philosophy. Springfield College—through its deeply engaged students, alumni, faculty, and staff—makes the world a better place.
In the coming months, you will hear more about our Advancing Humanics campaign, one in which an engaged community will make all the difference. Let's create a ripple of Humanics across the globe.

Mary-Beth A. Cooper, PhD, DM