Survivor-activist Leon Ford Turns Tragedy to Impact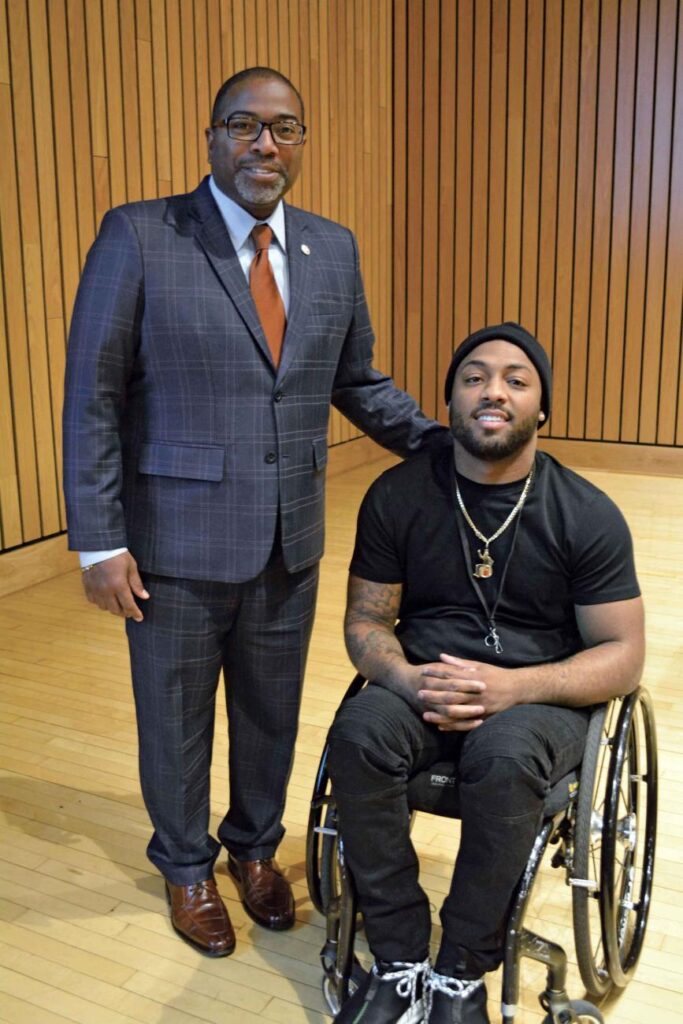 Leon Ford, community leader, social activist, survivor of police brutality, and author of Untold, shared his personal story with the campus community in November. His story is one of police brutality, racial profiling, discriminatory practices, and victimization, and how he has used his experience as a tool to positively impact society. Through his dialogue, he aims to interrupt oppressive systems; cultivate authentic relationships; and promote community healing, empowerment, and social change.
In 2012, Ford, then 19, was shot five times by a Pittsburgh police officer during a routine traffic stop. It left him paralyzed. Since that time, Ford has told his story across the country, including through a TEDx Talk, "Turning Pain into Purpose."
The Office of Multicultural Affairs; the School of Arts, Sciences, and Professional Studies; the Racial and Ethnic Issues Working Group; and the departments of humanities, psychology, and criminal justice sponsored the event.
Martin Named Executive Director, Capital Campaign and Campus Strategy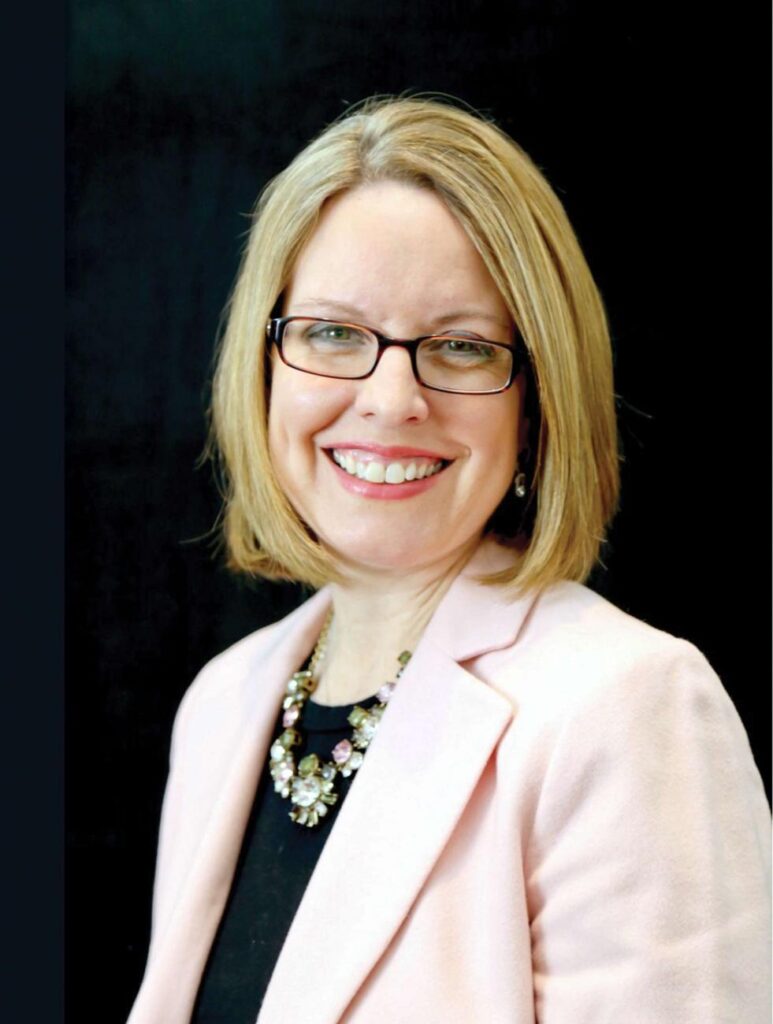 President Mary-Beth A. Cooper has appointed Kathleen Martin, DPE, of West Springfield, Mass., to the position of executive director of the capital campaign and campus strategy. The appointment marked Martin's return to Springfield College, from which she received both a Doctor in Physical Education with a specialization in sport psychology in 1999, and a Master of Science in physical education with a concentration in athletics administration in 1997. She earned her Bachelor of Science in physical education from Keene State College.
Martin coordinates the overall strategic direction of the College comprehensive campaign, strategic plan, and campus master plan, and serves as the primary lead, strategist, and coordinator of strategic initiatives.
Martin previously was vice provost and chief educational compliance officer and Title IX coordinator at Bay Path University, where she also held the positions of director of institutional research and special projects, and assistant provost for academic affairs. Prior, Martin was a principal at Greenwood/Asher & Associates, an executive search firm specializing in higher education. She also served Susquehanna and Bucknell universities as executive assistant to the president at both institutions.
High School Students Learn Importance of Higher Ed from Basketball Great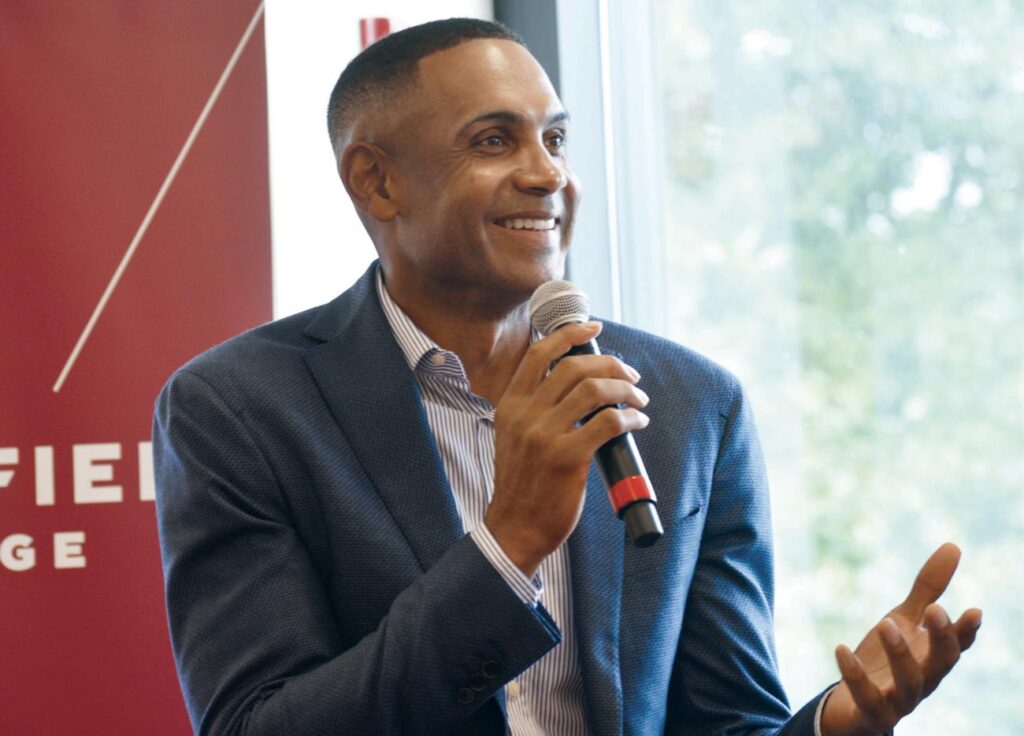 Springfield College, the Naismith Memorial Basketball Hall of Fame, and the Beta Sigma Boulé chapter of the Sigma Pi Phi fraternity hosted the third annual Education and Leadership Luncheon at Springfield College during Enshrinement Weekend in September. The featured speaker was Naismith Memorial Basketball Hall of Fame Class of 2018 inductee Grant Hill.
Part of the 2018 Naismith Memorial Basketball Hall of Fame enshrinement weekend festivities, the Education and Leadership Luncheon provided more than 75 Springfield area high school students the opportunity to listen to Hill speak, ask questions, and engage with representatives of Springfield College, Beta Sigma Boulé, and the Basketball Hall of Fame.
"What I tell young people all of the time, is that education is so very important," said Hill, who met with Springfield College President Mary-Beth A. Cooper prior to the luncheon. "I was so very proud to have attended Duke University, not just for basketball, but I was also a very proud student in the classroom as well, and I truly appreciated the quality of the education I was receiving while attending college."
Harlem Globetrotters guard Firefly Fisher, and Harlem Globetrotters Director of Player Personnel and former coach and player Louis "Sweet Lou" Dunbar, also were on the campus for the event.
A Harlem Globetrotters Leadership Panel Discussion—a conversation covering the personal, professional, and industry trends within sports business—followed the luncheon. Panelists included Fisher, Dunbar, Chief Operating Officer Jeff Munn, and Senior Vice President for Communications Brett Meister. Two Springfield College communications/sports journalism students moderated the panel.
"This luncheon is such a valuable resource for our students," said Communications/Sports Journalism Professor Marty Dobrow. "Our students take part in hands-on experiences and make some important contacts in the media field."
Keynote speakers at previous Education and Leadership Luncheons have included Basketball Hall of Fame inductees Shaquille O'Neal (2016), Rebecca Lobo (2017), and Mannie Jackson (2017).
Dean Hallowell Helps Found Global Rehabilitation Alliance
Dean of the School of Health Sciences and Rehabilitation Studies Brooke Hallowell, PhD, CCC-SLP, ASHA Fellow, was one of 14 signatories for international associations that founded the initiative of the Global Rehabilitation Alliance (GRA), which gathered for the first time in May at the World Health Assembly hosted by the World Health Organization (WHO) in Geneva. Hallowell will serve as a founding representative for the next three years as the GRA strives to meet its mission of advocating for the availability of quality, coordinated, and affordable rehabilitation through system strengthening according to population needs.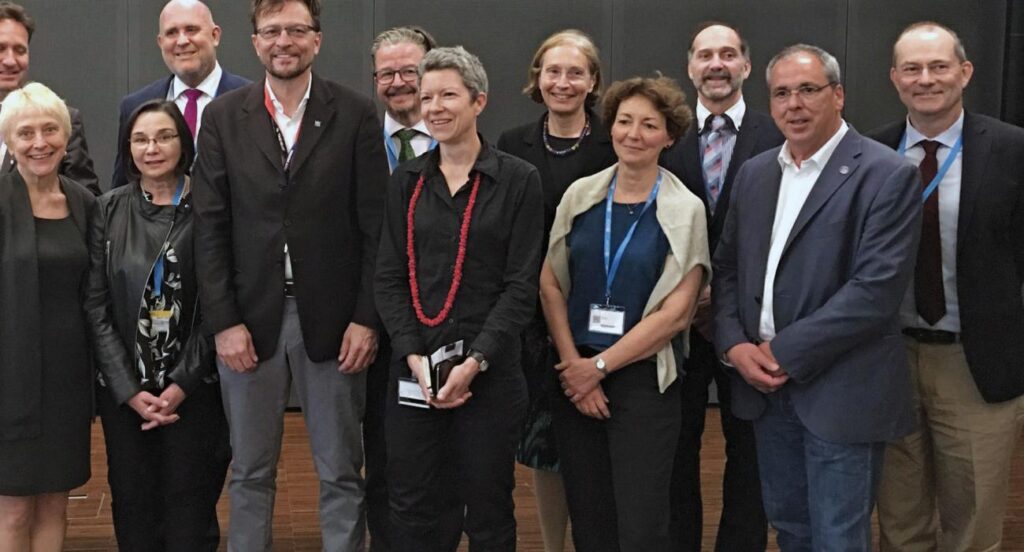 The GRA will be a platform for united advocacy and the raising of awareness to strengthen rehabilitation in health and social systems around the world. Many organizations serve this goal through working to improve accessibility to services, quality of care, the building of rehabilitation workforce capacity, and strengthening of data collection. The GRA aims to further these efforts through raising the profile of rehabilitation and strengthening networks and partnerships.
Hallowell has a global reputation in collaborative development of rehabilitation services and frameworks, especially in under-resourced regions. Most recently, she held adjunct faculty appointments and visiting professorships at universities in Korea, Malaysia, and Honduras. Hallowell is involved in current research, educational, and clinical program collaboration in Malaysia, Cambodia, China, India, Japan, Vietnam, Russia, and Honduras.
As dean, Hallowell collaborates with leadership of other divisions and units of Springfield College to participate in strategic planning and implementation activities that further the overall mission of the institution. She oversees physical and occupational therapy, physician assistant, health science, emergency medical services management, communication disorders, and rehabilitation counseling and disability studies academic programs.
Training Provided on Pharmacologic Assisted Opioid Recovery
Springfield College and the American Physical Therapy Association of Massachusetts partnered to offer a free continuing education program and training on Physical Therapy and Pharmacologic Assisted Opioid Recovery in July on the campus. This training was the first time that physical therapists as a group have been targeted for training on how to manage unintentional opioid overdoses.
The training was in response to an initiative by Massachusetts physical therapy educators who prepare physical therapists that will work with patients whose primary problem is pain, a problem for which opioids are not the only solution. End Mass Overdose conducted the training for physical therapists, physical therapy assistants, and physical therapy assistant and Doctor of Physical Therapy students.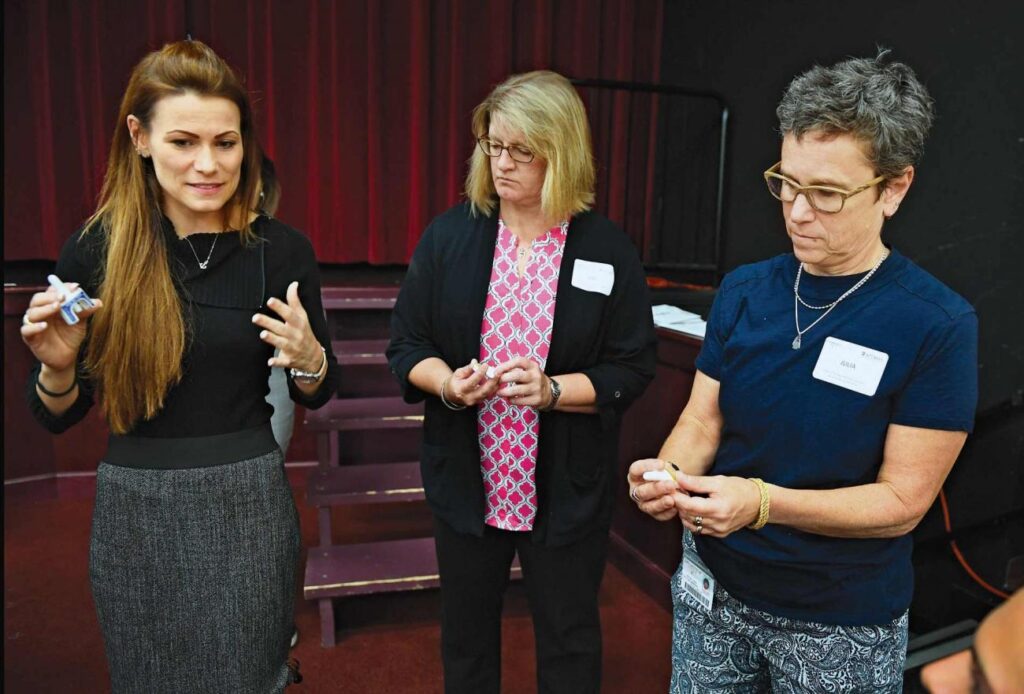 "Substance abuse and addiction training is critical for professionals to provide adequate patient care and prevent unintentional opioid overdoses" said Julia Chevan, professor and chair of the Department of Physical Therapy at Springfield College. "We are delighted to partner with APTA of Massachusetts to sponsor this first training for physical therapists. The principles behind the training are consistent with our approach to teaching all the future health professional students at the College."
The training program included elements of information that are critical to physical therapy and that coincide with the three stages of addiction and overdose: prevention, intervention, and treatment and recovery.
In addition, participants learned about the "Core Principles for the Education of Physical Therapy Professionals in the Context of the U.S. Opioid Emergency," the document that was endorsed and adopted in 2018 by all eight Massachusetts colleges and universities that offer Doctor of Physical Therapy programs.
Social Work Dean Garners Re-appointment to National Commission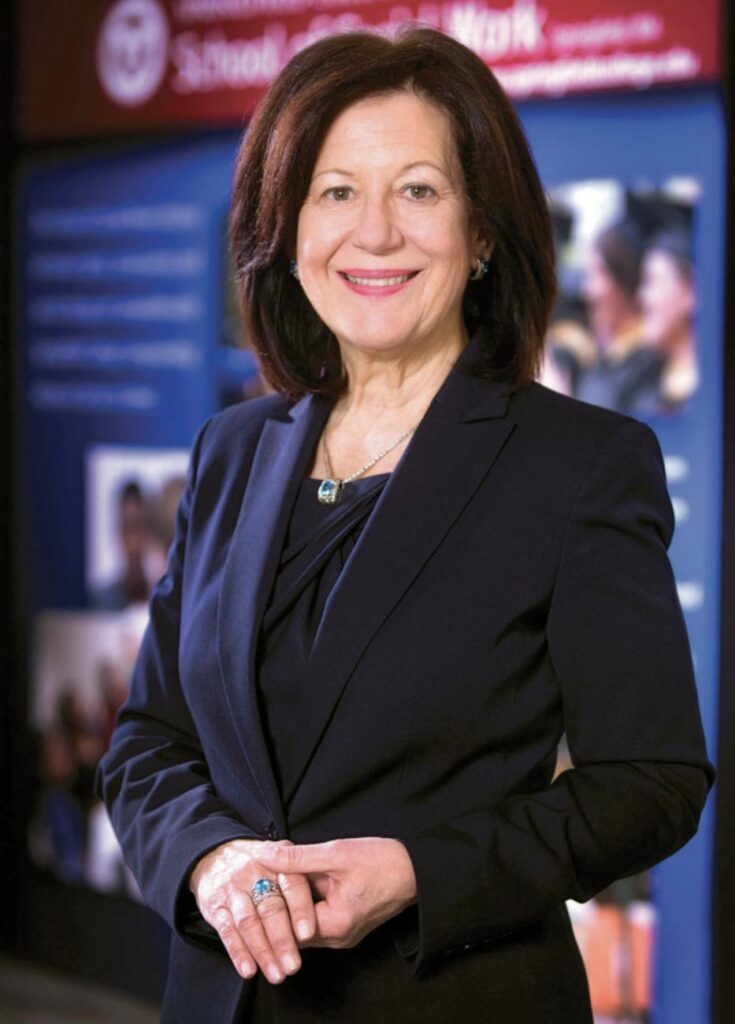 Dean of the School of Social Work Francine Vecchiolla '72, PhD, has been reappointed to a three-year term on the Commission on Educational Policy (COEP) of the Council on Social Work Education (CSWE), by Barbara Shank, chair of the CSWE board of directors. CSWE is the national accrediting body for social work higher education. Vecchiolla originally was appointed to the COEP in 2015 and, through her knowledge, experience, and talent, has helped the commission grow and attain its goals during the last three years.
A social work educator for 28 years, Vecchiolla has served on numerous national, state, and local boards. She was appointed to the CSWE Commission on Educational Innovation and worked on the 2008 Educational Policy and Accreditation Standards. Additionally, she chaired the Council on Leadership Development and launched the CSWE Leadership Institute, and has served as a CSWE accreditation site visitor.
Vecchiolla has been dean of the school of social work for 21 years. She led the school through the initial accreditation by CSWE and three subsequent reaccreditations. Through her leadership, the school has built a diverse faculty and a comprehensive curriculum, introduced robust programs, established strong community partnerships, developed an active advisory board, and increased enrollment.
As part of the reaccreditation processes for the school, CSWE has acknowledged the school's alignment with the mission of Springfield College; its commitment to educating competent professionals who provide services to diverse populations; the strong relationships between the faculty and field education office and agencies, schools, and community groups; the school's clear message in its support of diversity; and it's strong outcomes assessment program. CSWE also praised the school's active community advisory board.
"It is an honor, a privilege, and a responsibility to serve on the Commission on Educational Policy, which is entrusted with establishing standards that ensure programs are graduating competent, prepared, and knowledgeable practitioners who will work with society's most marginalized and vulnerable populations," said Vecchiolla.
The COEP identifies pedagogical concerns in social work education and works with other CSWE bodies to address them. The commission reviews current CSWE programs related to educational policy and planning, and suggests activities to strengthen and expand the CSWE leadership role in matters of education. Finally, the commission periodically writes a statement of social work curriculum policy that is used by the Commission on Accreditation to formulate CSWE accreditation standards.
Professor Promotes Healthy, Respectful Men as Humanics Project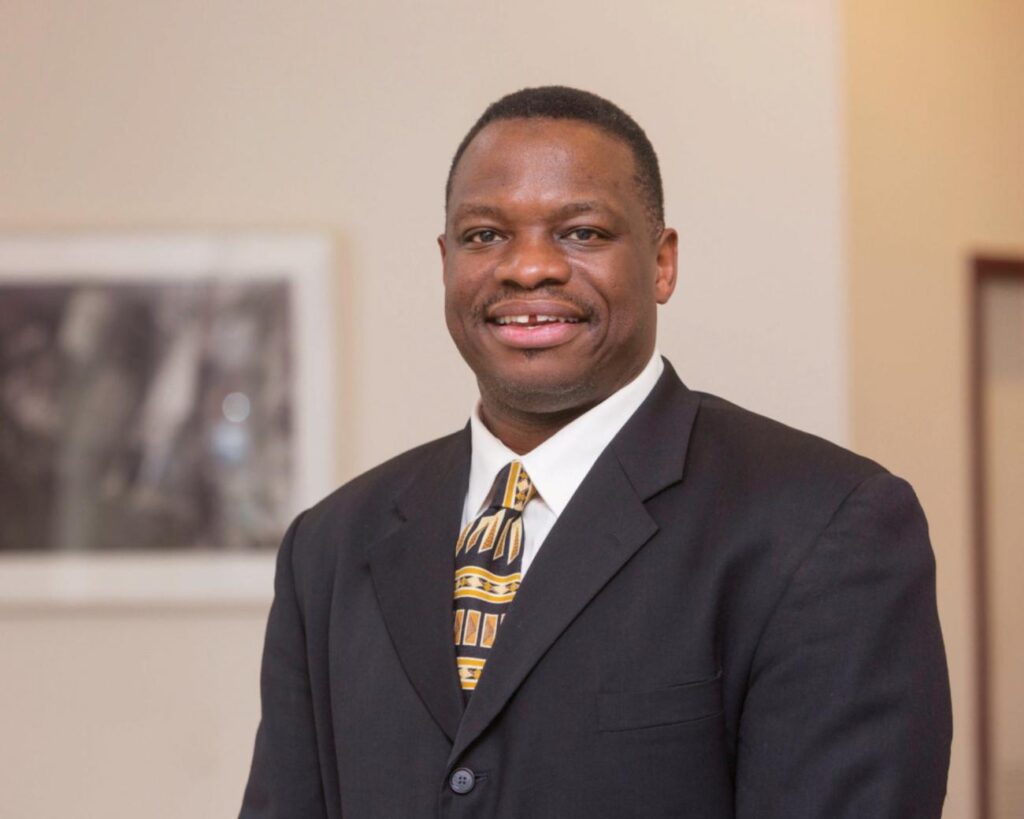 Distinguished Springfield Professor of Humanics 2018-19 and Professor of Social Work Anthony Hill '92, CAS'03, EdD, in October, held an event on the ropes course at East Campus in partnership with the 100 Males to College Program for area high school youth. Hill is working with two populations on the topic of healthy masculinity.
The first group is high school young men with whom Hill is addressing issues of violence, drug use, violence against women, sexual assault, sexual harassment, homophobia, and bullying, to educate them to be healthy and respectful. Additionally, Hill is working to increase their knowledge about college and the workplace.
His second area of focus is the males of Springfield College through the Men of Excellence student group. This past fall, Hill presented a workshop to the group about the importance of self-care for themselves as college students, and they, too, expressed interest in the issues surrounding healthy masculinity.
Hill's goals are to work with both high school and college students to build young men of character and ensure academic success. Hill will present the annual Humanics Lecture on the campus in April.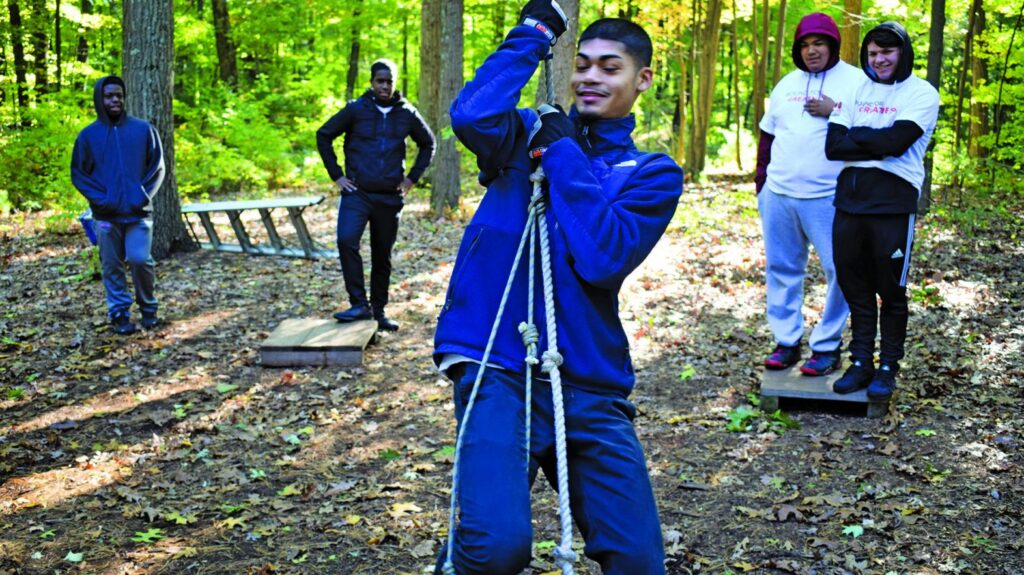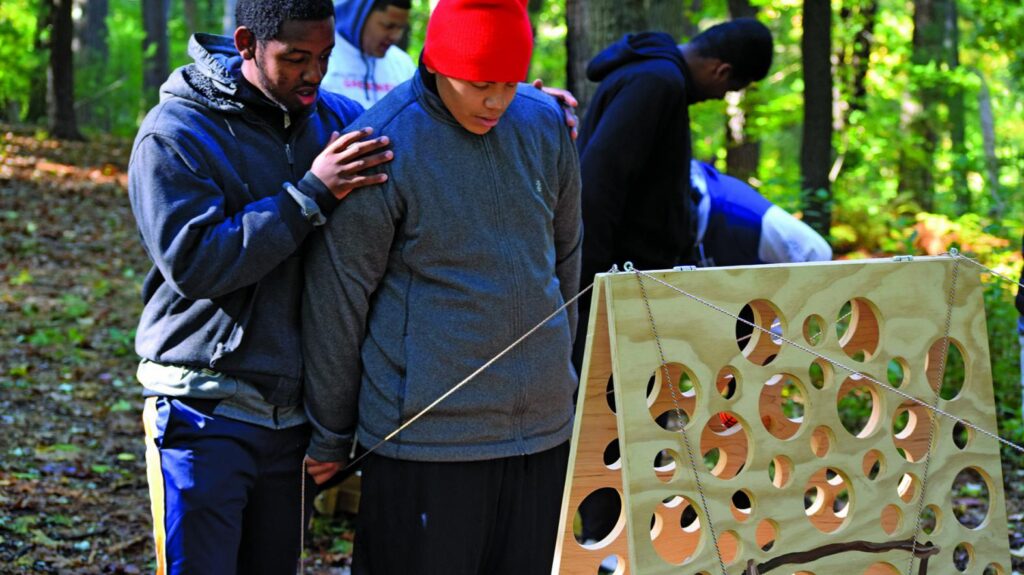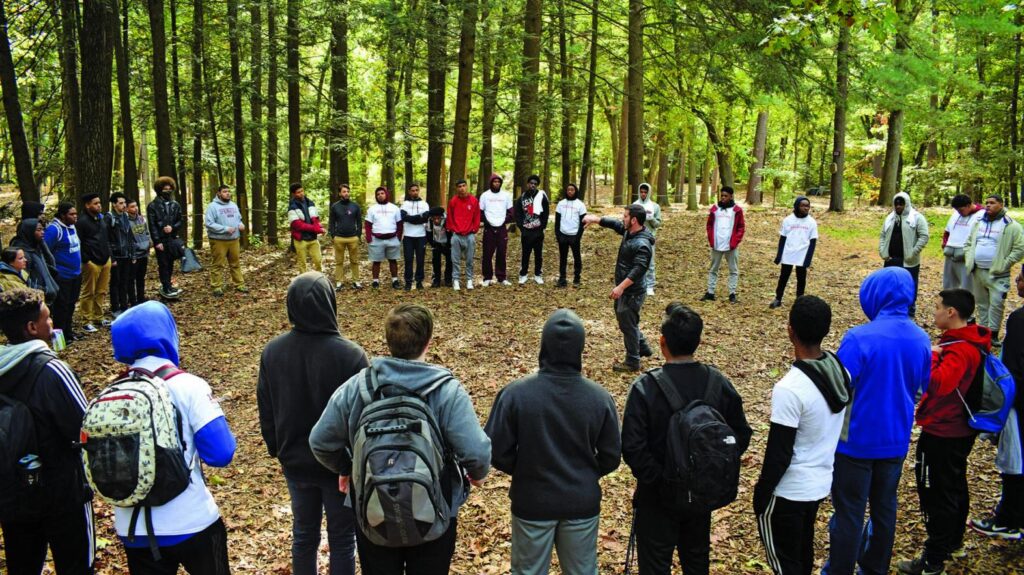 Patrick Love Named Vice President for Student Affairs, Student Personnel Administration Program Director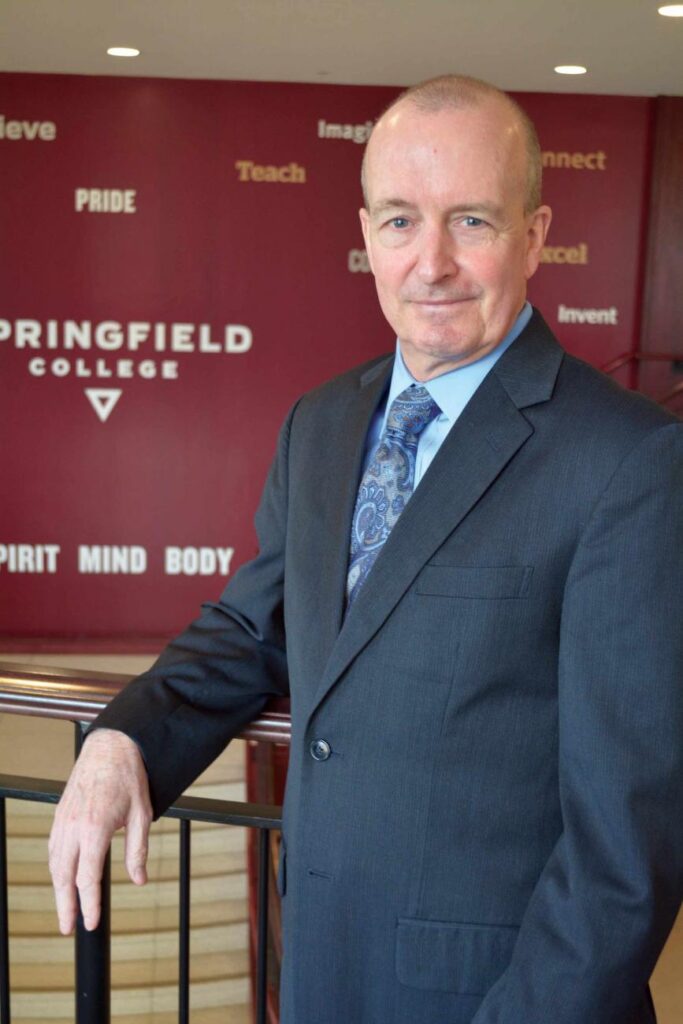 Patrick Love, PhD, has begun a two-year interim appointment as vice president for student affairs and program director of the student personnel administration (SPA) program.
Love serves as a member of President Mary-Beth A. Cooper's leadership team in his role as vice president for student affairs, and will work closely with the leadership of the division of academic affairs in his role as the SPA program director.
An experienced author and consultant on leadership and management development, Love was an accomplished tenured professor at two research universities. He is active in the American College Personnel Association and the National Association of Student Personnel Administrators.
He recently was executive in residence at Bowling Green State University, serving as senior lecturer. Prior, he has served as vice president for student affairs at New York Institute of Technology, associate vice president for student affairs at Rutgers University, associate provost for student success at Pace University, co-director of the higher education program at New York University, and director of the master's higher education program at Kent State University.