Sue Guyer, DPE'03, professor of exercise science and sport studies and department chair, had a "busy, but fun year" as Distinguished Springfield Professor of Humanics (DSPH) for 2017-18. Her goal was to create a program to promote a multifaceted approach to wellness in the community and on campus within the framework of the spirit, mind, and body philosophy.
To facilitate that process, she held several one-on-one focus groups at the Martin Luther King Center in Springfield to understand more about the community's needs for health and wellness. On the campus, she conducted a physical activity vital signs survey among faculty, staff, and administrators in which she asked the same questions that were asked in the focus group about health and wellness.
What she determined, from both off- and on-campus groups, was that the number one barrier to maintaining health and wellness is finding the time. "It is hard to make health and wellness a priority when there are so many other competing demands in life. This was true especially for the off-campus people, who told me they had higher priorities, such as putting food on the table, getting kids off to school, and making sure everything at home was in order. When I told them that they would be asked to do three hours of programming a week, many told me that it would be difficult to commit to that amount of time. People really want to stay healthy, but life gets in the way. I learned I needed to adapt my project to those barriers," Guyer tells Triangle.
Exercise is Medicine® On Campus — A Perfect Fit
The findings from the focus group and survey were the impetus for Guyer's decision to make the Springfield College campus the focal point of the program. The activities and programs would be designed to offer access for time-challenged people from on and off campus.
Guyer found a perfect partner for her wellness effort in Exercise is Medicine® On Campus, an American College of Sports Medicine initiative designed to engage colleges, their students, faculty, and staff in ongoing efforts to improve fitness, health, and wellness across campus and into the local communities. "SC had never worked with Exercise is Medicine (EIM), but when I looked at their program and saw the approach, I understood how it really went hand in hand with my DSPH idea. The focus is bringing exercise to campus and to communities almost as a therapeutic process—as a prescription for health. When I look at EIM, I see a multifaceted approach, encompassing exercise, nutrition, behavior modification, time management, stress management—all of the prongs of wellness, just as I had envisioned at the beginning of the project. Most importantly, each component of the EIM program has a spirit, mind, and body piece," explains Guyer.
A Year of Wellness Programs and Events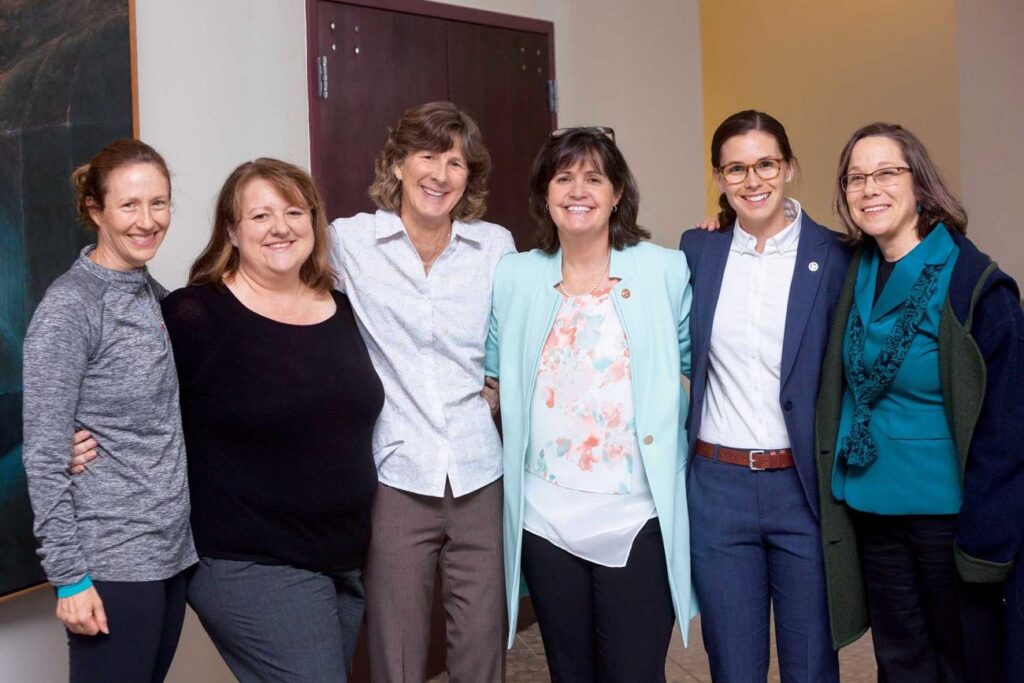 Guyer put together an EIM leadership team and everything kicked off in the fall with a presidential proclamation that October was "Exercise is Medicine on Campus Month." Eleven events, symposia, and programs took place throughout the year. An Exercise is Medicine symposium covered how to start an exercise program and how to prevent injuries when beginning to exercise. A second symposium on heart health examined heart disease risk factors and how to improve heart health with nutrition and exercise.
There was a partnership with the Challenge Diabetes Program overseen by the YMCA of Greater Springfield Diabetes Group, which included three sessions and involved collection of data on the progress of participants. The 150 Challenge event asked the community to engage in 150 minutes of exercise for a week; many people participated, but a total of 46 people documented their participation and Guyer personally contributed $10 for each participant to the Friends of Humanics Scholarship for a gift of $460. (A matching gift of $460 was made by Mary Ann Coughlin, G'84, DPE'87, associate vice president for academic affairs, for a total of $920 donated to the scholarship.) Other events included a Treat Fest, at which 150 jump ropes were distributed to children, and Wellness Wednesdays that took place in the fall and spring. Two students on the EIM leadership team even started a walking club.
Student Involvement as Personal Trainers
Another compelling part of Guyer's wellness line up was a program that included 16 administrators, faculty, and staff. This group was chosen from health data indicating they were at moderate risk from conditions such as osteoarthritis, high blood pressure, or respiratory issues. Once again, the spirit, mind, body philosophy came into play with the prescribed regimen. Twice weekly, each participant worked with a student personal trainer who combined exercise with nutrition, behavior modification, and meditation/relaxation to improve the participants' overall health and wellness. "The student trainers were essential to this program. It was a fabulous experience for them, they took a class, learned about EIM, and how to incorporate a multifaceted wellness routine to help their participant. Graduate students in exercise physiology were also important contributors, collecting the data at the beginning and completion of the sessions, which I presented at my Humanics lecture in April. The students have been key and they learned by putting the course content into practice," says Guyer.
All in all, Guyer believes it was an exciting and productive year and she wants to continue her work with wellness now that her year as distinguished professor has concluded. "I would love to find ways we can overcome the time barriers and get more people, particularly from the neighboring community, to take part in activities. At the symposiums and the walking event in October I saw how enthusiastic people from the local community were—their energy and involvement was outstanding—one woman really stood out, taking pictures of every slide in the program, wanting so much to learn. She lost weight, went off high blood pressure medication, got a lot healthier, and had a lot of success. Hopefully, she will serve as an ambassador in the neighborhood to spread the word about how great the program was," Guyer explains.
Looking forward, Guyer sees opportunity. "I'm hoping we can put our strengths together to adapt programming for the community that really works for their needs. It will require a commitment from the College, but if we have everyone on board, I can only imagine the success we could have. It would be very exciting to see that happen."
2018-19 Distinguished Springfield Professor of Humanics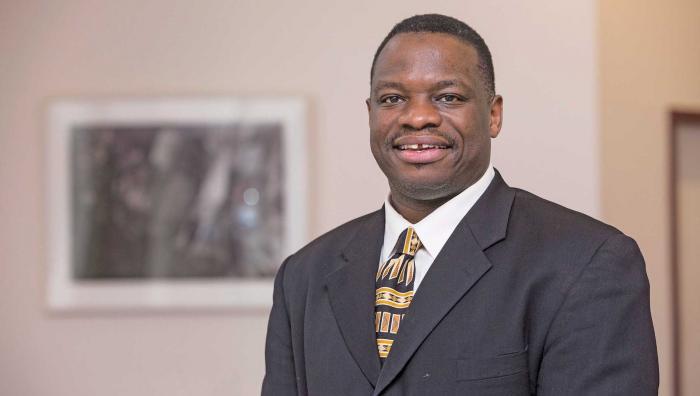 The annual Distinguished Springfield Professor of Humanics Lecture ended as it does each year, with the naming of next year's distinguished professor. Professor Anthony Hill '92, CAS'03, EdD, of the School of Social Work will serve as the 2018-19 distinguished professor. Keep your eye on a future Triangle for his story.