1940s
Norman N. Piligian '42, Miami, Fla., May 27, 2017. During World War II, Piligian was a U.S. Navy lieutenant. He received a law degree from the University of Maine School of Law, and a Master of Education degree from Florida Atlantic University. He was an educator with the Miami-Dade County Public School System.
Quentin R. Unger '47, Port Orange, Fla., March 15, 2017. Unger was a World War II veteran who served with the U.S. Army's 3rd Chemical Mortar Battalion. He was an administrator at West Essex (N.J.) High School.
Ida Moggio '47, Springfield, Mass., Feb. 12, 2017. She taught foreign languages in Chicopee but spent almost four decades teaching in Agawam. Seeing the world was Ida's passion.
John Piscopo '47, PhD, Tonawanda, N.Y., March 17, 2017. He served in the U.S. Air Force Special Services during World War II. He was a Maine diving champion and an Olympic contender. He taught health and physical education teacher preparation at Northwestern State University in Natchitoches, La. He later joined the faculty at SUNY Buffalo. He authored two college textbooks, numerous journal articles, and book chapters.
Gilbert K. Krulee, G'48, PhD, Evanston, Il., Jan. 18, 2017. He served in the U.S. Navy during World War II. He earned a bachelor's and a PhD in industrial relations from MIT. He taught at the University of Michigan, Tufts College, and Case Institute of Technology. A pioneer in computer science and artificial intelligence, he then taught industrial engineering, computer science, and linguistics at Northwestern University.
Fernand S. Tetreau '48, Fairfield, Conn., March 29, 2017. He left Springfield College following Pearl Harbor to join the U.S. Navy Air Corps. He returned to graduate and began a coaching career that included positions in Canada, Maine, and Connecticut. He helped found the Fairfield County Interscholastic Conference, was president of the Connecticut High School Coaches Association, and is an inductee in the Connecticut State Coaches and the FCIAC halls of fame. He later became a real estate agent.
Richard J. Smith '49, G'53, PhD, Eugene, Ore., Jan. 22, 2017. He joined the U.S. Army in 1942, began college, and was called to active duty April 1943. He received many citations, including the Bronze Star Medal (Dessau, Germany, April 23, 1945). A career in teaching took him to University of Idaho, San Francisco State, then to Eugene where he taught physical education at North Eugene High School and later the University of Oregon, where he received a PhD in physical education.
1950s
Robert W. Lyons '50, Green Valley, Ariz., May 22, 2017. He was a World War II veteran, enlisting in the Army Air Force as an aviation cadet, but the war ended before he flew. He became a physical training instructor, later earning his pilot's license. He had a 31-year teaching career and, upon retirement, toured all 50 states and Canada on bicycle.
Martin Maurer '50, Watertown, N.Y., Dec. 20, 2016. "Coach" served as officer in the 15th Air Force 374th Bomb Squadron in Europe. He was a physical education teacher, coach, and retired as athletic director at Sandy Creek School and is honored on the Sandy Creek Central School Wall of Excellence.
Alan Coningsby "Dinty" Moore '50, Gainesville, Fla., Jan. 19, 2017. Moore joined the U.S. Navy and spent World War II on the AE15 USS Vesuvius,
receiving the Asiatic Pacific Campaign Medal. He moved to the U.S. Coast Guard Reserves after World War II, retiring as commander. He was an All-American in soccer and participated in the Olympic tryouts. He joined the faculty of the University of North Carolina and was head soccer and lacrosse coach. He became professor of sport and exercise science at the University of Florida and was awarded Teacher of the Year three times by the Department of Physical Education for Men and named Distinguished Retiring Professor. He authored numerous journal articles and textbooks. He is a Springfield College Athletic Hall of Fame inductee and Distinguished Alumnus. He was honored by the National Soccer Coaches Association of America, the American Alliance for Health, Physical Education, Recreation and Dance, and received a Coast Guard Commendation Medal.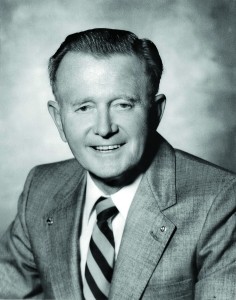 Robert E. Schmidt '50, G'51, Waikoloa, Hawaii, Feb. 2, 2017. Schmidt, left, had a 42- year career with the U.S. Armed Services YMCA in the United States and in the Panama Canal Zone.
Joseph W. Bishop Jr. '51, Danbury, Conn., April 14, 2017. He began teaching history and then physical education at Gardner Junior High School, and later was appointed principal.
William Eaton '55, Norway, Maine, Dec. 9, 2016. He met his wife, Marilyn Fatzinger, and played football, wrestled, and ran track Springfield College. He served in the U.S. Air Force before a career in teaching and coaching in Pennsylvania; New York; Connecticut, where he is a New Britain Hall of Fame inductee; and for more than 30 years at Loomis Chaffee.
Ted Fabyan '51, Bainbridge Township, Ohio, Nov. 18, 2016. Fabyan was a veteran of the U.S. Marine Corps, where he served as captain during the Korean Conflict. He retired from Vocational Guidance Services in 1995 where he was the president and CEO. Throughout his career, he also served in other roles including president of the National Association of Rehabilitation Facilities, and executive director of Easter Seals Society in Philadelphia.
William C. Lamparter '51, Charlotte N.C., March 8, 2017, He received a master's degree in journalism from Boston University and was the president and principal of the PrintCom Consulting Group headquartered in Charlotte. He was recognized worldwide as a printing and publishing industry analyst, consultant, and futurist.
Peter J. Marcon Sr. '51, G'55, EdD, Larchmont, N.Y., Jan. 21,2017. He served in the U.S. Army during the Korean War. He coached baseball, wrestling, and football, was director of guidance at Rye High School, and authored a book and numerous articles.
Erling Mostue '51, New London, N.H., Jan. 9, 2017. Erling served in the U.S. Navy before a career in human resources in Massachusetts, New York, and New Hampshire.
Warren L. Parker '51, Agawam, Mass., Feb. 9, 2017. In 1942, he entered the U.S. Air Force and served in the South Pacific. He taught school in Springfield and East Longmeadow before becoming a sales manager for World Book Encyclopedia.
Warren G. Symonds '51, South Dennis, Mass., April 30, 2017. Following U.S. Navy service in World War II, he received his bachelor's degree and then a master's degree from Stony Brook University, and went on to a career as a YMCA director.
L. Dana Green '52, Bennington, Vt., May 9, 2017. Green served in the U.S. Army during the Korean conflict. He was employed at Johnson Controls for 27 years and was previously with F. W. Woolworth Co. in Bennington and later with J. J. Newberry in New Hampshire and Massachusetts.
Kenneth A. Lowe '52, St. Augustine, Fla., Feb. 7, 2017. Lowe was in the U.S. Army during the Korean War, and then a teacher, retiring as an earth science teacher from Sauquoit High School in New York. He coached wrestling and cross country, and is in the Central New York Section III Wrestling Hall of Fame.
Charles H. Behney '53, North Port, Fla., and South Burlington, Vt. Behney served in the U.S. Naval Reserve, and enlisted in the Vermont Army National Guard. He held the rank of brigadier general with the Vermont State Guard. He was appointed by Governor Richard Snelling as cabinet secretary of the Agency of Development and Community Affairs, served as a member of the Vermont Economic Development Authority, Housing Finance Agency, Travel Information Council, Housing Guarantee Board, and Advisory Council for Vocational Education, as well as serving as State Historic Preservation Officer. He was president of GBIC and Cynosure for 20 years and retired in 1996.
Donald R. Makuen '53, G'56, EdD, Ellison Bay, Wis., May 15, 2017. He worked in admissions, student affairs, and taught college psychology, including at Springfield College. He was named Teacher of the Year by the University of Wisconsin-Green Bay, and the Medgar Evers (N.Y.), and Lehigh (Pa.) County Community colleges. He was an Eagle Scout.
Ellis A. Ring '53, Manchester, N.H., Feb. 1, 2017. He served in the U.S. Navy during World War II, was employed by Grolier Corporation and Here's Where Company, and was active in community affairs.
Alan A. Schutts '53, Savannah, Nov. 27, 2016. Schutts was an All-American basketball player who held New England scoring records. A New York Knicks second-draft, he instead became a U.S. Marine pilot near the end of the Korean War. He was a pilot for American Airlines and the Marine Reserves. He is inducted in the Springfield College Athletic Hall of Fame.
Keith Doyle '55, Livingston, N.J. Feb. 22, 2017. Doyle coached and taught as an adjunct professor at the University of Nebraska Agricultural School, Wesleyan University, and Union College. He worked in the West Orange school district, as the head coach for the football, track, and girls' basketball, and later as assistant athletic director.
James P. Farrier Jr. '55, Towson, Md., April 8, 2017. Farrier was an All-American diver and All-New England soccer player. College was interrupted by a two-year enlistment in the U.S. Navy. He served as a swimming instructor at the U.S. Naval Training Center (Md.) and Naval Air Station (Fla.). His career included teaching physical education and English at Towson High School, and coaching soccer, wrestling, and outdoor track and field. In 1976, he was involved in a Title IX debate when a Towson freshman girl asked to try out for boys' soccer. He honored the request, but his decision was reversed by the county. In a 1977 interview, he stood by his original decision to let the girl try out and re-emphasized that they deserved the same chances as boys. After retiring, he became an actor and a print model.
John W. LeRoy Jr. '55, Braintree, Mass., March 16, 2017. An All-American college football player, LeRoy joined the U.S. Marines, and was captain of the Marine Corps football team. He was drafted by the NFL's Chicago Cardinals but chose to go into education to make a greater impact. He was a teacher, assistant principal, headmaster, and head football coach at Braintree (Mass.,) High School during his 38-year tenure there, and served on the Blue Hills Regional School Committee, and town Select Board.
Mitchell E. Urbanowicz G'55, Bristol, Conn., May 21, 2017. He served in the Pacific Theater during World War II. He was a teacher for 32 years in the Town of Farmington schools.
Roger A. Wickman '56, Granby, Conn., April 2, 2017. He enlisted in the U.S. Air Force during the Korean War. Wickman was a college coach, physical education teacher, and administrator at Ricker College (Maine), Hillyer College (Conn.) and the University of Hartford, where he was associate athletic director and is inducted in the athletic hall of fame.
Patricia Y. Schmidt '56, Carlisle, Pa., Jan. 11, 2017. She loved theater, co-founded the Gettysburg Summer Theater, and was director at Gettysburg Junior and Senior High School.
Doris P. Costello '57, East Longmeadow, Mass., April 17, 2017. Costello was an accomplished athlete with a lifelong love for the outdoors. She was instrumental in the development of Western Mass. youth tennis, and competed in the Springfield Senior Games where she medaled multiple times. She is survived by former husband John J. "Jack" Costello, retired dean of students at Springfield College.
Robert D. Kertes '57, Edison, N.J., March 10, 2017. He was a physical education teacher and coach of boys and girls basketball and tennis at Highland Park (N.J.) High School, for more than 50 years, winning multiple state and district titles.
Margaret "Peg" Katz Sweeney '57, Sharon, Conn., March 21, 2017. She loved the arts, animals, great friends, life, and her family, and was married to Paul Sweeney '57.
Richard G. Young '57, Glens Falls, N.Y., Dec. 23, 2016. He was drafted by the Pittsburgh Pirates franchise, served in the U.S. Navy during the Korean War, and retired as a physical education teacher and coach at Hudson Falls.
Patricia Lewin Horne '58, Summerfield, Fla., March 16, 2017. She taught high school in Colorado and Virginia. She left the teaching profession to raise her children and become an Army wife for 30 years.
Richard MacPherson '58, Syracuse, N.Y., Aug. 8, 2017. See page 49.
Constance M. Trela '58, Springfield, Mass., May 15, 2017. She was a teacher and dietician and whose work included many years at Belchertown State School.
Shirley Taylor Varanoske '58, Dracut, Mass., April 6, 2017. She taught English and physical education at the Lincoln School in Melrose. Later, she became a substitute physical educator in the Lowell and Dracut public schools. She owned and operated "Balloon Expressions," a balloon delivery and decorating business, and entertained at many children's birthday parties as "Petunia the Clown."
Fritz William Wiedergott Jr. '58, Northborough, Mass., Feb. 5, 2017. He enlisted in the U.S. Navy, serving on the destroyer USS Stoddard during the Korean War. He joined the faculty at St. Mark's School in Southborough. He taught in the math department before becoming director of athletics. He was a trainer, and coach of the school's varsity soccer, wrestling, and lacrosse teams. An avid skeet shooter, Wiedergott was world champion in 1966, and a three-time All-American. He was inducted into the Massachusetts Skeet Shooting Hall of Fame in 1982 and the National Skeet Shooting Association Hall of Fame in 1988. His last competitive championship was in October 2009 in San Antonio, Texas.
Louise D. Niedzielski G'59, Springfield, Mass., Dec. 27, 2016. She worked as an English teacher at all levels in the West Springfield School System.
Marianne V. Parker '59, Lebanon, N.H., June 19, 2017. Parker was an elementary physical educator for the Springfield (Mass.)Public School System, owned and operated Marianne's Crafts in Springfield, and was employed in customer service at Readex in Chester.
1960s
William R. Decker '60, Portsmouth, N.H., May 15, 2017. He briefly taught and coached high school wrestling before working in sales and marketing at Liberty Mutual Insurance Company of Boston. He then was vice president of the Liberty Life Company.
Carol Doyle '60, Hingham, Mass., April 10, 2017. She was a swim instructor, worked in catering and waitressing, and served as a customer service representative for Talbots.
Thomas A. Grall Sr. '60, Newark, N.J. Jan. 6, 2017. Grall was a U.S. Navy veteran who was a survival-swimming instructor while on active duty. He was an athletic coach and a businessman, receiving numerous honors and inductions, including in the National Association of Intercollegiate Athletics (NAIA], the West Liberty (W. Va.) State University Athletic, the International Swimming (Fla.), and the Bethany (W.Va.) College Athletic halls of fame. He was president of the NAIA and the Swimming Coaches Association, a member of the U.S. Olympic Swimming Games Committee, and the USA Swimming Team Coaching Staff for the World University Games, Turin, Italy.
Derek R. Little '60, EdD, Mashpee, Mass., June 15,2017. He was drafted by the N.Y. Giants and played professional baseball before being drafted into the U.S. Army. He was a physical educator in Massachusetts and Connecticut while obtaining his C.A.G.S. and later his Doctor of Education. He was director of ESEA Project Lighthouse educational consortium, and later assistant superintendent and then superintendent of schools in Wilmington.
Dr. Paul R. Ocken '60, PhD, MD, Ponte Vedra, Fla., Nov. 30, 2016. Ocken was awarded an National Institutes of Health research grant for his cataract research before opening an ophthalmology practice. He was an assistant professor at Rutgers University.
James I. Grant '61, Old Lyme, Conn., June 3, 2017. He was an accomplished craftsman and builder. He taught and coached at Mitchell College in New London, Conn., for 39 years.
Fredric G. Kelley '61, Kissimmee, Fla., May 11,2017. Kelley was head athletic trainer at Dartmouth College for 25 years. He played college baseball before enlisting in the Marine Corps in 1956, rising to the rank of buck sergeant specializing in high-speed code operations. He later worked for the athletic department at Virginia Military Institute and then joined Dartmouth, from which he retired. He worked with international athletes at the Winter Olympics in Lake Placid, and was and inductee in the National Athletic Trainers Association Hall of Fame.
John H. Woods '61, Holyoke, Mass., Jan. 13, 2017. He was a U.S. Army Veteran of the Korean War. He was a physical educator in New York and Massachusetts and coached football, wrestling, and track.
Richard T. Burwash '62, Cape Coral, Fla., March 25, 2017. He spent more than 30 years as an educator and coaching youth sports in New York.
Francis T. Ehrhart '63, Providence Forge, Va., May 10, 2017. Ehrhart taught and coached in the New York state public school system and, in retirement, was a consultant to the Virginia Department of Education.
James McCormick, G'63, Wakefield, R.I., Feb. 27, 2017. He was founder and first director of the Rhode Island Special Olympics and a pioneer of education for the developmentally delayed.
Charles Saimond '64, Manchester, Conn., and St. Petersburg, Florida, Feb. 22, 2017. Saimond taught special education and physical education in the Vernon school system. He coached varsity boys' soccer at Rockville High School.
Eleanor Goodnow Mistarka Stack Stewart '64, Leesburg, Fla., Feb. 4, 2017. She was the head of the occupational therapy department at the Northampton State Hospital.
Thomas C. Vizard '64, Sturbridge, Mass., Jan. 12, 2017. Vizard loved the stock exchange, the movies, chasing the weather, teaching in Sturbridge, and was an ardent sports enthusiast.
Harry H. Lawson '65, Nashville, Tenn., Dec. 7, 2016. In 1983 he started Antique Restoration Service, and restored antique furniture and built reproductions.
Donald R. Putnam '66, Bonita Springs, Fla., May 5, 2017. After serving in the U.S. Air Force and fighting in Vietnam, he was the first in his family to attend college. He taught and coached in New Hampshire and Kentucky.
Gerald L. Smith '66, Old Orchard Beach, Maine, June 9, 2017. He taught physical education at Greely High School in Cumberland. After retirement, Smith pursued harness racing. He bred, raised, and raced standardbreds, and was co-owner of Trusty Dream, the top Maine Stakes stallion in the 1980s.
Robert A. Hynes '67, Hilton Head Island, S.C., March 3, 2017. Hynes spent four decades as an educator and administrator in the Northport-East Northport (N.Y.) School District. He taught junior high school physical education and was the district's athletic director.
Edward L. Strout Jr. '67, Manchester, Conn., Dec. 2, 2016. Strout played semi-professional baseball in Maine.
Bryan K. Abbott '68, Stuart, Fla., May 1, 2017. He worked as a golf professional, played in numerous tournaments, and later worked as a club professional.
Nancy Seiple Zins '68, Charlotte, N.C., March 25, 2017. Zins was dean of freshman at Brown University, dean of students at Springfield College, and principal at numerous Christian schools in Texas, Vermont, and Virginia, before teaching English and the Gospel to Chinese students.
David F. Jamieson Jr. '69, Fairhope, Ala., Mar 11, 2017. His career in education began with classroom teaching and developed into leadership roles in public and private school systems in Connecticut and Massachusetts.
Jean K. MacIntyre '69, Riverside, R.I. April 4, 2017. She was a physical education teacher and coach, spending the majority of her career at The Wheeler School in Providence. She was one of the founders of the Women Teaching Women sailing program.
1970s
Tony DiCicco '70, Wethersfield, Conn., June 19, 2017. See page 50.
Laura H. MacPhaul '70, G'72, CAS'78, Springfield, Mass., Feb. 20, 2017. She shared her love of books and reading with her students at Springfield's Duggan Junior High School.
Thomas G. Meehan G'70, CAS'76, Exeter, N.H., May 27, 2017. He was a history teacher and guidance director, before joining Exeter Area Junior High School as assistant principal, later becoming principal. During his tenure, the school received the Flag of Excellence from the U.S. Department of Education.
Richard W. Ault G'72, Wayne, Maine, Dec. 2, 2016. Ault served in the U.S. Marine Corps, including a tour of duty in Cuba. He worked with the State of Maine Department of Human Services.
David W. Zimmer '72, Queensbury, N.Y., Jan. 4, 2017. He was a materials manager for Mallinckrodt Argyle, Engine Systems, Schenectady and, lastly, Barton Mines until his retirement. He enjoyed cycling, hiking, cross-country skiing, power walking, and riding his tractor.
Robin L. Luce, G'72, Lititz, Pa., May 25, 2017. She taught Spanish, worked for the Mustard Seed Christian Bookstore in greater Philadelphia, and finished her career as an assistant to the dean of students at Nyack College in Nyack, N.Y.
Christopher M. Martel '73, Boston, Feb. 16, 2017. He served the American Cancer Society his whole career, eventually becoming national vice president of division services and field operations.
Stanley T. Winer '74, Palm Beach Gardens, Fla., April 6, 2017. He worked in financial services, forming The Winer Group and, later, The Winer Levsky Group at UBS Financial Services where he was senior vice president for wealth management.
Carol Anne Rooney '75, San Francisco, Calif., May 18, 2017. Rooney spent most of her working years in the carpentry field, excelling in her craft, one of the few women in the field in the earlier years.
Kathleen Coughlin '76, Northampton, Mass., May 27, 2017. She was a program administrator for the Massachusetts Department of Mental Health and, after retirement, a heath care consultant to the Massachusetts Department of Correction.
Kenneth C. Demers '76, Adams, Mass., June 3,2017. Demers was the executive director for Berkshire Works in Pittsfield. Earlier he worked for the Corporation for Public Management and the New England Farm Workers' Council, and the Berkshire Learning Center.
Daniel T. Barber '77, Glens Falls, N.Y., Jan. 22, 2017. He was employed by BOCES and Giavano's, both in Hudson Falls. He enjoyed mentoring and coaching wrestling and baseball.
Michael A. Nowill '79, Springfield, Mass., Jan. 3, 2017. He spent his career working for HP Hood in Suffield, Conn., from which he retired as a supervisor in robotics.
1980s
Kevin R. Gibson '80, Fort Myers, Fla., Feb. 25, 2017. He was a head golf pro and club manager. He coached high school and college basketball and golf, including at Dartmouth College and Colby-Sawyer College.
William J. Leppla '83, Livingston, N.J., March 4,2017. He worked as a foreman for Gray Supply Construction Company.
Theresa A. Guzek Shuman '84, Boston, Jan. 9, 2017. She was a teacher, and then special education school adjustment counselor, in the Chicopee Public Schools.
Margaret Dexter Towne '84, South Hadley, Mass., Dec. 22, 2016. A graduate of Centenary Junior College, she worked at Look magazine and then travel magazine Venture. At the age of 44, she graduated with a Bachelor of Science, an achievement she treasured. She was an avid golfer, volunteer, and gifted floral gardener.
Debra Lee Wheeler Hartmann '86, Agawam, Mass., May 18, 2017. She worked as a quality assurance manager of food technologies and medical devices for 20-plus years.
James B. Clifford '87, Madison, N.J., May 19, 2017. Clifford enjoyed a successful career in the paper industry for nearly 30 years. He later was a real estate broker for Sotheby's in Madison, N.J.
Erik C. Powell '87, East Longmeadow, Mass., June 22, 2017. He worked for People's Bank as a financial planner and was an antique dealer at Brimfield Antique Center. He was on the East Longmeadow Baseball Association board and a well-loved coach.
1990s
Alberta T. Adams '91, Bloomfield, Conn., Dec. 26, 2016. She earned master's degrees in business administration and human services. She retired as assistant to the director of social services for the City of Hartford.
Frances J. Canelli '91, East Haven, Conn., May 7, 2017. Canelli had careers as a legal assistant/paralegal, executive assistant to a college president, and bereavement counselor.
Kevin S. Sherman, G'92, Easton, Pa., March 4, 2017. Sherman participated in the Dirty Kanza 200-mile, one-day bike ride; Iron Cross Cycling Race (65 miles climbing 6,748 feet); and Long Island Sound Open Water 15.5 mile race, where he placed second.
Joseph M. Cullinan Jr. '93 Weymouth, Mass., June 23,2017. He was director of the employee assistance program at the Boston Housing Authority and a past employee of Delta Airlines.
Ivette Rivera Dreyer, G'92, New York, N.Y., Dec. 14, 2016. She was an advocate for Latino education and empowerment. She was an administrator in the Connecticut community college system.
Olive Reid '93, Arlington, Va., Feb. 23, 2017. Reid retired as a nursing supervisor from Norwich (Conn.) Hospital and was an active leader in 1199/ SEIU Healthcare Union. She taught classes at OIC of New London, Conn.
Brenda K. Stratemeyer '95, Stratham, N.H., Dec. 11, 2016. She worked in human services for St. Joseph Hospital in Nashua.
Kenneth F. Baldwin '96, Randolph, Maine, Dec. 30, 2016. He spent the past 30 years working in the mental health field, most recently with the State of Maine, DHHS, as a case manager in the Augusta office.
Judy H. Byler '96, Bangor, Maine, March 19, 2017. She was a social worker for Bangor Mental Health and Augusta Mental Health, and a volunteer at the Somerset County Jail, and Woodlawn Rehabilitation and Living Center.
Ida M. Ramsdell '96, Portland, Maine, March 28, 2017. She dedicated her life to social work and held several jobs for nonprofit organizations in Connecticut helping the disabled, the deaf, women being released from prison, and doing intake for addiction, among others.
Roger T. Olean, G'98, formerly of East Deer Township, Nov. 28, 2016. He was an athletic trainer for Bethany College, W.Va., State University, N.Y, and others.
2000s
Amanda Croston G'00, London, April 4, 2017. A specialist in sport psychology and physical education pedagogy, she was director of sports sciences for Brunel University.
Timothy R. Payne '00, formerly of Springfield, May 6, 2017. Payne was the program manager at the Friends of the Homeless Inc., before retiring due to illness.
Barbara Belanger '06, Stonington, Conn, March 18, 2017. She was employed by the State of Connecticut social services department until she retired due to her illness.
Matthew D. Hurdle '04, Waterbury, Conn., May 5, 2017. He played college basketball and had a flair for theatrics, performing in many plays at Springfield College and with the Seven Angels Theater in Waterbury.
Crissy Lee Delakas '07, Oceanside, N.Y., Aug. 20, 2015. Delakas received a master's degree from Hofstra and was employed at John Adams High School in Queens, N.Y. She taught English as a second language and also was the test coordinator, a role through which she offered educational direction for students of families that were not English speaking.
Derek J. Hanley '07, Tewksbury, Mass., Dec. 14, 2016. He was a two-time Massachusetts State Wrestling Champion in high school. He coached the Wilmington Pop Warner Football and the Youth Wrestling programs, and was a supervisor at the Big Top Party Rental Company.
Heather Mary McMahon '08, Holyoke, Mass., Jan. 2, 2017. She captained the swim team her senior year. She was a clinical nurse supervisor at Holyoke Medical Center and enrolled at UMass Amherst to become a nurse practitioner.
Trustees
Harold C. Smith, DDiv, H'98, New York City, March 21, 2017. Pastor, YMCA director, and CEO. He was a Springfield College Trustee for 31 years and corporator for two, chaired the board's investment committee, and was an executive committee member. He was honored with an Honorary Doctor of Humanics degree and naming of the Harold C. Smith Room in Judd Gymnasia. The Learning Commons at the College recently was named in his memory. A chartered financial analyst, Smith was president, CEO, and chief investment officer of the YMCA Retirement Fund. Ordained in the United Church of Christ, he also served as pastor of churches in Bridgeport and Trumbull, Conn. He was enshrined in the YMCA Hall of Fame. He helped establish the Harold C. Smith YMCA Career Development Fund at the College, and served on numerous national boards. Smith attended Ursinus College, Union Theological Seminary, and New York University.
Walter Cunningham "Derby" Wilson, H'94, Washington, D.C., May 6, 2017. Wilson served on the Springfield College Board of Trustees from 1975-1984 and 1985-1999, including as chair from 1991-92, and a variety of committees throughout his tenure, including the investment, development/institutional advancement, and executive committees. His lifetime commitment to nonprofit organizations and the arts and education led to his additional service on numerous boards. Wilson had a longtime career with Massachusetts Mutual Life Insurance Company, where he served in several roles during his 53-year tenure, including as senior vice president of Mass Mutual in Springfield. He was an early investor, founder, and/or board member of Chesapeake Energy, Hadson Oil Company, Earth Satellite Corporation, and Post Oak Bank in Houston. Wilson graduated from Dartmouth College.
Faculty
Clifton A. Bush Jr., PhD, Sep. 3, 2017. Bush taught African American history, African history, and sociology as an associate professor for the School of Human Services for 26 years until his retirement in 2014 as emeritus faculty.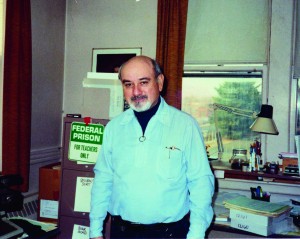 Martin L. Dosick, West Boylston, Mass., Aug. 15, 2016. He was a sociology professor at Springfield College from 1965-96, with a special interest in Holocaust studies and criminology. He served as chair of the Social Sciences Department for several years, as well as on the Faculty Senate. He was named Distinguished Springfield Professor of Humanics in 1994. Dosick received bachelor's and master's degrees in sociology from Boston University, and a Doctor of Philosophy in sociology from UCLA. He served in the Air Force during the Korean War.
Jean F. Ross, G'62, The Villages, Fla., March 17, 2017. Ross joined the faculty as a teaching fellow in 1960, earned master's and doctoral degrees in science education, and attained full professorship. In 1985, Ross was named Distinguished Springfield Professor of Humanics and delivered an address entitled, "Education with a Moral Dimension."
Janice C. Eldridge, Wilbraham, Mass., June 5, 2017. Eldridge taught organic chemistry at Springfield College before moving into administration. In 1992, she was named Distinguished Springfield Professor of Humanics. She retired as assistant vice president of academic affairs that same year.
Staff
Shirley J. Dwight Hahn, Hampden, Mass., Jan. 31, 2017.
Diana Bitsacos LaZazzera, Springfield, Mass., March 13, 2017. She was an administrative assistant in the admissions office for 27 years.