The Global School Gets a Humanics First Couple
When Brian Easler, G'04, was a candidate for head of school at Wilbraham & Monson Academy in 2014, he knew he wanted to impress the board of trustees with his ideas for comprehensive change at the boarding school with a global reputation. So, he dug deep into one particular learning experience at Springfield College to prepare him for his interview.
Easler pored over a thick, spiral-bound report that he and a team of other graduate students spent a semester creating for the Springfield College Board of Trustees as they investigated the potential reuse of a former YMCA camp.
"It was a crash course in strategic business plan creation," he says. "It was my most significant learning at Springfield College because the problem we were solving was a real one."
Just as real was the vision Easler penned for addressing declining enrollment and competition from other, like-minded schools at Wilbraham & Monson, located in Wilbraham, Mass., where a student body of 440 represents 32 countries.
"That experience at Springfield College was crucial," Easler says, as he searched inside a cupboard in his office to produce the report, holding it up as a precious muse that two times has served him well.
Easler settled into the corner office on Main Street after the academy's trustees eagerly awarded him the head of school position, but he and his wife, Stephanie Easler, G'02, DPE'06, were no strangers to campus…
Easler settled into the corner office on Main Street after the academy's trustees eagerly awarded him the head of school position, but he and his wife, Stephanie Easler, G'02, DPE'06, were no strangers to campus; they were already popular with faculty, administrators, and students alike as Brian had at that point held several positions at the academy throughout a 17-year period.
Named alumni and annual fund director in 1998, Brian became the dean of students in 2002, and in 2004, "assistant head of school" also was added to his title. About six years later, he served as dean of students and associate head of school.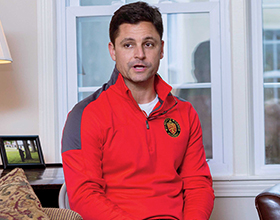 Brian is 47 now, and his wife is 48. They enjoy their demanding campus personas and say life now is very similar to life as it was while they were at Springfield College, where Brian earned a master's degree in education and Stephanie a master's—and later a doctorate—both in exercise science. In addition to being "First Lady," of the academy—an outdated title, for sure, but more colorful than "spouse of the head of school"—she also serves as chair of the biology department at Holyoke Community College (HCC).
"We spent our time at Springfield College as a nontraditional college couple, supporting one another and being flexible," Brian says.
"If one had to study," Stephanie says, "the other did the housework. That rhythm of our lives has continued here."
Brian grew up in Rockland, Maine, the adopted son of a couple who were foster parents to many. His home life was exuberant with children, but his public school experience lacked luster.
He joined the National Guard as a junior in hopes of gaining some inspiration, but after a short stint at Nichols College after high school graduation, he still had none, and dropped out to rejoin the military. It was the one place he knew he could experience success.
Brian joined the Army. Four years of active duty in the Middle East and a Bronze Star later, he had an epiphany on a sand dune in Saudi Arabia.
"I thought to myself that our involvement there seemed a lot more like a response to a problem rather than prevention of a problem," he says. "I wanted to be more preventative, so I decided that when my service was up, I would get out."
He went home to Stephanie, his sweetheart since they were sophomores in high school. They married in 1989, and went to the University of Maine at Farmington, together; he earned a bachelor's in literature and philosophy; she a bachelor's in psychology and women's studies.
It was at Farmington that Brian nurtured a passion for boarding school education; it manifested in part through his work with a summer Upward Bound residential academic program but also through his work as a lifeguard. At the pool every morning, an older gentleman who swam daily told him stories of his long-ago boarding school days.
"Between his stories and [the movie] Dead Poet's Society, I had this fascination with boarding school," Brian says.
After graduation, the Easlers headed together to Springfield College. "She had followed me for a while, now it was my turn to follow her," he says.
Nearing his second year on the job as head of school, Brian is diligently working his way through the plan he created. He began by professionalizing the business office, moving it from calculators to software to create reliable data with which the board can track statistics and predict outcomes. Brian then took a hard look at operations, reallocating spending for the school, which he describes as not wealthy but one that has overcome significant challenges to survive.
Changes he's made have positioned the school as stronger from the donors' point of view, which "begins that upward spiral that the school needs," he says.
Also during his tenure, Brian has been building the school's focus on economics. In 2006, in conjunction with Babson College, it opened the Center for Entrepreneurial & Global Studies. The next phase of his plan will tie the diversity, economics, and entrepreneurial strings together in a meaningful way, but he's protective of revealing specific concepts now.
What he will say is that his designs for change have already shown their strength. This year, the school saw applications from 54 countries, which will allow it to diversify on a broader scale. This is key to a Wilbraham & Monson Academy education, he says, as it offers students a much more accurate representation of the world they will enter when they graduate.
Simply having a diverse student body is one thing, but Brian says social engineering is also important. This happens in many ways on campus but primarily during Thursday Sit Down Lunches, at which students in a wide range of demographics—race, gender, national origin, and boarding and day students—are intentionally seated together. For five weeks, they get to know one another, and then they move on to a new table mix.
"It's not going to help us be who we are if all these students don't get a chance to talk to one another," Brian says. "We have to break them out of [their comfort zones]. Students tell us that."
With the changes on campus—and the strengthening of what already works well—the Easlers say they are seeing a clear and pervasive sense of academy pride. "Students have more pride in the school, like they do at Springfield College," Brian Easler says.
During that all-important interview with the board of trustees, Brian also wove into the narrative the notion that his wife would not be a typical (until that point) spouse of the head of school, focused on etiquette and tradition. "I told them she is a professional, and she was going to continue with that," Brian says.
Stephanie is seen as a role model by the female students, and she says she works with exceptional care to balance her duties. "I have two different lives," she says. "I have my job at HCC, and I have my life and career here."
The academy role finds her taking part in board dinners, keeping in touch with students, and when her husband is traveling, sitting in at sporting and cultural events on campus.
"I love the fact that Wilbraham & Monson Academy is this great big huge family," she says.