When Peter Rios '77 played quarterback for Springfield College in 1975-76 under Head Coaches Ted Dunn and Howard Vandersea, he learned about the value of teamwork, discipline, and commitment.
Those are the same lessons that he has passed on to his student-athletes at Central High School in Providence, R.I., for the past 23 years. Rios' leadership on and off the field has helped his players find their own passions, keep them off the streets, avoid the influence of gangs, and improve their grades in school.
"One of the most important decisions of my life was to attend Springfield College. The people I met there would eventually set the standard on how I would dedicate my life as a coach and teacher," Rios says. "The Springfield professors would teach me about body, mind, and spirit while my football coaches would instill important values that I now teach to my student-athletes."
Rios has witnessed firsthand the struggles that his players face on a daily basis, what he describes as "mental, psychological, and economic challenges." In the past few years, the team has lost three players, including George Holland, who was shot to death by leaders of a local gang in 2013. Holland was not the intended target.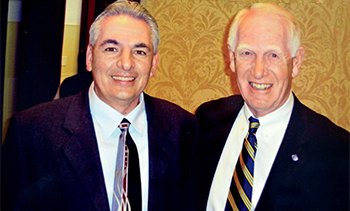 Rios wanted more for his players. Not just success on the gridiron, but achievements in life. And it would be the small successes that could make a difference, such as recognition for how his team has overcome challenges no teenagers should ever have to face.
When Rios learned about the national Russell Athletic Fight Like Dylan Award, which honors one high school in the country for teamwork and overcoming adversity, he shared their story.
Information Rios provided the judges included the following: "For many students the walk to school alone through multiple gang territories starts each day with them having to earn the victory of not being pulled onto the wrong path—the path where gangs have persevered because of poverty, drugs, and joblessness. The athletes on the Central Knights football team are these very young men who have chosen the path of sports and education over the path of the streets. But for many of these young men, the challenges of their day begin long before they walk out their front door."
So moved by the team's story, Central High was selected by a group of judges, including former NFL Coach Tony Dungy, as the recipient of the 2015 Fight Like Dylan Award. Rios and some members of the Central High team were flown to Orlando, Fla., to receive a $50,000 grant to purchase new uniforms and gear during the Russell Athletic Bowl Dec. 29, 2015, broadcast live on ESPN in front of 40,000-plus spectators.
With a community that struggles financially, funding for the school's athletic programs is minimal. The money helped replace the team's old, mismatched uniforms, and acts as a symbol of their hard work and dedication.
"Winning this award honors our student-athletes, who on a daily basis overcome obstacles and persevere to play football," Rios says.