"Elias Brookings School, how can I help you?"
It's an afternoon in early December, and Terry Powe '96 is literally and figuratively answering the call. No, she is not a secretary here at the gleaming new elementary school on the corner of Walnut and Hickory Streets, just down the block from Powe's alma mater, Springfield College. But both secretaries are out today, so the school's kinetic principal is doing double duty.
Well, it's more like triple or quadruple duty. During a random hour, Powe (spelled like "power," but pronounced with the long o, like "poet") supervises early dismissals, works on a report with the school nurse about anaphylactic allergies, calls WalMart to reach the mother of a sobbing student, and dispenses a purple Crayola Broad Line Marker to a gap-toothed first grader named Zyere who squats down and proclaims, "I'm a frog."
Mostly, Powe provides tough and tender love to a rotating cast of children who trudge or careen their way into the office.
Leaning in across the desk to a second grader writing an apology letter: "Are you making good choices? Let's refocus, sweetheart … You really hurt your teacher's heart. It has to mean something."
Hugging a morose youngster whose mother just gave birth: "You know what? She still loves you. The baby needs a lot of attention. She just can't be there for you the same way right now."
Embracing a middle school student back for a visit: "Oh my goodness, look at you! You look beautiful! What's going on, Ladybug?"
Smiling sadly at a boy who plops down glumly in a seat by the door: "Really? Again? Oh my goodness, honey."
Slinging her arm around the shoulder of a boy almost her size: "You've got to work on calming yourself down. Someday you are going to be a bigger man, and you will need to be in control. You've got to pass the MCAS. And as much as I love you, I don't want you to be in the fifth grade again with a mustache and a beard."
When one of her colleagues agrees to staff the phone, Powe begins to make her daily rounds. Every classroom, every day.
In heels just short enough to permit a purposeful walk, she strides down the corridor, holding hands with Zyere. She explains to another student that the pine needles on the floor are from the "tree for Destiny"—the tree of tribute to former Brookings student, 7-year-old Destiny Gonzalez—who was killed a year ago when she was struck by a car driven by an alleged drunk driver right outside the city library.
Powe enters a "Life Skills" classroom, where students are nominally involved in learning a song, though one child bangs cabinets off in the corner and another veers around like an aircraft waiting for clearance to land. "Jonathan," Powe says, "where's my hug?"—and a tiny boy with glasses springs to his feet and smiles.
The magenta-dyed back of her hair bobs as she engages with students outside one class doing a multiplication poster. She sits on the floor in another classroom, listening to students puzzle through word problems. She brightens at the presence of a custodian: "Mr. Goodman! You know this young man, right?" She hands off one of her charges from the office who happens to be Goodman's nephew. "He really got off track. So you can discuss what happened. He's trying to fix some things."
Then a mini-crisis boils over in a second grade classroom. A tearful girl spills out, her fists balled up, her eyes pinched in sadness. "Hi, Peanut," Powe says, ushering her into a side office. "Take a deep breath. Take a deep breath. I need you to come with me and not lose it. Blow out. One more time. Blow out. Blow out. Good! I love how you're shutting your eyes. Don't say anything. Don't even say a word. Just get yourself calm. You got yourself too upset. There you go. You got it. You got it."
In time, another young ship is righted. But just to make sure, a couple of days later, Powe will visit the girl and her family at their home. For the principal who routinely makes house calls, the work never stops.
"It's definitely my life," she says. "I've had to learn to balance it. You can work 24 hours a day. There's always something to be done."
The energy that she pours into the job is contagious, 
asserts special education teacher Rhonda Hall. "Mrs. Powe is the type of person that you don't mind doing anything for just because everything she does is so genuine," Hall says. "Everything she does is from the heart."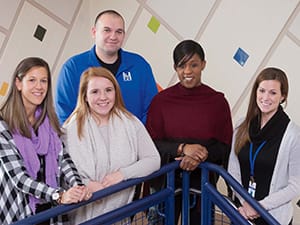 Despite Powe's tornadic energy, she knows there are some forces beyond her control—such as the actual tornado that devastated what she now calls "Broken Brookings" five years ago. On June 1, 2011, the same tornado that tore the roof off of Springfield College's International Hall and airlifted mattresses into Lake Massasoit, rendered the 80-year-old school building on Hancock Street uninhabitable. Powe recalls the event as if it were yesterday: first chuckling about the absurdity of a secretary's afternoon report of a tornado warning (in Massachusetts!); then getting on the PA system just before dismissal and announcing, "I would like for everyone, after-school programs, everyone in the building to leave. We have a forecast of very bad weather"; then getting a phone call at home from one of the night custodians, in tears, "Mrs. Powe, our building is destroyed."
Early the next morning, surveying the damage, Powe was overwhelmed. Bricks and glass shards were everywhere, desks and computers strewn all around. She was particularly affected by seeing, down the block, "one of my little students who was homeless at the time. She had a piece of slate from the chalkboard. She said, 'I'm going to carry this piece of Brookings wherever I go.'"
Powe pushed back the horrific thoughts of what could have been had the tornado hit two hours earlier—and went to work. "I just immediately got a rake and started cleaning up as much as I could."
Powe credits her parents in Pittsfield—her preacher dad and her musician mom—for her spirited relentlessness. Her alma mater, she adds, also nurtured her sense of giving back.
"Back in 1992, Springfield College became my second home," Powe says. She particularly praises the late John Wilson and the Office of Multicultural Affairs for instilling a sense of service. "He was my dad on campus," she recalls. "He took very good care of me."
She took her degree in education to the University of Massachusetts for a master's, and then back to the city of Springfield to teach fourth and fifth grade, and ultimately to lead a school of her own at Brookings in 2008. Overseeing a school with what she calls "very high poverty," she has helped lift it out of the Level 4 "underperforming" 
category. "You can be overcome by how much you see and how much is going wrong," she says. "But in the midst of the going wrong, there are a lot of things going right."
The mother of three teenagers, Powe has provided non-stop inspiration in guiding the school in its transition from the old building, to three years in modular classrooms, to the opening last February of the sparkling new school. That would never have happened, she said, without her alma mater stepping up in a big way.
"Springfield College played a tremendous role in helping secure the area and the grounds," she said. That led to the Massachusetts School Building Authority underwriting the $27.5 million facility, which Powe believes has been transformative in the neighborhood.
"It's a beautiful building," Powe says. "I feel like it's a beacon for people from this part of the city."
Connections to Springfield College are pretty much a daily part of life at Brookings. Powe points to the parade of student teachers, AmeriCorps workers, the Partners Program, and field day on the college campus. College President Mary-Beth Cooper has been a frequent presence at the 100-Mile Club: the before-school walking program that has drawn students, parents, and faculty, pulling the community together.
"I feel good because I'm an alumna," says Powe. "That's what's supposed to happen. Spirit, mind, and body lives on right here at Brookings."
Another visit to the school just before the holidays found Powe arranging hats and coats and mittens, as well as food for some school families, working alongside student volunteers she called "Santa's Helpers."
She wore a particularly gaudy vest with a scarfed snowman and buttons of Santa Claus and a moon over snowflakes. It was Ugly Sweater Day, and she asserted that she was "one of the top contenders."
It's part of the way she likes to lead: "The seriousness of lofty goals, but at the same time being able to enjoy and have a little fun while we are doing the hard work that we are called to do."
The students soak it up. Zyere, the effervescent first grader whose smile looks like an advertisement for the Tooth Fairy, lit up when asked about his principal. "She's nice!" he said. "And she loves all of us."