Humanics Brings Coach Across the Country
While teaching tennis at a fitness club in Colorado, Chad Stoloff saw a job posting on the NCAA website for a men's and women's tennis coach at Springfield College.
As he delved into the application process, he was drawn to the College's Humanics philosophy of educating the whole person in spirit, mind, and body, and the longstanding tradition of a teacher-coach model through which coaches also lead students in the classroom.
"My coaching philosophy is about bringing out the best in other people and about competing every day to be a better version of yourself," he says. "That aligned so well with what Springfield College is all about for its student-athletes."
"I look at every activity as a vehicle for self-discovery and contribution. There is nothing more valuable in this world than contribution. It equates to meaning," he says. "Springfield College offered that chance."

Chad Stoloff, men's and women's tennis coach
The more he looked into the job of teaching students in the classroom and on the court, the more the opportunity "spoke" to him.
"I look at every activity as a vehicle for self-discovery and contribution. There is nothing more valuable in this world than contribution. It equates to meaning," he says. "Springfield College offered that chance."
Stoloff was hired in August 2015 as head tennis coach for the men's and women's teams, and shadowed physical education professors in the classroom in the fall. He began teaching an introduction to sport psychology class in the spring. He is the first full-time tennis coach the College has had in almost 20 years. Most recently, he was working as a tennis pro at the Colorado Athletic Club-Inverness fitness club.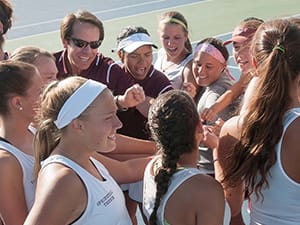 Stoloff's first day on the job on Aug. 24 also was the first official practice for the women's team. Two weeks later, the men's team began its formal season. With the help of graduate assistants Ben Schueler, G'17, and Stephanie Gonzalez, G'17, Stoloff began simultaneously coaching both programs. At any one time there might have been 26 players on the practice court, a challenge that Stoloff had to learn how to balance.
"I jumped straight into the deep end as I bounced back and forth between the men's and women's programs," he says. "But, I love challenges because they make you grow." The women's conference play occurs in the fall, while the men's takes place in the spring, providing Stoloff a small amount of flexibility in terms of where and when to focus his energies.
Besides offering coaching advice on improving tennis skills like forehands and backhands and the art of competition, Stoloff takes the opportunity to teach his players about life on a deeper level.
"I teach being powerfully present and being all in and engaged at the moment. You get a deeper feeling of connection and meaning to that activity," he says. "That ties in with Humanics because it's not just about ourselves, but about leadership and service to others."
Men's tennis team member Michael Marotta, a junior, appreciates that Stoloff's coaching philosophy isn't just about what happens in a match.
"We're taught to believe we can be good at anything because your abilities come down to your actions. We also don't incorporate this strictly into tennis. It's a life lesson in every aspect of what we do," Marotta says. "Having a growth mindset will allow us to have the best chance to succeed in our goals."
Players are encouraged to bring three things to practice every day: effort, attitude, and team value, says Marotta, a sports management major. "Whether we bring energy, effort, sportsmanship, and determination, we just need to bring something to make the team better day by day."
First year Melissa Parrish, a player on the women's team, notes Stoloff's coaching philosophy is all about hard work and improvement.
"Having the determination and discipline to do your best every day will create improvement and that is something he tells us regularly," she says. "As a new coach here, he is trying to build a program and wants to see the team get better."
Her teammate Rachel Litchfield, a sophomore physical therapy major, likes that Stoloff is serious about creating a "team" atmosphere for a sport that relies on individual play. To help in that regard, for example, both the women's and men's teams participated in group bonding activities at East Campus in the fall.
"Not only does he encourage us to encourage each other on the courts, but he also wants us doing that off the court as well," she says.
Players from both teams also participated together on Sept. 29, 2015, as part of the annual Humanics in Action Day, during which they helped paint and clean up the yard at a Springfield church.
"We facilitate and cultivate team opportunities for them to realize they are a part of something greater than an individual piece," Stoloff says.
Establishing a feeling of competing as a team is critical to their successes, Stoloff says. Besides the bonding activities off the court, another way to achieve the team experience is to be purposeful in how practices are run, he adds.
"We design our practices and our training environment to facilitate a lot of group drills, exercises, and competitions. That way players start to foster a sense of community, family, and team-orientation so they realize that what they are doing individually has an impact on others around them," says Stoloff, whose tennis experiences also include Division I stints as head men's coach at the University of Nevada and assistant men's coach at the University of Hawaii, San Diego State University, and Grossmont College.
Sophomore Zack Keene recalls that at the beginning of the fall season Stoloff gave each of the players what he called an "expectation sheet." Written at the bottom of the sheet in capital letters was a question: "What can I do to help the team today?"
"Coach stresses and emphasizes team unity over individual success, which gives us an amazing atmosphere on and off the court," Keene says.
As a former Division I student-athlete playing No. 1 singles and doubles for the University of Nevada, Stoloff gets what it takes to compete at that level. Besides coaching the Pride teams now, Stoloff continues to operate a business called "A Disciplined Mind" through which he conducts workshops and speaks on the topic of discipline as it relates to training one's mind to excel in sports, business, and life.
The fall season for the Pride ended with both teams showing improvement each week, Stoloff says, noting that the women's schedule includes competing against nationally ranked programs, such as MIT, Babson College, and Wellesley College.
As with any competitive endeavor, Stoloff as coach must contend with helping players deal with losses. His goal is to communicate a couple of approaches, including that a loss does not define someone as a person or player.
"It's very easy after you lose to emotionally beat yourself up. I've done it thousands of times. I try to be a supportive force for them," he says. "I also try and teach them the only way to change behavior is if you learn from it."
Make no mistake about it, Stoloff wants the College's tennis teams to be number one in the nation in Division III and to compete for national championships. But ultimately, he says, that's not what it's about for him.
"For me it's developing deeper relationships with people and creating a belief system that they are capable of doing anything they set their mind to," he says. "That, I think, is transformative: that one person can leave a legacy and change the world for the better."