AT THE ROOT OF HUMANICS IS "HUMAN." I regard the College's noble mission as applying to all humans. To truly walk the walk, we need to stand against all kinds of otherness. We must unfurl the biggest possible tent.
That is why I am devoting my year as Distinguished Springfield Professor of Humanics to issues of diversity and inclusion. Sure, there is a danger that comes with those terms. When they become politically correct buzz words, we tune them out. Yeah, yeah, that good stuff again. I know I should support that. My goal is to make those words stand for something real, to put some action into Humanics, as it were. I want to engage people's optimism. I want to challenge people's cynicism. Many colleagues do great work in this area. I'm not looking to reinvent the wheel; I just want to work with others to keep it rolling.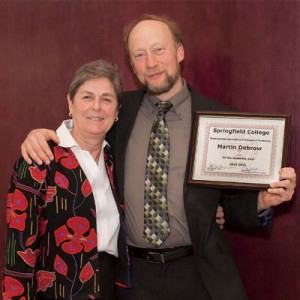 Specifically, my Humanics year consists of five initiatives:
Increasing our involvement with Team IMPACT
Deepening our connection with the School of Human Services
Launching the "Slice of Life Student Diversity Forum"
Celebrating a "Tom Waddell Day"
(held April 17, 2015)
Working toward building an art installation of "great moments in Springfield College history"
We invite excellent outside speakers to Springfield College to highlight aspects of diversity, but we don't always tap into our best resource: our students. The "Slice of Life Student Diversity Forum" offers informal student-to-student conversations led by individuals who embody the rich fabric of our community. We will hear from voices that are too often muffled, and encourage our good-hearted students to step out of their comfort zones — where the best education takes place.
To truly walk the walk, we need to stand against all kinds of otherness. We must unfurl the biggest possible tent.

Marty Dobrow
Tom Waddell '59 has an amazing legacy. One of the College's all-time great athletes, Waddell was a three-sport standout who placed sixth in the decathlon in the 1968 Summer Olympics. He was a doctor who traveled all over the world, providing medical service to those in need. An outspoken advocate for civil rights, he started the Gay Games, an international festival of sports and culture open to all people, gay and straight, of all levels of athletic ability. It is time for Springfield College to honor Waddell for his many contributions.
I am a big basketball fan, so I'm proud of our ancestral affiliation with the sport, and glad we have a statue of James Naismith on the campus. But we are about many other things, too, and I think we should consider proclaiming these to the world in similar fashion. I would love to see a permanent installation honoring our great moments in social justice — for instance the remarkable story of Martin Luther King Jr.'s commencement speech in 1964.1
To hear about these initiatives in greater detail, please consider attending Dobrow's "Humanics Lecture" on April 21, 2015.