Seeing Humanics Through Film
I AM PROUD AND HONORED to have served as the 2013-2014 Distinguished Springfield Professor of Humanics and to be forever recognized as part of a select group of educators who have contributed to the history of Springfield College.
Throughout my career at the College, I have taught courses in writing, literature, and film, my special passion. Nurtured by my grandmother's fervent love of the movies, my childhood viewing of multiple films each weekend with her, and fascinated by her scrapbooks of glamorous stars such as Jennifer Jones, Robert Taylor, and Ava Gardner, I became a fan. As a graduate student, I was delighted to teach rhetoric of film at the University of Massachusetts Amherst, and to write an interdisciplinary PhD dissertation on film and literature. The annual Academy Awards ceremony has always been my Superbowl.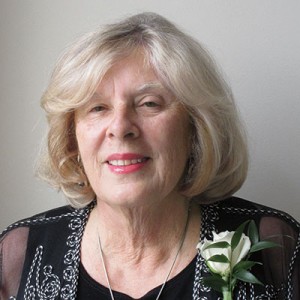 In teaching numerous academic courses, including film as narrative art, war film, athletes in film, and crime film, and through my leadership as chairperson of the William Simpson Fine Arts Series for the past 25 years, my goals have been to further the Humanics philosophy by offering a wide variety of films, speakers, and panels, to inform, educate, and entertain the College community and the public. These events contain powerful characters, themes, settings, and symbols, which convey historical or current issues and human relationships that have inspired meaningful dialogue and thoughtful student responses.
As the Humanics philosophy asks us to educate students in spirit, mind, and body for leadership in service to others, I have tried to provide in all my teaching, and especially with film, a broader and informed knowledge of global issues. Through the Simpson series, I was able to bring many compelling film events to campus. These have included New Year Baby, written and directed by, and starring Socheata Poeuv, who introduced her powerful documentary featuring a family journey to Cambodia to unlock the secrets of her parents' suffering at the hands of the Khmer Rouge, and Last Call at the Oasis, which alerted our Springfield College audience to the impending world-wide water crisis. Other notable events featured Mike Eruzione, Olympic gold-medal winning captain of the 1980 "Miracle on Ice" hockey team, who screened Miracle and spoke about leadership and the legendary coach Herb Brooks, as well as a visit from Steve James, director of the highly-acclaimed Hoop Dreams, who introduced and screened his film in celebration of our Naismith Week festivities.
During my Humanics year, I intensified my efforts with three major film events and a Humanics lecture, all with the theme of "Experiencing Humanics Through Film." The initial event was a screening of A Better Life, starring the Academy-Award nominated Demian Bechir, who demonstrated the heartbreaking plight of undocumented workers in the 
United States.
A second film event was Sporting Chance: The Legacy of Title IX in celebration of 50 Years of Women's Varsity Athletics at Springfield College. Our panel of teacher-coaches, Director of Athletics Cathie Schweitzer, PhD; Head Women's Basketball Coach Naomi Graves, G'85; and immediate past softball coach Kathy Mangano, EdD, '86, G'88, shared very poignant stories of their connections to this landmark legislation.
A highlight of my Humanics year was the glamorous Oscar Gala featuring Ty Burr, the eminent Boston Globe film critic. Ty's presentation was a culmination of my goals, as he educated, informed, and entertained us thoroughly. His discussion of the Academy, its origins and voting practices, as well as his incredibly insightful overview of the nominees for Best Film, charmed his audience and delighted and inspired with his knowledge, humor, and film clips.
To my dear students, colleagues, alumni, members of Learning in Later Life, and the public, thank you for allowing me to share my passion with you. It was my great pleasure to present films that fired your imagination and moved you to think and dream; that encouraged you to see and know more of life than you had before; and that inspired you to become compassionate world citizens with qualities of determination, leadership, bravery, responsibility, and a strong desire to be involved in true service to humanity.