Chemistry on the Court
With the co-leadership of faculty guest-coach Bob Accorsi, G'80, the women's basketball team embarks on historic season
Huddled on the ramp inside Blake Arena, yards away from the James Naismith Court, Bob Accorsi, G'80, was addressing the women's basketball team as they prepared to travel to play Williams College on Nov. 23.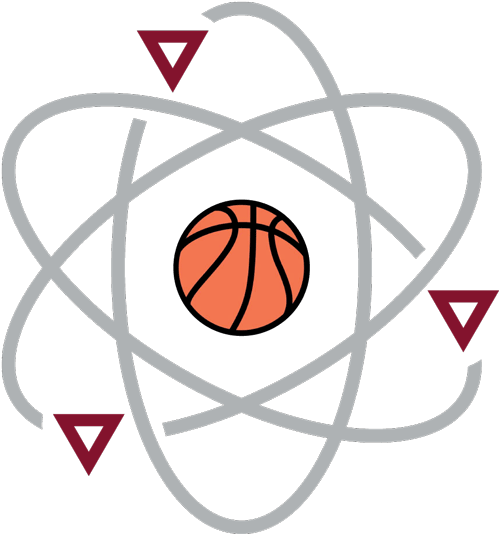 The well-respected and long-time sport management and recreation faculty member (now retired after 32 years) had a captive audience. And this was no ordinary pep talk. As a faculty guest-coach for the team for the past three years, Accorsi has an intimate involvement in the inner workings of the team. He and Head Coach Naomi Graves, G'85, have a special bond as longtime friends, peers, and believers in the Humanics philosophy. Together they are developing a team model unlike any other in the history of the program.
Before facing Williams, Accorsi challenged the players that if they wanted to go from being "a pretty good team" to the next level, they had to — among other efforts —"take care of the little things that all leaders pay attention to," referring back to the fundamentals they learned from he and Graves at the beginning of the semester.
Their undefeated (6-0) season at that moment was on the line. Hours later, the Pride came from behind to beat Williams 64-59. Accorsi was so amped up after the win, he couldn't eat his turkey sandwich on the bus ride back to campus. (The team made it to the Sweet 16 round of the NCAA tournament, but fell short, to finish its historical season 24-5 overall and ranked No. 24 in the final Women's Basketball Coaches Association poll.)
Director of Athletics Craig Poisson sought to get faculty involved with athletics so they could better understand the role of a coach.
Three years ago, Director of Athletics Craig Poisson, G'90, DPE'99, sought to get at-large faculty involved with athletics so they could better understand the role of teacher-coach members of the faculty. Graves immediately envisioned Accorsi in that position. With no real job description, Graves and Accorsi developed their plan to bring Accorsi from observer to a much deeper involvement, one that would complement Graves' 31 years of head coaching experience at the College.
With the Humanics philosophy as the backdrop, the theme of leadership was paramount for this team, and is the driving force behind the incredible success of the season so far. One of Accorsi's initial observations was lack of leadership among the players. And not just any leadership, but leadership that allowed each player, regardless of class, to "own" that responsibility.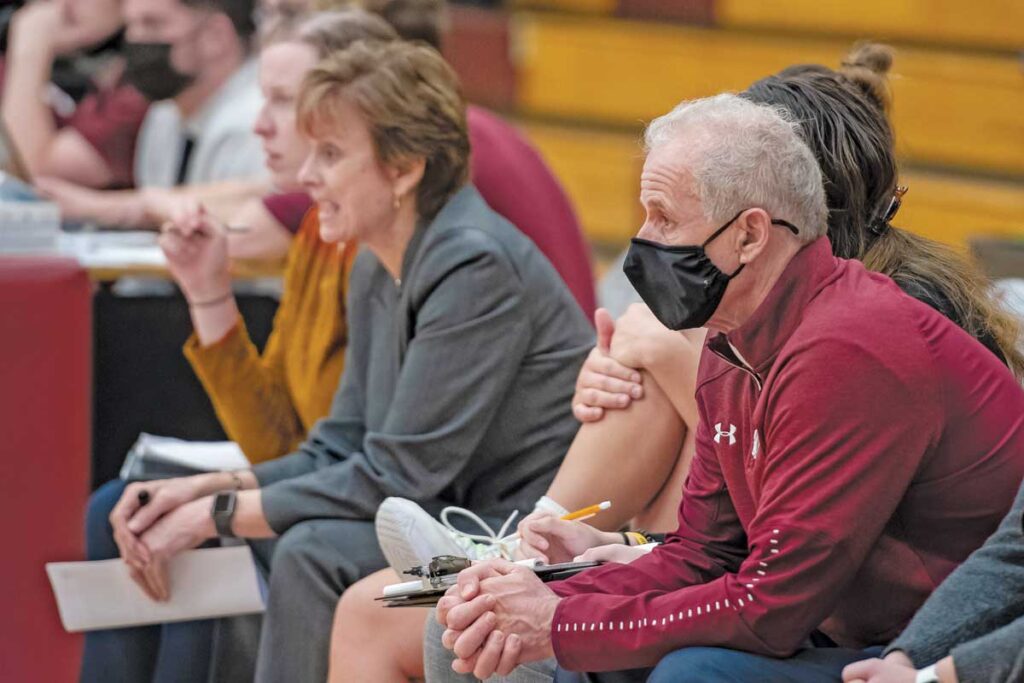 "He's really shown us that anyone on the team can be a leader. There are different roles we can take no matter how big or how small," said junior forward and physical therapy major Sam Hourihan. "Everyone feels like they have a voice to speak up. That makes us more cohesive."
"[Accorsi has] shown us that anyone on the team can be a leader. There are different roles we can take no matter how big or how small."

Sam Hourihan, junior forward and physical therapy major
Piggybacking on that comment, senior guard Steph Lyons added that Accorsi also is a mentor, noting she had him in a sales class as a sport management major.
"He really cares about you as a person and a player. I look up to him as a mentor because he [demonstrates] how to show up. He shows up every day for the team," she said.
Under this model, Graves said, each team member has the same opportunity to lead and to make the culture safe. It's no longer the old-school approach of giving leadership roles only to seniors.
"When the culture is safe, then you can be honest. You're not going to personalize feedback," Graves said. "We build a relationship so people can understand each other and we can have a safe environment. That is a big piece. I wanted to have the kids own the responsibility for the team more. That is really what Bob has helped us do."
Teaching leadership in the sport management and recreation program created a natural progression for Accorsi to excel in this role. To help establish a more structured program, Graves and Accorsi created four one-hour classes that focused on leadership development. In the early part of the fall 2021 semester, the players read a variety of well-known athletics-inspired books, including The Ideal Team Player by Patrick Lencioni, and watched videos on leadership to identify what it means to be equals on a team.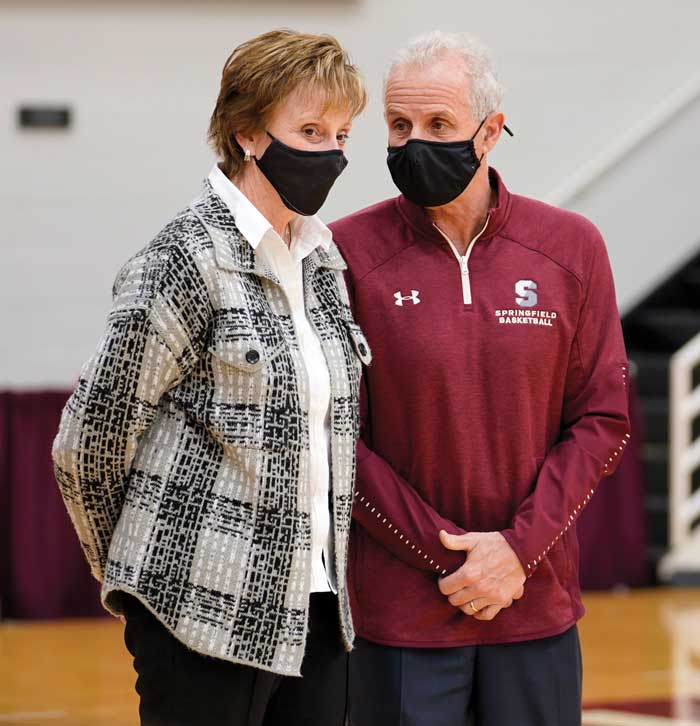 Graves and Accorsi created four one-hour classes that focused on leadership development
"These women took hold of this and we are starting to see team chemistry that I have not seen in the three previous years. They are communicating with each other better," Accorsi said. "Now they can bring attention to errors, for example, in a way that teammates don't feel overwhelmed or threatened. That's what a leader does."
During one of the classes, the players watched a video called "Building a Culture" about University of Minnesota head football coach, P.J. Fleck, who uses an acronym to inspire his team: "FAMILY: Forget About Me I Love You."
"Now, at all of our meetings, Grace Dzindolet (senior guard) tells everybody she loves them. We all say 'we love you, too.' There is a comradery and togetherness and they rely on each other. Not just in this room, not just on the court, they rely on each other outside of basketball," Accorsi said.
Graves still calls the shots as head coach with assistance from graduate assistant coaches Colleen O'Connell and Carolee Pierce. Accorsi describes part of his contributions as "situational," meaning he responds to moments when players show a lapse in what they've learned. He can be found on the bench with the players for all home games providing constructive encouragement for good play and constructive criticism when the fundamentals get lost.
For Lyons, she appreciates Accorsi instilling in her that she can be an effective team player. According to Accorsi, that selfless approach allows the players to focus totally on supporting one another to bring out the desired end result.
"He taught me that you don't need to be the one who always scores or does the big things on the court. But being that background person, to feel like I am playing that role this year, calming the floor down when it's needed," she said. "He helped me with my confidence to realize that is OK to be that kind of role player."
Similarly, Accorsi taught Hourihan that leading from the back of the pack, rather than the front, is OK, too.
"Small things like high fives on the court, texting teammates after practice, and being encouraging go a long way," she said.
This faculty guest-coach and leadership model might not have worked as well if not for the long and respectful relationship between Graves and Accorsi. The two first met in 1983 when Accorsi was director of the sports and recreation program for United Cerebral Palsy of Western Massachusetts. Fresh off earning her graduate degree in adapted physical education from Springfield College, Graves served as an intern for Accorsi working with athletes with disabilities. Another connection that bonds them, perhaps not surprisingly, is that each of them has served as Distinguished Springfield Professor of Humanics, an honor bestowed on faculty and administrators to continue the preservation of the Humanics philosophy in the context of pedagogy, curriculum, management, recruitment, campus life, and community impact.
Graves is grateful for their long connection, noting they have been through so much together, both personally and professionally. She's always been able to lean on him and have important conversations that she believes have made her a better person and coach.
"Now with Bob on the sidelines and in our huddles, that impact extends to our student-athletes. And while many of my players have grown from what they've learned in his classroom, this new role allows for his mentorship and expertise to extend to their growth on the court," Graves said. "That's who Bob Accorsi has always been, though, someone who is committed to making Springfield College, and its students, the best they can be. We are all so lucky to have him."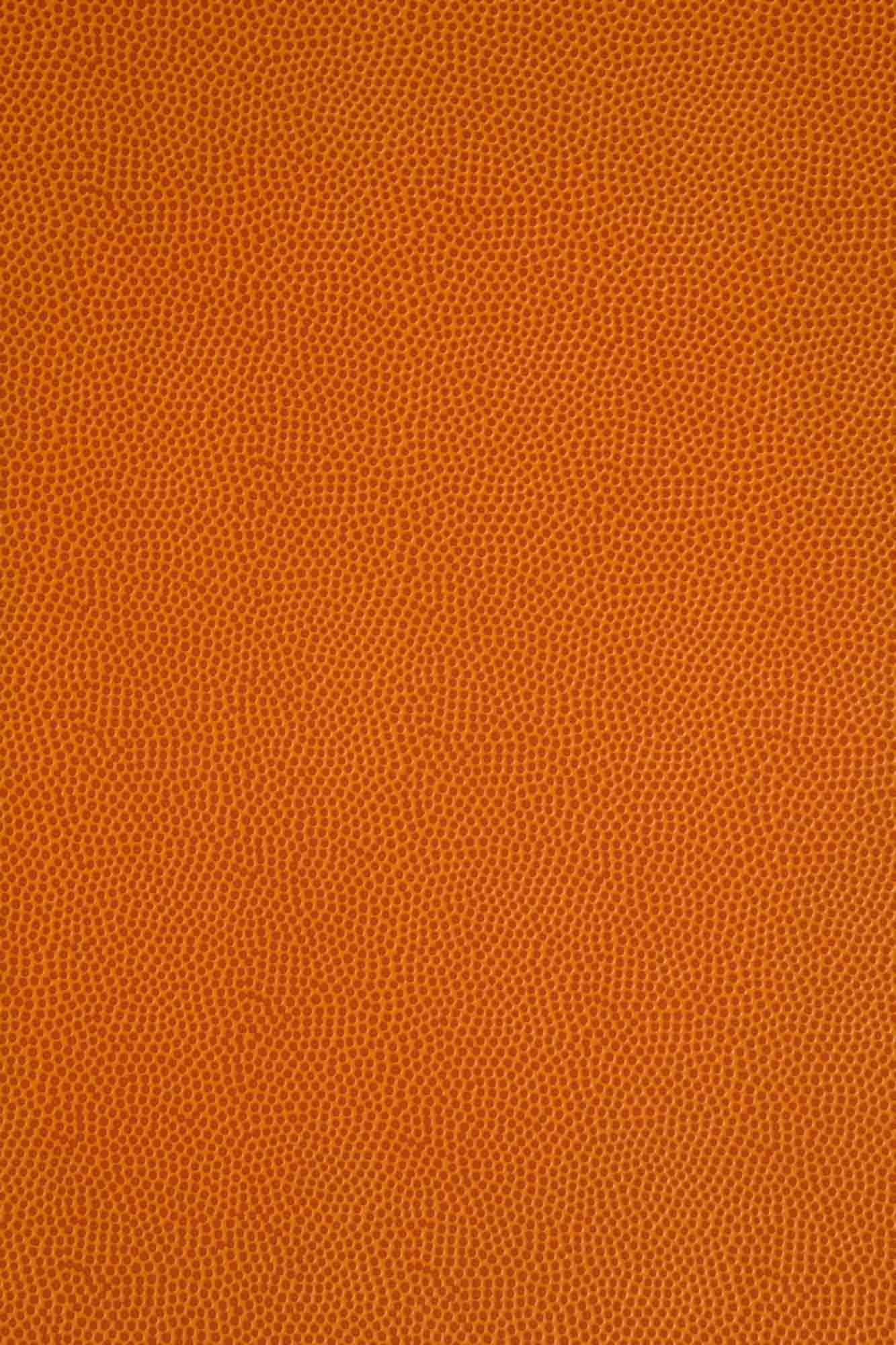 Since May 2015, Robert Accorsi, G'80, has served effectively as the Springfield College faculty athletics representative (FAR), a position the NCAA requires of colleges and universities to ensure a quality student-athlete experience and to promote their well-being.
President Mary-Beth A. Cooper appointed Accorsi, who retired in 2020 after 32 years as a sport management and recreation faculty member, to two, three-year FAR terms. After his retirement, Cooper asked him to remain as FAR for the 2021-22 academic year.
Among other tasks, a FAR "helps promote student-athlete success in the classroom, in athletics, and in the community by striking a balance among academic excellence, athletics competition, and social growth as they prepare for lifelong success," according to the NCAA website.
Accorsi takes his role seriously, noting the FAR position is important, he says, because he can "provide a different lens to view NCAA issues and problems that may arise during the course of the year that may impact athletics and our athletes."
As part of his responsibilities, Accorsi works with all 26 Springfield College varsity teams, including as an advisor to the Student Athlete Leadership Team; assists Michelle Lee Scecina, assistant athletic director for compliance and student-athlete enhancement, with reviewing all student-athlete transfer documents that come via an NCAA transfer portal compliance tool; and serves as the chair of the athletic department grievance committee. Accorsi estimates that he spends eight to 12 hours a week in his role.
"I marvel at how all our student-athletes accommodate such a heavy workload, yet consider the workload a small price to pay to wear 'THE jersey,'" he said.
Cooper called Accorsi "the embodiment of Humanics" and a person who brings that perspective to his role along with his unparalleled energy and commitment to the College.
"He helps to maximize the experience of our student-athletes. He is an advocate for all sports and for maintaining a healthy relationship between athletics and academics," Cooper said. "The two aspects of collegiate life blend incredibly well at Springfield College, and Bob's leadership and understanding of both sides of that relationship have been critical to our success."

— Judith Kelliher