Looking back on the 50-year anniversary of Springfield men's basketball defeating Dr. Julius Erving
Some 3,000 students and spectators descended on the Memorial Field House at the east end of the Springfield College campus. A cold Tuesday night with temperatures in the mid 20s, students abandoned their studies and marched across campus, they streamed into the building, bundled up and excited. The word had gotten out that the men's basketball team would be taking on the University of Massachusetts (UMass) that evening.
It was February 16, 1971.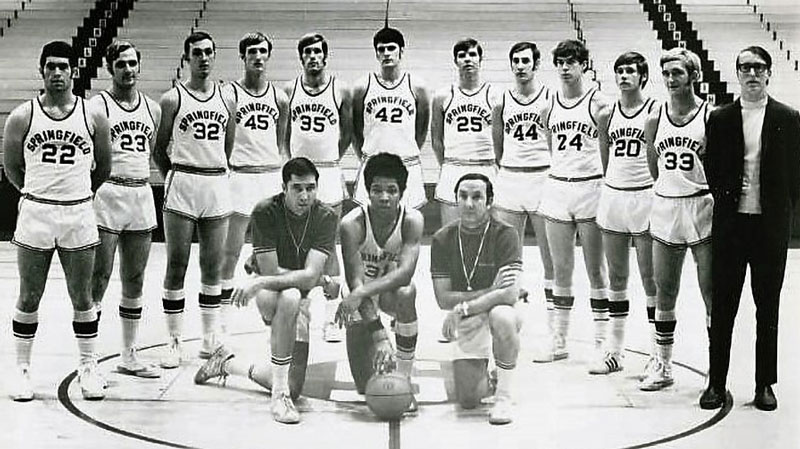 The Field House was packed for two reasons: First, to cheer on the then-Division II Springfield College Chiefs (now known as the Pride) match up with a Division I opponent. And, the main one, to see the superstar UMass junior – Julius Erving.
"Dr. J"
The game took place in the context of an America divided, with the prospect of getting drafted to the war in Vietnam, anti-war rallies embarked across the country and four students were shot and killed by Ohio National Guard soldiers at Kent State University nine months earlier.
For one winter night — for this particular basketball game at the Birthplace — all of the politics washed away.
Springfield, 20-point underdogs, had scouted the Massachusetts Redmen (as they were referred to before changing their nickname to the Minutemen in 1972) heavier than any team head coach Ed Bilik '57, G'62, had scouted before.
Bilik, a Springfield College legend, did not want any element of surprise to influence the outcome of the game. Leading up to the historic night, sixth-man Jim Grassi '72, G'77, played as Erving in practice.
"What Coach Bilik would do very efficiently was he would always have the practice squad mimic whatever our opponents did on offense and defense,"

Jim Grassi '72, G'77
"What Coach Bilik would do very efficiently was he would always have the practice squad mimic whatever our opponents did on offense and defense," Grassi said. "You need somebody who's six-foot-five that could just throw up anything that was given to him which is what the Doctor always did."
Bradley Macomber '71 was tasked with defending Erving, who finished his two-year stint in Amherst as one of only six players to average more than 20 points and 20 rebounds per game — in a time when dunking was illegal.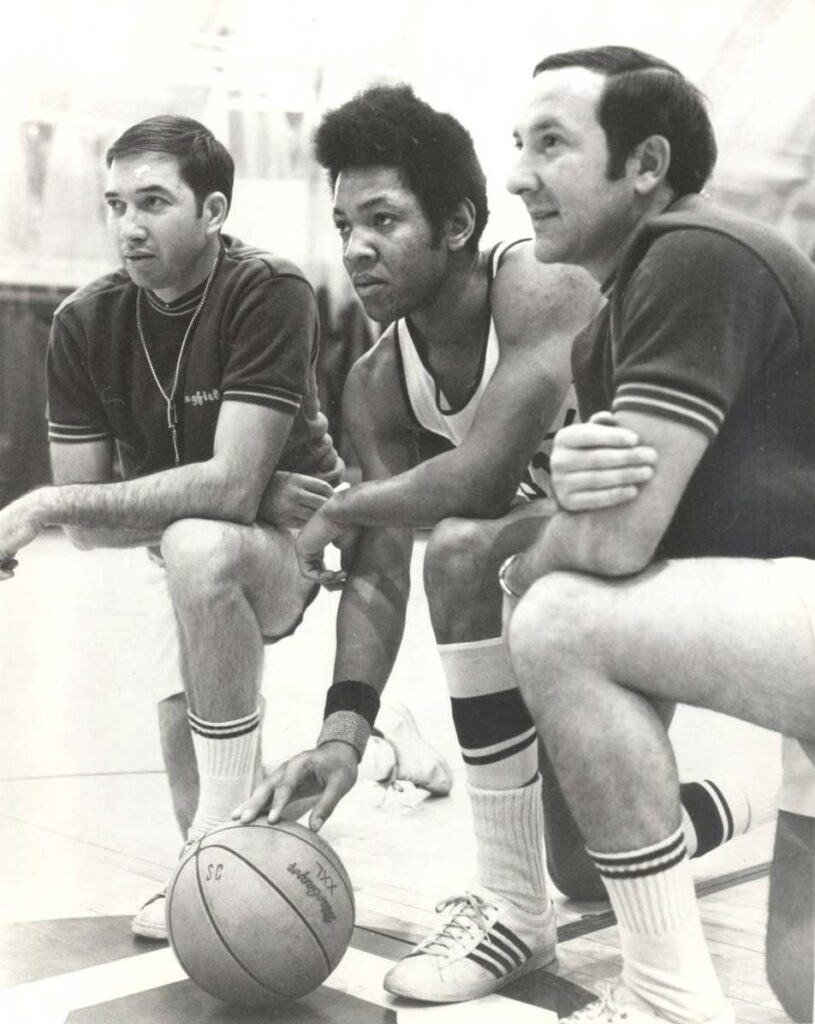 He was held to just four points in the first half, likely due to Bilik's emphasis on limiting the contributions from other players on the floor — letting "Julius be Julius."
After the first, UMass held a slim 31-30 lead over Springfield. But, with eight minutes left in the second half, the deficit grew to nine, 53-44 in favor of the Redmen.
"It was obvious that the momentum was changing," Bilik said. "It's a gamble when you use a zone press — or any press — you're saying to yourself, 'Okay the momentum isn't our way' — you go after them and hopefully it is going to help bring you back into the game. But the other end of the totem pole is that you can get blown out. So, it was one of those situations: we could either get back into the game or we'd get blown out, and it worked — we got back into the game."
Springfield got back within one by way of a layup from its captain: Steve Waterman '72. The crowd erupted in excitement.
With 22 seconds remaining, UMass led, 62-61. Tom McLaughlin was set to inbound the ball and the entire building knew where the ball was headed — to Dr. J.
Macomber, who held Erving to a season-low 18 points on the game, read McLaughlin's eyes and jumped in front of the pass. Falling out of bounds, he tossed the ball to Waterman who caught it near the elbow, dribbled once and prepared the shot.
"I just let it go and made the shot," he said.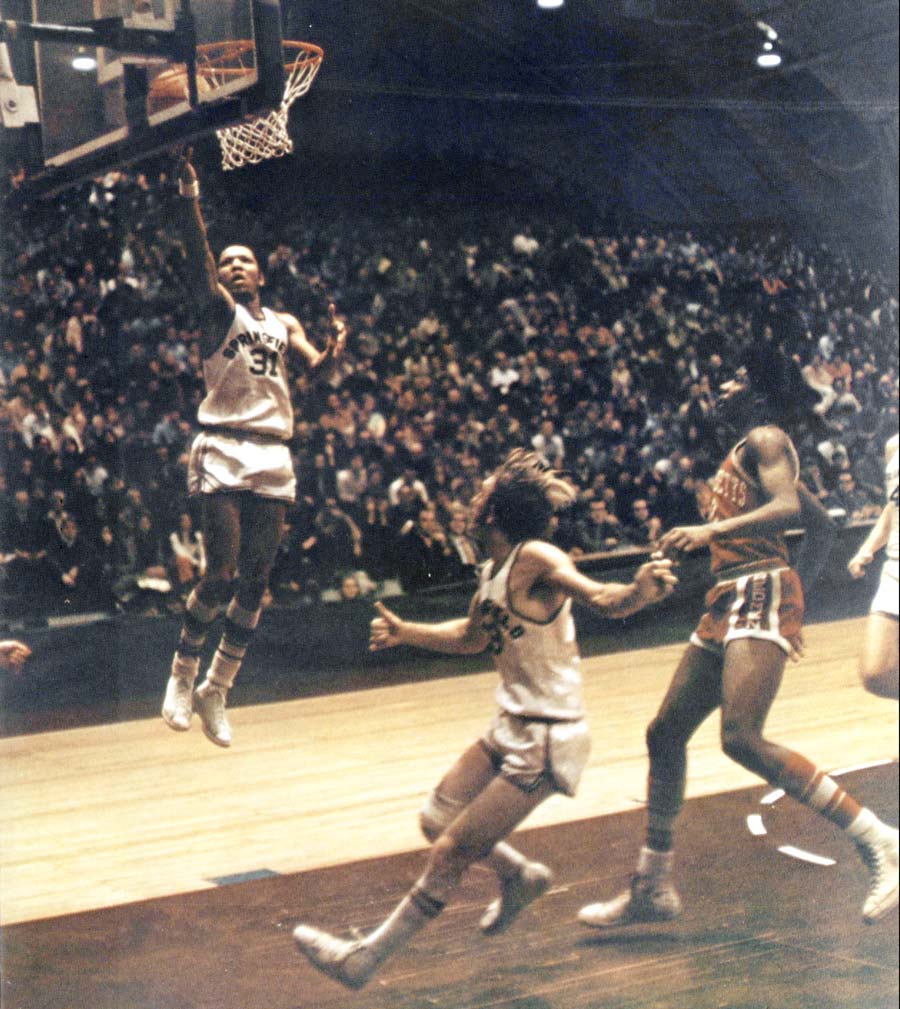 The game clock showed just four seconds when the ball went through the net. UMass inbounded it one final time, it was knocked around and collected by Grassi who threw it up in the air for the clock to run out. Springfield won, 63-62.
The fans rushed onto the portable floor in the former naval-training-facility-turned-field-house.
"(The) wild celebration followed which resembled Times Square on New Year's Eve. The jubilant Springfield fans carried each Springfield player off the court on their shoulders," as alumnus and former Alumni Director Hal Lynch '41, G'66, described in his 1999 tribute.
Bilik hugged his associate coach Ray Gilbert '63, G'68, and, in contrast to the pandemonium amongst the students, met UMass coach Jack Leaman quietly for a handshake at half court.
After 2,517 men's basketball games where the sport was created, this is the one that stands above the rest. Fifty years later, many will call it the greatest athletics victory in Springfield College history.
In the moment, the impact didn't seem large to Bilik and his team. Bilik was even unaware of the celebrations that followed.
He was invited to a presentation by the senior class after their end-of-the-year banquet. They showed slides of the UMass-Springfield game and commented, "'This was our most memorable time at Springfield College.'"
"And I said, 'Gee, with everything that was going on, you know Kent State, it just shows you the kind of cathartic effect athletics and a game can have on individuals,'" Bilik remembered.
"Ray Gilbert told me 10 years after the game that after the game, the campus was celebrating all evening and into the morning," he said. "I never knew that, I never heard of that until he told me 10 years, maybe five years after the game. I never realized the kind of impact that game had on the student body at that time. It was meaningful I guess."
Waterman, one of two players of color on the Chiefs' roster, added, "After 50 years and knowing that you're still being remembered by people up at Springfield College and even Coach Bilik himself – I mean, it was a ballgame. I didn't realize it would be such a great win and such a big part of history, but it did feel good. It still feels good."
The lasting history is very much due to the man wearing "MASSACHUSETTS" across his chest.
"With him [Erving] on the court, it was ironic in a sense because I think we were the only two people of color on the floor at the time so that was really exciting."
Waterman scored 30 points and topped Erving as the highest scorer that day.
Grassi wasn't one to forget how the game shaped out, but he did remember it in his own way.
"There was one point during the game where Coach Bilik had called me over and he said, 'I want you to go in for Bradley, I've got to talk to Bradley.' I went in there and I guarded the Doctor for — I still don't know how long it was — a couple of minutes, and what transpired from that was that Dr. J didn't score in that brief period of time," he said.
And he provided a humorous alternative history in recounts to his friends, and to the Doctor himself.
There was a Western Massachusetts Boy Scout luncheon about 10 years ago that was headlined by a speech from Erving. After hearing Grassi's version of those few minutes he spent guarding the hall of famer, one of his friends invited him to tag along.
They listened to the speech and approached Erving afterwards. Grassi introduced himself, noting that he went to Springfield College.
"Without skipping a beat, he said, 'You guys beat us,'" Grassi recalled, laughing. "And then I told him, 'Yeah, but that's not the biggest part of that game.' He looked at me and we were shaking hands at the time, I said, 'I guarded you and I held you scoreless.' Without skipping a beat he looked at me and said, 'Did they give me the ball?'"
Dr. J returned to Springfield in 1993 to be inducted into the Basketball Hall of Fame, two years after making his return to The Birthplace. He received an honorary degree of Doctor of Humanics and gave the 1991 commencement address.
"We were celebrating the 100th anniversary of basketball and we decided to give an honorary degree to Bob Cousy, who was obviously a very prominent player in terms of earlier years of basketball pros, and Dr. J who was symbolic of the modern era of basketball. I had to pick him up at the airport and his wife. In our conversation that game never came up, it just never came up," Bilik said, describing Erving as a very personable and down to earth individual.
After the 1970-71 season, Erving took advantage of the American Basketball Association (ABA) "hardship" rule that allowed players to leave college early. He played five years in the ABA for the Virginia Squires and the New York Nets before embarking on his legendary 11-year career with the Philadelphia 76ers in the NBA.
In each of his 16 professional seasons, across both leagues, the Doctor never missed the postseason, was an all-star every year (16 times), won three championships, three scoring titles, and four Most Valuable Player awards. Combined from both leagues, Erving scored more than 30,000 points, grabbed 10,500-plus rebounds, and dished out more than 5,100 assists.
In his two years on the varsity team at UMass, Erving's teams only lost 11 games. The most important of those — to Springfield, at least – was on that cold February night in 1971.

Joseph Arruda is a communication/sports journalism major from Geneva, N.Y. He is the sports editor of The Springfield Student. This story originally appeared in the Feb. 16, 2021, issue of The Springfield Student, and is reproduced with permission of the author.