Springfield College Ninja Warrior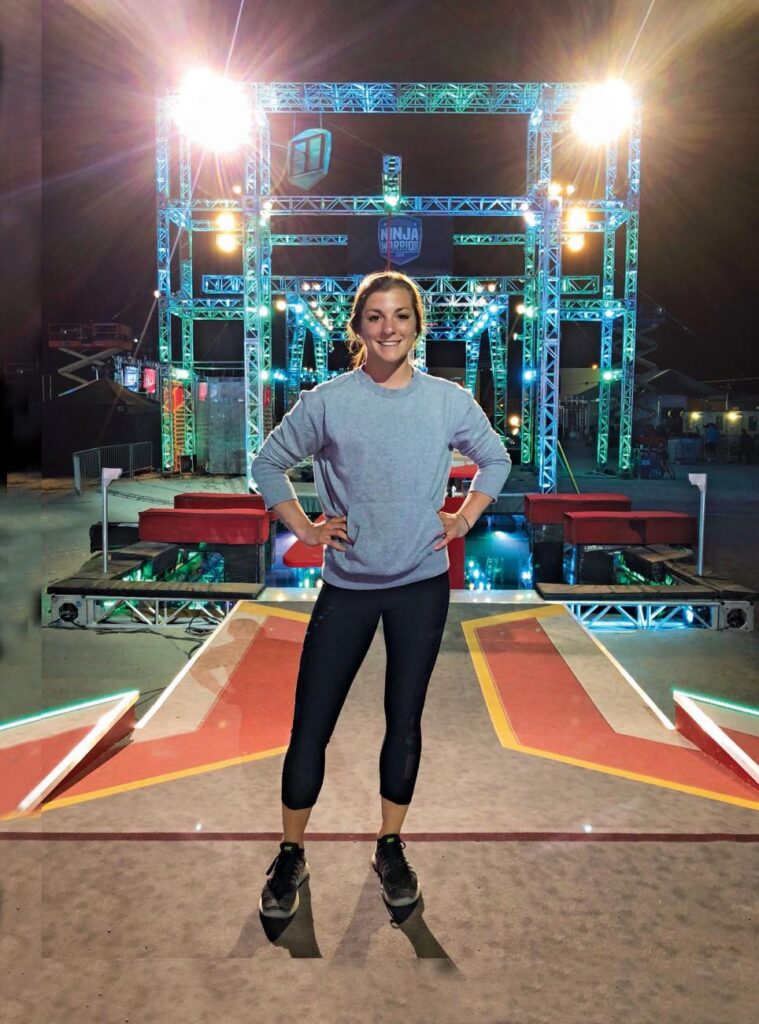 The Gymnastics Exhibition Show used to be the grandest stage for Abby Clark, the biggest spotlight she had ever known. Back then, in the fall of 2011, she was a wide-eyed first-year student with an effervescent spirit, a quick mind, and an impressive athleticism—a perfect fit for the Springfield College triangle.
Hardly anybody on campus knew who she was. What she was, though, was busy. As a recruited gymnast, she plunged into preparation for the home show. The gymnastics extravaganza, the centerpiece of Springfield College Homecoming, had been going strong for more than 100 years. The passage of time was that year's theme, a celebration of the 12 months. Somewhat in awe of her older teammates, she dutifully did a routine to celebrate November, embodying gratitude and the Thanksgiving feast from the balance beam.
"That was terrifying," she said. "It was the most people I had ever performed in front of for anything."
Fast forward seven years to October 2018, Homecoming once again, Abby Clark '15 back in the house. Again, the gym is jammed. The place is rocking. The theme this time is "Flipping Through Channels," a light-hearted tribute to TV classics, ranging from "The Brady Bunch" to "Saturday Night Live." Part of the show was a real-time interview with an actual TV celebrity from the NBC mega-hit "American Ninja Warrior."
This time Abby Clark wasn't terrified. Then again, this time everyone knew who she was.
She first arrived at Springfield from Holderness, N.H., a tiny town in the foothills of the White Mountains she describes as "not really near anything." Academically, she gravitated toward rehabilitation and disability studies. In an age of athletic specialization, she was a two-sport athlete. First there was gymnastics, with its unique Springfield College season: the spectacle of the home show followed by the competitive season. Afterward, no rest for the weary, she went right into track and field.
"I was just never done," she said. "I loved it."
Her specialty in gymnastics was the balance beam. In track, it was the hurdles. Both metaphorically and actually, she was incubating the perfect preparation for what she now calls "the Ninja World."
The surging popularity of Ninja sports—obstacle course competitions—was not on her radar back then. She focused on the matter at hand. In gymnastics she excelled at a high level, becoming an All-American. In her senior year, she did what no Springfield College gymnast had ever done before or since: won a national title on the balance beam.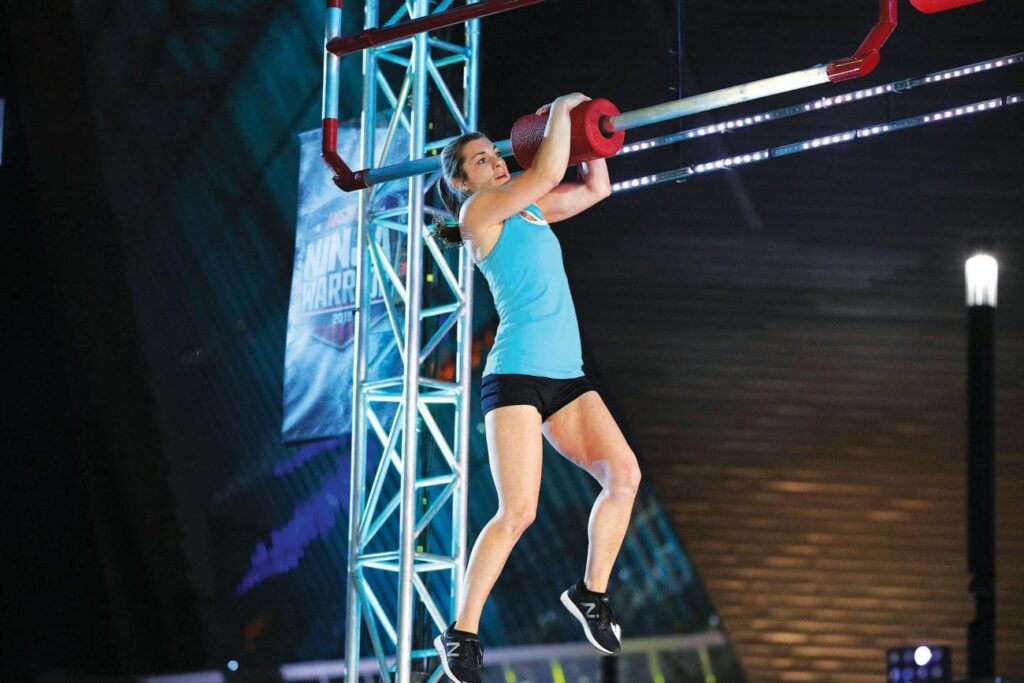 When she graduated she began working with children with Down syndrome and autism. She teaches now at a school for children with disabilities in Manhattan. In a sense, she teaches about balance, about navigating obstacles.
So it only made sense that along with her boyfriend (and fellow Springfield College gymnastics alum) Joe Capobianco '15, she began to explore ninja sports. Ninja gyms were opening across the country—Capobianco runs one in New Jersey. They both started competing in the National Ninja League. And then there was the dream, performing under the bright lights on "American Ninja Warrior." Springfield has been well represented on ANW, with former student-athletes like Sarah Killeen Poulin '06 (soccer), Mark Ribeiro '09 (men's volleyball), and Ty Evans '12 (gymnastics) competing in city qualifiers over the last few years.
Springfield has been well represented on ANW, with former student-athletes like Sarah Killeen Poulin '06 (soccer), Mark Ribeiro '09 (men's volleyball), and Ty Evans '12 (gymnastics) competing in city qualifiers over the last few years. "We're a relatively small school, and it's crazy the amount of success that comes from it," Clark says.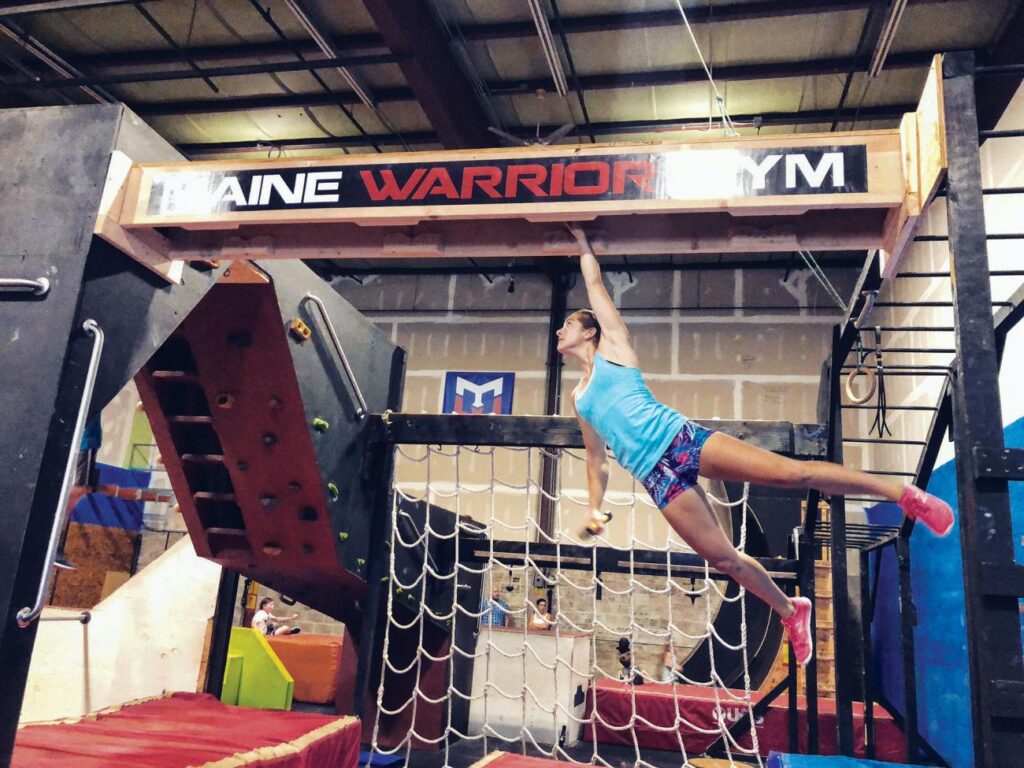 Still, aware there would be "tens of thousands of applicants," Clark figured the odds were stacked against her when she submitted an application for the show's ninth season in 2017. To her surprise and delight, she received a casting call as one of approximately 600 people at the six city competitions, all hoping for a chance at the national championship in Las Vegas. In the Cleveland city qualifiers, Clark fell into the water off the "ring jump," and never made it to TV. She figured, "It's over—for now."
Not for long, though. Training with greater intensity and reapplying, Clark was thrilled to get the call for Philadelphia in early May 2018. The 100 competitors only got to see the course and its obstacles for the first time that evening, the mystery being part of the Ninja culture. Filming is done outdoors in darkness from 9:30 p.m until 5 a.m. for maximum artificial lighting that plays well on TV. Intermittent rain, though, pushed things back, and after staying up all night, Clark was one of a small crew bumped across to a city qualifier in Minneapolis later in the month.
There, in the wee hours, Abby Clark, leapt across big, elevated side-to-side steps; navigated a twisted fly obstacle by swinging forward and back from overhanging bars; conquered the ring jump that had ended her journey a year ago; blazed across the "diamond dash" (finishing with a belly flop); negotiated "the battering ram;" and then faced the "warped wall," a 14-foot, 6-inch concave edifice. Almost five minutes into an exhausting run, the 5-foot-3 Clark raced up and reached, just missing once, just missing twice. Then with the crowd roaring, her boyfriend and father exhorting her on, Clark summoned a final surge on her last run, just getting her fingertips over the edge, pulling herself up, and blasting the buzzer down, which set off triumphant trails of smoke. She held up her hands in triumph, a scene witnessed on television by some five million viewers.
She ultimately made it to Las Vegas, one of only a dozen women in the country. No, she didn't win the grand prize of $1 million, but you'd never know that based on the outpouring of support she got in Holderness, N.H., and at her school in New York, (the fourth grader who ran up to her the first day of classes, with "his eyes as big as tennis balls," shouting, "I saw you on TV!"), and, of course, at the home show at her alma mater.
Said Clark with a smile the next day, "It felt really, really cool to be in front of everyone."