A Hoop Season for the Ages
Then there is that name, right off the ranch: Charlie Brock. Or Coach Brock. Or just "Brock"—a mixture of command, expletive, and boulder.
Mid-December found him, appropriately enough in San Antonio, having taken his team to a tournament hosted by Trinity University, where Brock '76, G'80, once coached. He was excited to be returning with THIS team, the one with a real collective spirit; with THIS group of seniors, three of the best leaders he ever coached; with THIS star, a sophomore whose motor never stopped. It seemed like the perfect trip for THIS season, the one with so much anticipation. What could possibly go wrong?
Only everything. First, Springfield arrived in the throes of a three-game losing streak, admittedly against good competition, but disappointing nevertheless. In the first game, the Pride took on a mediocre Southwestern College team and played poorly, losing, 89-76. The next night against Trinity, the Pride were pounded, 81-66.
Somehow, Springfield was now 4-5 on the season. The Pride had lost five games in a row. Teams with Final Four aspirations, he knew, simply did not lose five games in a row.
The three seniors were stunned. "You start doubting everything that's going on," remembered Andy McNulty, the fearless point guard.
"Everyone was questioning each other and themselves," admitted Brandon Eckles, the 6-7 forward who sometimes seems too nice for the game.
"Man, this is not what we wanted at all," the spirited Ben Diamond told his teammates at a San Antonio restaurant that night.
If anything, it felt worse for Charlie Brock, something akin to personal failure. Sure, coaching was a year-long grind, a stressful environment for families (he has three adult children), but he had still claimed to have "the best job in America." Now he wasn't sure he deserved it. At the next meeting with his assistant coaches Brock began by asking: "Am I too old for this? Has the game passed me by? Is it over?"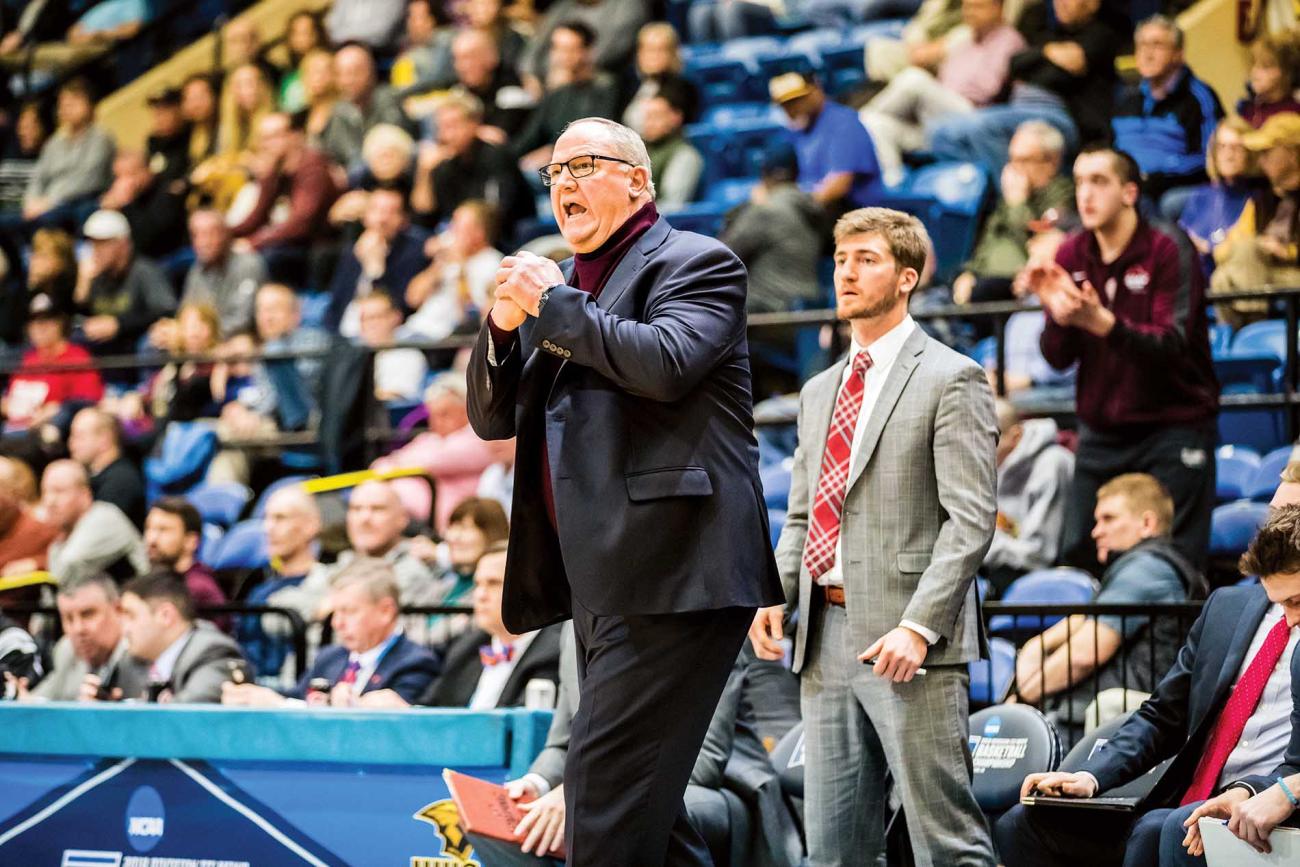 ON A FILE cabinet in the back of Brock's office in Blake Arena sits a framed photograph of a wild young man. He sits atop a motorcycle, wearing a leather jacket. His fiery red Afro tops a scowl, a cigarette dangling from his lips. Meet Charlie Brock, Springfield College student in 1974.
He was rough around every edge. On the court, old-school coach Ed Bilik '57 took out his coarsest sandpaper. Practice was a proving ground: the rebellious kid, the traditional coach, America just coming out of the sixties. Brock can still hear the lectures:
Basketball is more than the ultimate team game—it's OUR game. This is where Dr. Naismith hung the peach baskets. We have a special responsibility. I'm not just your coach—I'm your teacher. That's how we do it here. But the greatest teacher is the game itself. Put hoops and Humanics together, and you will become a true Springfield Man.
Brock wasn't ready for the lesson. "I didn't know (what it all meant) when I came here," he admits, "and that fault lies with me for not paying attention."PREVIOUS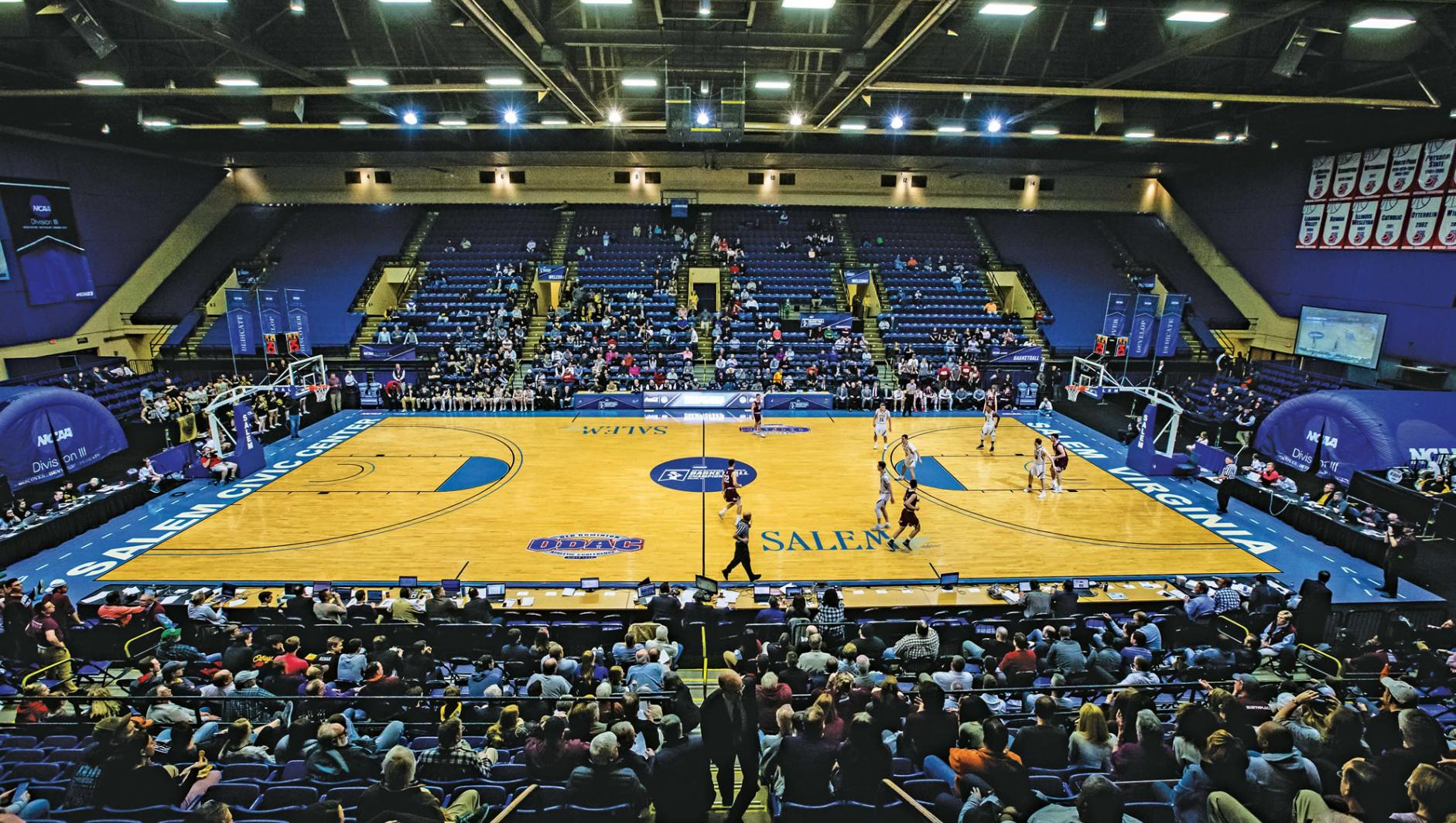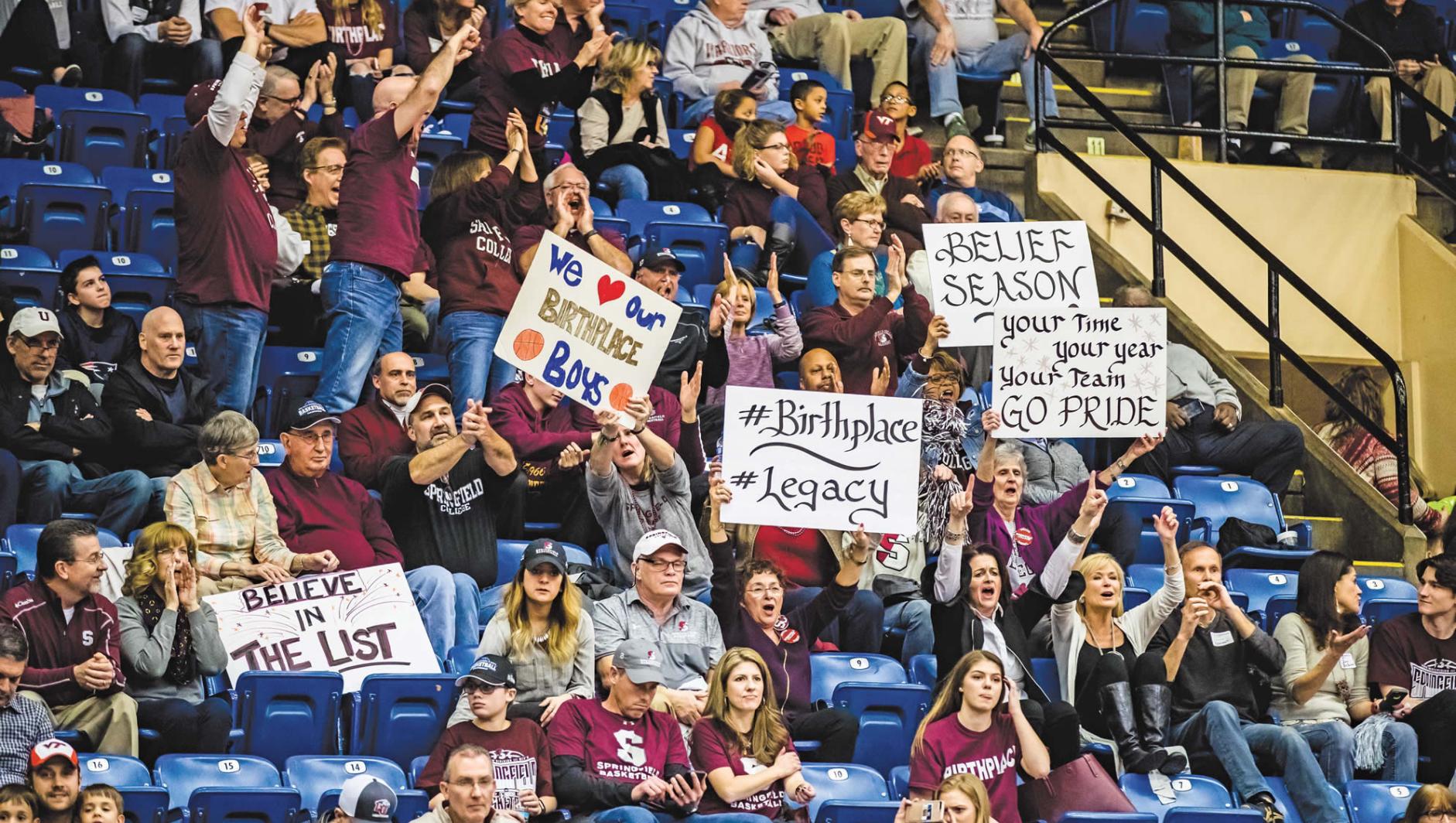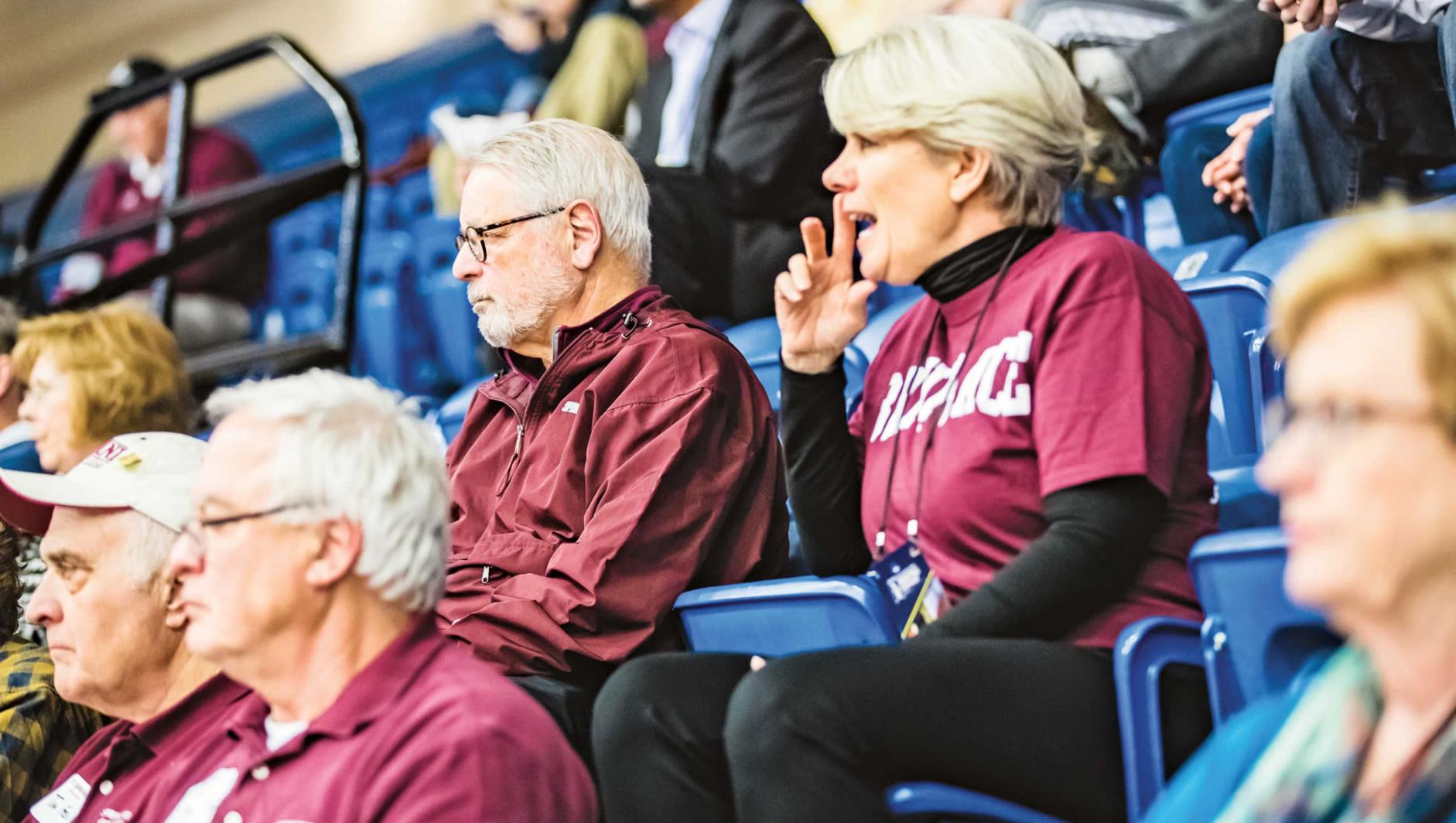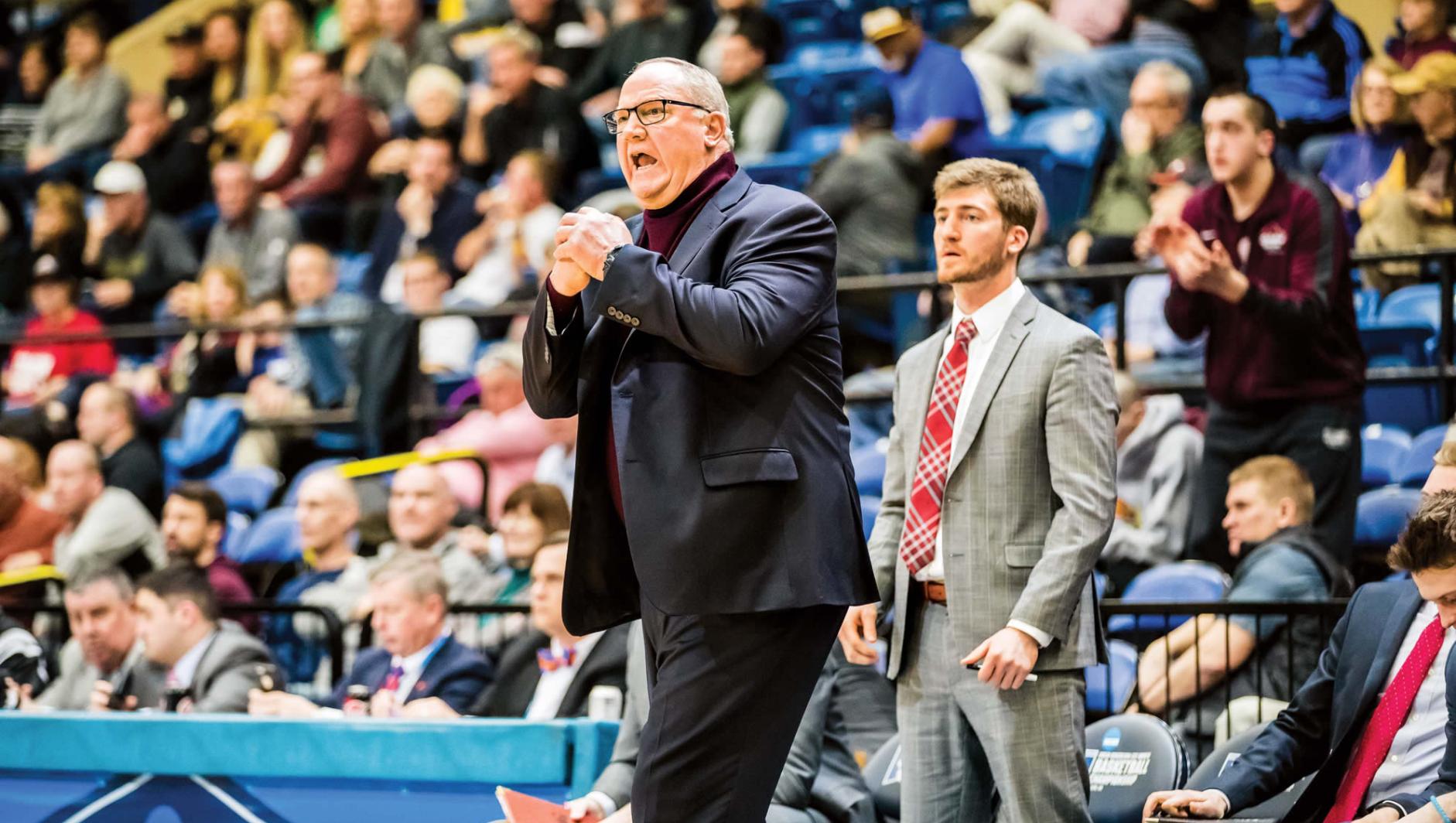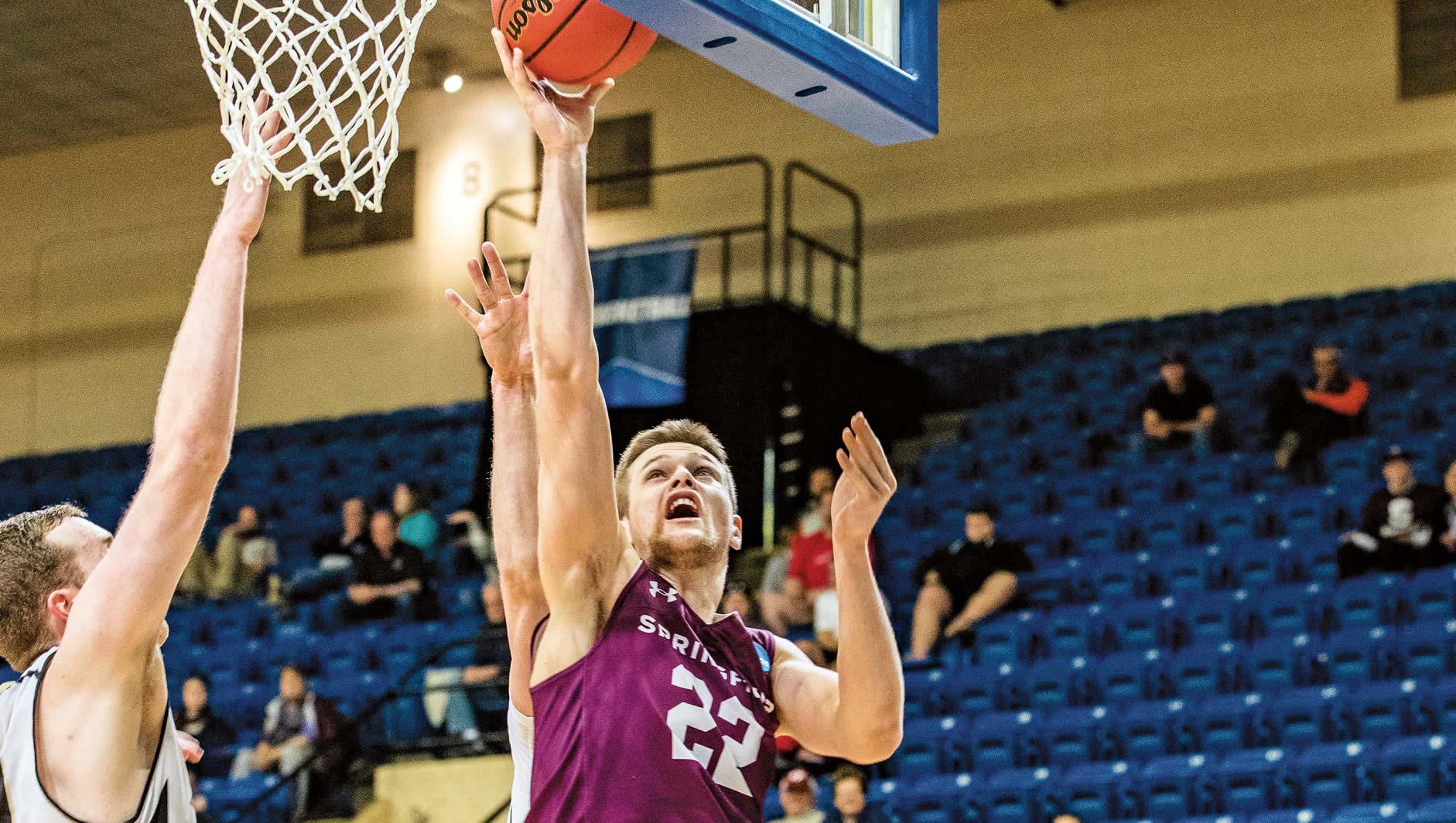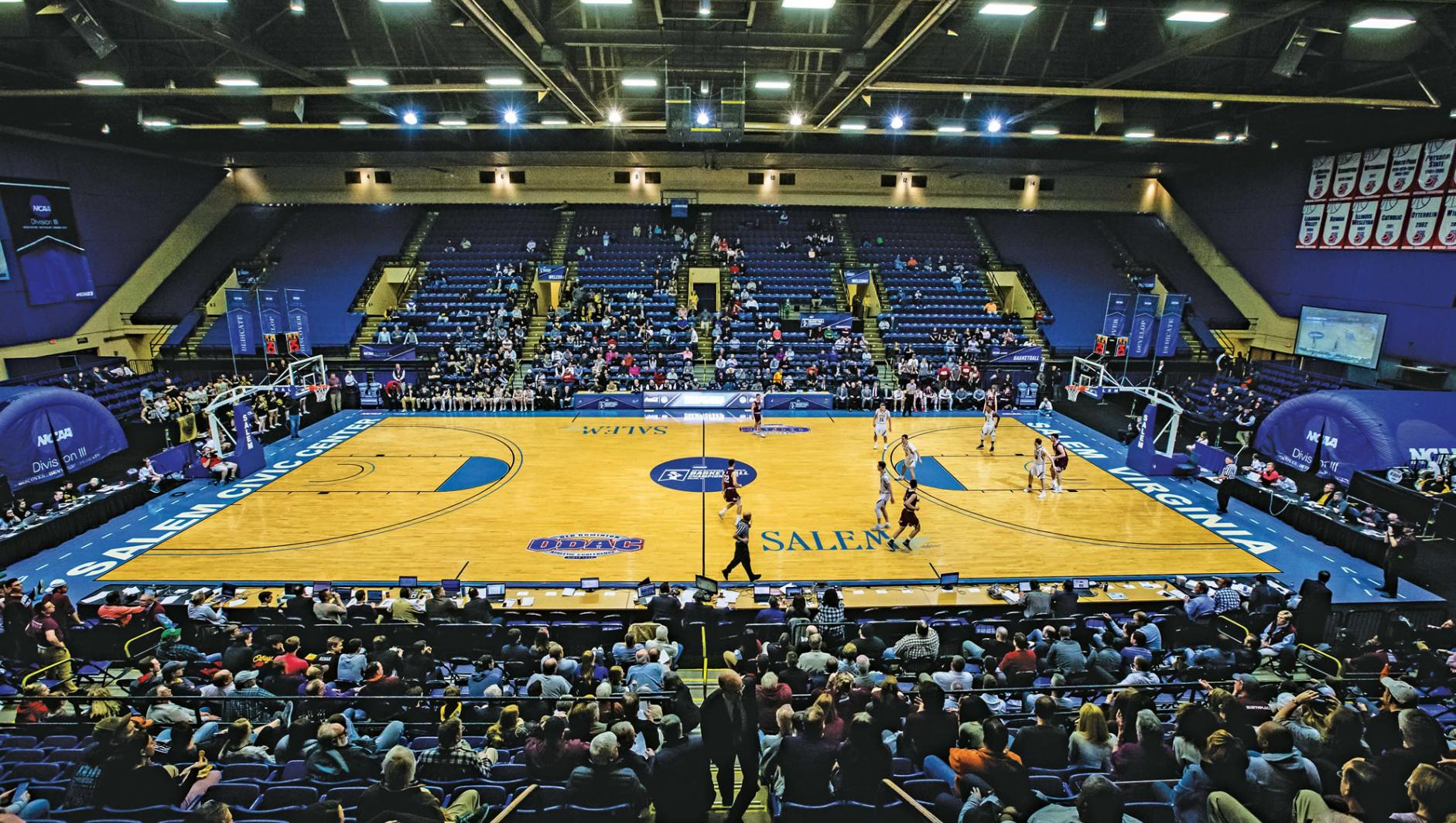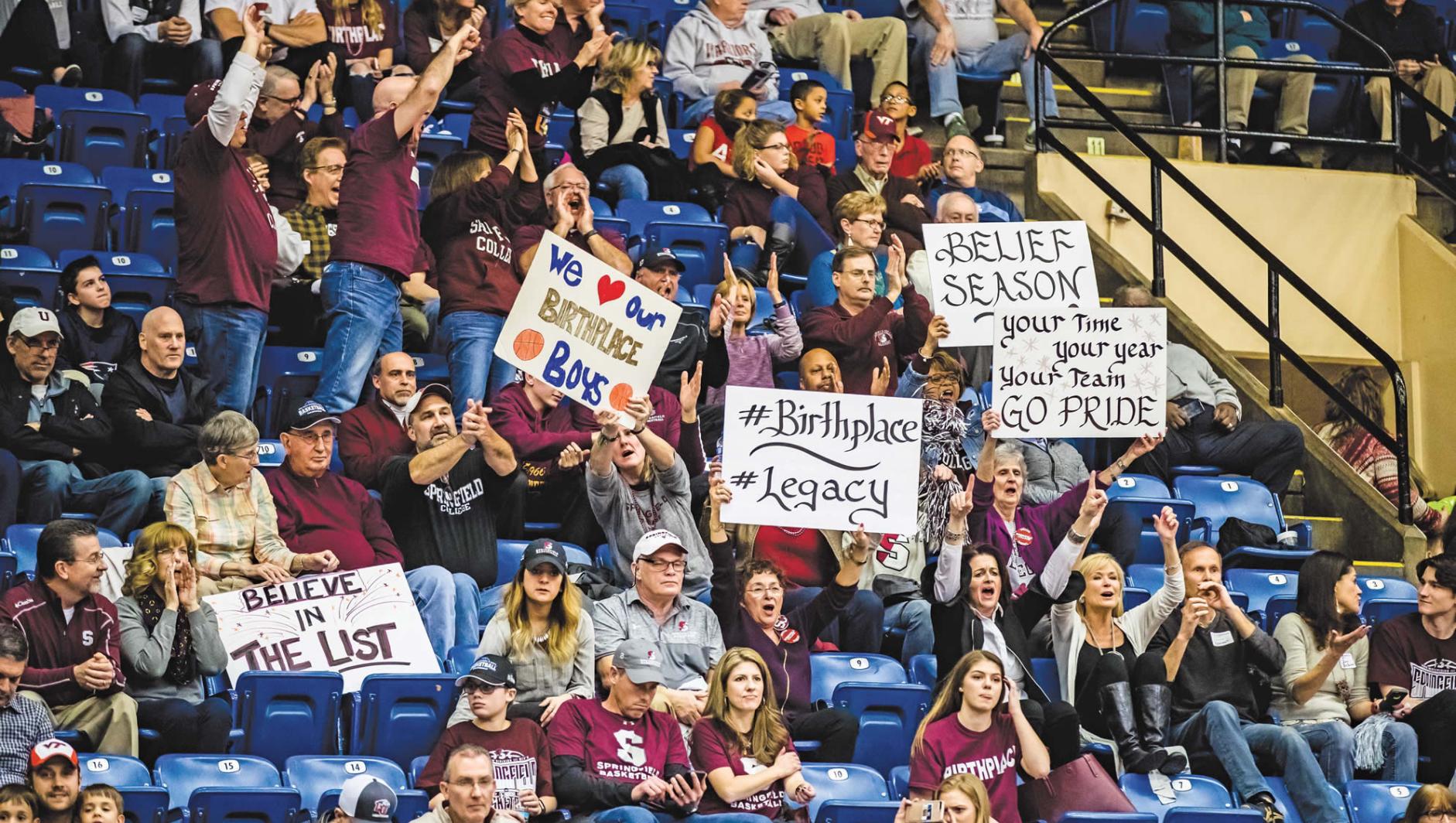 NEXT
WHEN THE SEASON began, he had already coached for 40 years: three as an assistant to Bilik, and 37 as a head coach. After stops at Drew (New Jersey), Gustavus Adolphus (Minnesota), and Trinity (Texas), Brock came home in 1998. This season would be his 20th as Springfield's head coach, tying Bilik for the longest stint in school history. He would coach his 1000th game this season. He still felt a roiling in his gut before every single one.
He had known success, both off the court and on. Brock embodied the Springfield College "teacher-coach" model, becoming one of the only college basketball coaches in America promoted to full professor. He climbed the ranks in the National Association of Basketball Coaches (NABC), the organization that oversees all levels of college hoops; two years ago he won its prestigious "Guardian of the Game" award. He poured himself and his team into service opportunities. His "Dream to Read" program—a partnership with the Springfield Public Schools—became a national model with the NABC. (According to former college teammate Don Pingree '75, reading has always been a passion for Brock. Even though "We were both on the wild side," he recalls Brock having a light on late almost every night, a book in front of his face, during the summer they lived together and worked at a tool factory. "He'd read all night.")
And his teams were good. He had many more winning seasons than losing ones, a .537 winning percentage overall, .570 at Springfield.
But fairly or not, many now believed that true success had to be earned on what was called "the national stage." This meant successfully navigating college basketball's ladder of alliterations: first, getting into March Madness (a 64-team field picked from 412 teams in Division III), occasionally advancing to the Sweet Sixteen, pushing perhaps to the Elite Eight, and ultimately the sport's gold standard – the Final Four.
That had not happened in a big way for Brock. Eight of his teams got to the tournament, but Springfield had not won an NCAA game since 2005. And only once—back in 2000—had one of his teams made it to the Sweet Sixteen.
THIS YEAR'S TEAM, he thought, had a chance. Sure, the Pride had only gone 14-13 a year ago, but they had knocked off No. 1-ranked Amherst. They took eventual national champion, Babson, to the wire. Yes, they lost games they should have won, but they provided a taste of the possible.
All key players would be returning, including the three seniors—rare two-year tri-captains—and a pair of talented sophomores. One was Heath Post, a versatile 6-6 player, strong around the basket and increasingly dangerous from the perimeter. The other was a local player named Jake Ross.
Ross was a hard player to peg. He was 6-foot-4 without a natural position, but he had an uncanny sense of the game. He could score from long range. He drove to the basket with creative aggression. He was a tenacious defender, a marvelous passer, a relentless rebounder at both ends. Averaging team-high totals of 22.7 points, 9.0 rebounds, 3.1 assists, and 1.8 steals per game, he earned national freshman of the year honors.
"He's unique in his talent—he can kind of do it all," Eckles said of Ross. "But I think the most underrated thing about him is how humble he is, how willing he is to have his teammates succeed."
Adding the three-point lightning of transfer Cam Earle and strong recruits heightened the great expectations, Springfield won its first four games. But then came the worst of times, the five-game skid that culminated with the pounding in the prairie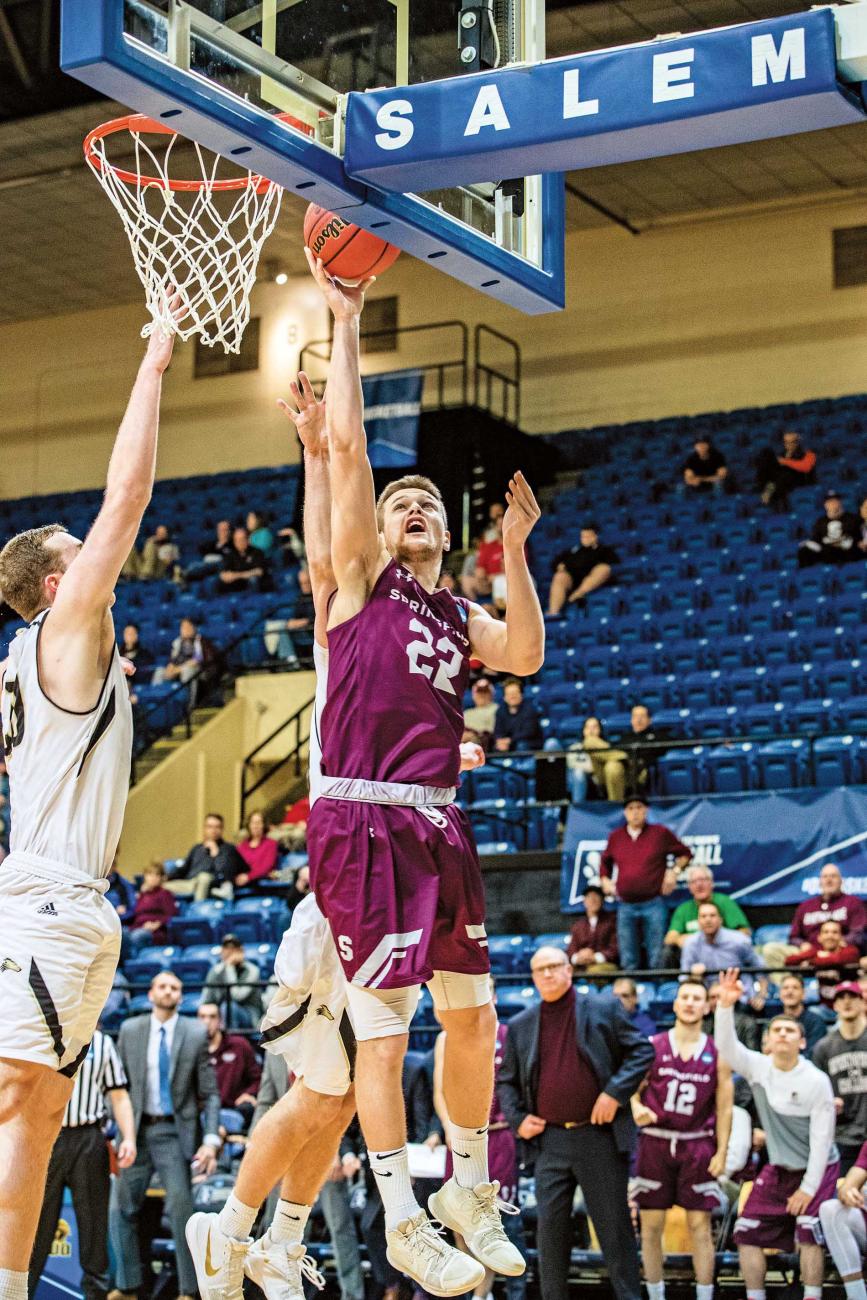 AND THEN, AS if in time-lapse photography, the Pride gelled. They went 14-2 the rest of the way, including a 12-2 league record, good enough for Springfield's first-ever New England Women's and Men's Athletic Conference (NEWMAC) regular season championship. It wasn't just the winning. This was beautiful basketball: unselfish, focused team play, the whole dwarfing the sum of the parts. They were fun to watch.
Their off-court bond was undeniable. They poured themselves into service projects: reading in schools, gardening at a women's shelter, and partnering through Team IMPACT with Jondel Rivera Ruiz, a 6-year-old with cystic fibrosis. Jondel's visits to campus were part of the magic.
The regular season title granted Springfield one advantage, hosting the tournament, where the winner would advance automatically to the NCAA tournament. The Pride just needed two home victories to guarantee its spot in March Madness. And then, just like that, they lost in overtime to WPI, a team they had beaten twice. With a record of 18-8, the Pride were, quite possibly, done for the year.
The only hope was getting an "at-large" bid when the tournament field was announced two days later. Of the 64 teams in the field, 43 would be winners of their conference tournaments, leaving 21 at-large bids among the other 369 teams in Division III. The two-day wait was, according to Diamond, "basketball purgatory."
On Monday, Feb. 26, the team gathered in a conference room to watch the selection show, figuring they had a 50-50 chance. The first three brackets of 16 teams each were announced: no Springfield. The fourth bracket was revealed. Fifteen teams were unfurled—still no word. There was one spot left with at least 20 teams thinking they had a shot. Jake Ross stared at the floor with "a black cloud in my head."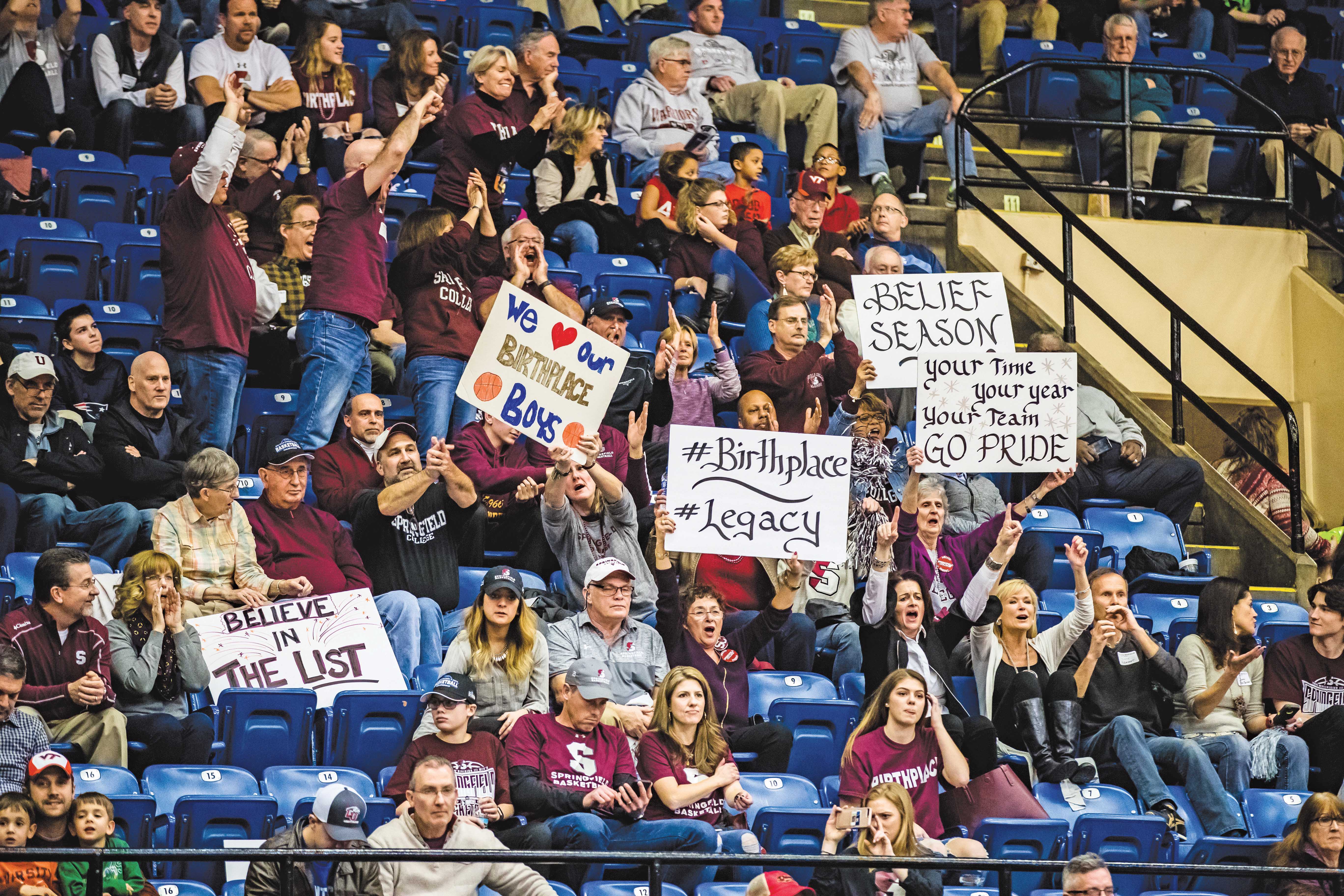 "And the final team in this year's field…is Springfield!"
---
THEY SHOT FROM THEIR CHAIRS LIKE ROCKETS. ECKLES SHOUTED SO LOUD IT HURT HIS RIBS. BROCK JOINED THE MAYHEM, BOOMING, "LET'S TAKE IT ON THE ROAD, BOYS!"
"And the final team in this year's field…is Springfield!"
They shot from their chairs like rockets. Eckles shouted so loud it hurt his ribs. Brock joined the mayhem, booming, "Let's take it on the road, boys!"
TAKE IT, THEY did. Off the court, the next two weekends in Philadelphia were filled with highlights. The players bonded with their bus driver "Ben," who had never watched a basketball game before but became a huge fan. In the hotel, they played hours of the video game "Fortnite." They made videos and sent them back to Jondel. They made numerous trips to Wawa for sandwiches. (At one, Ross started talking to a homeless man outside the store, saw the tattered blanket he was wearing, and bounded back on the bus to give him one of his Springfield sweatsuits. On another occasion after practice, Ross showed up five minutes late to a film session, and Brock was livid—until he learned Ross had been rebounding in the gym for a 12-year-kid whose mother had died a year ago. "Character," Brock says, "is what you do when nobody is looking.")
On the court, those two weekends in Philadelphia will be remembered as some of the best sustained basketball ever played by the school that invented the sport. Against nationally ranked teams, playing on the road, Springfield summoned late-game poise under pressure for wins over Albright and Cabrini the first weekend, reaching the Sweet Sixteen for the second time in school history.
They returned to Philly the following weekend to play at Swarthmore. In the Elite Eight against a powerhouse Hamilton team, the stellar season seemed likely done when Springfield was down 8 with under two minutes to go; almost certainly over down 6 with under one; hanging by the narrowest of threads down 5 with under 30 seconds; and seemingly hearing its last rites when a Hamilton player went to the line with 3.6 seconds left and a 3-point-lead. One of two free throws would end the game.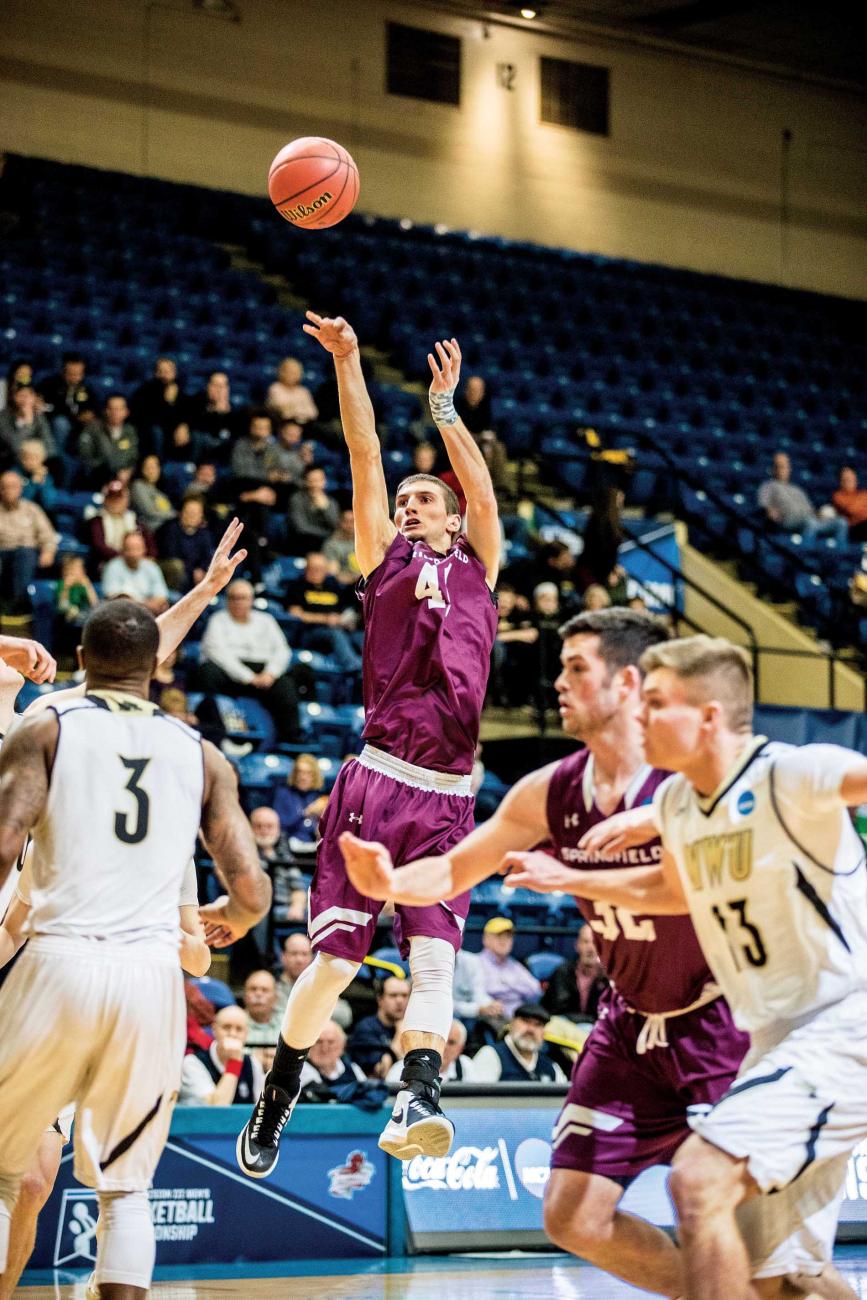 But two misses and a Heath Post rebound later, there was the faintest glimmer of a chance. He passed to McNulty, who steamed upcourt and unleashed a leaning shot from well beyond the arc just before the horn sounded.
Springfield President Mary-Beth Cooper was at a Boston hotel with students, getting ready to fly the next morning to Haiti on an alternative spring break service trip. They all watched the stream of the game on a cell phone. When the ball went through the basket, they all shouted, "Oh my God!"
It was Humanics and hoops all together.
After another gutsy performance in overtime, the Pride had a 92-90 win, and the school's first-ever appearance in the Elite Eight.
The next night they took on host Swarthmore in a hostile gym. The Pride were down 7 at halftime, and then ran away with a 74-62 victory. Charlie Brock's three children streamed down from the bleachers to hug their father. They then watched him climb the ladder to cut down the final strand of the net.
In all his years in basketball, Brock had never cut down a net before. In the postgame press conference he described winning this game with this team in front of his children as "the proudest moment of my life." The players waited in the locker room, a bare-chested Ross behind the door clutching a cooler full of water. When their coach arrived, there was no way in the world that Jake Ross was going to miss his shot.
Springfield was headed to the Final Four. The players were thrilled for themselves, for the school, and for their coach. "He's done it all," said Diamond. "He's seen it all. That's why we trust him. And yet, we somehow managed to give him a new experience."
THE RECORD WILL show that Nebraska Wesleyan won the Division III National Championship this year in Salem, Va., over the University of Wisconsin-Oshkosh.
But let the record also show that in the semifinal game, Springfield pushed Nebraska Wesleyan all the way to overtime. But for a bounce or two of the ball, who knows what might have happened?
Very late that night, Brock was all smiles when he came down to the hotel restaurant. What a year it had been! Many of his friends knew that two weeks later Brock would be traveling back to San Antonio—of all places—for the Division I Final Four, where he would accept the presidency of the NABC, a post held in the past by legendary coaches like Mike Krzyzewski and Dean Smith. None of those friends would be surprised to later learn that he had been named the Glenn Robinson National Coach of the Year for Division III. But for Charlie Brock, those honors paled before the one he felt on this night after losing a hard-fought game, when he saw a man in his 80s smiling at him from across the room.
Ed Bilik had come up from Savannah, Ga., to surprise his once-rebellious disciple. As they caught each other's eye, it was clear that the torch had been passed. Springfield had arrived on the national stage.