They say change is good, and in the case of the upcoming "switch" of the admissions and alumni relations office locations, everyone is excited about a change that is sure to be a win-win.
Here's what is happening: Admissions is moving from the Admissions House on the lower campus into the Stitzer Center at Judd Gymnasia. Alumni Relations, after a stopover in the Annex, will move into the current Admissions House.
So how and why did this all come about?
Stuart Jones, vice president for enrollment management, who came to the College about a year and a half ago, explains, "During my on-boarding process, President Cooper brought up the idea of having a better landing point for prospective students and their families. Last year, we had close to 3,000 high school seniors and their families visit the campus, and the current Admissions House, in its location, as nice as it is, does not do justice to the beauty, aesthetics, and tradition of the campus and the amenities of all its buildings. So Cooper began to explore where a better landing spot might be for these prospective students."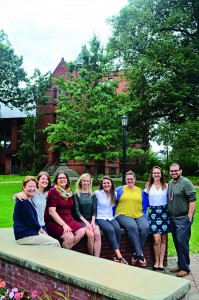 Those conversations led to Cooper graciously volunteering to have the space in the lower floor of the President's Residence temporarily used as the Admissions Welcome Center. The lower area of the President's Residence had been used for public functions such as dinners and receiving guests, but was thought to be under-utilized. It is an appropriate welcome point for visitors due to its beauty and proximity to the center of campus. The admissions staff would continue to use the Admissions House as their office space.
The Residence, although a temporary location, proved to be far better and made a more fitting impression as a starting point than the Admissions House. But, discussions continued about a permanent home for the Admissions Welcome Center. Cooper continued brainstorming with staff about what the future could be for an admissions welcome center. What would that look like? Building a new facility, which would take millions of dollars and many years of fundraising, did not appear to be a likely scenario. Then, in the spring of 2017, Cooper brought up the idea of locating it in the beautiful, historic Stitzer YMCA Center in Judd Gymnasia, which also could house undergraduate and graduate admissions offices. She discussed the possibility of calling the new admissions location the Stitzer Welcome Center at Judd Gymnasia with the Stitzer family, who most enthusiastically agreed.
"To move our admissions welcome function to the historic and iconic Judd Gymnasia impresses upon prospective students and their families the tradition and mission of this institution at very first glance," says Cooper. "Their first experience on the campus is in the very heart of it all."
That idea, of course, would necessitate a move by alumni relations staff from their current offices in Judd. It seemed like a "no-brainer" to have the alumni office staff move into the house, which offered so much potential for alumni relations. So, in early June, the switch was announced and plans to move each of the offices commenced.
"It was such a great idea for both admissions and alumni relations that it was really not a difficult decision. President Cooper spoke with me, Gary Blanchette '80, our vice president for institutional advancement [the division in which alumni relations resides], and all the vice presidents to get our feedback, asking if we saw any problems with the switch, and none of us could see any. It was a very transparent process. The President keenly understands that we only have one chance to make a great first impression with our visiting prospective students and families. That's why it is so important for admissions to move to this truly beautiful location that is tied more closely to our history and mission. It also is essential that we provide a special, comfortable, welcoming space for our treasured alumni. This move accomplishes both of those goals beautifully," Jones says.
A Welcoming Home for Alumni Relations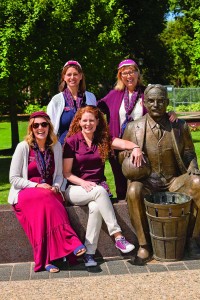 The Office of Alumni Relations eventually will have a completely renovated space in the former Admissions House, making it a comfortable and welcoming landing point for alumni visiting campus. The house is large relative to the space in Judd, where the alumni staff has been housed for seven years. They will be taking over a much bigger space. It had been occupied by an admissions staff that is four or five times larger than the alumni relations staff. In Judd, the staff had office space, but there were no dedicated areas that could serve as venues for events, dinners, meetings, staging for all of the equipment that they require, and other uses.
Director of Alumni Relations Tamie Kidess Lucey '81, G'82, explains the benefits to alumni, "Obviously, alumni relations having this new space is just a fabulous thing for us. It will allow us to do even more imaginative programming, and hopefully provide some new and innovative services. We are still in the formative stage of planning and understanding what the new location will allow us to do. It will definitely enhance the alumni program, and we are very excited about the potential. We are looking at this house as a new 'little slice of heaven' for the alumni relations program."
Another benefit for alumni relations will be having a presence in the quadrant of the campus where current seniors reside. The alumni relations staff is looking forward to doing more programming with seniors who of course will soon be the newest members of the Springfield College Alumni Association. As the saying goes, 'students today, alumni forever,' so having the opportunity to cultivate those relationships is important. This will give the alumni relations staff a head start on engaging with these soon-to-be alumni, specifically and conveniently.
An Iconic Landing Point for Admissions
Judd Gymnasia, of course, is the College's first building. Even with its many changes and renovations, it represents the historical beginnings of the campus that also include Marsh Memorial, Alumni Hall, and the Administration Building. Because it encapsulates the beauty, the mission, and the Humanics philosophy of Springfield College, this iconic building was decided to be an ideal welcome center for admissions.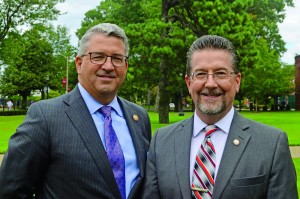 For Mary DeAngelo, G'84, dean of admissions, it will get prospective students immediately caught up in the enthusiasm, warmth, and personality of the student population. "We will be going back to the hub of campus, which is really exciting. I started in admissions in 1984 and we were housed in Babson Library. It was great to be there because as soon as the prospective students and their families stepped out of the car, they were into the middle of the campus. Visitors always comment to me about their immediate feeling of belonging when they come to the campus, how welcoming our students, staff, and faculty are. So, to once again have our visitors getting that instant positive experience by being in the midst of all that activity will be a great asset to our staff. The exciting thing about Judd is that it is historic, and people will immediately appreciate that we've been around along time. There is the impressive Springfield College tradition we can showcase. We are very excited about that."
Room to Grow
There also will be additional space for more efficiently staging alumni events, a necessity when there are weekends that the alumni relations staff holds three events in 48 hours. "To have that dedicated space will be great for staging, maneuvering, and manipulating all the pieces we need. We have beautiful space now, but we have grown, and the new house will serve us as we continue to grow and evolve," Kidess Lucey explains.
"We are having a record enrollment, with the biggest class in Springfield College history coming in the fall of 2017," says DeAngelo. "With the surge in enrollment and in visits, our needs to manage the amount of people we serve and the work we are doing are expanding. Being in Judd and having access to the gymnasium, which will be a great presentation space, will only help us continue that successful growth trend."
Alumni Relations and Admissions—A Symbiotic Relationship
"So many of our students are recruited by our alumni—one of our primary goals is to have the Alumni Association helping to recruit new students. We are sort of symbiotic partners with admissions, so it is fun and fitting that this space exchange is going on between our two departments. There is a great overlap and a hand-in-hand working relationship that is being extended and enhanced by this move. We will have more space to host students more frequently and with more focus on engaging with them as future alumni," says Kidess Lucey.
Alumni House—A Great Naming Opportunity
Kidess Lucey hopes there will be naming opportunities for the new alumni house. "Gary Blanchette, our Senior Associate Vice President and Director of Development
Julie Considine Tyson, and I will be meeting a great deal to come up with some creative opportunities for alumni to be able to name different pieces of the house. Or, if someone were really interested, to name the whole house, which to me would make it even more special as an alumni house. 'Of alumni, by alumni, for alumni,' is our vision for the new space. Again, we are really, really excited by it."
DeAngelo notes, "I think for the alumni relations staff, moving into the house and having a more appropriate amount of space to greet people will create something really welcoming and special. Alumni will come in and feel like they are in a home away from home, and that will work really well for them. The other thing about the house that may not be well known is that it used to be student housing. During homecoming and reunions, alumni will stop by our office and ask, 'Can I see my old bedroom?' My office happens to be one of the old bedrooms, so I always invite them to come on up and reminisce. What could be more welcoming than that?"