Department
Parade of Classes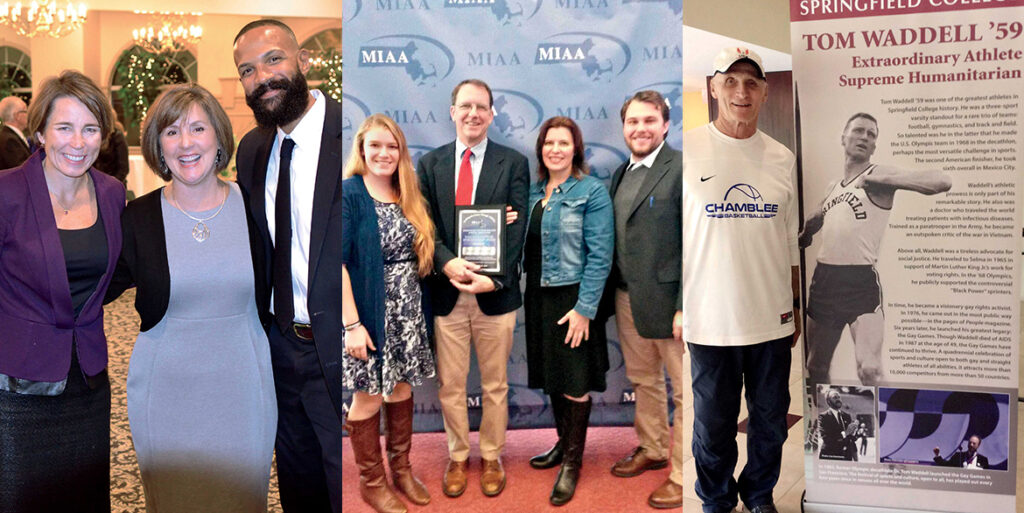 1940s
The military service of World War II veteran James Anagnost '48 was celebrated when he was honored during the NFL's salute to veterans in 2015. Anagnost was honored at the Nov. 15, 2015, Patriots vs. Giants game at MetLife Stadium, and Giants hall of famer Harry Carson was instrumental in making it happen. Anagnost and Carson met at the gym where they both have worked out for the past 25 years. At the event, Anagnost was introduced by Carson for the recognition during which the veteran's service awards and accomplishments were announced. He received personal congratulations from NFL Commissioner Roger Goodell; NY Giants President, CEO, and co-owner John Mara; New England Patriots owner Robert Kraft; singer, songwriter, and producer Jon Bon Jovi; Patriots Coach Bill Belichick; and many of the players from both teams.
Farmingdale Observer reports that Donald Snyder '49 was honored with the 2016 Lifetime Achievement Award from the National Volunteer Fire Council. You make us proud, Donald.
1950s
Gaetano Amato '53 has retired from Springfield College where he served as the pre-practicum coordinator for the past 19 years. He plans to spend time marketing children's books he has written.
Bob Chrusz '55 has been elected to the Newton (Mass.) South High School Athletic Hall of Fame.
While Steve Holmes '59 was visiting campus with his grandson, and giving his pitch to continue the Springfield College legacy, Steve had his photo taken next to a Tom Waddell '59 poster. Holmes and Dr. Waddell competed together on the track and field team. Holmes fondly remembers Waddell as a "gifted athlete" who was often helping others. "I strongly support the Tom Waddell Fund," Holmes said, adding, "I'm proud of SC as we continue to excel in preparing students for professions in human interaction!"
Bruce O'Neill '59 wrote in to share that he underwent open-heart surgery in May. He is progressing well in recovery and looking forward to getting back on the golf course. Here's to a speedy recovery, Bruce.
There now is an Instagram account dedicated to the photography and travels of Dr. Tom Waddell '59, @gay_olympian. His daughter, Jessica Waddell Lewinstein, is uploading photography that highlights Tom's amazing life and travels.
1960s
Bob Goldberg '60 wrote in to share that after retiring from the YMCA he started two planned giving programs; one at Minnesota State University, Mankato, and one at the Wilder Foundation in Saint Paul, Minn. "I then flunked retirement a second time and at age 80 I now work half time for the Southwest Initiative Foundation in Hutchinson, Minn., serving 18 counties in Southwest Minnesota. I am planning to retire a third time at the end of this year, this time I think it will stick."
Jim Goodwin '65 shared with us that his most recent novel, The Truth is in Her Genes, was published in July to strong reviews.
Art Petrosemolo '65 has retired from Fairleigh Dickinson University after 18 years, most of which he served as vice president of communications. He has relocated to Sycamore Springs, an active retirement community in New Holland, Pa. Petrosemolo says one of the deciding factors was the community's large indoor pool, as he swims daily. He continues to write and photograph for regional newspapers and magazines, specializing in thoroughbred racing and sailing regattas.
The Shenendehowa (N.Y.) Athletic Department announced that Walter "Butch" Titterington '65 has been inducted into the school's athletic hall of fame. Titterington was a star on both the baseball and soccer teams at Shenendehowa High School.
Congratulations to Kenneth Wood '65, who celebrated his 50th wedding anniversary with his wife Charlotte on July 10, 2016, according to Daily Hampshire Gazette (Northampton, Mass.).
Tom Wells '66 recorded his 800th total win as coach of both the track and field and swim teams at New Hartford (N.Y.) High School. Wells has been coaching and teaching at the high school for 50 years and counting.
Dick Whiting '66 shared a nice Reunion story with Triangle. In preparation for his class' 50th Reunion, classmate Tom Kretsch '66 had an idea that classmates should submit reflections about themselves. The essays were assembled in to a book and distributed during Reunion. We enjoyed the stories, so one of them may appear in a future Triangle!
Charles "Chuck" Andreades '68 capped off the 2015-16 Maine high school ice hockey season by refereeing the senior girls all-star game. He said that, at the age of 70, it is believed that he is the oldest active hockey referee in Maine. His only goal now is to referee a Springfield College club hockey alumni game.
Bruce Boyer '69, former Kernersville (N.C.) YMCA executive director, has published his second devotional book, titled Touchpoints of Faith: God's Word in Every Day Life. The book is available on Amazon and as a Kindle download. It features guest stories by YMCA directors from across the country.
In May 2016, Rev. Allyson Comiskey Glass '69 was installed as pastor of the Seymour Congregational Church, United Church of Christ, in Seymour, Conn.
1970s
Space Coast Daily (Florida) has announced that Space Coast Public Service Awards has recognized Gary Shiffrin '71 with the Lifetime Achievement Award.
Beverly (Schmitt) Malone '72 shared that she has been director of the Teacher Training Institute at Lesley University and the Buckingham Browne and Nichols School for 44 years. She also volunteers at the Minute Man National Historical Park and with the Lincoln Minute Men. She and her daughter make the authentic outfits from 1775 by hand. That is impressive, Beverly!
Ellen (Lenox) Smith '72 recently published her book It Hurts Like Hell!: I Live With Pain – And Have A Good Life Anyway. The book is available on Amazon.
According to Tyler Morning Telegraph (Tyler, Texas), the Tyler Area Chamber of Commerce board has elected Howard Patterson '73 as chairman-elect. Patterson is currently vice president for student affairs at the University of Texas at Tyler.
William Rice '73, G'78, wrote in to share with us that he received the Lifetime Achievement Award from the Athletic Equipment Managers Association at the 2016 convention for his distinguished contributions to the organization. Rice has been employed by Bike Athletic/Schutt Sports for 36 years.
Sandy Quillen '73, PhD, wrote in to share that he has been appointed by Robert A. McDonald, secretary of veteran affairs, to the Department of Veteran Affairs Advisory Committee on Prosthetics and Special Disabilities. That's quite an honor, Sandy!
Penn Community Bank announced that Michael A. Meeneghan '74 has joined its organization to lead its licensed subsidiary, Penn Community Insurance.
Members of the 1975 Softball Team traveled to Holland, the Netherlands, in July 2016, where they reunited with the Dutch National Team, head coach, and umpire, whom they played during their 1975 trip to that country. Denise Desautels '77, Amy Friedman '75, G'79, Lynn Johnson '77, and Diane Schumacher '75 joined Coach-emeritus Diane Potter '57, G'63, when they visited the 1975 Dutch National Coach Nol Houtkamp, players Renee van den Berg, Conny Broere, Saskia de Jong, Ellie Nijhuis, Els Spee, and umpire Andre Prince.
Burlington Union (Concord, Mass.) reports that Ed Gillis '75 has been inducted into Burlington High School's Athletic Hall of Fame.
Barry Porter '75 shared with us that he has been appointed assistant section manager of the Southern Florida section of the American Radio Relay League. Good going, Barry!
Bill Edelman '76, a longtime athletic director at Vernon Township (N.J.) High School, has announced his retirement effective Jan.1, 2017. Edelman is a past president of the Directors of Athletics Association of New Jersey and he was selected as the New Jersey Athletic Director of the Year for the 2012-13 school year.
Dr. Charles Saggiotes '76 wrote in to share with us that he organized a mini reunion on Aug. 4 with classmates from Alumni Hall, including Dr. Robert Parker '76, Sal LaBella '76, Paul Sawyer '76, and John Catsam '76. The day started with a round of golf at the Newport Golf Course in Newport, N.H., owned by Catsam. They spent the rest of the day at Dr. Saggiotes' lake house in Sunapee, N.H. "Talking, laughing about old times, having pizza and beer—what a great day with great friends. Looking forward to the second summer reunion next year. All classmates from '76 are welcome." Thanks for sharing, Dr. Saggiotes!
Tom Davis '77, head girls' lacrosse coach at Warde High School in Fairfield, Conn., was honored as the Connecticut Class L Coach of the Year. His team was the 2016 Class L state championship game runner up and ranked third in the final state poll. Congratulations, Tom!
Valli Meeks '77, DDS, associate professor at the University of Maryland School of Dentistry, was selected by the University System of Maryland Board of Regents as a recipient of the 2016 USM Regents' Faculty Award for Excellence in Public Service. The award is the highest board of regents recognition for exemplary faculty achievement.
Bob Noto '77 shared that he has been inducted into the Capital Region Football Hall of Fame as an assistant coach. Noto taught and coached physical education for 35 years in the Amsterdam school district (N.Y.) and retired in 2012.
According to Port Washington News (N.Y.) Pamela (Monfort) McDonough '78 was inducted into the Schreiber High School Athletics Hall of Fame. Way to go, Pam!
George Ross '78 recently was featured in an article in Bangor Daily News (Maine). Ross has been the Belfast High School baseball coach for 35 years.
The New England Affordable Housing Management Association has named Kevin Sorge '78 executive director. In this role, he will be responsible for providing training, education, and support to the affordable housing industry throughout New England. Way to go, Kevin!
Marenda Brown Stitzer '78 and Todd Stitzer NG'74 recently traveled to Scotland to celebrate the 60th birthdays of Marenda and some of her 1978 classmates. In attendance were Darlene Woolson '78, G'85, Liz Campanini, Michael Stewart, Debbie Ging Stewart '78, Tim Smith, Nancy Kaelin Smith '78, Kathie Tremble Togneri '78, Bill Togneri '77, G'81, Nancy Shapiro O'Brien '78, and Nicole Gionfriddo '78. Marenda writes that they had "a wonderful vacation at Skibo Castle in the northern highlands of Scotland. We made so many new memories together. It was just great."
Jeanne (Gabriel) Westbrook '78, Denise (Hunt) Fiorentino '78, Linda (Wolfe) DeFlaun '78, and Maureen (Buchanan) Cleary '79 celebrated their 60th birthdays and 42 years of friendship with a road trip to Quebec. The four alumnae met as first-year students all living in Abbey Hall. We're glad to see this bond has not broken!
1980s
Jean (Cafarelli) Curtin, G'80, has been appointed the new chief probation officer at Worcester (Mass.) Superior Court.
Charlie Fisher '81, head coach of the Western Illinois University football team, was recently interviewed in the blog ChicagoNow.
According to The Reminder (East Longmeadow, Mass.), Doreen (Witkop) Fadus, G'81, has been named vice president of Mission Integration and Community Health and Well Being for Mercy Medical Center and the Sisters of Providence Health Systems. Best of luck in your new position, Doreen!
Steve Krystyniak '82 was recently hired by Preferred Community Bank as a commercial lender.
Michael Ostrowski '82, president and CEO of Springfield Teachers Credit Union, was recently quoted in an article in BusinessWest. The article focused on the credit union's growth under his leadership.
The YMCA of Greater New York announced the naming of Natalie Norton '83 as executive vice president, chief operating officer, as of Oct. 3, 2016.
According to Republican-American (Waterbury, Conn.), Lynn Richardson '83 is one of the new science teachers at Wamogo Regional High School in Litchfield, Conn.
Dave Davis '84, who is a preschool teacher at The Children's Museum of the East End in Bridgehampton, N.Y., shared with us that his experience working with special needs children and their families was the inspiration for a screenplay about autism titled Everybody Knew, which appeared on the award-winning web series called Front Seat Chronicles.
According to Worcester Business Journal (Mass.), Anthony Bartlett '85 has been named president of the Society of Financial Service Professionals for 2016-17.
Joe Dutsar '85 has been teaching in the Holyoke school system for 31 years, and has been appointed head coach of the Holyoke High School football team after a 16-year stint at William J. Dean Technical High School. Congratulations, Coach!
Sunday Freeman (Kingston, N.Y.) reports that Army Brig. Gen. Paul J. Laughlin '85 has retired from service. Thank you for keeping our country safe!
The Lawrence (Mass.) Bar Association has recognized Karen Kravchuk '86 with the Liberty Bell Award. As education director for the Boys & Girls Club of Lawrence, Kravchuk has been credited with providing thousands of youth members with the resources, guidance, and confidence to pursue their dreams through education.
The Massachusetts Interscholastic Athletic Association (MIAA) has recognized Brian Cogswell '87 with the William N. Gaine Jr. Sportsmanship Award in November at Gillette Stadium. Cogswell serves as the assistant principal at Lenox Memorial Middle and High School. He has been the chairperson of the District G Athletic Committee since 2011. He also served on the ski committee, the basketball committee and is chairperson of the tennis committee. He attended the Massachusetts Interscholastic Athletic Association Leadership Training Institute in 2011 and has presented at the Massachusetts Secondary Schools Athletic Directors Association conference. He volunteered at the New England Leadership Conference and is a Certified Athletic Administrator. He was the District G Ted Damko Award winner in 2008 and District G Athletic Director of the Year in 2009.
Poughkeepsie Journal (N.Y.) reports that Michael Cring '87 is the new athletic director of Arlington High School in New York.
Milton Independent (Milton, Vt.) announced that Becky Day G'87 is the new principal at Milton Middle School.
The Herald Press (New Britain, Conn.) reports that Janice (Mancarella) Portlock '87 has been named to the Plainville High School's Plainville Sports Hall of Fame Class of 2016. Janice was a three-sport athlete at Plainville and captained the volleyball and softball teams. At Springfield, she played softball as a four-year starter and, as captain, led the team to the NCAA DII Regional Tournament. Congratulations, Janice!
When the Triangle editor was at Red Rose Pizzeria in Springfield during Family Weekend 2016, she came across Erin (Fay) Azzato '88 and this collection of Springfield College friends and roommates, old and new. From left to right are Jamie Matteo '20, Cole Macleod '20, Kyla Azzato, Eddie Matteo '89, Marie (Gage) Matteo '88, Erin (Fay) Azzato '88, Karen (Ferraro) Cannata '88, Collin Macleod, Joanne (Gee) Macleod '88, Dan Macleod '87, Tony Cannata, Randy Azzato, Kelsey Azzato '20, Kellie Matteo, and Meghan Azzato.
Chris Mayhew Sr. '88 shared with us that he just completed his 27th year of teaching physical education for the Woodstock (Conn.) Public School System, where he has coached and been athletic director for more than 20 years. He was recently inducted into the Eastford Elementary School Athletic Hall of Fame and the Woodstock Academy Athletic Hall of Fame. He has been an officer for Putnam Lodge #46 Freemasons for the past 10 years and received the Pierpont Edwards Award for Distinguished Masonic Service by the Grand Lodge of Connecticut. Mayhew is married to Karen Oleszewski and they have three children: Chris Jr., Cara, and Marissa.
Brian McLaughlin '88, head lacrosse coach at Dover-Sherborn High School, led his team to its second consecutive Division III championship in 2016. McLaughlin's program has been to six consecutive state title games and won four of the last five. Impressive work, Coach!
Jennifer (Mattes) Farrand '89 was named assistant principal at Academy of St. Benedict the African in Chicago, Ill. "I have been teaching there for three years. My school serves a 100 percent minority and 96 percent free-lunch demographic. I love being at ASBA." Keep up the good work, Jennifer! You make us proud.
Kimberly (Wolcott) Joyce '89 has been hired by Altavera Mortgage Services as senior vice president of sales.
Malcolm Lester '89 wrote in to let us know that he is now head of school at National Presbyterian School in Washington, D.C., a nursery through sixth grade school with 300 students. He previously had worked as head of school at Grace Episcopal Day School in Kensington, Md., and as a teacher, coach, and administrator at St. Albans School in Washington, D.C. His daughter Page was named Gatorade Track and Field Athlete of the Year at National Cathedral School last year.
Brett Torrey '89, alumni director of Cushing Academy, and several Springfield College alumni who work at the school, were present at the dedication of the Academy's new Watkins Field House. Present were Don Harmon '92, G'94 (head athletic trainer), Ryan Suchanek, G'10 (math department, football, and baseball), Wayne Hancock '75 (retired), Kurt Kublbeck '94 (science department, strength coach, and varsity golf), Bill Wenning, G'85 (science department, cross country, and basketball), and Wayne Sanborn '72 (retired athletic director).
Ron VanDeVeen '89 shared with us that he has been named president and CEO of MetLife Stadium.
1990s
Madison Eagle (Madison, Va.) reports that Shari Landry, G'90, has been selected as the first president to lead the combined efforts of the Powell Wellness Center, the Free Clinic of Culpeper, and grant making programs of the Culpeper Wellness Foundation.
Chris Weber '90, head lacrosse coach of Hull High School in Hull, Mass., led his team to a best-ever 16-5 record last spring. The program has only been competing at the varsity level for seven years. Way to go, Chris!
Julie Cates '92 has been promoted from principal to director of school performance for Anne Arundel County Public Schools in Maryland.
According to Sun-Journal (Lewiston, Maine), J.P. Yorkey '92, G'93, has been
named dean of students and athletics at St. Dominic Academy.
The Hartford Courant (Conn.) announced that Joe Camire '93 is the new coach of the South Windsor High School girls varsity soccer team.
According to Wakefield Daily Item (Wakefield, Mass.), Stephen Fogarty '93, G'00, has been appointed as director of cocurricular, physical education, and health and wellness programs for Melrose High School in Melrose, Mass.
According to Milford Daily News (Milford, Mass.), Andrea Sawyer '93 has joined the staff at Tri-County Pediatric & Adolescent Behavioral Health as a nurse practitioner.
Jennifer Anderson '93, G'94, has been promoted to clinical coordinator for physical therapy services for inpatient rehabilitation at Duke Rehabilitation Institute. Anderson has worked in inpatient acute rehabilitation for the Duke University Health System for 20 years. Way to go!
Jeff Koehler '94 wrote in to share that he was inducted into the New Jersey Coaches Hall of Fame.
According to Republican-American (Waterbury, Conn.), Chris Rau '94 is the new principal of Lewis S. Mills High School in Burlington, Conn.
According to The Telegraph (Nashua, N.H.), Patricia Antonelli, G'96, has been named executive director of university career services at Rivier University.
Dean Ghiozzi '96 wrote in to share that he had participated in the Police Unity Tour with officers from around the country to honor fallen officers killed in the line of duty. The Police Unity Tour was a 300-mile bike ride, which started at Ground Zero in New York and finished at the National Law Enforcement Officers Memorial in Washington, D.C.
The Register (Palmer, Mass.) reported that Kristen (Marciniec) Tirado '96 has left the Monson Police Department, where she was a detective, to teach criminal justice at Smith Vocational and Agricultural High School in Northampton, Mass.
The Enfield Press (Conn.) announced that Andrew Longey '96 has been named principal of Enfield High School.
Susan Robbins '97, G'98, athletic director at Yarmouth (Maine) High School has been recognized by the National Interscholastic Athletic Administrators' Association with the 2016 Thomas E. Frederick Award of Excellence, according to Northern Forecaster (Falmouth, Maine). The award goes to an individual who exemplifies the qualities of leadership and who has made significant contributions to interscholastic athletics. Robbins is the youngest recipient of the award ever and just the fifth woman to be honored.
Alice Barber, G'97, was recently quoted in an article on MassLive about mental health. Barber is a licensed mental health counselor at Behavioral Health Network's Child Guidance Clinic.
The Bangor Daily News announced that Jennifer (Michaud) Finch '98 has been elected into the Foxcroft Academy Athletic Hall of Fame.
According to Metro West Daily News (Framingham, Mass.), James Snyder G'98 has been appointed director of the Parks and Recreation Department of Framingham. Snyder had been serving as the department's interim director.
Shawn Tarpey '98, G'02, head football coach at East Bridgewater High School, and Patrick Kingman '99, G'04, head football coach at Middleboro High School, were featured in an article in The Enterprise (Brockton, Mass.) about their respective teams facing each other during the fall 2016 season. Tarpey and Kingman were teammates on the Springfield College football team.
2000s
Bryan Platt '00 is now the fire/EMS themes teacher at the Capital Region Education Council Public Safety Academy. He is responsible for teaching EMR, EMT, and fire/EMS classes to grade levels 9-12. He is also responsible for integrating the public safety theme throughout all curriculums.
Jason Serra '00 shared with us that he has been promoted to assistant principal at Middletown High School in Connecticut and that his wife has given birth to their third son, Matteo. Great news, Jason. Thanks for sharing.
Caledonian-Record (St. Johnsbury, Vt.) announced that Carrie Gendreau, G'01 has been elected to the board of directors of Woodsville Guaranty Savings Bank and Guaranty Bancorp, Inc.
Rebecca (Krest) Taylor '02 was awarded the 2016 PeaceLove Leadership Award at the annual Mental Wellness Storytellers event at Rhode Island College. Based out of Pawtucket, R.I., PeaceLove is a movement of hope and support for communities affected by mental health disorders. They help people create peace of mind through expressive arts and a symbol of hope. As part of recreational therapy services, Taylor has implemented this program with more than 250 patients at New Hampshire Hospital with positive results.
Spyridon Griveas, G'03, and his wife Vania are the proud parents of twins George and Katerina. Looks like you have your hands full, Spyridon! He recently visited with his longtime Springfield College friend Ellen Demos Bletsos '83, G'87.
LaShawndra Vernon '04 was recently featured in a story for the Business Journal (Milwaukee, Wis.). Vernon is executive director of Walnut Way Conservation Corp. The organization's mission is to sustain economically diverse and abundant communities through civic engagement, environmental stewardship, and creating venues for prosperity.
Domingo Guyton's, G'05 film Footprints in the Concrete was screened at Clark University, according to Sunday Telegram (Worcester, Mass.). The film chronicles Guyton's youth and how family, church, college, and community pulled him out of "a cycle of hopelessness."
David Hill '05 wrote an article about depression in the Springfield Republican. Hill currently is a physician assistant with Primary Care Associates.
Duke University Athletics has announced the addition of Lars Keil '05 as an assistant coach to the women's lacrosse team.
MassLive announced that Rob Madrid '05 is its new director of digital solutions.
A business owned by Lisa Martin '05, Make It Personal Designs (makeitpersonaldesigns.ws), recently was featured in Baystate Banner (Boston). Martin, from Roxbury, Mass., launched an embroidery and engraving business that she operates from her home, specializing in custom work.
South Coast Today (New Bedford, Mass.) reports that Ryan Sylvia '05, G'08, has been inducted into the Old Rochester Regional High School Athletic Hall of Fame in Mattapoisett, Mass.
Micah Barshay '17 interned at the recreation department for Brookline, Mass., where he got to work with Sara (Fasulo) Nelson '99. On the last day they decided to take a picture with their beanies on. Thanks for sharing!
Ryan Largay '07 took first place in the under 200 lb. weight class at the Strongman Corporation Nationals in Davenport, Iowa, qualifying him for international competition at Arnold Amateur World Championships. More than 260 men and women competed at the event, including Harold Carter NG'07, who finished in third place. Largay and his wife Kellie (McDonald) Largay '07 own a gym in Littleton, N.H., called ACE Fitness, where Ryan works as the gym manager and personal trainer/strength coach while Kellie is the nutritionist, among other numerous responsibilities.
Matt Lee '07 married Christina Canham '10 on July 10, 2016. The best man was Brett Kalish '07, while the maid of honor was Jessica Fumasoli '09. In attendance were Nicole (Uliasz) Esposito '09, Michelle Beauregaurd '09, G'12, Bill Miller '07, Lindsey DiRocco '07, Cassie Fallon '07, Kellyn (Molloy) Kalish '07, and Peter Haley '77, G'78.
The Sentinel (Belchertown, Mass.) reports that Kyle Thibeault '07 has been selected to be the director of parks and recreation for Belchertown. Thibeault previously served as athletic director and physical education teacher at Granby Junior-Senior High School in Massachusetts.
Bar-rae Choice '08 is the assistant principal of the new Global Leadership Academy Southwest, a charter school in Philadelphia, Pa.
Jamie Breslin, G'08, has been promoted to senior associate athletic director at Stanford University. Way to go, Jamie!
Tony C. Moore '08, G'09, was selected for the Mary Lou & Arthur F. Mahone Living Legend award. The award recognizes an individual for outstanding lifetime contributions that help to improve the quality of life for all people by embracing diversity and inclusion in Kenosha, Wis. Additionally, the NAACP of Kenosha recognized Moore with the Freedom Fund Positive Impact Award for his the community involvement of his nonprofit organization, Birds of a Feather, Inc., which provides support programs to help recovering addicts and offenders re-enter into the Kenosha community.
Glenn Cain, G'09, has been hired as the athletic performance coach for the University of New Mexico men's basketball team.
The University of North Carolina at Chapel Hill Athletics has announced that Aylene Ilkson '09, G'12, has been added as the new director of volleyball operations.
Maria-Christina Kosteli, G'09, shared with us that she has graduated from the University of Birmingham in the United Kingdom with a PhD in sports psychology. Great work, Maria-Christina, or should we say, Dr. Kosteli!
Robert Raynor '09 wrote in to share that he was promoted to assistant vice president of compliance at PeoplesBank in Holyoke. David McMahon, director of spiritual life, officiated Robert's wedding in June 6, 2015, to Karissa (Pastyrnak) Raynor '10, G'12.
Republican-American (Waterbury, Conn.) reports that Patrick Ridenhour, G'09, has been named police chief of Danbury, Conn.
Meghan Wasiak '09, G'11, has been honored with the Rising Star award from the Massachusetts School Counselors Association. Wasiak is a guidance counselor at Gateway Regional High School in Huntington, Mass.
2010s
The University of Pittsburgh announced that Peter Manguiat '10 has been added as a volunteer assistant coach to the women's volleyball team.
The Enterprise (Brockton, Mass.) reports that Anthony Nalen '10 has been named the new head football coach at Randolph High School in Massachusetts.
Rachel Setless '10, G'16, Tony Sendra '13, G'15, Katie Zmuda '14, Alison Connors '17, Bryan Bierman '11, G'12, and Brendan Abad '17 all were present at the JCC Maccabi Games and Artfest in Stamford, Conn.
According to the Philadelphia Sun (Philadelphia, Pa.), Sherice Chevannes, G'11, has been hired as an academic advisor at the Community College of Philadelphia.
Ansel Garvey '11 has been hired as assistant athletic trainer for the Boston Bruins. Congratulations, Ansel!
Sara Couillou '11 and Jon Mitchell '11 were married at the Log Cabin in Holyoke, Mass. They are both teachers who currently live in the Sixteen Acres section of Springfield.
Jessie Ciola '11 married Jeffrey Kuchar in June 2013 at the Stage Neck Inn, in York, Maine. Ciola and Kuchar met through Christine Kuchar Dungca '11. Springfield College guests in attendance were Shannon (Vogt) Osgood '03, Jeff Osgood '02, William Castillo '09, Rachel Duplessis '11, Elayna Roberts '12, G'14, Daniel Hager '11, Keri-Lynn Maher '11, Christine Kuchar Dungca '11, Heidi Leskovitz '11, Aaron Dungca '10, Jamie DiMola '11, Allison Nivarro '11, Bryan Covington '11, G'12, Amber (Crane) Covington '11, G'12, Talya Pessolano '11, G'12, Brittany Fallon '11, G'14, and Dorothy Castillo '11.
Amber Crane '11, G'12, and Bryan Covington '11 were wedded on April 30, 2016. Among the attendees were best man Andrew Covington '10, Brett McCaffrey '11, Heidi Leskovitz '11, Dan Hager '11, Rachel Duplessis '11, Jessie (Ciola) Kuchar '11, Jamie DiMola '11, Brittany Fallon '11, G'14, Talya Pessolano '11, G'12, Dorothy Castillo '11, Victor Stanziale, and Keri-Lynn Maher '11.
According to The Reminder (East Longmeadow, Mass.), Elizabeth (Crowley) Nelson, G'11, has been hired as the new principal of Wolf Swamp Road Elementary School in Longmeadow, Mass.
Caitlin Cole Robinson '12, G'15, recently married Mark Robinson. In attendance were Meghan Cole '09, DPT'11, Mark Cole '81, Kelsey Davey '12, and Amy Greer Cole '83.
Victoria (Hodson) Simmons '12 married Michael Simmons on May 28, 2016. In attendance were Allyson (Maynard) Curley '12, Barrett Jacobs, Jackie Moscardelli '11, G'14, Mackenzie O'Dea '12, G'14, Denis Johnson '12, Danielle Cotellessa '12, Marissa Jurkiewicz '12, Kaitlyn Deaton '12, Catherine Clark '12, and Lindsay Maynard '11, G'14.
Nicholas Edgerton '12 has started practicing as a naturopathic physician and acupuncturist in Manchester, Conn.
The University of Wisconsin, Oshkosh announced that Alicia Johnson, G'12 is the new director of the Women's Center in the Campus Center for Equity and Diversity.
Gene Zannetti, G'12 wrote in to share that he ran a spirit, mind, and body training day at Spiritual Warfare Institute in New York.
According to the Springfield Republican, Kaitlin Ames '13 has been named a grade four teacher at Littleville Elementary School.
Joseph Bonano '13 and Mike Vlacci '13, who play for the Fairfield Yankees, a men's Division III rugby club, were crowned national champions in Glendale, Colo., on June 5, 2016.
Brendan Evans '13 and Jeffrey Doran '15 started a group called Adapt Outdoors, which provides free outings for fishing and hunting to veterans and people with physical disabilities. They have been collaborating with Keyworth, director of the Center for Human Development in Springfield.
Danielle Kireyczyk '14 has been hired as the fitness coordinator at Roots Aquatics and Fitness Center in Westfield, Mass.
Northern Valley Suburbanite (Cresskill, N.J.) announced that Lindsay Runge '14 is the new girls' volleyball coach for Pascack Hills High School in Montvale, N.J.
Massachusetts Institute of Technology Athletics announced that Anne Versprille '14 has been named the women's lacrosse head coach.
According to Chicopee Register (Chicopee, Mass.) Tyler Leahy '15 has been hired by van Schouwen Associates, LLC as the strategic communications manager.
Melinda Roy, G'15, recently co-wrote a column in Brattleboro Reformer about the field of occupational therapy.
Hobart and William Smith Colleges announced that they have hired Zach Woodard, G'15, as their John J. Hogan '88 Strength and Conditioning Coach.
Caledonian-Record (St. Johnsbury, Vt.) announced that Jennifer McGarvin, G'16, has been hired by St. Johnsbury Academy as a human services teacher in the career and technical education department.
Zach Zigelbaum '16 has been signed by the Boston Conquerors of the American Basketball Association.
Arianna Spolzino-Watson '16 graduated from Springfield College in May following in the footsteps of Stephanie Spolzino'87, and Ralph Spolzino '55.