Springfield College's Connection to US Presidents and Aspiring Leaders
It was a hard journey on Oct. 18, 1913, for William Howard Taft. Just months removed from the presidency—but still in the early days of the automobile—Taft set out for the Springfield College campus to dedicate a new library at Marsh Memorial.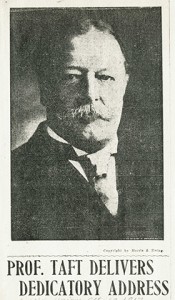 Long before the days of the GPS, Taft got lost, and his car suffered a flat tire. Ultimately, with what he described as a "certain dizziness," he arrived. He alluded that day to driving a bit faster than speed limits of the day permitted. "And today I made 120 miles, but was not arrested," said Taft. "Whether I should have been I won't say, for under the Constitution one cannot be compelled to incriminate himself."
An establishment Republican, sporting a handlebar mustache, Taft praised the YMCA focus of the then all-male college. "It makes better men and better citizens of our growing boys," he said.
Taft was not the only person to occupy the White House who had a bumpy journey to campus. On June 10, 1956, John F. Kennedy, then a first-term senator, arrived early to deliver a commencement address urging graduates to remain in Massachusetts.
The surviving copy of Kennedy's speech in our archives, rife with handwritten edits, suggests that he recrafted this original speech one week later for the commencement address at Northeastern University. References to Springfield are crossed out and replaced with Northeastern, likewise "college" with "university," as are references to graduates following traditional Springfield paths of "community leaders, Y secretaries, teachers, counselors, [and] club directors."
Whether that unedited typed version was the actual address given at Springfield is open to debate. Former English Professor Ed Sims, a deeply respected faculty member for 39 years, often told the story of helping Kennedy make some edits before the ceremony. Sims, who died in 2010, claimed that Kennedy's "stay in Massachusetts theme" was designed for a state school, something his speechwriter believed to be true about Springfield.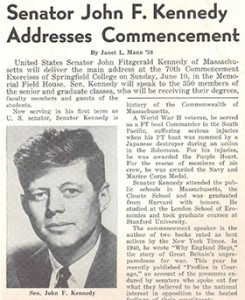 Regardless, Kennedy would have other brushes with campus. He served for years as a corporator of Springfield College. And on Monday, Nov. 7, 1960, Kennedy appeared in downtown Springfield before a huge crowd that included students and faculty. This was one of a number of speeches he delivered that day throughout the Northeast.
The next day he was elected the 35th president of the United States.
Other presidential aspirants have followed Kennedy to campus. The 2001 commencement speaker was Sen. John Kerry, who, three years later would lose the presidential election to George W. Bush. In 2008, Hillary Rodham Clinton made a spirited campaign stop on the campus before the Massachusetts primary—which she would win—before ultimately losing the Democratic nomination to Barack Obama.
In 2013, the commencement speaker was Sen. Elizabeth Warren, eyed by many Democrats as a presidential candidate of the future.
It's not always an easy journey from (or to) the White House from (or to) our house on Alden Street, but there is a precedent for presidents. As Taft said long ago, "I am delighted, in spite of the difficulties of getting here, that I have had this opportunity to come and be a humble witness of the progress of the College and the institution it serves."