Stuart Jones Named VP for Enrollment Management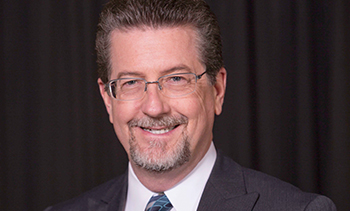 Stuart Jones, PhD, has joined the College in the new position of vice president for enrollment management.
"I am delighted that Stuart will join the leadership team at Springfield College," said President Mary-Beth Cooper. "His extensive experience in enrollment management and data analysis, coupled with his engaging personality, will make him a great addition to our College community."
An enrollment management professional in higher education for more than 20 years, Jones was vice president for enrollment management at Trine University in Angola, Ind., since 2013. Prior to that role, he served in a similar position at Averett University in Danville, Va., and the dean of enrollment and executive director of the Student Success Center at Manchester University in North Manchester, Ind.
At Springfield College, Jones will work to further strengthen the College's competitive position through enrollment growth in our traditional undergraduate and graduate programs.
McCabe Lecture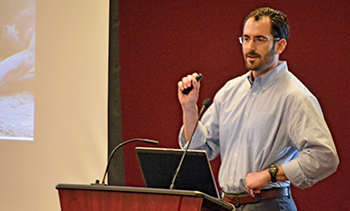 The Springfield College Department of Biology and Chemistry presented the 19th annual Britton C. and Lucile McCabe Lecture featuring Cory Champagne, PhD. Champagne's presentation, "Life at the Extremes: Insights into Marine Mammals," explained how animal function is shaped by environmental conditions.
Much of Champagne's work investigates the energetic and metabolic characteristics exhibited by marine mammals during critical life-history stages, like development, breeding, and reproduction. One growing aspect of Champagne's research has been in conservation physiology, where he is characterizing the endocrine and metabolic response to disturbance in marine mammals, with the goal of determining biomarkers capable of distinguishing stress states.
The Britton C. and Lucile McCabe Lecture brings noted professionals in the health, biological, and physical sciences to Springfield College to discuss timely topics and discoveries.
Siegel Named Director of Human Resources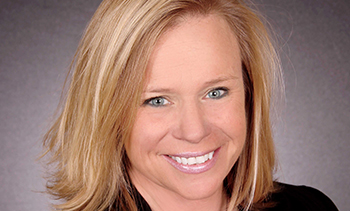 Miriam J. Siegel has been named director of human resources at Springfield College. Siegel brings more than 24 years of experience in human resources to the College, including her last nine years at the senior management level. As the College's chief human resources officer, Siegel is responsible for providing strategic leadership and direction surrounding all human resources initiatives and priorities for Springfield College.
Previously, Siegel served as senior vice president for human resources at United Financial Bancorp, Inc., and was responsible for all human resource functions at United, with more than 400 employees and 39 branch locations. She led the transformation of human resources as an administrative role, to a strategic business partner working with management to drive and support a performance based culture.
A resident of Wilbraham, Mass., Siegel earned a bachelor's degree in business and psychology from State University of New York at Albany.
Inaugural Sports and Social Justice Symposium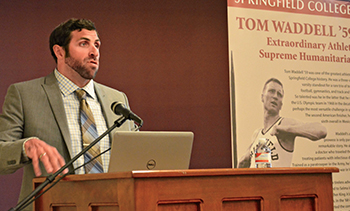 The inaugural Sports and Social Justice Symposium held April 8, 2016, featured Justin Zook '08, who went on to win three gold medals in swimming at the U.S. Paralymic Games in 2004, 2008, and 2014.
After Zook's presentation, Ava Adamopoulos, a member of the women's basketball team, was presented with the first-ever Tom Waddell Leveling the Playing Field Award.
Adamopoulos was selected for the relationship she has formed with Lisa Hartley, a 16-year-old from Palmer, Mass., suffering from Type B and Bulky Hodgkin's Lymphoma. Hartley was partnered with Springfield College through Team IMPACT, a national program based out of Boston that partners kids suffering from chronic illnesses with college athletic teams.
The award is named after Tom Waddell, a 1959 Springfield graduate and member of the Athletic Hall of Fame. Waddell created the Gay Olympic Games (now known as the Gay Games) in 1982, as well as competing in the 1968 Olympics and claiming numerous college records.
Greene Memorial Lecture
The Springfield College Department of Physical Therapy hosted the 20th annual Greene Memorial Lecture featuring Dianne V. Jewell, DPT, PhD. Jewell presented on the topic "Leadership in Service to Others—Giving Voice Through Scholarship."
Jewell is the founder and chief executive officer of The Rehab Intel Network, and has 27 years of experience as a physical therapist practicing in acute hospital, inpatient rehabilitation, outpatient, and community health settings in Virginia. With a doctoral degree in health services research and organization, her primary scholarly interests are physical therapy practice variation and outcomes of physical therapy patient management.
The Greene Memorial Lecture was initiated by Edwin Greene, a member of the Springfield College Class of 1935, in memory of his wife, Jean Greene.
Athletic Administration Leadership Series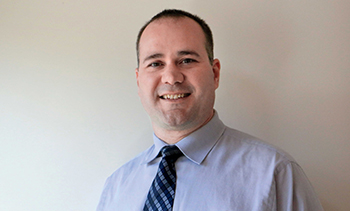 The Springfield College Athletic Administration Graduate Program hosted its annual leadership series titled, "One Graduate Degree. Endless Possibilities."
The event featured panelists Ryan Bamford, G'03, University of Massachusetts-Amherst director of athletics; Rachel Horn, G'03, Eaglebrook School director of athletics; and Heath Rollins '99, G'03, Wayland (Mass.) High School director of athletics.
All three panelists earned a Master of Science degree from Springfield College, and they gained experience working in the Springfield College Office of Athletics during their graduate school years. The trio represented three different levels of athletic administration, including junior high school, high school, and college athletics.
Launched in the spring of 2011, the Athletic Administration Leadership Series is held each semester and alternates a focus between high school and intercollegiate athletics.
Kevin Pearce Speaks to Campus Community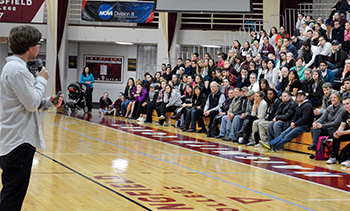 Former professional snowboarder, inspirational public speaker, and co-founder of LoveYourBrain LLC, Kevin Pearce, was a guest speaker at Springfield College on March 29, 2016.
While training for the 2010 Olympic trials, Pearce suffered a life-altering brain injury, effectively cutting his snowboarding career short. After a rigorous recovery, Pearce became an advocate for the prevention of brain injuries and the promotion of a brain-healthy lifestyle for all people.
He co-founded LoveYourBrain LLC, which supports traumatic brain injury survivors and their caregivers to participate in gentle yoga and meditation classes tailored to their needs.
Pearce became a professional snowboarder at just 18 years old, and he went on to earn numerous accolades, including a silver medal in the 2009 Winter X Games.
The event was presented by Springfield College Office of Student Activities, Office of Athletics, School of Health, Physical Education, and Recreation, and School of Health Sciences and Rehabilitation Studies.
Third Annual Martin Luther King Jr. Lecture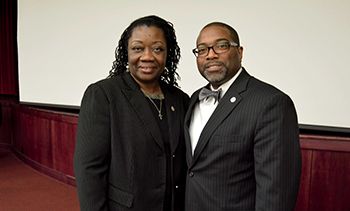 Springfield College welcomed Elsie Wallace Smalls, PhD, assistant dean and campus director at Springfield College Charleston, as the keynote speaker at the third annual Martin Luther King Jr. Lecture. Smalls' presentation focused on her personal stories regarding diversity, inclusion, and acceptance. The Martin Luther King Jr. Lecture honors the history of inclusion and diversity at Springfield College.
Smalls has served as the assistant dean and campus director at Springfield College Charleston for 13 years. She also is a co-founder of LoMa Spoken Word and Consulting, an organization dedicated to educating, enlightening, and inspiring individuals and organizations through research-based seminars and workshops. Smalls uses her life experiences, academic background, and spirituality to encourage others to reach beyond the broken places in their lives.
Smalls earned a Master of Business Administration from The Citadel, and received a Doctor of Philosophy in public administration from Walden University.
Graduate Student Earns Thesis Award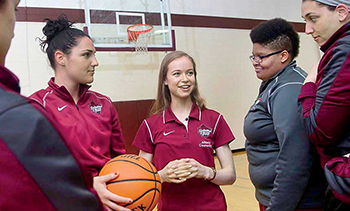 Springfield College athletic counseling graduate student Erika Van Dyke recently received the 2016 American Psychological Association Division 47 Thesis Award for her thesis titled, "Exploring relationships among self-talk and balance beam performance in gymnastics."
This award recognizes outstanding student research that has the greatest potential for making a significant contribution to the theoretical and applied knowledge base in exercise and sport psychology.
Van Dyke and her colleagues analyzed female gymnasts ranging in age from 18 to 23 years old who have attended 30 NCAA Division I colleges and universities. The focus of the research was to examine the self-talk of the gymnasts, test their belief in self-talk effectiveness, and examine their competitive performance and performance consistency when performing balance beam routines during intercollegiate meets.
Chevan Receives National Leadership Award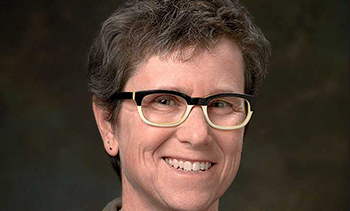 Julia Chevan, PhD, chair of the physical therapy department and professor of physical therapy, has been awarded the Ronnie Leavitt Award for Leadership in the Promotion of Social Responsibility in Physical Therapy by the American Physical Therapy Association. The award recognizes a physical therapist whose contributions and actions have demonstrated leadership in the promotion of social responsibility, locally or globally, through service, scholarship, or advocacy.
A focus of Chevan's more than 30-year career has been on social justice and global health issues. In 2011, Chevan was a Fulbright scholar to Rwanda, where she taught and conducted research with her colleagues at Kigali Health Institute. That work produced a collaboration with Health Volunteers Overseas, a nonprofit organization dedicated to training health professionals globally, which resulted in a two-year USAID grant to provide continuing professional development programming to promote rehabilitation services throughout Rwanda
Her global health work has included teaching and mentoring therapists in the United States, Armenia, Liberia, Rwanda, and Haiti. Her scholarship focuses on the intersection of health services research and physical therapy, and she has published on the topics of racial and gender disparities among persons with lower extremity amputations in the United States, and expenditures and distribution of physical therapy services.
Students Use Spring Break to Give Back
More than 50 Springfield College students used their spring break to volunteer with community outreach programs throughout the globe as part of the student volunteers alternative spring break program on the campus. Alternative spring break is part of a year-round mission at Springfield College to give back to the local community and to communities throughout the world.
New to this year's program were local service projects throughout the city of Springfield, including visits to Friends of the Homeless, Gray House, Emergency Food Pantry, and the Lions Den Youth Center. Students also embarked on a Habitat for Humanity trip to Vero Beach, Fla., and a journey to Guatemala and the Bahamas where they participated in different daily service projects.
Marty Dobrow Shares the Spotlight of His Journalism Educator Award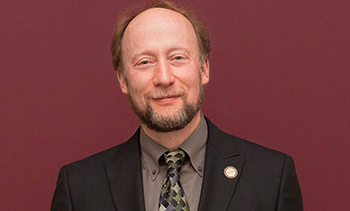 The night he accepted his award as New England Journalism Educator of the Year from the New England Newspaper and Press Association at a gathering in Dedham, Mass., Marty Dobrow did a little mingling, of course. He talked with a newspaper editor who is the colleague of a former student, shook hands with former colleagues of his own, and made sure to thank School of Arts, Sciences, and Professional Studies Dean Anne Herzog and Department of Humanities Chair Joyce Szewczynski for coming along.
What touched Dobrow was seeing in that crowd the faces of all eight editors of the Springfield College student newspaper. "I'm sure they had more appealing options that night," he says, and then he rejected the suggestion that his students chose to travel 90 minutes east to stand united behind their faculty advisor, a trusted mentor.
You'd think this 2014 Distinguished Springfield Professor of Humanics would be more comfortable at this point with accolades, but Dobrow is not. Instead, he peppers talk about his work and achievements with continual reminders that others in his department also are enthusiastic, dedicated, and making headlines. He says things like, "Springfield College is a place that has allowed me to continue to grow as a writer and a journalist, and it's so important in this field to stay active and not rely on the dusty work of long ago."
Dobrow started earning money as a journalist in high school, when he brought in $5 a week, writing a column for the hometown paper. His first full-time job in journalism was at the Daily Hampshire Gazette in Northampton, Mass., where he covered sports and also wrote magazine-length features for Hampshire Life.
A professor of communications at Springfield College since 1999, Dobrow has written for The Boston Globe and ESPNBoston.com. The honor recognizes Dobrow as a professor in the six-state region who is doing outstanding work to prepare journalists to lead newspaper organizations into the future.
Dobrow acknowledged that his connections with industry peers help him to do just that. Nick Carboni '07, for instance, is the current sports director at WBIR in Knoxville and recently won an AP Award in Tennessee for best feature for a piece about a runner with spina bifida.
Logan Mullen, Class of 2017, in April accepted a full-time, paid co-op position with The Boston Globe for next semester, and Shawn McFarland, Class of 2018, has already earned Globe and USA Today bylines and has a paid internship this summer for The Cape Cod Times.
Dobrow gives his students a foundation in the idea that journalism is about Democracy and the telling of stories. "I sort of open up my heart about why I think journalism matters," he says. "…storytelling and the power of the written word.