Tradition in the Face of Change
Just two days before Valentine's Day, Springfield College President Mary-Beth A. Cooper helped senior health sciences major Lindsey Stevenson and sophomore communications sciences and disorders major Danielle Morrill honor an educator who—because of his huge heart—played a very important role in their lives and who was very important to them both.
The trio made a surprise visit to Concord (N.H.) High School to honor its principal and Springfield College alumnus Gene Connolly '79. Stevenson and Morrill are natives of Concord, N.H., and attended Concord High School prior to enrolling at Springfield College. It was Connolly, in fact, who recommended Springfield College to them while they were students at his school.
During the visit, Cooper proclaimed February 12, 2016, as "Gene Connolly Day" in recognition of Connolly's devotion to educational leadership that promotes the development of healthy, well-rounded students. Reading her proclamation, she honored Connolly for upholding and promoting the College's Humanics philosophy.
"Gene Connolly has devoted his career to educational leadership that supports colleague educators and promotes the development of healthy well-rounded students," said Cooper of Connolly who has been diagnosed with and is battling ALS.
"As a former track and field athlete, Gene Connolly has run his most difficult race with grace and humor and compassion for others, exemplifying valor and resolve," read Cooper.
"Springfield College salutes Gene Connolly for his determination and dedication to the field of education and to the cultivation of young learners," Cooper said.
"It was a small idea I had about a month ago because I know how much Springfield College has meant to Mr. Connolly," said Stevenson. "I thought it would be a nice idea if the College could recognize him for his efforts in some way.
"Mr. Connolly displays what Springfield College is all about," she said, noting that Connolly still is up early every day to greet all the staff, the students, and faculty as they start their day, something that is increasingly difficult because of his health.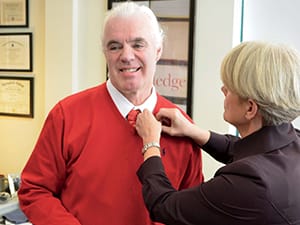 Continued Stevenson, "He's a very modest and humble man. I am so appreciative that President Cooper was able to make the drive to Concord. It just shows the type of character she has to make the time to be a part of this special ceremony."
Cooper said she was very moved when she read about Connolly in a Concord Monitor article.
"My husband Dave was kind enough to print the article and stress that we really needed to go see Gene. A few days after reading the story, I was able to connect with Lindsey Stevenson, who asked me if I would be willing to do something to honor Gene.
"I learned that Gene has always been known as a person of great influence, and his message is about truth, and about telling people that you love them. His impact reached beyond the high school to the entire Concord community.
"His authenticity was a reminder that we at the College are responsible for and privileged to honor these qualities, especially in our alumni," she said.
"Because of Gene's leadership, Concord High School reminds me a lot of Springfield College in the sense that the school follows the Humanics philosophy. It's about people, helping and serving others," remarked Cooper.
In addition to the proclamation, Cooper, Stevenson, and Morrill presented Connolly with an assortment of Springfield College gifts in recognition of his commitment to the College.
Connolly will step down as principal at the end of this school year.