Keeping Pace with the President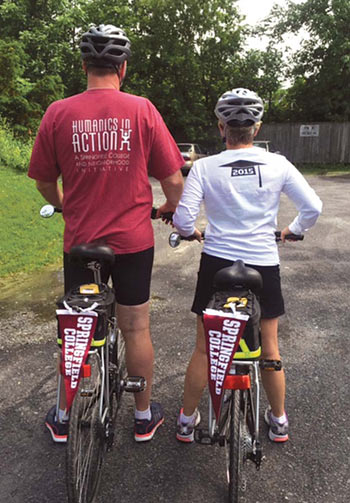 Those of us who work with President Mary-Beth Cooper have tied on our running shoes and hopped on our bikes because, some days, it is the only way we can keep up with her. President Cooper devoted a good portion of her summer months to connecting and reconnecting with alumni and friends of Springfield College.
The summer began with a new type of alumni event: the Vermont bike tour in the Champlain Valley and Islands region. A group gathered for a send-off reception in Burlington, before the cyclists took off for their week-long trip. Additional alumni connected with the group for dinner along the trail.
Alumni, faculty, and students also had the opportunity to connect with the president at numerous other events, including Reunion, Young Alumni Paint Nite in Washington, D.C., a campus visit to Milwaukee, Wining and Dining in Connecticut, and the Friends of Charlie Redmond celebration.
President Cooper plans on several half marathons and a full in 2016. She has been joined throughout her training program by Springfield College alumni and students.