Department
President's Perspective
Dear Friend,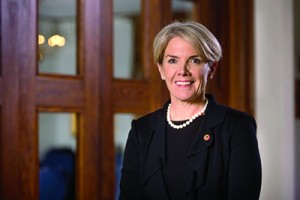 Mood rings. Hula-Hoops. Platform shoes. Rubik's Cubes, jam shorts, Pogs, and Beanie Babies.
Fads come and fads go. Every generation has theirs. Remember shoulder pads? Big hair and leg warmers? AOL?
Fads come and go in academia, as well, just as they do in pop culture.
New college and university advertisements and billboards appear on a regular basis. You've probably seen them on your daily commute, your social media pages, and your television. These ads promote new programs, new disciplines, new degrees. With so much press being given to college tuition, employment rates, and attempts to corner the high school senior and underemployed market, 
colleges and universities have become very creative in 
new programming.
At Springfield College, we believe that, while it is important for any institution to remain relevant to its prospective audience, it is also important that an institution remain authentic and true to its mission.
Springfield College is ground zero for service to others, for health and wellness initiatives, and for leadership education.
From its very beginnings in physical education and community service, Springfield College has not wavered, has not faltered, and has remained both true to its mission and the vision of its founders and germane for society today.
Springfield College provides education for individuals who want to lead in human-helping professions. Our people—students, faculty, and staff—are interested in and committed to serving the greater good.
Our rich history of scholarship and success make us uniquely qualified to educate individuals who strive to make the world a better place. Does this mean that we jump on any bandwagon that will bring us new students? New donors? No. It means that we carefully examine our flagship programs and work with our scholars and experts to keep those programs relevant to our students and the world.
In "Tradition in Motion" on page 6, you will read about the programs that build on those that gave us our start. In "The Ties That Bind" on page 10, you will learn how heritage and tradition influence the College today. Through our new branding efforts, we maintain the connection between the College's mission and our demonstrated impact. And, in the Class Notes and News section, you will read about your classmates who are living our relevant mission each and every day.
Springfield College is known around the world for educating people who care—both scholars AND athletes—, and for offering robust and selective programs that 
prepare graduates for careers and leadership to others 
in today's world.
We are not chasing anyone else's rainbow. Our commitment to educating students, in spirit, mind, and body, endures—and will continue to endure—because service to others is the hallmark of this institution; intellectually, physically, and spiritually strong individuals are the foundation of strong communities.
My very best,

Mary-Beth A. Cooper, PhD, DM