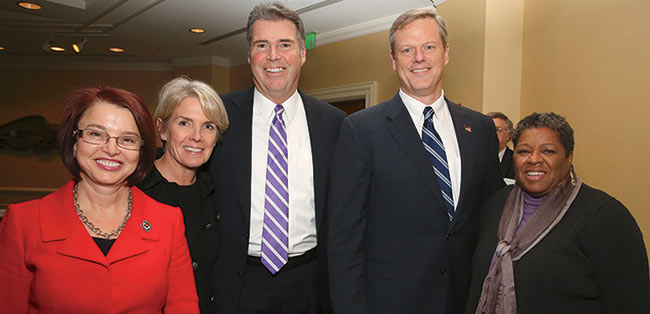 Jean Wyld Promoted to Provost and Vice President of Academic Affairs
Jean Wyld, PhD, has been promoted to provost and vice president of academic affairs at Springfield College, President Mary-Beth Cooper announced recently.
Wyld had served as vice president for academic affairs since 2001. As the College's chief academic officer, Wyld has broad responsibility for leading Springfield College's five academic schools and the degree programs offered at the College's main campus and nine regional campus locations. In addition, she supervises all academic support services, centers, and departments including Babson Library, the Doggett International Center, the Academic Success Center, the Advising Center, the Office of the Registrar, the Office of Educator Preparation, and all other facets of the College's academic life.
Wyld's promotion to provost also recognizes and reflects the complexity of the academic programs offered by Springfield College. The College enrolls more than 5,000 students in the undergraduate, graduate, weekend, and regional campus programs offered through the School of Arts, Sciences, and Professional Studies; the School of Health, Physical Education, and Recreation; the School of Health Science and Rehabilitation Studies; the School of Human Services; and the School of Social Work. Through these schools, the College offers bachelor degrees in more than 50 disciplines, 20 master's degree programs, and three doctoral degrees: the doctor of philosophy, the doctor of physical therapy, and the doctor of psychology.
Computer Graphics and Digital Arts Program Hosts Game Lab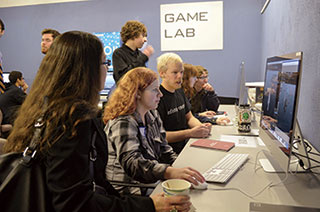 The computer graphics and digital arts program hosted a Game Lab workshop in the fall for high school students interested in careers as video game designers. Attendees had the opportunity to work in the Springfield College Game Lab, as well as work in the Mac Lab and Maya Lab.
Springfield College Computer Graphics and Digital Arts Program Chair Ruth West welcomed the participants and their families. Springfield College Visual and Performing Arts Professors Martin Shell and Harold Indelicato introduced attendees to the campus. Springfield College Computer Graphics and Digital Arts students led prospective high school students in using the virtual reality, Oculus Rift headset, and showcased the program's 3-D printer.
A panel of industry experts talked to the students including: Co-founder of Vermont Digital Arts Elliott Mitchell, Director of Software Engineering at Carousel Industries Matthew Zanni, and Production Artist at Doodle Picture Studios Robin Clark '13.
Christopher Neronha Named General Counsel at Springfield College
Christopher Neronha, an attorney with extensive experience in higher education, has been named general counsel at Springfield College. Neronha provides legal counsel and guidance to the leadership of the College and serves as secretary to its Board of Trustees. He is a member of the president's senior leadership team.
Neronha has 19 years of experience as an in-house corporate attorney, nine of those as a senior in-house attorney for Roger Williams University in Bristol, R.I., where he had been employed, since 2006, as the associate general counsel and executive director of risk management.
Springfield College Receives Kudos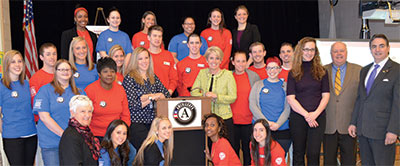 Springfield College has been recognized by the Carnegie Foundation as one of a select group of colleges and universities throughout the country to earn its community engagement classification. This classification recognizes Springfield College for its curriculum, which involves students and faculty addressing community needs, as well as outreach and partnerships that benefit the external community and the campus community.
The College also was named a finalist for the President's Award for Community Service by the Corporation for National and Community Service. The College was one of four finalists in the education category and also was awarded Honor Roll with Distinction status in the category of general community service. This nationwide designation is part of the 2014 President's Higher Education Community Service Honor Roll, and recognizes institutions and their students across the country for their commitment to volunteer service. The Springfield College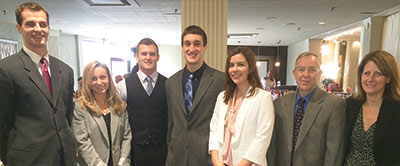 AmeriCorps Program and the Partners Program remain two of the College's constant and long-standing community outreach programs which combined are responsible for the contribution of more than 50,000 hours of service.
Additionally, Springfield College was awarded an Affiliated Chambers of Commerce of Greater Springfield's (ACCGS) 2014 Super 60 Award for revenue for the 10th consecutive year. The ACCGS Super 60 Award is presented annually to the top businesses in the region that make significant contributions to the strength of the regional economy.
Students Take Alternative Spring Break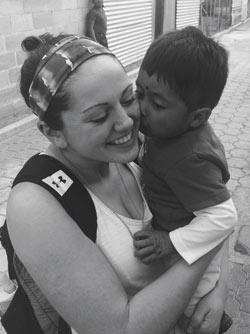 More than 50 Springfield College students spent spring break volunteering as part of the Student Volunteers alternative spring break program. President Mary-Beth Cooper joined students in building houses with Habitat for Humanity in Sumter, S.C. Other groups included the Together Campaign, which went to Guatemala to work with youth at schools and at a women's cooperative; and the Springfield College Outreach Committee, which worked with youth groups and schoolchildren in the Bahamas.
Frank Fu Delivers 2015 Martin Luther King Jr. Lecture
Springfield College welcomed Hong Kong Baptist University Associate Vice President Frank Fu as the keynote speaker at the second annual Martin Luther King Jr. Lecture in January. Fu focused on the international legacy of Springfield College.
Fu has worked throughout the world in China, Canada, and the United States and has received several distinguished honors, including the Medal of Honor in 2009 by the SAR Government of Hong Kong. Fu's presentation is the first in a series of events celebrating the 50th anniversary of the Springfield College Doggett International Center. The Martin Luther King Jr. Lecture honors the history of inclusion and diversity at Springfield College.
#GivingTuesday at Springfield College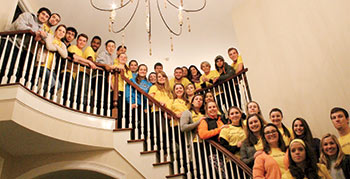 The Leadership Training Conference (LTC) student organization collected food, clothing, and school supplies for local nonprofit organizations and schools to support the global initiative #GivingTuesday on Dec. 2. #GivingTuesday is a global movement that encourages individuals to give back to their local community and celebrates generosity.
Center for Wellness Education and Research Focuses on Childhood Obesity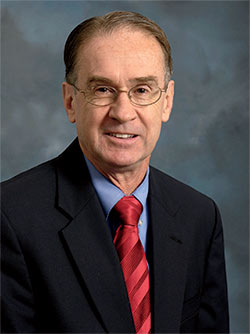 The Center for Wellness Education and Research brought best practices in lifestyle-related strategies to prevent childhood obesity to an alumni college event held at the YMCA of Greater Nashua in Merrimack, N.H.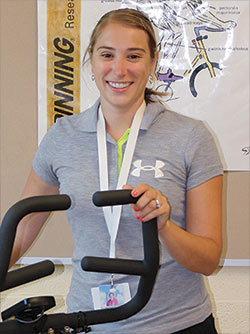 The keynote speaker was Russell Pate '68, who addressed current policies to promote physical activity and prevent obesity in youth. Pate currently is a professor in the Arnold School of Public Health's Department of Exercise Science at the University of South Carolina, and he is an exercise physiologist with interests in physical activity, physical fitness in children, and the health implications of physical activity. In 1995, Pate coordinated the effort that led to the development of the physical health and public health recommendations for the U.S. Centers for Disease Control and Prevention and the American College of Sports Medicine.
Take-home strategies to prevent childhood obesity opened the day's presentations with physical educator Casey Pilkington Aiezza '08 providing examples of innovative ways to incorporate physical activity for children into the school day. Gigia Kolouch, education director of the Seed-to-Table Program at Slow Food Denver, a program that provides support to local school gardens for more than 50 local schools, also presented.
Search @SpringfieldCWER and #kidswellness in social media for more.
Rehabilitation and Disability Department Receives Five-Year Grant
The Springfield College Rehabilitation and Disability Studies Department received a five-year $997,500 grant from the U.S. Department of Education's Rehabilitation Services Administration to continue its Long-term Training in Rehabilitation Counseling Program.
HSRS Dean David Miller with Rehabilitation Studies Professor Michael Accordino
Funds were awarded in recognition of the College's strong relationship with state vocational rehabilitation agencies in terms of program quality, national accreditation status, graduate student clinical site internships, and graduates' employment in public agencies serving persons with disabilities.
The annual award is for $199,500, of which more than 90 percent goes directly to tuition and stipends for up to 12 full-time equivalent graduate students pursuing master's degrees in rehabilitation counseling, who must commit to working in a state vocational rehabilitation agency with cooperating agencies located in Massachusetts, Vermont, New Hampshire, Connecticut, and upstate New York.
Students Receive 2015 Spalding Hoophall Classic Award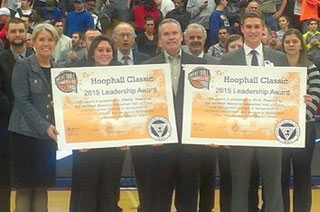 Springfield College and the Naismith Memorial Basketball Hall of Fame presented the third annual Hoophall Classic Leadership Award to Springfield College sport management students Eric Pouliot '16 and Emily Vance '16. The award is presented to a junior male and female sport management major who have demonstrated service to Springfield College, the Hoophall Classic, and maintained a successful grade point average. Each recipient is awarded a $2,500 scholarship to be used during his or her senior year at Springfield College.
Strength and Conditioning Graduate Program Receives ERP Status from NSCA
The Strength and Conditioning Graduate Program has again been accepted into the National Strength and Conditioning Association (NSCA) Education Recognition Program (ERP) for the next three years.
The ERP acceptance will allow Springfield College to host an Exam Prep Live Clinic, providing students a comprehensive review of information most relevant to the certified strength and conditioning specialist (CSCS) and the national strength and condition association-certified personal trainer (NSCA-CPT) exams.
Paleoanthropologist Richard Leakey Presents Arts and Humanities Lecture
Springfield College recently hosted paleoanthropologist, political advisor, and environmentalist Richard Leakey, who presented, "An Evening with Richard Leakey: Exploring a Life of Discovery and Activism." The lecture was part of the Springfield College Arts and Humanities Speaker Series, made possible through the generosity of Carlton Sedgeley '63 and Lucille LePage.
Son of Louis B. and Mary Leakey, Richard Leakey, his wife Meave, and daughter Louise have worked toward a greater understanding of the origins and making of mankind. They have been credited with some of the most significant fossil discoveries in history. The Leakey family has unearthed Proconsul africanus, Australopithecus boisei, Homo habilis, and the footprints of Australopithecus afarenis, known as the skeleton "Lucy."
An author of more than 100 articles and books, it was Leakey's published work in 1995, titled The Sixth Extinction, that examined the five great catastrophic extinctions in the history of the planet and stressed how human beings are dangerously reducing biodiversity, damaging ecosystems, and possibly precipitating the next major extinction.
COSJ Hosts 15th Anniversary Celebration
Women's basketball legend Rebecca Lobo and Sports Illustrated senior writer Steve Rushin were keynote speakers at the 15th anniversary celebration of the Springfield College Communications/Sports Journalism Program in November.
Sports journalism associate professor Marty Dobrow, center, with Steve Rushin and Rebecca Lobo
Lobo and Rushin brought more than 20 years of combined journalistic experience to Springfield College. Lobo and Rushin's presentation concluded a day-long communications workshop for prospective students.
Nutritional Journalist Gary Taubes Speaks on Campus
The Center for Wellness Education and Research (CWER) and the Class of 2016 in November hosted journalist and nutrition expert Gary Taubes, who presented "Why We Get Fat and What to do About It." Taubes focused on years of research that analyzes the effects of how much and what an individual eats, and how it relates to their health.
Taubes is the recipient of three Science in Society Journalism Awards from the National Association of Science Writers. He also has contributed articles to the 2002 edition of The Best American Science Writing and to the 2000 and 2003 editions of The Best American Science and Nature Writing.
Springfield College Represented in Force at 2015 SHAPE America ED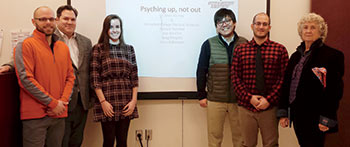 Springfield College was well represented at the 2015 SHAPE America Eastern District Conference hosted in Springfield in February. More than 40 faculty members, students, and alumni participated in 22 — or 25.28 percent — of the 87 sessions presented during the three days.
During the conference, Springfield College physical education and health education faculty members and students, under the direction of Associate Professor of Physical Education Michelle Moosbrugger G'00, PhD'06, assisted youngsters from the Arthur T. Talmadge Elementary School in Springfield with a series of engaging physical activities designed for elementary school students.
Professor Mimi Murray, right, and sport and exercise psychology doctoral students present at the SHAPE America Eastern District Conference in Springfield.
Also a part of the proceedings, doctoral students from the Sport and Exercise Psychology program presented "Psyching Up not Out: Techniques for Performance Enhancement." The Springfield College presenters for "Psyching Up not Out" included: Han Bin Choi, Greg Margolis, Richard Trammel, Chris Williamson, and program director Mimi Murray, PhD, '61, G'68. The presentations consisted of theoretical and research based techniques to improve performance in sport and life.
SHAPE America is the new name for the American Alliance for Health, Physical Education, Recreation, and Dance (AAHPERD), and one of the largest professional organizations in the U.S. boasting 65,000 members in its network. The Eastern District Association is one of the two largest of its regional districts. The annual SHAPE America regional and national conferences showcase the largest organization of professionals involved in school-based health, physical education and physical activity who are dedicated to teaching and promoting active, healthy lifestyles.
Professor Makes Debut on The View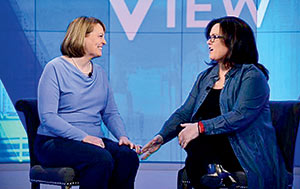 In January, Sherri VandenAkker, professor of human services from the Boston campus, appeared with Rosie O'Donnell on The View to discuss VandenAkker's documentary titled, My Name Was Bette: The Life and Death of an Alcoholic, a film about women's alcoholism and VandenAkker's mother, who was an alcoholic.
O'Donnell said she was so touched by the documentary that she invited VandenAkker to the show to discuss it. "Rosie O'Donnell could not have been warmer," said VandenAkker. "Her deep and genuine interest in a difficult subject was palpable and I respect her so deeply for it."
The film received positive reviews and was accepted by the REEL Recovery Film Festival in NYC, and was an official selection of the Massachusetts independent Film Festival.
New Faculty Announced by the Office of the Provost and Vice President for Academic Affairs
School of Arts, Sciences and Professional Studies
Justin Compton, Assistant Professor of Environmental Biology
PhD, The Pennsylvania State University, 2007
Peiwei Li, Assistant Professor of Psychology
PhD, Indiana University Bloomington, 2014
Tyler Markkanen, Assistant Professor of Mathematics
PhD, University of Connecticut, 2009
Francesca Spina, Assistant Professor of Criminal Justice
PhD, University of Massachusetts Lowell, 2014
School of Health, Physical Education and Recreation
Kristen Ouellette, Assistant Professor of Exercise Science and Sport Studies
PhD, University of Utah, 2014
School of Health Sciences and Rehabilitation Studies
Jessica Maxell, Assistant Professor of Physical Therapy
DPT, Massachusetts General Hospital Institute of Health Professions, 2008
Roxanna Nasseri Pebdani, Assistant Professor of Rehabilitation and Disability Studies
PhD, University of Maryland at College Park, 2012
Roxanne Sprague, Assistant Professor of Physician Assistant Studies
Master of Clinical Medical Sciences, 2007, and Certificate in Physician Assistant, 2007, Barry University
School of Social Work
Karen Clark-Hoey, Assistant Professor of Social Work
PhD, The Catholic University of America, 2004
PEHE Assistant Professor Elizabeth Mullin Receives Mabel Lee Award
Assistant Professor of Physical Education Elizabeth Mullin G'08, PhD'11, received the 2015 Mabel Lee Award during the annual Society of Health and Physical Educators (SHAPE) America National Conference in Seattle, Wash., in March. Named for the first female president of the American Physical Education Association and a leader in athletics for women, the Mabel Lee Award recognizes members of SHAPE America who have demonstrated outstanding potential in scholarship, teaching, and professional leadership.
Mullin was recognized for her exemplary teaching abilities, her multiple presentations and published works in physical and health education, and her outstanding administration and strong leadership roles with SHAPE America. Mullin most recently served as the research committee chair for the SHAPE America Eastern District Conference hosted at the Springfield Sheraton Hotel in February. More than 40 combined Springfield College faculty members, students, and alumni accounted for more than 25 percent of the presentations made at the Eastern District Conference.
Springfield College Hosts 105th Annual Gymnastics Exhibition Show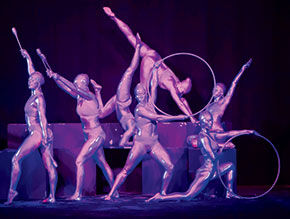 Springfield College hosted the 105th gymnastics exhibition show, Motion and Film, during Homecoming weekend in October. Taking part were close to 100 participants, including All-American and champion gymnasts from the men's and women's gymnastics teams and student dancers. The dramatic finale of the show honored Springfield College tradition with the tableaux—living statuaries by gymnasts in metallic body paint.
School of Social Work Hosts Suicide Prevention Conference
The School of Social Work (SSW) hosted a suicide prevention conference titled, "Exploring the Connections Between Substance Use and Suicide," in November. Attendees included mental health clinicians, individuals who have personally experienced suicide, and public officials who work to prevent suicide.
The keynote speaker was Ann Duckless of the New Hampshire National Alliance of Mental Illness Connect Suicide Prevention Program. The conference educated attendees in suicide attempt rates for people who misuse substances and also identified suicide rates for specific drugs.
Read The Social Work Leader magazine here.
Read about our program in the SSW Viewbook here.
Learn about our Journal of Advanced Generalist Social Work Practice here.